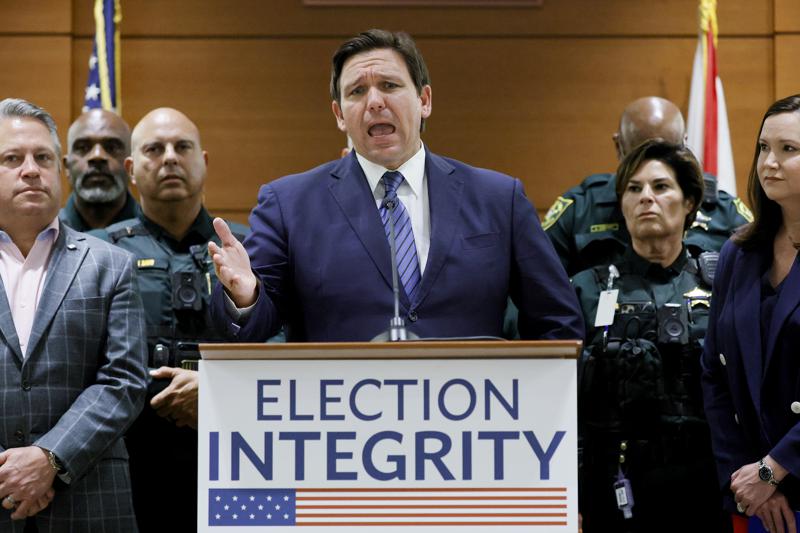 'Big DeSantis Energy' isn't getting him over Donald Trump yet.
Another poll shows Arizona Republicans aren't quite sold on a Ron DeSantis campaign for President.
A survey released by OH Predictive showed DeSantis down by more than 15 points to former President Donald Trump.
Trump drew 42% in the poll, with DeSantis taking 26% support. Farther back, Vice President Mike Pence scored 8% support, while former United Nations envoy Nikki Haley and former U.S. Rep. Liz Cheney mustered 5% backing. U.S. Sen. Ted Cruz drew 3% despite ruling out a run, with former Secretary of State Mike Pompeo getting 2%.
U.S. Sen. Marco Rubio and former New Jersey Gov. Chris Christie got 1% support, while 8% of respondents wanted a different option.
Despite the DeSantis deficit, there was some good news for him in the polling, which saw 350 Republican voters canvassed between Jan. 31 and Feb. 8.
"Ron DeSantis appears to be a suitable bridge between the Trump and non-Trump wings of the GOP," said OH Predictive's Mike Noble.
Per the polling memo: "Six in 10 Republican voters who say there is room for Trump in today's GOP would be satisfied if DeSantis were the nominee. … Only 10% of Room-for-Trump-Republicans would be dissatisfied with DeSantis as the nominee, along with 24% of No-Room-for-Trump-Republicans."
Those caveats aside, the OH Predictive poll is less positive for DeSantis than another recent Arizona poll. A survey conducted from Jan. 5-8 by Blueprint Polling shows the former President taking 43% support, with the Florida Governor garnering 34%. Previous polling of Arizona Republicans also suggested DeSantis was the top second choice to Trump.
Though DeSantis continues to contend he's not running for President, he did make a campaign swing to Arizona last year for failed candidates Kari Lake and Blake Masters.
At that stop, Lake offered a provocative quote comparing the Governor to the former President.
"He's got BDE. I call it Big DeSantis Energy. He's got the same kind of BDE President Trump has," Lake said, introducing DeSantis as a Governor who brought "Trump strength" to Florida.
Lake has already turned on DeSantis, however, sharing an article falsely suggesting George Soros backed his run for President.