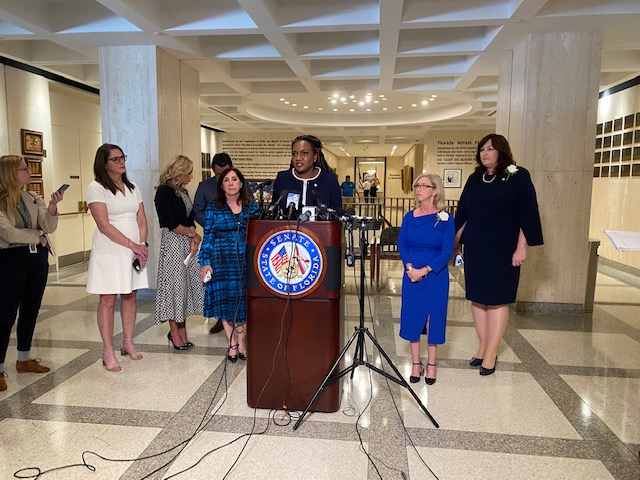 'If it's a war they want, it's a war they will get.'
Democratic lawmakers are promising to bring the fight to Republicans over legislation banning abortion before most women know they are pregnant.
The bills (SB 300, HB 7) would effectively end access to the procedure for most in Florida, except for victims of documented rape and incest, or those facing life-threatening circumstances or a fatal fetal abnormality.
The bills ban abortion beyond six weeks after the date of one's last menstrual period. The most sensitive pregnancy tests can detect pregnancy in the fourth week of gestation, or about 15 days after the egg is released into a woman's body.
The bill's debut produced a torrent of condemnations from Democratic lawmakers. Senate Democratic Leader Lauren Book said Republicans had gone "scorched earth" with this measure as she held a news conference on the first floor of the Capitol, within sight of the Governor's Office.
"This is it. They have come, and if it's a war they want, it's a war they will get," Book said. "This issue bridges the partisan divide, and we will not go down as easily as they believe."
Unlike the 15-week ban on the procedure passed last year, this one contains an exception for victims of rape and incest, provided they have a police report, a restraining order, a medical record or a court order documenting the reason for the procedure.
The bill says the request for an abortion also must be before 15 weeks' gestation for those cases. Book called the exception "an oversimplified carve-out included to appease Republicans' guilty conscience."
Democratic Rep. Anna Eskamani likened the bill to having Gov. Ron DeSantis in the exam room.
"Each of us should be free to live our lives with dignity and to make the decisions that are best for our lives, families, and communities," Eskamani's prepared statement said. "Personal medical decisions should be between me, my family, my doctor and my faith — not politicians."
Democratic Rep. Michele Rayner of St. Petersburg slammed the bill as the Governor's "stunt" for that's "a health risk to families in every county of Florida."
"The … bill does not take into consideration the health or well-being of people who are pregnant," she said in a statement. "The abortion ban bill does not take into consideration vital components like miscarriages, the health of the parent, human trafficking, rape, or incest into why abortion is necessary."
There are many more vital things the Legislature could be working on, Rayner argued further, also pointing out that people of lesser means will be impacted more by this move.
"Instead of ensuring people are able to afford housing, solving the property insurance crisis, and providing equitable relief from hurricanes, Republican leadership is more concerned with restricting and banning access to safe health care procedures," Rayner said in her prepared statement.
The bill leaves in place language from the 15-week ban on the procedure that allows abortion in the cases where the fetus is facing a fatal abnormality, the mother's health is at risk, or she is at risk for the impairment of a major bodily function. Two doctors must agree in those cases for the termination to be allowed lawfully.
Also new in the legislation introduced Tuesday: Only a doctor can dispense medicine that induces a medical abortion, and governmental entities are prohibited from aiding in travel for the purpose of obtaining an abortion.