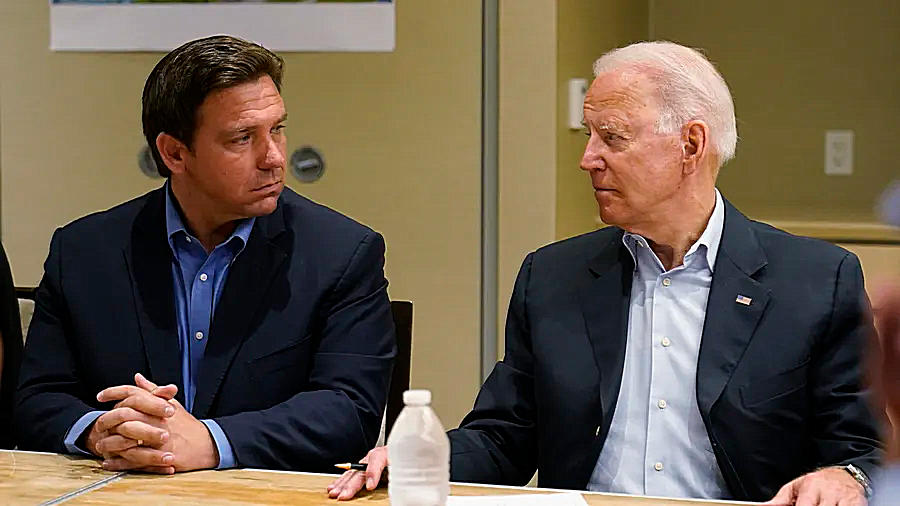 The Governor claims the President has worked to 'nullify our immigration laws.'
Gov. Ron DeSantis is contending that Joe Biden violated his oath of office in the wake of a judge siding with Florida in a challenge to the President's immigration policy.
DeSantis, appearing on the Fox News Channel's Sunday Morning Futures with Maria Bartiromo, weighed in on Northern District of Florida Judge T. Kent Wetherell's ruling that the "catch and release" policy was illegal.
"Well, what the ruling basically says is that Joe Biden has been violating the law, his oath of office and the Constitution. They are using this idea of parole and they are converting it into a way to nullify our immigration laws as one of the reasons you've had millions and millions of people illegally pour across the border. Biden then paroles them and then they get released into our communities."
The Governor's comments Sunday come after a favorable ruling from Wetherell, a Donald Trump appointee to the federal bench.
"The Court finds in favor of Florida because, as detailed below, the evidence establishes that Defendants have effectively turned the Southwest Border into a meaningless line in the sand and little more than a speed bump for aliens flooding into the country by prioritizing 'alternatives to detention' over actual detention and by releasing more than a million aliens into the country — on 'parole' or pursuant to the exercise of 'prosecutorial discretion' under a wholly inapplicable statute — without even initiating removal proceedings," asserted Wetherell last week.
DeSantis' comments follow up on triumphalism from the state's Attorney General, also during a Fox News hit.
"This is not just a win for Florida. This is a win for our country to have a judge come in and say what we have been saying all along. In fact, calling the White House out when they said there wasn't a crisis, or nothing was going on. A federal judge has now said, basically, Biden broke the border, his policies, his request for less detention has allowed millions to come in without following federal law,"  Ashley Moody said on Fox and Friends.