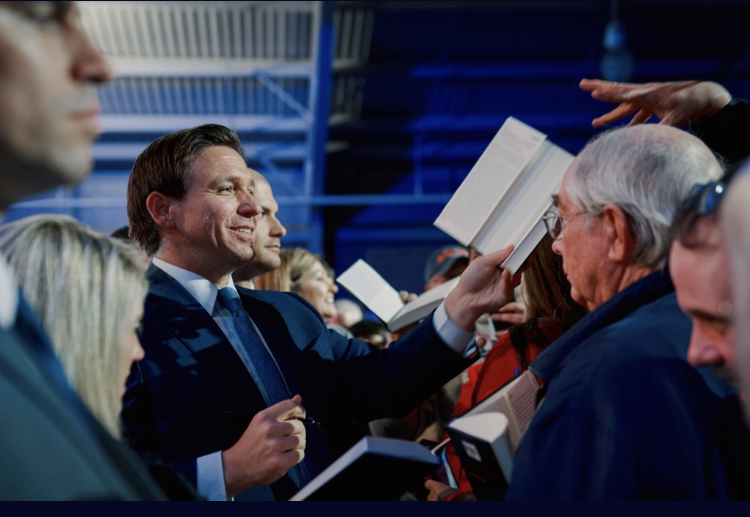 'You know, Governor Kim Reynolds is a friend of mine.'
Gov. Ron DeSantis is amplifying his recent vocal enthusiasm for Iowa, in the latest sign that he is looking to spend more time in the state.
DeSantis visited the state last week in what ostensibly was a promotional appearance for his new book, The Courage to Be Free.
During a Sunday interview on on the Fox News Channel's Sunday Morning Futures with Maria Bartiromo, the Governor continued to wax poetic about the Hawkeye State, whose Presidential Preference Caucus is disproportionately important in what looks to be a 2024 fight for the nomination.
"You know, Governor Kim Reynolds is a friend of mine," DeSantis said, of the fellow state leader he dubbed "America's Governor" during a stop in Davenport.
"And I often tell people when they ask me in Florida, you know, who else has done a good job? I always say, you look what Iowa's done. They've done a lot of the things that Florida's done," DeSantis continued.
"They've got a great legislature and I have an interesting catbird seat in Florida, Maria, as you know, because people visit here from all across the country, they move here and they tell me about where they came from."
"People come from Illinois, they're upset about how Illinois is run. People fleeing like Michigan lockdowns were very bitter. People that come down from Iowa, they're happy," DeSantis added. "They like their state. They like coming to Florida as well."
Indeed, the appearance with Iowa's Governor offered each an opportunity for untrammeled praise.
"This guy is a man on a mission," Reynolds said, offering a useful boost as the 2024 presidential field emerges.
In Davenport Friday, DeSantis also noted Iowans who come to Florida are "happy," before contrasting Florida with more left-leaning states, from which people are "uprooting."
"We start seeing all these California license plates, and a lot of our voters were spooked," DeSantis said, describing Florida as "the promised land" because of "leadership, vision and standing up for what's right."
DeSantis' Iowa visit came as fresh polling from the Des Moines Register shows the Governor essentially in a dead heat with Donald Trump. Trump will be in Iowa Monday.