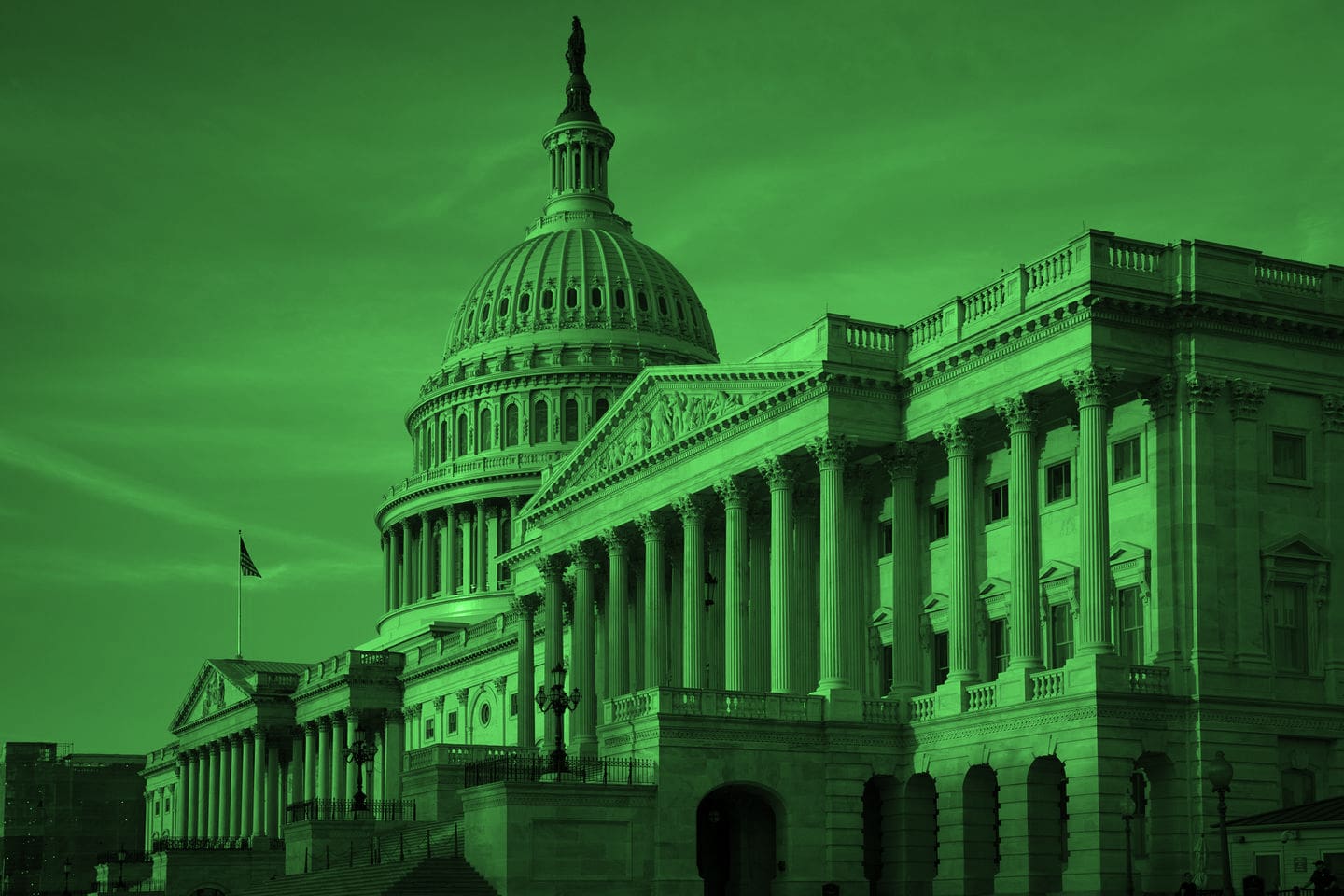 The SVB failure has Florida delegation members grasping for explanations.
Silly-con Valley
The collapse of Silicon Valley Bank had political leaders in Florida grasping at a variety of topics to explain the bank's downfall.
Rep. Matt Gaetz, a Panhandle Republican, blamed a rapid shift away from technology that grew in use during the pandemic. He made the remarks on podcaster Tim Pool's show. Gaetz blamed pandemic policies under President Joe Biden, though those started under former President Donald Trump.
"The financial arm of Silicon Valley has just been severed before our very eyes, and I also think that the Biden policies around COVID had something to do with this because it created an investment bubble in Silicon Valley in tech," he said. "Once we got past those policies, the American people rose up and said we won't be locked in our homes, we will not have our local retail and our local industry shut down and live our life in our pods getting mail products delivered to us and play on our apps all day." Gaetz said he won't support a federal rescue of the bank.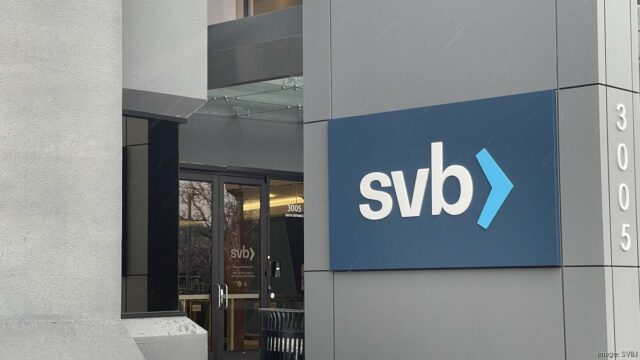 "If there is an effort to use taxpayer money to bail out Silicon Valley Bank, the American people can count on the fact that I will be there leading the fight against such a bailout," he said.
Rep. Cory Mills, a Winter Park Republican, also opposed the use of U.S. taxpayer dollars to help the bank.
Gov. Ron DeSantis, meanwhile, blamed investment in diversity, equity and inclusion (DEI) programs.
"I mean, this bank, they're so concerned with DEI and politics and all kinds of stuff. I think that really diverted from them focusing on their core mission," DeSantis contended.
Rep. Maxwell Frost noted that when the Governor served in the House, he voted to ease regulations on banks. "When Gov. DeSantis was in Congress, he voted to ease and lessen regulations for regional banks," he said. "Now he wants to blame the SVB Financial collapse on Diversity, Equity and Inclusion?" Frost tweeted.
Rep. Jared Moskowitz, a Parkland Democrat, also questioned the motives of such criticisms. "We're really only moments away from them (Republicans) telling us wokeness killed the dinosaurs," Moskowitz told MSNBC host Medhi Hassan.
Florida is among 26 public pension funds invested in part in the SVB Financial Group. That makes any potential response consequential both to the national economy and the state government.
Concordia
Presidents of Latin American nations gathered at the University of Miami for the
Concordia Americas Summit, a regional initiative on challenges for the Western Hemisphere. It was the second time the event landed on the South Florida campus, with leaders expected to return in 2024 and 2025 as well.
For the first time, Concordia Americas hosted speeches at the Shalala Student Center by Guatemalan President Alejandro Eduardo Giammattei and Suriname President Chan Santokhi. And Sen. Rick Scott also took to the stage.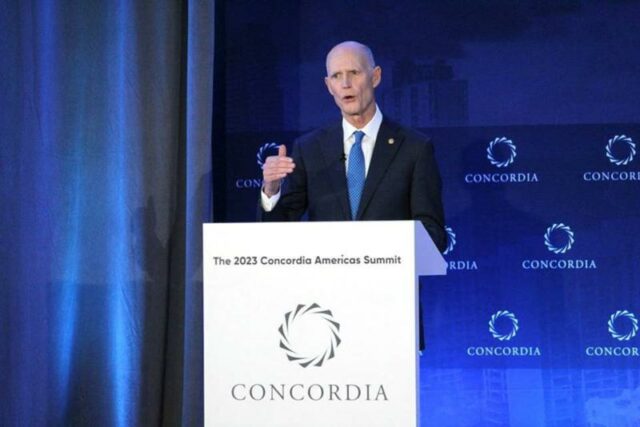 "I've had the pleasure to be part of Concordia since 2019," the Naples Republican said. "It's great to see so many familiar faces in the room that I have gotten to meet and work with throughout the years."
Scott used his time to stress the growing hostility between Communist China and the U.S., something he said is important for nations to realize as the Eastern superpower seeks to expand its global influence.
"I'm here to tell you that almost nothing is a bigger threat to democracy in Latin America and across the Western Hemisphere than the growing influence of oppressive regimes like Communist China, Russia and Iran," Scott said.
"Communist China, Russia and Iran want to dominate the world. These evil regimes want to end democracy and destroy our way of life. What we are all watching them do in
Latin America is clear proof that what I am saying is true."
A former member of the Florida congressional delegation also spoke about an area of expertise. Former Rep. Donna Shalala, now a UM professor, spoke on global health care from a stage in the center bearing her name.
"We need to look at the health care personnel shortage the same way we've looked at the supply chain issues: from the beginning of entry right down to the job market," she said.
Organizers also focused attention on environmental sustainability. Concordia officials said that's part of a global effort. They plan to stress the same agenda at events held in other nations this year as well.
"Today, more than ever, convening to share solutions to sustainability challenges worldwide should be one of our highest priorities," Concordia Programming Director Anna Freeman said ahead of the event.
"Environmental sustainability is going to be a prominent theme in March. We are looking forward to starting conversations at this Summit that will continue at future summits, in particular at the Amazonas Summit in Ecuador this July, where Concordia will celebrate the Amazon rainforest and bring together leaders to discuss ways to protect its ecosystem."
International leaders also gathered onstage to discuss the growing threat of misinformation in a digital world. Former Bolivian President Tuto Quiroga and former Uruguay President H.E. Luis Alberto Lacalle Herrera both were part of a panel discussing how dissemination of falsehoods has impacted governments in those nations.
"Misinformation can do a lot of damage because it can forcefully form the opinion of the citizens," Herrera said.
Quiroga said it's also changed what's at stake in elections. "The fight in Latin America is not left versus right; it is democracy versus autocracy," he said.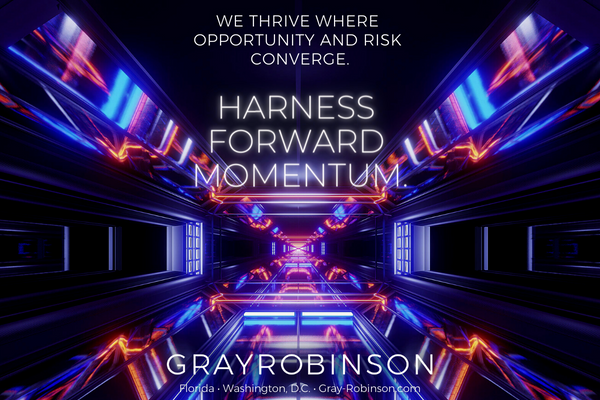 Iranian negotiation
Sen. Marco Rubio made clear he wants an Iranian American being kept prisoner in Iran to come home.
"Iran is governed by a sadistic regime that continues to hold innocent Americans such as Morad Tahbaz as hostages," Rubio tweeted. "Bring them all home now." The Senate Intelligence Committee Ranking Republican made his statement as Iran and the U.S. make competing claims about a prisoner swap deal. Iranian foreign minister Hossein Amir-Abdollahian said through state media there that a deal had nearly been struck, reports the BBC. "I think we will witness a prisoner exchange in a short period," he said.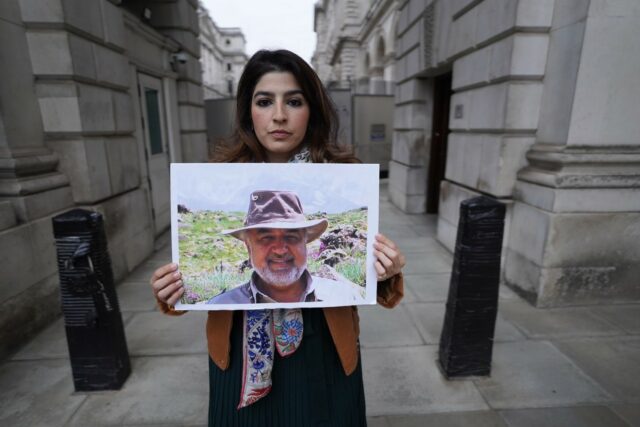 But the White House responded by saying the Iranian regime had a known tendency to
"make things up."
The U.S. has acknowledged talks seeking the release of Americans Tahbaz, Siamak Namazi and Emad Shargi.
Tahbaz, a conservationist, was arrested in 2018 during a trip to Iran and is accused of spying for the U.S. government. His family said he needs medical treatment.
Ukraine disdain
The two Florida men likely running for President in 2024 both oppose U.S. support for Ukraine.
After months of sidestepping questions on the matter, DeSantis told Fox News host Tucker Carlson through a written questionnaire that he does not prioritize support for Ukraine as a war continues with Russia.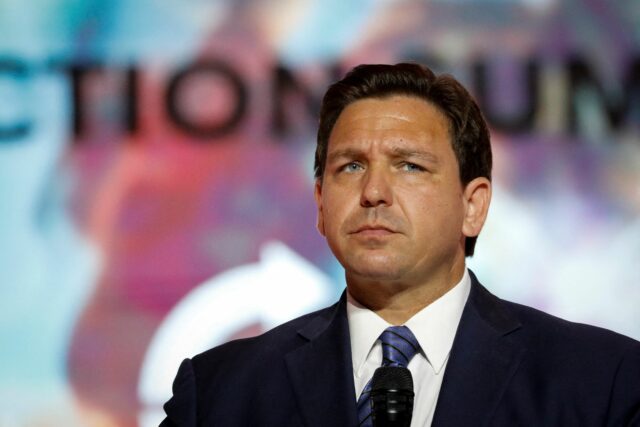 "While the U.S. has many vital national interests — securing our borders, addressing the crisis of readiness with our military, achieving energy security and independence and checking the economic, cultural and military power of the Chinese Communist Party — becoming further entangled in a territorial dispute between Ukraine and Russia is not one of them," DeSantis wrote in a statement read aloud by Carlson. Trump has previously said he would negotiate a deal with Ukraine. "I could have negotiated. At worst, I could have made a deal to take over something, you know, there are certain areas that are Russian speaking areas, right, like, but you could have worked a deal. And now Ukraine is just being blown to smithereens," he told Fox News' Sean Hannity earlier this week. Trump confirmed his position in Carlson's questionnaire as well, stating "both sides are weary and ready to make a deal." The Democratic National Committee slammed the positions of both figures, the two Florida Republicans apparently in the running for the 2024 presidential nomination.
"Of course, 2024 MAGA Republicans Donald Trump and Ron DeSantis would use Tucker Carlson's platform to announce they'd rather side with Vladimir Putin than Ukraine and democracy," asserted Ammar Mousa, Press Secretary for the Democratic National Committee.
"This is just the latest example of how the race for the MAGA base means 2024 Republicans will take exceedingly extreme positions, even if it undermines our allies and democracy."
Parents rights
While only a first-termer, Rep. Aaron Bean has already been named Chair of the Early Childhood, Elementary and Secondary Education Subcommittee. The Fernandina Beach Republican in that capacity was on hand with Speaker Kevin McCarthy to co-introduce the Parents Bill of Rights in the House.
The legislation would ensure parents can see all reading material and know the curricula taught in public schools. It also requires updates on violence taking place at school and requires transparency on school budgets and spending decisions nationwide.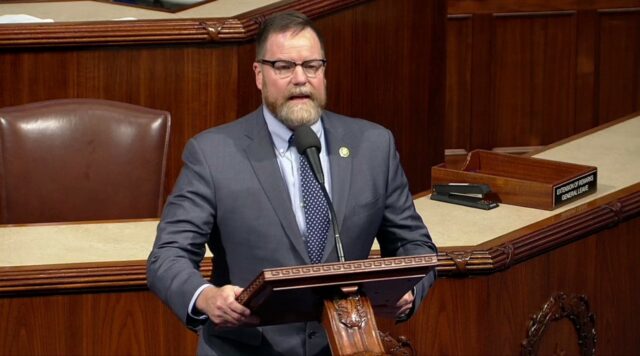 At the same time, the bill includes safeguards on children's right to privacy. "There is never a time when a teacher should tell a student, 'Let's keep this between ourselves' or 'Let's not tell your parents what we are doing.' This bill says no — we are not going to allow that going forward," Bean said at a news conference. "Parents are not going to be kept in the dark. Parents are going to be part of the education process going forward."
Of course, public education operates differently in every state. Florida law already requires public access to budgets, for example. But the bill seeks to standardize the rules nationwide.
Chinese drilling
Any leases the government issued that allow China to mine and drill on U.S. lands should end, according to Rep. Michael Waltz. The St. Augustine Beach Republican filed the CCP Lease Abolishment for Minerals and Petroleum (CLAMP) Act with Rep. Josh Gottheimer, a New Jersey Democrat.
"The Chinese Communist Party is taking advantage of our free-market economy to exploit, steal, influence and spy," Waltz said. "We cannot continue to sit back and allow our greatest adversary to take control over resources that are integral to our industrial base and American consumers. The CCP has exploited loopholes for long enough. I am proud to work with Congressman Gottheimer to keep our natural resources and public lands & waters out of the hands of the CCP."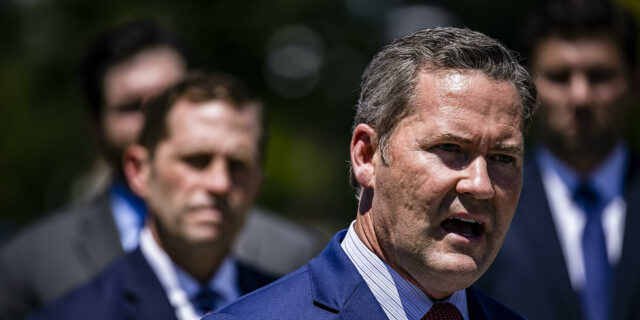 He pointed to business done by the China National Offshore Oil Corporation, a state-owned company that holds stake in two offshore drilling projects in the Gulf of Mexico.
While state law requires American companies to hold all leases for extraction on federal lands, it doesn't address when foreign businesses acquire and hold leases through American-subsidiary companies.
"The Chinese Communist Party has made it clear that it is willing to leverage technology and resources to breach United States institutions, steal our intellectual property, collect data on U.S. citizens, access the systems that handle our critical infrastructure and control our country's resources," Gottheimer said. "We must protect our national security from the CCP — an adversary that wants to do harm to America's standing as the leader of the free world."
After Kabul
Before Rep. Cory Mills' election to Congress, he earned national attention for civilian-led evacuations of individuals from Afghanistan. Now with a seat in the House, he has the chance to scrutinize the widely criticized withdrawal of U.S. forces from the nation.
"This hearing was personal to me. It was not political," the Winter Park Republican said at a House Foreign Affairs Committee hearing last week. "Almost 20 months ago the American people witnessed a dereliction of duty when 13 new Gold Star families lost their loved ones.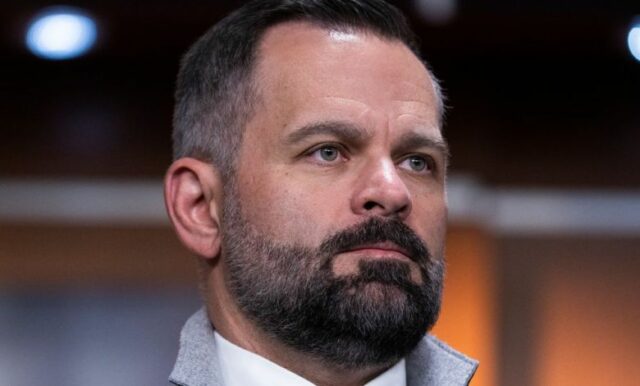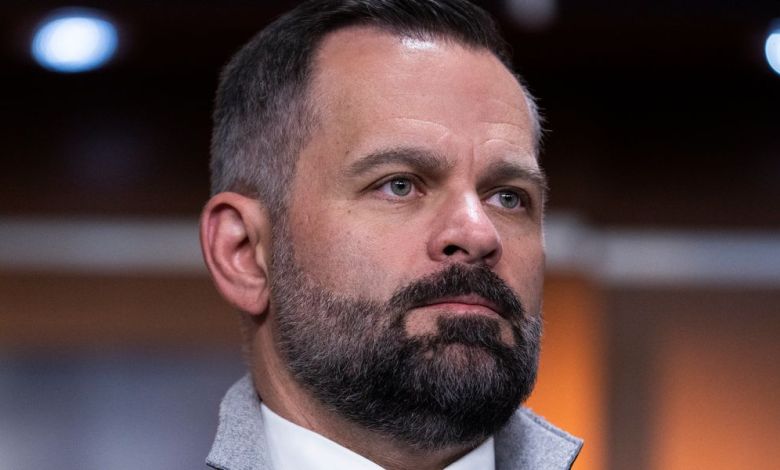 "I was blessed to be a part of a team of brave, determined and passionate freedom fighters who conducted the first successful civilian overland rescue mission in Afghanistan. The U.S. withdrawal was hastily done, poorly timed, reckless, and dangerous. America is an exceptional nation, but on that day, the country swelled with shame."
He said it's important that individuals responsible for the mishandling of the withdrawal face consequences, even after the death of 13 service members at an airport in Kabul. "This hearing reminded every American that until now, there has been zero accountability for the disastrous decisions leading up to and during the botched withdrawal from Afghanistan," he said. "Today's hearing was a step in the right direction for getting transparency about the events leading up to that perilous day, and I won't stop fighting for the 13 Gold Star families."
WOTUS fight
Who has authority over the water?
It's been a fight between states and the federal government for years. Former President Donald Trump issued an executive order easing federal oversight from the Clean Water Act. But Biden rescinded that, and a subsequent Waters of the United States rule from his administration ended up giving broader oversight over large water bodies than seen in decades.
But the Republican-controlled House just pushed back on that. The chamber approved a bill by Rep. Daniel Webster, a Clermont Republican, which would codify the Trump-era rules into statute.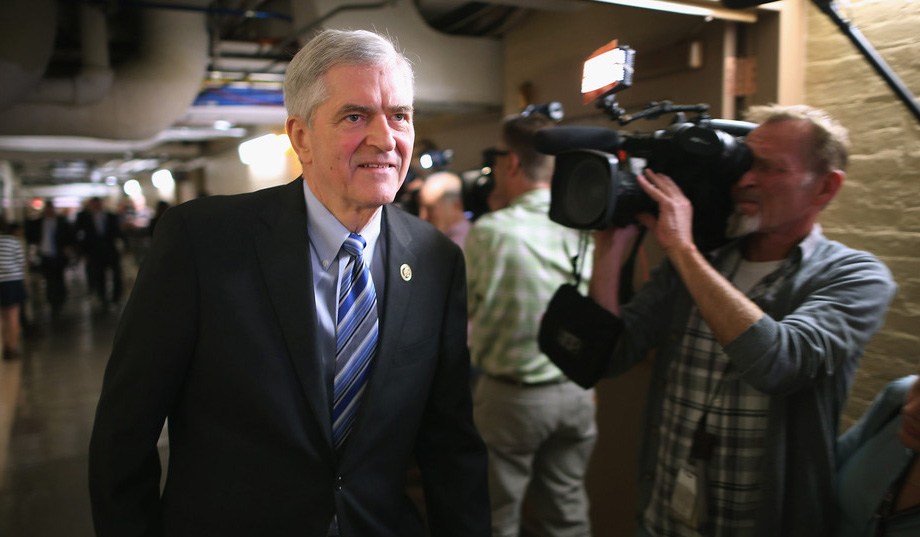 "With bipartisan support, the House passed legislation to rescind the Biden administration's flawed and burdensome WOTUS rule," said Rep. Webster. "This bill will provide countless everyday Americans with needed regulatory relief and hope that the
Senate will take swift action to pass this important legislation."
The bill passed 227-198, with nine Democrats in support of Webster's bill and one Republican opposed. The Florida delegation broke along party lines.
Bitter dish
When Cuba's ambassador to the U.S. stopped at a Tampa restaurant for dinner last week, she was greeted by angry protests, according to the Diplomatic Times. Robert Pizano, a Cuban American previously held as a political prisoner for 18 years, and son Raphael Pizano both protested at Mise en Place when they learned Ambassador Lyannis Torres Rivera would dine there.
"You are a representative of Cuba's murderous government, and you have come to Tampa to eat?" Raphael Pizano reportedly said.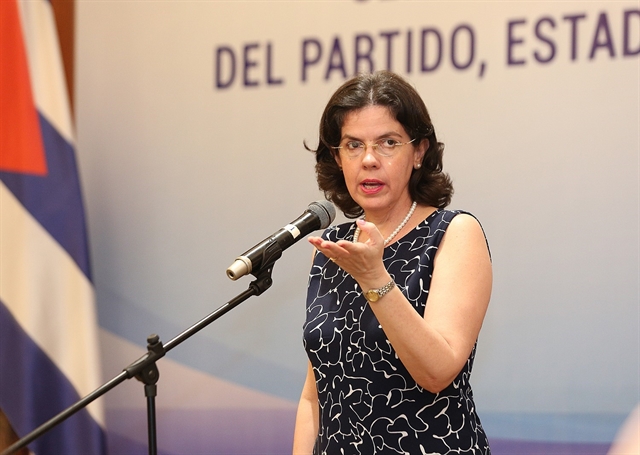 The news that a representative of the Cuban government visited her district for dinner also left a bad taste for Rep. Laurel Lee. The Thonotosassa Republican issued a statement serving up disdain.
"Representatives from the Cuban government are not welcome in Tampa Bay," Lee said. "Cuba is a state sponsor of terrorism and should be treated as such. I denounce any steps toward normalization with this corrupt regime and stand strong with the Cuban community. Cuban Americans are the embodiment of the American Dream and are rightfully outraged over this visit."
Glock boxes
If Congress won't allow those working at Congress to keep concealed weapons on them, Rep. Greg Steube would at least like the ability to remain armed on a commute. The Sarasota Republican filed a bill calling for the Capitol Police to install lockers at the House of Representatives office buildings. The Safe Storage Lockers for House Office Buildings Act would call for those lockers to be located at all pedestrian entrances, and for them to be available for House employees to store legally carried weapons.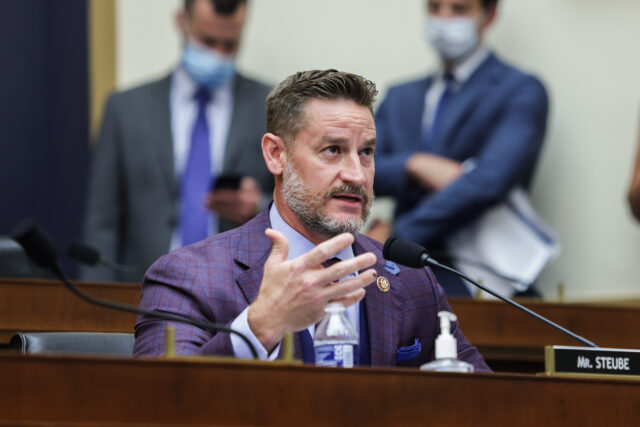 "Violent crime has skyrocketed across the country, enabled by disastrous soft-on-crime Democrat policies," Steube said.
"Sadly, our nation's capital is regressing to total lawlessness and violent chaos. Today, I'm introducing legislation to ensure Congressional employees have the right to defend themselves in crime-ridden D.C."
Washington had 2,654 violent crimes reported in the year 2021, with many of those involving House staff, according to Steube's office. The D.C. Council considered reducing mandatory minimum sentences, though the House nullified that. But Steube predicted spikes in crime in the city.
"My bill is simple: any employee who is lawfully permitted to carry a firearm, stun gun or self-defense spray will be able to bring those weapons on their commute to a House Office Building and safely store the weapon until they are ready to depart the building," he said.
Hurricane relief
Those Floridians dealing with losses from hurricanes last year could see Congress deliver tax relief.
Scott and Rep. Byron Donalds introduced the Hurricane Tax Relief Act, which would create a number of tax breaks to those impacted by Hurricane Ian, Nicole or Fiona. Donalds, a Naples Republican, said Southwest Florida residents were dealt a hard blow in 2022. They shouldn't worry about more financial challenges when they file their taxes. "As the Congressman representing ground zero of Hurricane Ian's impact, it has been my utmost priority to restore our community and ensure the federal government is working to help, not hold up our recovery efforts," Donalds said.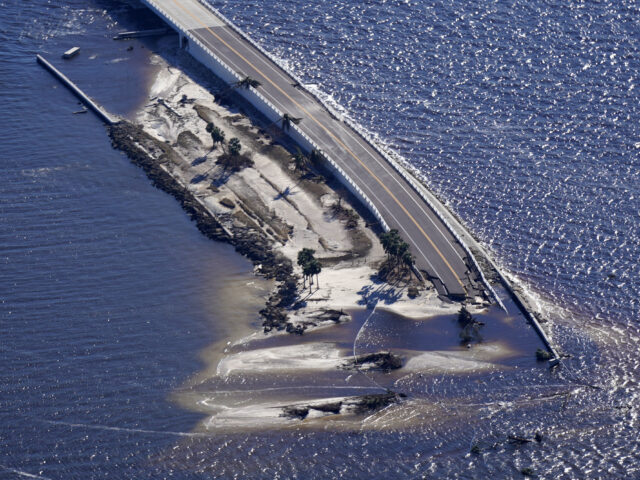 "I am proud to work with Sen. Rick Scott on this common-sense and collaborative approach to providing critical and enhanced disaster loss tax relief to those impacted by Hurricane Ian and other natural disasters in 2022. This bill provides much needed and focused financial assistance that will undoubtedly alleviate the economic burden of many in my district and throughout Florida and Puerto Rico."
Ian made landfall in Lee County on Sept. 28. Weeks later, on Nov. 9, Hurricane Nicole hit Florida's Atlantic coast.
Scott sponsored the House bill with Rubio.
The Florida officials also worked with Rep. Jenniffer González-Colón, Puerto Rico's Resident Commissioner. Puerto Rico took the brunt of Hurricane Fiona on Sept. 17. "The last thing families should have to worry about as they recover from devastating storms like Ian, Nicole and Fiona is a big tax bill," Scott said.
"In years past, Congress has worked to make sure that families can get the disaster loss tax relief they deserve following hurricanes, and this good bill follows that precedent. Communities in Florida and Puerto Rico have shown incredible strength in the days, weeks and months following these storms, and it is critical that we continue to make sure the federal government is working with state and local officials to get resources to those in need."
Other introducing co-sponsors include Reps. Scott Franklin, a Lakeland Republican, Bill Posey, a Rockledge Republican, Mario Díaz-Balart, a Hialeah Republican, and Gus Bilirakis, a Palm Harbor Republican.
Social worker justice
Miramar will soon have a social worker on its police force, thanks to a federal community policing grant. Rep. Sheila Cherfilus-McCormick, a Miramar Democrat, presented a $100,000 check for the police department in a ceremony alongside Rep. Debbie Wasserman Schultz, a Weston Democrat.
"This is a monumental step in the right direction," Cherfilus-McCormick said.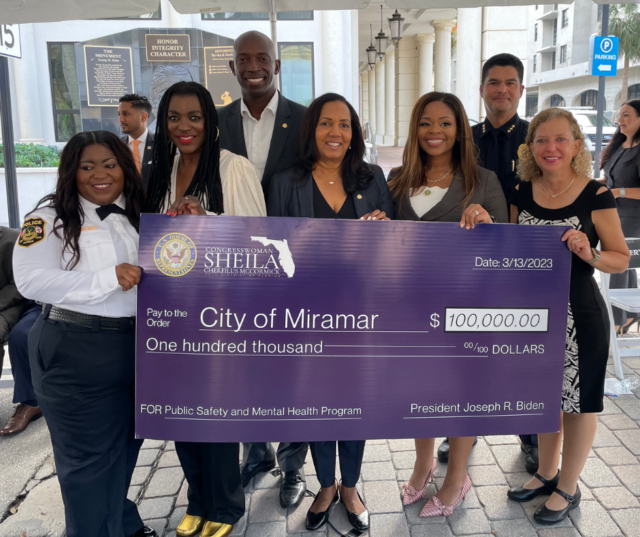 "Community project funding was again included in the Federal 2023 budget, allowing Members of Congress to respond directly to our districts' most pressing issues. I proudly requested this funding for the City of Miramar — Public Safety and Mental Health Program to ensure trained crisis mental professionals collaborate with law enforcement to reduce tragic encounters."
In this role, the social worker will help de-escalate potentially violent confrontations with police.
"We are very excited about our new Police Social Worker position," said Interim Police Chief Dr. Jose Vargas. "It is our hope that it will enhance the Police Department's relationship with our community, filling a crucial gap by providing additional resources for those in crisis." ART:
On this day
March 14, 1903 — "Nation's first wildlife refuge established at Pelican Island" via Our National Parks — Frank Chapman, founder of Bird-Lore and prominent figure of the Audubon Society and the American Ornithologists' Union, worked with President Theodore Roosevelt to preserve the island. Roosevelt signed an executive order that made Pelican Island the first federal bird reservation. He also created a network of 55 bird reservations and national game preserves for wildlife. A German immigrant named Paul Kroegel served as the first refuge manager at Pelican Island from 1903 until 1926. Pelican Island continues to protect the historic rookery and restore the lagoon habitat for 16 distinct species of birds that nest there.
March 14, 1963 — "John F. Kennedy's body moved to permanent grave site" via History.com — President Kennedy had made an unscheduled tour of Arlington and remarked to a friend on the view of the Potomac from the Custis-Lee Mansion, reportedly saying it was "so magnificent I could stay forever." After his assassination, the friend who accompanied him to Arlington relayed the comment to the President's brother-in-law, Sargent Shriver, who suggested the site to Jacqueline Kennedy, the President's widow. She was responsible for the final decision, toured the site and agreed. "He belongs to the people," she said.
___
Delegation is published by Peter Schorsch and compiled by Jacob Ogles and edited and assembled by Phil Ammann and Ryan Nicol.