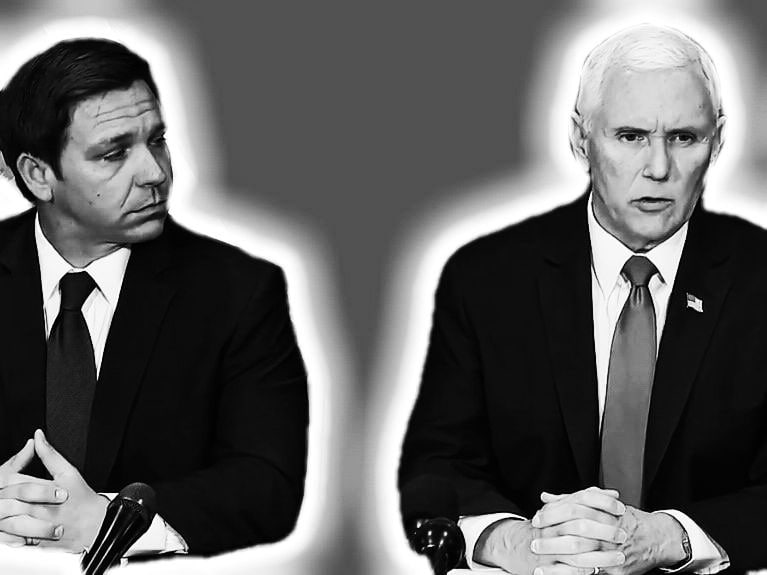 'One on the right, one on the left, and both are wrong.'
Former Vice President Mike Pence is doubling down on attacks against Florida Gov. Ron DeSantis.
The latest salvo came during a Yahoo! News interview Tuesday, when the potential Presidential candidate likened "government activism" from DeSantis to that of California's Gavin Newsom, comparing Florida's handling of Disney to how California dealt with abortion pills.
"I'm a limited government conservative, and I believe in private property, free enterprise. My concern more broadly was just simply about taking action against a company in the wake of a political dispute, where the company had taken a different position than the state," Pence contended.
"I have concerns about that in Florida. I had the exact same concerns about California, pulling a $54 million contract from Walgreens because Walgreens announced that they'll not be distributing the abortion pill in 20 states where it would be illegal to do so. To me, it's the same kind of government activism — one on the right, one on the left, and both are wrong."
In tones reminiscent of DeSantis declaring "there's a new sheriff in town" regarding radical changes to Disney governance in the wake of the company's pushback against the Parental Rights in Education law, Newsom struck a defiant pose against Walgreens recently.
"California won't be doing business with Walgreens — or any company that cowers to the extremists and puts women's lives at risk. We're done," Newsom tweeted.
Pence was also concerned Newsom was raising "First Amendment issues," contending businesses should be able to take stands "without fear of retribution from government entities."
Last month, Pence offered a somewhat softer version of the same critique, contending that "going after (Disney's) taxing authority … "was beyond the scope of what I, as a conservative, limited-government Republican would be prepared to do."
The comparison of Newsom and DeSantis seems purposeful, with both coastal Governors invoking each other as foils in recent months.