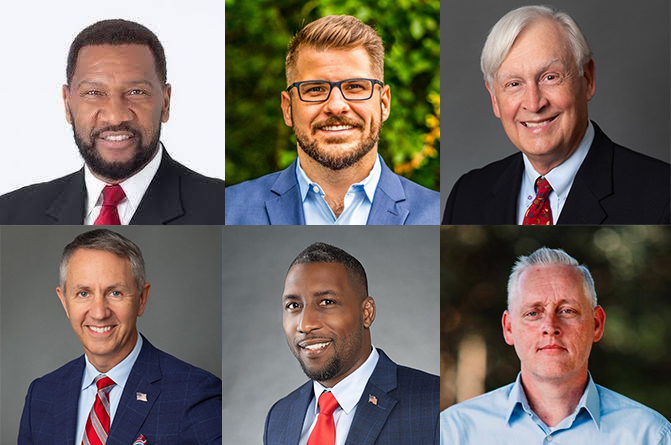 Money may not make the difference, if a recent poll is accurate.
A runoff is expected among the six candidates vying for the at large Group 5 seat on the Jacksonville City Council, with money not making the difference, if a recent poll is accurate.
Retired Army Col. Chris Miller, a Republican, paired strong fundraising with good polling to be second in both, but notably sports endorsements from many of the politicians and organizations considered kingmakers for the City Council.
The University of North Florida Public Opinion Research Lab (UNF PORL) Jax Speaks Spring Survey put Miller tied for second place at 14%, along with Democrat Nahshon Nicks, who had his residency questioned. Democrat Charles Garrison held the edge in the race, coming in at 16%.
Miller put nearly $167,800 into his campaign as of the latest numbers, spending nearly $140,000. 
He's snagged endorsements from the local police union, Sheriff T.K. Waters, U.S. Rep. John Rutherford, Jacksonville City Council President Terrance Freeman, and City Councilmen Aaron Bowman, Jevin Carrico, Rory Diamond, Nick Howland and Randy White.
Organizational support also includes the First Coast Manufacturers Association, JAXBIZ of the Jacksonville Chamber of Commerce, and the Northeast Florida Association of Realtors, among others.  
Garrison pulled more than $32,000 into his campaign, spending around $22,300. He has emphasized a "big picture approach" to what he would do on City Council.
A military veteran and small businessman, he's the Chairman of the Jacksonville Environmental Protection Board's Water Committee, and served as Secretary on the Jacksonville Housing and Community Development Commission. He also serves on the board of local nonprofit Changing Homelessness.
Nicks noted his roles as a youth pastor, local nonprofit CEO and small business owner. His candidacy came into question when documents showed he may not be living where he said he did.
"When Nicks voted in August, his registration said he lived at a home on Moby Dick Drive West. That home was outside of at large Group 5," The Tributary reported. "In October, he changed his registration to a Springfield home inside of the residency area, two days before he filed to run as a candidate."
Nicks is fourth in fundraising, with around $28,400 going into his campaign account per the latest available numbers, and spending more than $27,700.
Republican Reginald Blount posted around $27,500 in his campaign account, spending more than $21,300. He pulled 9% in the UNF poll, good for fourth place. An Army veteran, he left the service in 2016 and began working in adult continuing education at Florida State College at Jacksonville, where he serves as an adjunct professor.
A certified public accountant, independent Jack Meeks jumped into the campaign with a $250,000 loan, before raising more money to head into Election Day with nearly $366,000 placed into the campaign coffers and nearly $347,000 spent. He's polling at 5%, which is fifth place in the UNF poll.
Tub Rorabaugh, a pastor, is in the race for the Libertarian Party, polling sixth among the six candidates with 4%. He has raised more than $10,700, spending more than $9,800. He said he got into city politics when municipal officials shut down his church because of permitting issues.