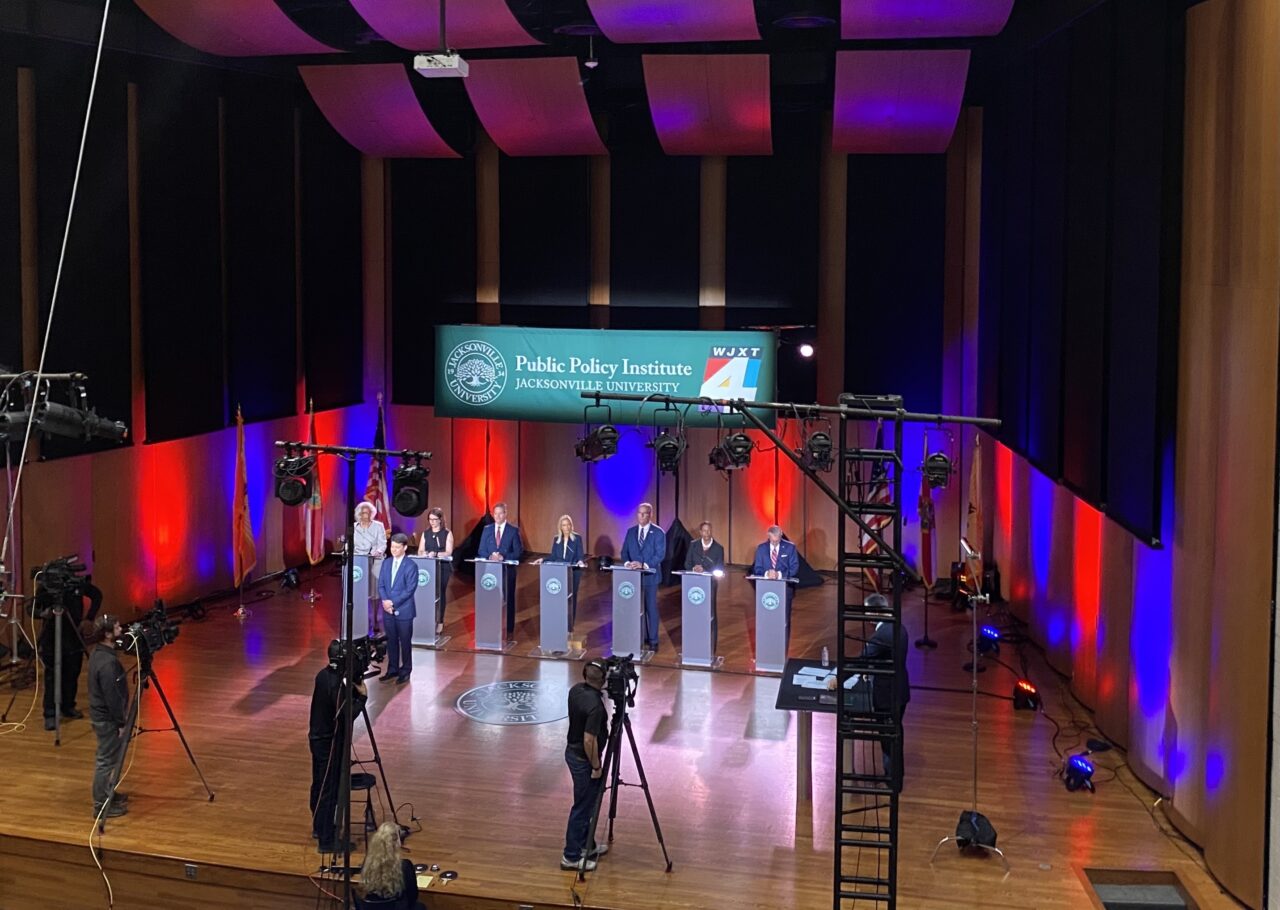 Donna Deegan and Daniel Davis lead polls. But could one of the other six surprise?
Jacksonville's "elite eight" field of mayoral candidates will be reduced dramatically Tuesday, with the First Election likely to set up a runoff.
Polls have shown Democrat Donna Deegan and Republican Daniel Davis are favorites to finish in the top two slots. If those surveys are truly predictive, the former television journalist and the current Chair of the Jacksonville Chamber of Commerce will square off in the May 16 General Election.
However, six other candidates are running. With roughly half of the votes left to be cast on Election Day (if the March elections in 2015 and 2019 are predictive), candidates like former Senate Democratic Leader Audrey Gibson, Republican City Council members LeAnna Cumber and Al Ferraro, Republican former lawyer Frank Keasler Jr., independent Omega Allen and write-in Brian Griffin all will, at the very least, complicate preliminary calculations.
The mayoral race began long before this year. As far back as 2015, Davis was telling people he intended to run for Mayor once incumbent Lenny Curry was term-limited. The Westside Republican, running under the "Jacksonville Grown" tagline, has been the strongest fundraiser in the race, with roughly $6 million brought in between his campaign account and his Building a Better Economy political committee.
Yet while Davis has been running for the office for close to a decade, Democrat Deegan appears to be the leading candidate in Tuesday's election. An alumna of Bishop Kenny High School, a relative of former Mayor Tommy Hazouri and a longtime on-air personality on First Coast News, Deegan has had name identification no other candidate can match. She has raised more than $1.2 million so far between her campaign account and her Donna for Duval political committee.
While Deegan has polled in the upper 30s, there doesn't seem to be a path for her to get above 50% in this crowded field and avoid a runoff. Democrats finished the early voting period with a 5.4-percentage-point lead over Republicans. However, the GOP dominates Election Day turnout, and all likelihood is that Republicans will hold the ultimate advantage in the end.
While Deegan is the best-funded Democrat in the race, Republican Cumber has been the second-best financed candidate overall, with more than $4.5 million between her campaign account and political committee. But it hasn't converted into polling success. She has been in the single digits in both public polls of the race.
Cumber and Davis have spent most of the campaign so far attacking each other through political committee ads. Cumber's spots have focused on votes Davis took on the City Council and the state House a decade (or longer) ago, while Davis' ads have suggested the Cumber family was in a position to profit from the privatization of local utility JEA. These have been some of the most negative campaign ads in Jacksonville history.
Democrat Gibson is polling in single digits also, but that is likely going to be enough to give Deegan a ceiling. Deegan supporters have suggested Gibson has run as a spoiler candidate, which Gibson denies. But the veteran politician has not committed to supporting Deegan in the runoff at this point, raising questions as to whether she could follow the tradition of defeated March candidates like Bill Bishop in 2015 and cross party lines for a May endorsement.
Republican Councilman Ferraro has not been able to match Davis and Cumber in fundraising, but he's been a factor down the stretch, as evidenced by Davis turning more negative advertising his way. He's raised roughly $400,000 this campaign cycle, but his straight-talking social conservatism has given him a presence in this campaign beyond his relatively meager fundraising. Though both Gibson and he have polled in the high single digits, they both will be factors in how Tuesday night goes.
No-party candidate Allen has run twice before, actually finishing third in 2019's election, which did not see a Democratic candidate run against incumbent Curry. She, along with Keasler and Griffin, are not expected to contend Tuesday, but their vote shares are worth watching as indicators of how many voters are fed up with the political establishment altogether.