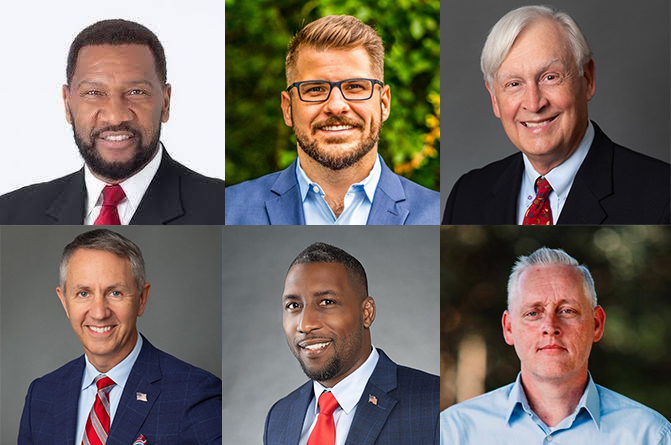 A crowded field is down to two.
Republican Chris Miller led all candidates with 37% of the vote Tuesday, while Charles Garrison edged out fellow Democrat Nahshon Nicks 26%-17% to make it into the runoff with Miller for the Jacksonville City Council at large Group 5 seat.
"Thank you, Duval County," Miller said after the results posted Tuesday night. "I appreciate your support in this election and am honored to have the chance to be on your ballot again for the May runoff. We are halfway there. The work begins again tomorrow."
Miller, a retired Army colonel, wrangled an impressive list of endorsements going into the first round of voting, including the local police union, U.S. Rep. John Rutherford, Sheriff T.K. Waters, Jacksonville City Council President Terrance Freeman and City Council members Aaron Bowman, Jevin Carrico, Rory Diamond, Nick Howland and Randy White.
Organizational support also included the First Coast Manufacturers Association, JAXBIZ of the Jacksonville Chamber of Commerce, and the Northeast Florida Association of Realtors, among others. 
A military veteran and small businessman, Garrison chairs the Jacksonville Environmental Protection Board's Water Committee, and served as secretary of the Jacksonville Housing and Community Development Commission. He also serves on the board of local nonprofit Changing Homelessness.
Independent candidate Jack Meeks put an incredible amount of money in the race compared to his opponents, spending nearly $347,000, as of the latest reports. Yet he landed in fifth place with just a 5% of the vote.
Nicks, a youth pastor, local nonprofit CEO and small business owner, came in third with 18%. His candidacy came into question when documents showed he may not be living where he said he did, which may have been a critical ding.
Rounding out the results, Republican Reginald Blount posted a fourth-place finish, drawing 13% of the vote. Libertarian Tub Rorabaugh finished last among the candidates, bringing in just 1% of the votes.
All vote totals are unofficial.