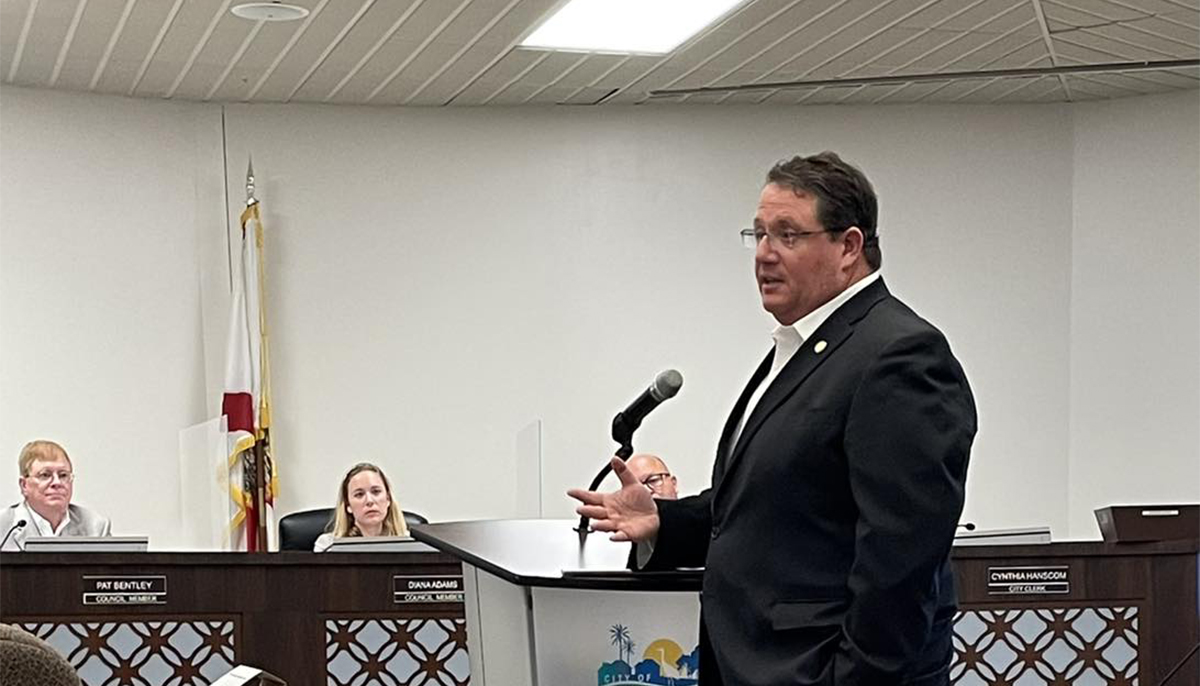 Stopping children from going to drag shows is the aim, although the bill doesn't specifically mention them.
Republican Rep. Randy Fine hasn't been to a drag show, but his attempt to advance a bill that would make it a misdemeanor to admit a child to a drag show brought a few drag queens to him.
Fine's legislation (HB 1438) comes as the state has at least three active investigations involving allegations that venues allowed children into drag show performances. The measure received a nod from the House Commerce Committee from the Republican majority, but Democrats raised the alarm that it was a violation of parental rights and censoring free expression.
The bill doesn't specifically mention drag shows but prohibits taking children to an "adult live performance." It specifies that entertainment that simulates nudity, sexual excitement and involves prosthetic breasts or imitation genitals where children are present is an "immediate, serious danger to the public." Establishments could lose their license to operate for violations, the bill says.
Fine said he can't understand why anyone would want to take a child to a drag show, but Bak Lava, Freida Rose Young and Ronnie Angelique came to explain it to them.
"I'm not a stripper, I'm an educator and an artist," Tampa resident Angelique said.
Others spoke about how seeing drag's artistry saved their lives, as bullied, misunderstood LGBTQ youth.
Democrats say the bill is an obvious attack on the LGBTQ community. Republicans say it's protecting children from "harmful influences" that are already creating a mental health crisis.
"We are literally stressing our kids out," said Republican Rep. Joel Rudman of Navarre, a pediatrician who admitted to putting on KISS makeup. "They are getting exposed to things that children were never intended to be exposed to."
"It's not the state's responsibility to push standards on others, to push your personal preference and obviously this is the free state of Florida," Democratic Rep. Anna Eskamani of Orlando said.
She noted that exposing children to explicit sexual content is already illegal. "Drag is theater, drag is artistic, drag is flamboyant, drag is outrageous, drag is about love and acceptance."
Both Fine and Republican Rep. Chase Tramont said they can't believe he lives in a world where this is being debated.
"I would just say the unchecked fascination with specifically targeting children with deliberate sexualization and biological confusion is ending soon, and I emphatically support this bill," Tramont said.
The hearing lasted more than two hours.
But Rep. Dotie Joseph of Miami called the bill "state-sponsored homophobia."
"These things cause real harm. It's not imagined," Joseph said.
Fine was angry.
"Why is there a dramatic increase in suicide and mental distress in our children? Why? Why? Why?" Fine said. "But when you want to get to the root causes of it, nobody seems to be that interested."
"Leave the children alone," Fine added. "The question is not, 'Why do they want to stop us?' The question is, 'Why are they so determined to do this to children?'"
An identical bill (SB 1438) that Republican Sen. Clay Yarborough is proposing received its first committee nod Tuesday.