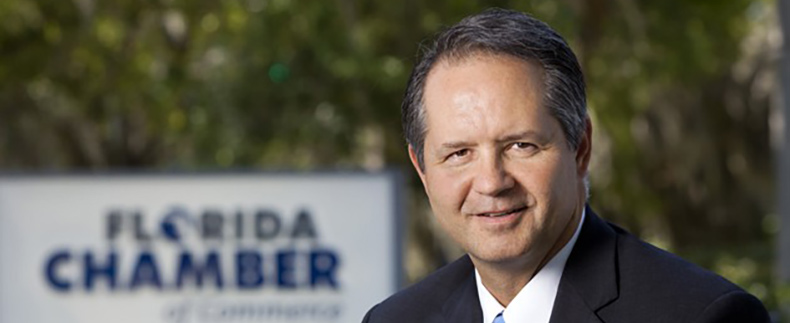 Former Supreme Court Justice Alan Lawson will head the Florida Chamber's legal efforts.
After the Legislature passed a sweeping bill (HB 837) that limits lawsuits against insurance companies, the Florida Chamber of Commerce announced it's establishing a legal defense fund to ensure the bill isn't ensnared in "lengthy and unnecessary courtroom battles."
Florida Chamber of Commerce President and Chief Executive Officer Mark Wilson said in a prepared release that he anticipates the bill, which was sent to Gov. Ron DeSantis Friday, will be challenged by the "personal injury lawyer industry."
While the Florida Chamber of Commerce's in-house lawyers have reviewed the bill and maintain it's legally sound, Wilson said former Supreme Court Justice Alan Lawson will be heading up the group's legal efforts. 
"The personal injury lawyer industry has habitually used the courts to undo the work and intent of the Legislature and the citizens of Florida those elected officials represent. This is evidenced by legal challenges to several of the most impactful recent legal reforms in Florida — from workers' comp to medical malpractice to the repeal of joint and several liability and others — which all faced legal delays upon being signed into law," Wilson said.
"While our attorneys have closely reviewed the legislation and unanimously conclude it is legally sound, past behavior is often indicative of future actions. The Florida Chamber anticipates personal injury trial lawyer industry resistance, as the long-overdue dam of frivolous litigation earnings begins to close."
It is not clear whether the Florida Justice Association (FJA), the group that represents the state's trial lawyers, will mount a legal challenge. But FJA President Curry Pajcic issued a statement calling HB 837 the "largest rights-grabbing legislation in recent history" and said it was a "direct assault on the rights of every Floridian by insurance companies and corporate elites who think they can dictate which rights should be preserved and which can be tossed aside."
The tort bill is a priority for DeSantis, Senate President Kathleen Passidomo and House Speaker Paul Renner. The bill makes substantive changes to how lawsuits are filed and litigated in the state, all but eliminating the longstanding statute that allows a policyholder who successfully sues their insurance company to recoup their attorney fees.
The bill also modifies the state's comparative negligence system so that a plaintiff found to be more than 50% responsible for their own injury cannot recover damages.
The measure adjusts Florida's bad-faith rules so that insurance companies cannot be sued for bad faith if, before a complaint is filed or within 90 days of being notified of the complaint, they tendered the lesser of the policy limits or the amount demanded by the claimant.
The Florida Chamber of Commerce and other business groups say Florida's tort laws are tilted to benefit the plaintiff's bar and that so-called "billboard attorneys" have been filing abusive lawsuits. As a result, the groups claim that Florida consumers pay an annual $5,000 "tort tax."
But there is no requirement in the legislation that the insurance industry lower their rates as a result of the sweeping changes.
"Billboard injury trial lawyers have been attacking this bill since before it was filed and we have no reason to believe they will stop now that Florida's elected Legislature has passed this important legislation," Wilson said.