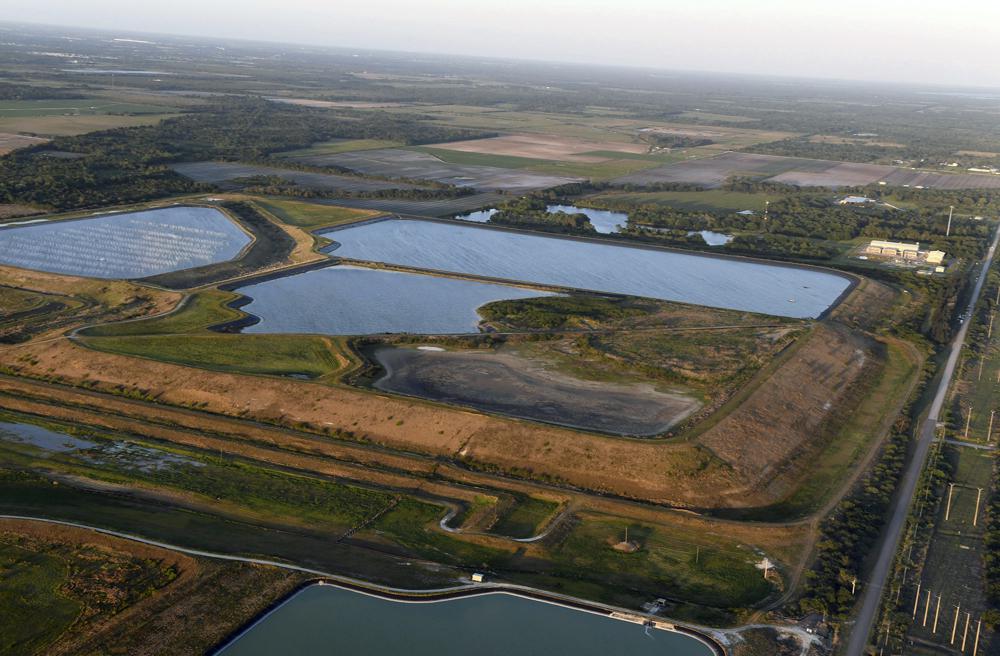 'Right now, they're just housed in gypstacks.'
The potential to reuse a phosphorus byproduct in transportation construction projects is closer to reality after bills passed panels in both the House and Senate.
The bills set out to accomplish three things. Primarily, they direct the Florida Department of Transportation (FDOT) to look into the suitability of using phosphogypsum in road base, including consideration of existing and ongoing studies.
They also provide that "phosphogypsum, beneficially reused, pursuant to the terms and conditions of an (Environmental Protection Agency)-allowed use, is not solid waste, and is allowed in use in Florida," said House Infrastructure and Tourism Appropriations Subcommittee Chairman Alex Andrade, a Pensacola Republican and co-sponsor of HB 1191.
For every ton of phosphorus produced, the process also turns out five tons of phosphogypsum. There are around 1 billion tons of phosphogypsum divided among 24 stacks in Florida, with 30 million new tons created annually.
The bills' language states the legislation won't affect Department of Environmental Protection (DEP) permitting of gypstack systems pursuant to existing Florida law.
The EPA banned use of phosphogypsum in 1989, but the rule opened for limited agricultural use a few years later.
"After a (phosphogypsum) stack has become an inactive stack, the owner or operator must assure that the stack does not emit more than a specified amount of radon-222 into the air," according to the House staff analysis of current law.
"However, (phosphogypsum) may be lawfully removed from the stack for use for outdoor agricultural research and development and agricultural field use if certain requirements are met. (Phosphogypsum) may also be used for distribution for indoor research and development if certain conditions are met. (Phosphogypsum) may not be removed from a stack and distributed or used for other purposes without EPA approval."
An industry organization, the Fertilizer Institute, petitioned the EPA to use phosphogypsum in road construction. The agency approved the request with conditions. The EPA can approve projects for specific phosphogypsum use if that use is no worse for human health than placing it in a stack.
"One of the reasons why the EPA is probably looking at this now, is countries like Canada, and, I believe, Norway, have already incorporated this in their road use systems," Andrade said.
"Just because, it helps with the life cycle of these kind of industrial byproducts. Right now, they're just housed in gypstacks. If you drive through Central Florida, you'll see these large mounds, and those are large mounds made up almost entirely of phosphogypsum."
In the Senate Committee on Natural Resources, Panama City Republican Rep. Jay Trumbull explained that SB 1258 would help Florida's supply chain issues on road construction materials.
While HB 1191 and SB 1258 cleared their second committees without a "no" vote, that wasn't the case the last time they came up. Unlike with a lot of environmental-related legislation on the move in the Legislature, the committees weren't unanimous in voting to favorably recommend the legislation.
HB 1191 initially passed the House Transportation and Modals Subcommittee with three "no" votes — from Orlando Democratic Reps. Anna Eskamani and Rita Harris, along with Jacksonville Democratic Rep. Angie Dixon.
Harris later voted for it when it came up in committee the second time.
Kissimmee Democratic Sen. Victor Torres cast the lone dissenting vote in the Senate Committee on Transportation for SB 1258.
Some legislators who expressed uncertainty about the bills nevertheless voted for them.
"My main concern is health," Miami Gardens Democratic Rep. Felicia Robinson said, though she later voted for the bill. "A lot of times, we do things in haste, and then years later things are recalled and we find that it caused this — especially when it comes to cancer."
Orlando Democratic Sen. Linda Stewart said she voted for SB 1258 in order to get a better picture of the proposal.
"I'm going to support it today because I think we need to find out the impacts of what it might do or not do to our groundwater, and that's what studies are for, is to find out the impacts of things we want to introduce into the environment," Stewart said.