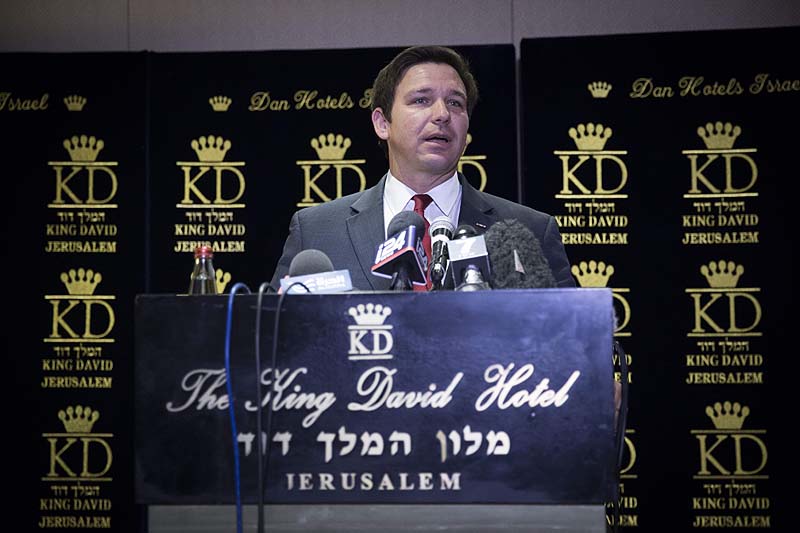 The Governor's 2019 trip was steeped in geopolitics, and this one looks like a sequel.
For the second time during his tenure as Florida Governor, Ron DeSantis is headed to the Holy Land.
Per the Jerusalem Post, "DeSantis will travel to Israel in April to attend the Jerusalem Post and Museum of Tolerance Jerusalem 'Celebrate the Faces of Israel' event on April 27."
The Governor will speak to a crowd of 400, including 120 "philanthropists," in a visit that is timely given his expected run for President in 2024. He will, per the Post, "speak about the importance of the U.S.-Israel relationship, especially in difficult times."
"A few months after my inauguration for my first term as Governor of Florida, I traveled to Israel for a state visit with the largest ever trade delegation from the Sunshine State to the Jewish State," DeSantis told the Post.
"Since that time, we have strengthened the relationship between Florida and Israel through increased investment by Israeli companies in our state, fighting the scourge of (the boycott, divestment, sanctions movement), and being home to the fastest growing Jewish population in the United States. At a time of unnecessarily strained relations between Jerusalem and Washington, Florida serves as a bridge between the American and Israeli people."
The Governor's 2019 trip, done under the auspices of Enterprise Florida, was interesting because of what appeared to be an aggressive co-branding of Florida and Israel.
"This historic mission has been the prelude to future prosperity and partnership between Florida and Israel," DeSantis said in the wrap-up press release back in 2019.
"This week, we established an unprecedented number of alliances in science, business and academia. We affirmed our solidarity with Israelis and resolved to give no quarter to anti-Semitism. Returning to Florida, we bring with us prospects for investment, high-wage jobs, water conservation and innovative ideas to keep our schools and communities safe. We also carry home a renewed belief that peace, freedom and democracy are essential to our quality of life and are to be championed, cherished and never taken for granted."
On that trip, DeSantis noted, early and often, that he was one of the few believers that the U.S. Embassy could be moved to Jerusalem. Having a state Cabinet meeting in that embassy, he said at one point, brought things "full circle."
While it's unclear what media access to DeSantis will be like this time around, the 2019 trip saw the Governor taking tough questions, especially early in the trip.
During a visit to a disputed West Bank settlement, the Governor talked about losing gubernatorial candidate Andrew Gillum while he questioned whether the Palestinians even wanted their own state.
"The one constant throughout the modern history of the Middle East and the State of Israel is that Palestinian Arabs always wanted to get rid of the Jewish state more than they wanted their own state," the Governor said.
"I don't think that's really changed. I think there has been a lot of effort for peace — and they've been rejected," DeSantis added. "If you do not respect Israel's right to exist as a Jewish state, you are the impediment to peace."
DeSantis also recounted his theory that his General Election opponent ran away from his Primary support of BDS ahead of November.
"He knew that if he was tagged as pro-BDS, your chance of winning in Florida declines dramatically," DeSantis said.
A focus of the 2019 trip's logistics was lining up a meeting with Israeli Prime Minister Benjamin Netanyahu, which was up in the air given the need for another election. DeSantis hoped the meeting would still be on, and it happened.
"I've had a good relationship with the Prime Minister," the Governor said. "Everyone I've talked to doesn't know what's going to happen."
DeSantis met with the Prime Minister in Jerusalem, just hours after the ruling body voted to dissolve, setting up a snap election. DeSantis stood by the Likud PM.
"He won what was considered to be a real strong victory, given (the dynamics) of Israeli politics," DeSantis said.
"I'll work with whoever's there. From the perspective of Israel, they need allies," DeSantis added, when asked how he would work with people from other parties.
DeSantis also met with GOP heavyweight Sheldon Adelson, who is now deceased, signing a memorandum of understanding at Ariel University.
"Ron is a warrior," said Miriam Adelson in introducing DeSantis.
After a visit to Yad Vashem, the Governor told Florida Politics he saw no parallels between American and Nazi extremism.
"First of all, our unemployment rate's under 4%. To compare that with the aftermath of the Great Depression, which really allowed a lot of bad pathologies to gain currency, I don't think (is valid)," the Governor said.
DeSantis added that "human nature is human nature, and we always have to be vigilant. (But) to look at our economy now and compare it to the '30s, I don't think is valid. We're in a different spot."
On the 2019 trip, DeSantis signed a bill outlawing campus antisemitism, a ceremony that — like this museum trip — was attended by dozens of legislators and other members of the delegation.
Cultural trips included junkets to the City of David, the holiest site in Jewish tradition at the Western Wall, and Church of the Holy Sepulchre, where Christians believe Jesus Christ's tomb was found empty three days after his death.