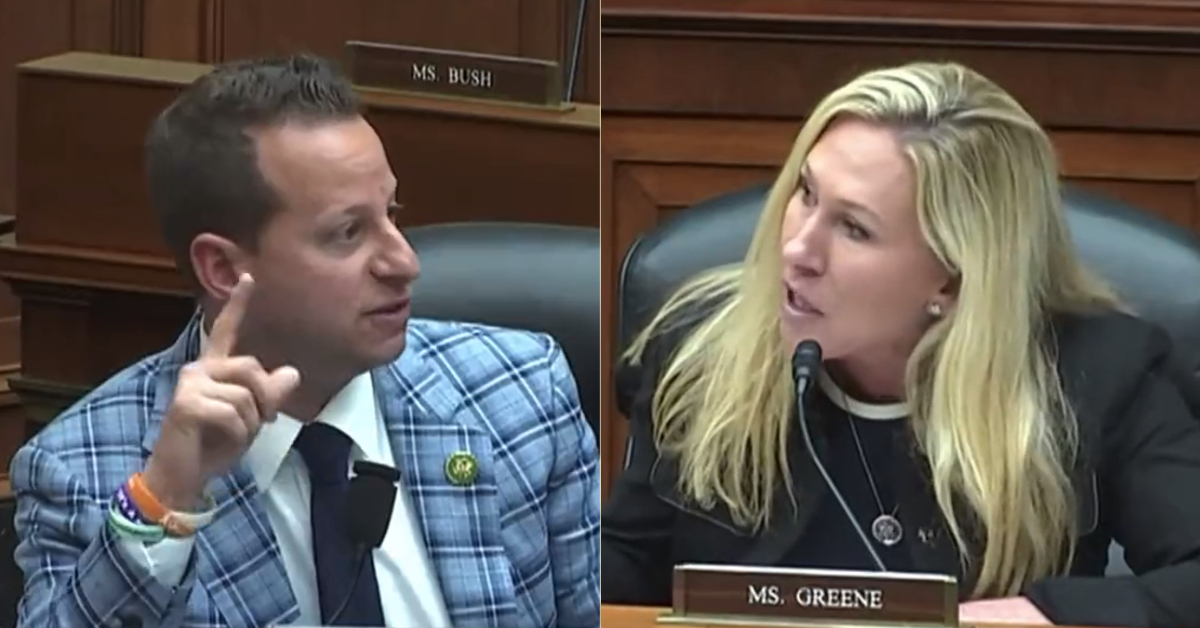 'Did the good guys with the gun stop six people from getting murdered? No.'
Some lawmakers in Washington are learning the hard way that going toe-to-toe with freshman Democratic U.S. Rep. Jared Moskowitz on the issue of gun violence is a rough outing.
On Wednesday, the target of Moskowitz's ire was Georgia Congresswoman Marjorie Taylor Greene, a prominent Second Amendment absolutist and conspiracy theorist whom he castigated for putting politics and culture wars over children's safety.
Their exchange came during a discussion in the House Oversight and Accountability Committee over the Monday massacre at a private, Christian elementary school in Nashville, where a shooter killed six people, including three 9-year-olds, before being killed by police.
It has been reported the shooter may be transgender, something Greene and other conservatives seized on as a major cause for the murders while sidestepping the fact the assailant legally obtained seven guns, including at least two AR-15-style assault rifles.
Greene said Wednesday that President Joe Biden, among others, is at fault for the shooting because of legislation he supported as a Senator in 1990 under former President George H.W. Bush, a Republican, establishing schools as gun-free zones. She once again recounted a story about how shortly after the law passed, a student brought guns to her high school, prompting a lockdown and exemplifying a need for more guns — not less — in public spaces.
The gun-free zone law, which received overwhelming, bipartisan support, wasn't even introduced until close to three months after the incident at Greene's high school.
"Joe Biden made our schools gun-free school zones," she said. "There was no good guy with a gun to protect us kids at school."
"You want to know why the shooter is dead in Nashville, the trans shooter? You want to know why? Because the good guy with a gun killed that woman," Greene continued. "She identified as a man. She was mentally ill, probably taking hormones. And she went and murdered children and adults in this Christian school in Nashville. So, if you want to have a good talk about schools and protecting children, we need to talk about protecting our children the same way we protect our President, we protect our celebrities, we protect this building."
That's where Moskowitz — whose passionate speech on the Florida House floor after the 2018 massacre in Parkland helped pass the state's first gun safety law in two decades — interjected.
First, he asserted Republicans repealed the 1994 federal ban on assault weapons. (The law lapsed under a divided Congress in 2004.) He then accurately noted that as one of his first actions in office, former President Donald Trump — whom Greene has endorsed for President — revoked protections his predecessor put in place that added people with mental illness to the national background check database.
"There are six people that are dead in that school, including three children, because you guys got rid of the assault weapons ban, because you guys made it easy for people who don't deserve to have weapons, who are mentally incapable of having weapons of war, (to be) able to buy those weapons and go into schools," he argued.
"I voted for (school resource officers) in my schools in Florida after Parkland. We have SROs in every school. Did the good guys with the gun stop six people from getting murdered? No."
He continued, "AR-15s, do you see what those bullets do to children? You know why they don't hunt with an AR-15 (for) a deer? Because there's nothing left. And there's nothing left of these kids when people go into schools and murder them."
Moskowitz then took aim at legislation Green and Republican U.S. Rep. George Santos are sponsoring to ban books with LGBTQ content from schools, an effort reflective of similar initiatives in several states, including Florida.
"You guys are worried about banning books," he said. "Dead kids can't read."
Firearms recently overtook motor vehicle crashes as the No. 1 cause of death in the U.S. for children and adolescents.
"You guys are worried about banning books — dead kids can't read."

— Rep. Jared Moskowitz (D-FL) hits back at Rep. Marjorie Taylor Greene (R-GA) over gun safety following the Nashville school mass shooting pic.twitter.com/VdaLlsBboO

— The Recount (@therecount) March 29, 2023