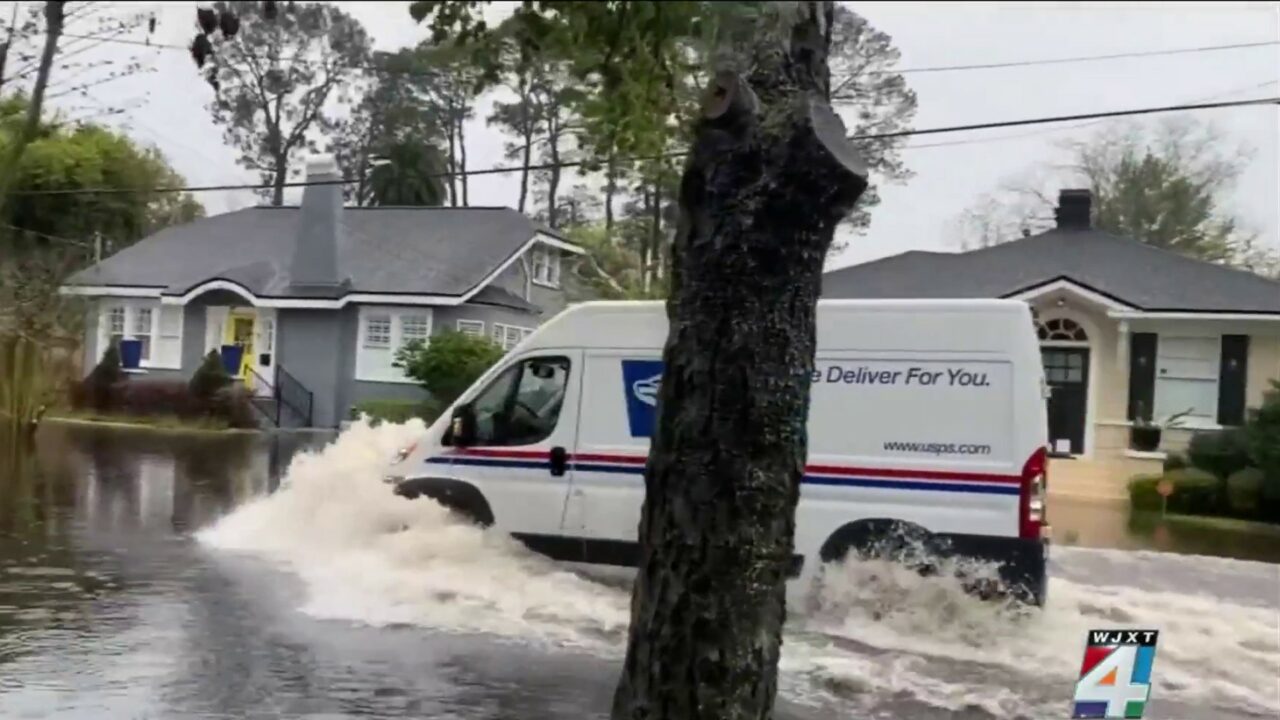 'It doesn't need to be a major storm to really disrupt our city.'
Some folks with expert knowledge on climate and adaptation said it's not all lost, yet, but the seas are certainly rising and the planet is getting warmer.
Anne Coglianese, the City of Jacksonville's Chief Resiliency Officer, Esther Mullens, an assistant professor of geography at the University of Florida, St. Johns Riverkeeper Lisa Rinaman and State Climatologist David Zierden came together this week at Jacksonville University to give their perspectives on the competing themes of gloom and hope as they apply to the global climate crisis.
Are we doing too little too late, or past a tipping point?
Zierden reiterated what needed to be done in terms of reducing greenhouse gas emissions and dramatically reducing fossil fuel use.
"But, that's far easier said than done," Zierden said. "It would take a massive transformation of all systems globally in order to accomplish that."

As to whether the world passed a tipping point, he couldn't say, but suggested the path forward is doing as much as possible as quickly as possible.
"There's been publications, especially on the West Antarctic Ice (Sheet), of a possible tipping point," Zierden said. "But then, some of the goals we've seen in the Paris Accords and the (Intergovernmental Panel on Climate Change) report of limiting global warming to 1.5 degrees Celsius or 2 degrees Celsius are more arbitrary."
These set numbers can reinforce a sense of doom among people, he added.
The IPCC report's findings included the fact the planet warmed by 1.1 degrees Celsius over the baseline average temperature during the period 2011-2020. The baseline used is the average from 1850 to 1900. The world is likely to eclipse the 1.5-degree threshold within 10 years.
This all hits home in Florida in a number of ways, including development and insurance.
"Until very recent times, in spite of the known threat of sea-level rise, waterfront real estate and development was going on at paces unprecedented," Zierden said.
The value of this real estate skyrocketed and the taxes on these properties became necessary to fund local climate adaptation projects, coincidentally.
"This is very out of my area — some smart people I know told me that, at some point, insurance is going to start driving this," Zierden said, on the pace of continued coastal development.
When the land is generally at sea level, every inch of sea-level rise is an issue, which is the case around Northeast Florida. 
"The most unique thing about the St. Johns River," Rinaman said, "it's one of the laziest rivers in the country, because it only drops in elevation 27 feet over that 310-mile journey, and so that makes it vulnerable to sea-level rise.
"In fact, the riverbottom of the St. Johns is below sea level for 150 miles inland. So, when we talk about sea-level rise, it's not just a coastal issue. We're seeing negative impacts of historic flooding all the way down to Lake George."
The effects of more frequent, higher-intensity storms also have their impacts, like causing sewer systems to overflow.
In terms of what can be done, it's easier to get adaptation projects passed and funded than those focused on prevention.
"There is a lot more political will out there for climate adaptation and for resilient solutions," Coglianese said. "I think the main reason for that is it saves money. It saves cities money, it saves the federal government money to invest in solutions up front."
She cited a study that noted every dollar spent investing in adaptation infrastructure before an event equals $6 when everything's over. She also noted it doesn't take a hurricane to put the hurt on a city like Jacksonville.
"It doesn't need to be a major storm to really disrupt our city," Coglianese said. "You could get three, back-to-back, small, very intense rainfalls in the span of a couple days that lead to really catastrophic impacts."