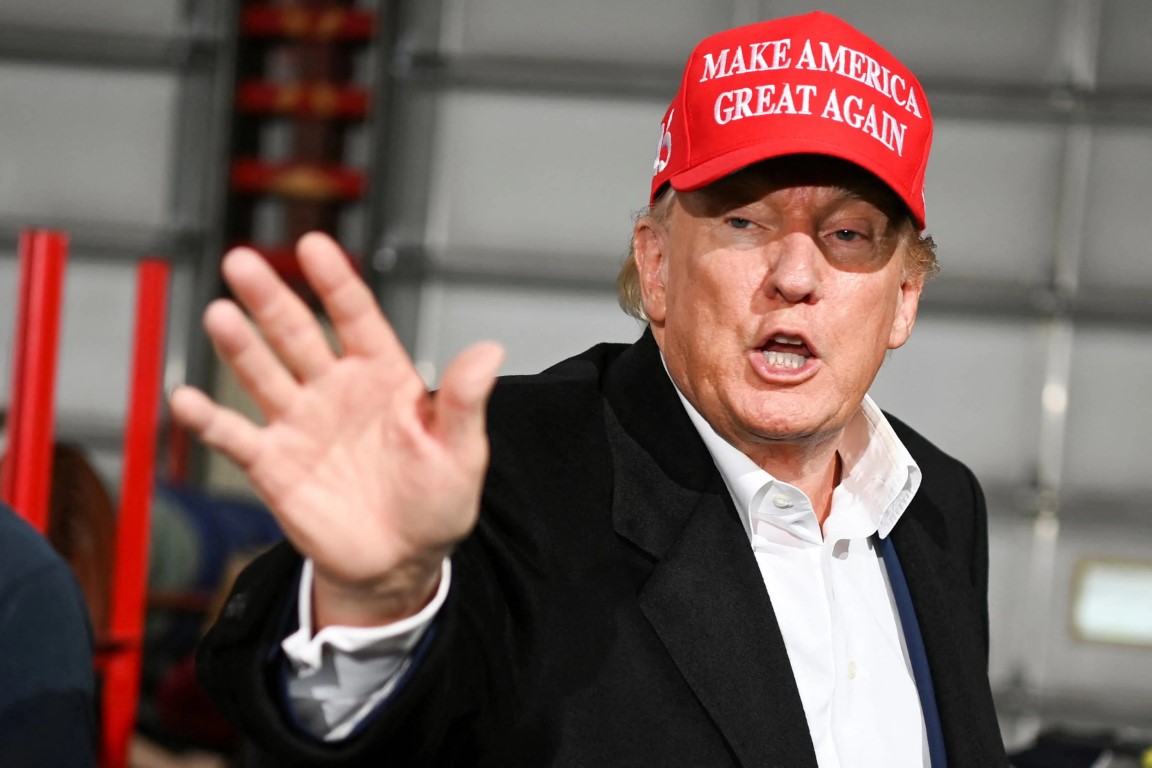 Donald Trump's indictment is bad news for Ron DeSantis.
A new national poll suggests that Donald Trump's indictment is bad news for Ron DeSantis.
A Yahoo!/YouGov survey conducted Thursday and Friday shows that the former President has surged to a lead over the Florida Governor and everyone else in the field, with his legal woes apparently driving a major swing in the still-nascent 2024 Republican Presidential race.
Against a larger field, Trump took 52% support, with DeSantis at 21%, Nikki Haley at 5%, and everyone else farther back still. 11% of Republican and Republican leaning respondents were "not sure" who they would support.
A binary race saw DeSantis gaining from an absence of other options, but still far behind. Trump had a 26 point lead, 57% to 31%. DeSantis was just eight points behind Trump in March. Back in February, DeSantis led the head to head by four points.
Republicans also think Trump is the better bet in the General Election. He leads DeSantis there, 55% to 29%.
DeSantis has struggled with messaging about Trump's impending indictment by Manhattan District Attorney Alvin Bragg, falling in line with Republicans in a tweet late Thursday.
"The weaponization of the legal system to advance a political agenda turns the rule of law on its head. It is un-American," DeSantis decried.
"The Soros-backed Manhattan District Attorney has consistently bent the law to downgrade felonies and to excuse criminal misconduct. Yet, now he is stretching the law to target a political opponent. Florida will not assist in an extradition request given the questionable circumstances at issue with this Soros-backed Manhattan prosecutor and his political agenda," DeSantis added.
Trump is expected to surrender voluntarily in New York, so that pledge not to assist may not add up to much.
Earlier this month, DeSantis struck a balance between condemning the expected indictment by District Attorney Alvin Bragg, a "George Soros prosecutor," as spurious and political, while finding a way to drag Trump for "porn star hush money" allegedly paid to Stormy Daniels years ago.
"I've seen rumors swirl, I have not seen any facts yet. And so I don't know what's going to happen. But I do know this: the Manhattan District Attorney is a Soros-funded prosecutor. And so he, like other Soros-funded prosecutors, they weaponize their office to impose a political agenda on society at the expense of the rule of law and public safety," DeSantis contended, before eventually shivving Trump as well.
"You're talking about this situation, and like, I don't know what goes into paying hush money to a porn star to secure silence over some type of alleged affair. I just can't speak to that," DeSantis said, before pivoting back to Bragg's backing by Soros.
After the Panama City comments, both Donald Trump and Donald Trump Jr. laid into DeSantis for his comments about the former President's legal woes, which were then rumored to be leading to an indictment at Mar-a-Lago later this week, which does not now appear to be the case.
On Truth Social, the former President pilloried the Florida Governor, casting aspersions on his sexuality in the process.
"Ron DeSanctimonious will probably find out about FALSE ACCUSATIONS & FAKE STORIES sometime in the future, as he gets older, wiser, and better known, when he's unfairly and illegally attacked by a woman, even classmates that are "underage" (or possibly a man!). I'm sure he will want to fight these misfits just like I do!"
Trump's comments were atop a post where he rebooted a scurrilous story about the Governor drinking with prep school students when he was a teacher decades ago. When compelled to comment last month, DeSantis acknowledged that while the media wanted "the controversy," he was nonetheless more focused on the fight with Joe Biden than with the former President.
Trump Jr. had his say as well in the wake of DeSantis downplaying the former President's expected indictment.
"So DeSantis thinks that Dems weaponizing the law to indict President Trump is a 'manufactured circus' & isn't a 'real issue,'" Trump Jr. tweeted. "Pure weakness. Now we know why he was silent all weekend. He's totally owned by Karl Rove, Paul Ryan & his billionaire donors. 100% Controlled Opposition."