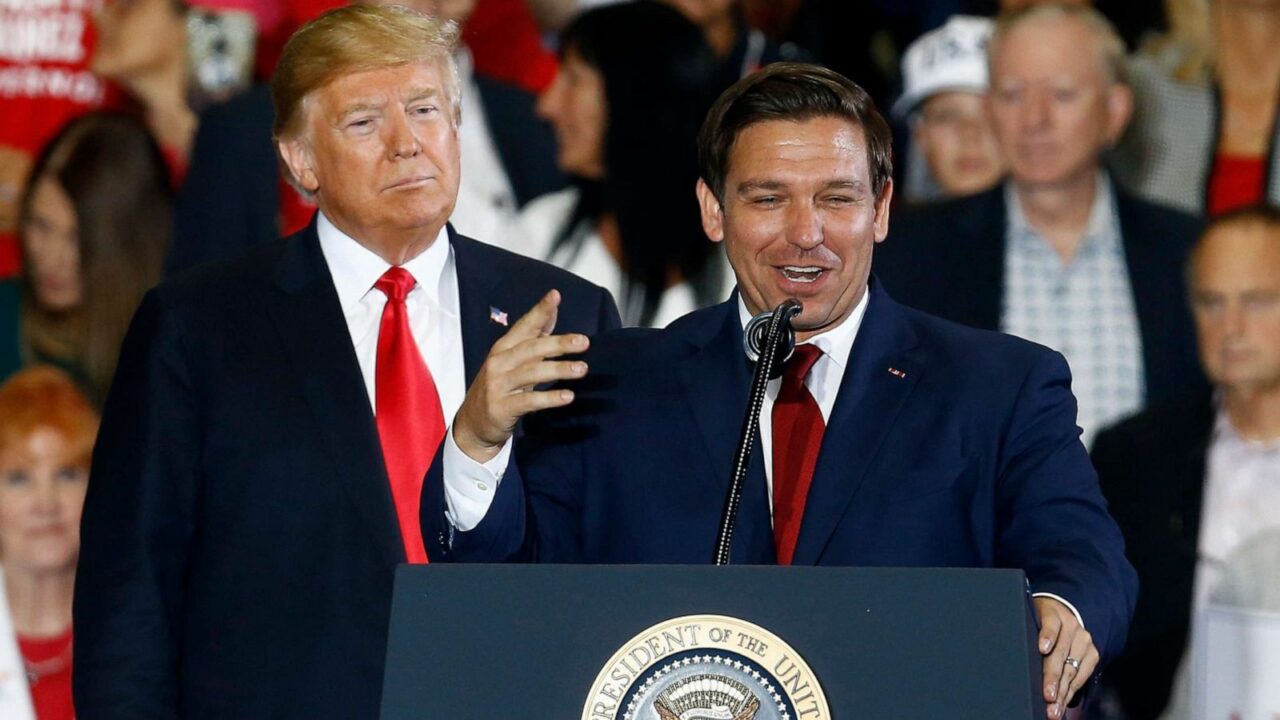 'I have no interest in getting involved in some type of manufactured circus by some Soros DA.'
Gov. Ron DeSantis broke his silence on Donald Trump's legal troubles in Panama City ahead of what he called a "high-profile politicized prosecution."
Trump blew up over the weekend after reports emerged that he might be arrested Tuesday. But in Panama City, the Governor was essentially agnostic to the whole story.
DeSantis struck a balance between condemning the expected indictment by District Attorney Alvin Bragg, a "George Soros prosecutor," as spurious and political, while finding a way to drag Trump for "porn star hush money" allegedly paid to Stormy Daniels years ago.
"I've seen rumors swirl, I have not seen any facts yet. And so I don't know what's going to happen. But I do know this: the Manhattan District Attorney is a Soros-funded prosecutor. And so he, like other Soros-funded prosecutors, they weaponize their office to impose a political agenda on society at the expense of the rule of law and public safety," DeSantis contended, before eventually shivving Trump as well.
"You're talking about this situation, and like, I don't know what goes into paying hush money to a porn star to secure silence over some type of alleged affair. I just can't speak to that," DeSantis said, before pivoting back to Bragg's backing by Soros.
"But what I can speak to is that if you have a prosecutor who is ignoring crimes happening every single day in his jurisdiction, and he chooses to go back many, many years ago, to try to use something about porn star hush money payments. You know, that's an example of pursuing a political agenda and weaponizing the office. And I think that's fundamentally wrong."
DeSantis also addressed a potential role by his administration in a possible Trump arrest, which could happen at Mar-a-Lago, saying his team would not be "involved in it in any way."
"I have no interest in getting involved in some type of manufactured circus by some Soros DA, okay? He's trying to do a political spectacle. He's trying to virtue signal for his base. I've got real issues," DeSantis said.
Trump has urged his supporters to make their opposition known, including a call to action in a Saturday post to Truth Social.
"IT'S TIME!!!" he wrote. "WE JUST CAN'T ALLOW THIS ANYMORE. THEY'RE KILLING OUR NATION AS WE SIT BACK & WATCH. WE MUST SAVE AMERICA! PROTEST, PROTEST, PROTEST!!!"
The Associated Press reports the grand jury has been hearing from former Trump lawyer Michael Cohen, who claims he orchestrated payments in 2016 to two women to silence them about sexual encounters with the former President.
___
The Associated Press contributed to this report.