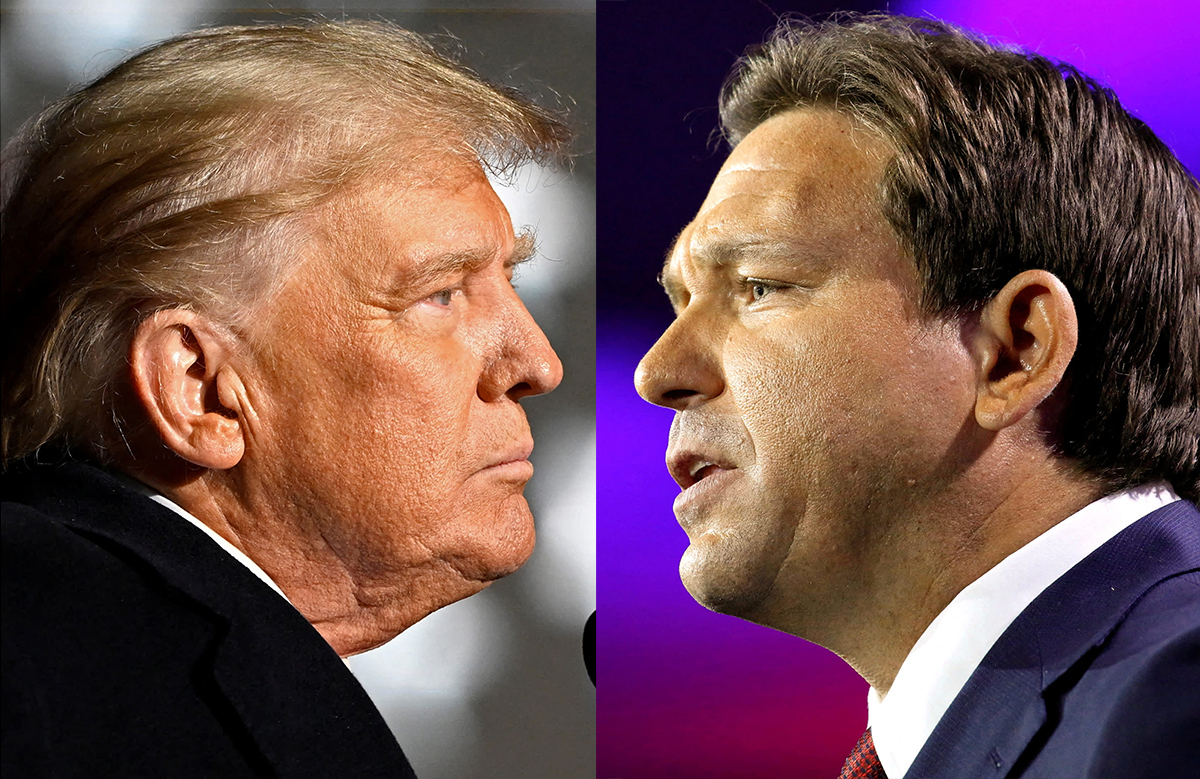 'I don't spend my time trying to smear other Republicans.'
Florida's Governor again is attempting to take the high road against increasingly sharp attacks from former President Donald Trump.
Whether he's succeeding is a different matter.
Ron DeSantis told reporters and supporters in Ocala that he wasn't spending time "trying to smear other Republicans," in response to posts from Trump on Truth Social that included the amplification of allegations that the Governor was "grooming high school girls with alcohol" during his short-lived, pre-politics stint as a college preparatory academy teacher.
"So here's what I'd say about all of that. I get that you guys want the controversy," DeSantis said. He then contended that despite hosting a roundtable Tuesday setting up a potential increase of penalties for media "defamation," that it wouldn't apply in this case because he has a "platform to fight back" as Governor.
While he didn't mention Trump's name, his pique with the former President was clear by the end of the response to the reporter's question.
"I'd also just say this. I spend my time delivering results for the people of Florida and fighting against Joe Biden. That's how I spend my time. I don't spend my time trying to smear other Republicans."
While DeSantis goes high, Trump continued to go low the day before, as the former President re-truthed a poster commenting on a picture of DeSantis and former students.
"Ron DeSantis was having a 'drink' party with his students when he was a high school teacher. Having drinks with underage girls and cuddling with them certainly look pretty gross and ephebophiliaesque," went the description.
Trump responded, "No way?"
Then, a second re-truth on a post with text on the image stating, "Here is Ron DeSanctimonious grooming high school girls with alcohol as a teacher."
"That's not Ron, is it? He would never do such a thing!" Trump responded sarcastically.
Trump's timing seems more than coincidental, amid news that allies of DeSantis are forming a super PAC ahead of an expected run for the White House beginning later this year.
Trump had taken nearly a week off from attacks on DeSantis, with the last barrage being at the beginning of February, when he took to his Truth Social account to whack DeSantis as a "globalist" and a "RINO" (Republican in name only).
Prior to that, Trump posted a video of then-Congressman DeSantis citing former House Speaker Paul Ryan as a model, continuing a stream of invective on the so-called "globalist" Governor.
DeSantis has tried, as he did Wednesday, to remain above the fray when compelled to respond to Trump's goading, such as during a recent press conference in Southwest Florida when the Governor avoided attacking Trump by name.
"What I would just say is this: I roll out of bed, I have people attacking me from all angles, it's been happening for many, many years," DeSantis said, before pointing out that he was re-elected, presenting a contrast to one-term Trump.