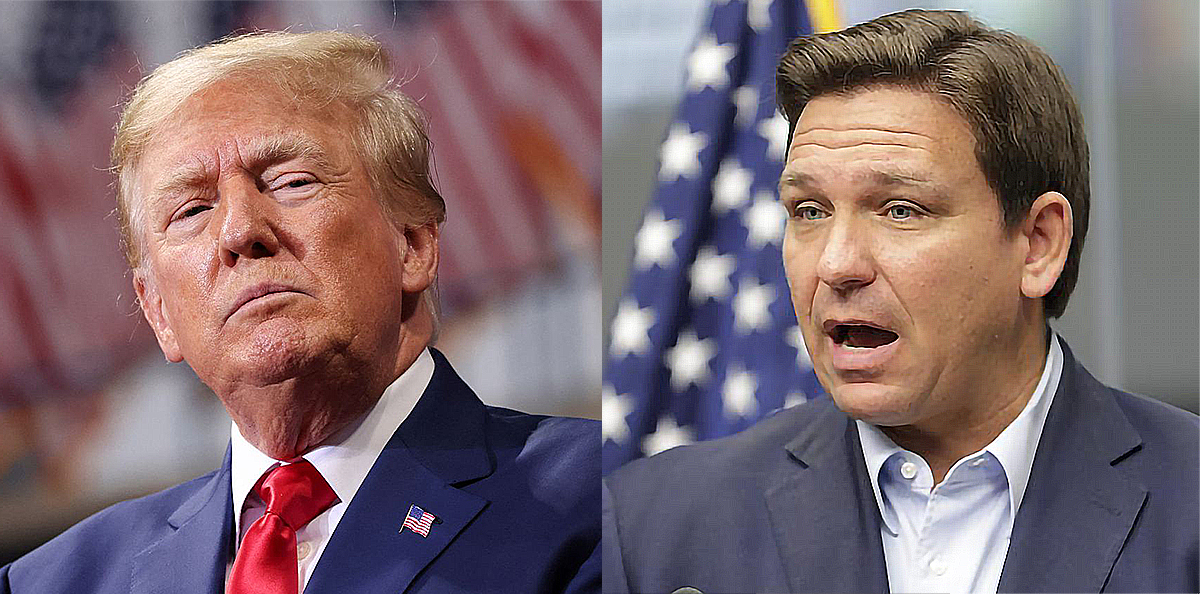 'That's not Ron, is it? He would never do such a thing!'
Ron DeSantis continues to be attacked by former President Donald Trump as indications increase the two are on a collision course next year.
Trump took to his personal social media platform, Truth Social, to sling fresh mud at the Florida Governor, including accusations DeSantis was engaging in "grooming" behavior.
Trump began the barrage by "re-truthing" a post incorporating a tweet from 2018 urging the election to be "called" in favor of DeSantis and Rick Scott, each of whom were in close elections that November. In another re-truth, the former President answered a rhetorical question about the then-Congressman voting against the "border wall" in 2018.
"Wow, if I knew that I wouldn't have Endorsed him (and he would have had to quit the race, down 35 points!)," Trump contended, alluding to stories told frequently about how DeSantis begged him for his endorsement, apparently with "tears coming down from his eyes," and said that he would have quit the race for Governor without it.
That material is well-rehearsed, as followers of this one-sided flame war know. But on Tuesday, the former President opened up a new and sordid line of attack, focusing on a photograph dating back to the Governor's short-lived career as a teacher at a college preparatory academy, where he reportedly fraternized with students.
The former President re-truthed a poster commenting on a picture of DeSantis and former students.
"Ron DeSantis was having a 'drink' party with his students when he was a high school teacher. Having drinks with underage girls and cuddling with them certainly look pretty gross and ephebophiliaesque," went the description.
Trump responded, "No way?"
Then, a second re-truth on a post with text on the image stating, "Here is Ron DeSanctimonious grooming high school girls with alcohol as a teacher."
"That's not Ron, is it? He would never do such a thing!" Trump responded sarcastically.
The timing seems more than coincidental, amid news that allies of DeSantis are forming a super PAC ahead of an expected run for the White House beginning later this year.
Trump had taken nearly a week off from attacks on DeSantis, with the last barrage being at the beginning of February, when he took to his Truth Social account to whack DeSantis as a "globalist" and a "RINO" (Republican in name only).
"Thank you. The real Ron is a RINO GLOBALIST, who closed quickly down Florida and even its beaches. Loved the Vaccines and wasted big money on 'Testing.' How quickly people forget!"
Trump also "re-truthed," similar to re-tweeting on Twitter, various supportive messages, such as "President Trump will destroy DeSantis in the primary," "people need to do there (sic) research, DeSantis is fake and a globalist," and reminders that the then-Congressman voted for resolutions that would raise the retirement age to 70.
"You need to go back and look at his history. You will change tour (sic) mind. He is a RINO. Paid opposition to keep Trump from saving America. A vote for DeSantis is a vote for the establishment," read a missive from one Trump supporter that the former President boosted.
Trump also offered a retort to DeSantis' assertions the voters of Florida had offered a "verdict" by re-electing him in 2022 by massive margins.
"Remember, I was 233-20 in the Midterms, and got 1.2 Million Votes MORE than Ron DeSanctimonious in the Great State of Florida. Also, 12 Million MORE Votes in 2020 than in 2016, and Won!"
Prior to that, Trump posted a video of then-Congressman DeSantis citing former House Speaker Paul Ryan as a model, continuing a stream of invective on the so-called "globalist" Governor.
DeSantis has not offered similarly pitched attacks, attempting to remain above the fray when compelled to respond to Trump's goading, such as during a recent press conference in Southwest Florida when the Governor avoided attacking Trump by name.
"What I would just say is this: I roll out of bed, I have people attacking me from all angles, it's been happening for many, many years," DeSantis said.
"If you take a crisis situation like COVID, the good thing is that if you're an elected executive, you have to make all kinds of decisions. You've got to steer that ship. And the good thing is, the people are able to render a judgment on that, whether they re-elect you or not."
That's about as heated as DeSantis' references have gotten. In fact, the Governor seemed to curry Trump's favor at a roundtable about "defamation" earlier Tuesday, in which he offered yet another condemnation of the "Russia collusion hoax" Trump was accused of. DeSantis had spent his last two years in Congress defending Trump against those allegations, which the former President said helped guide him to endorsing DeSantis against Adam Putnam.