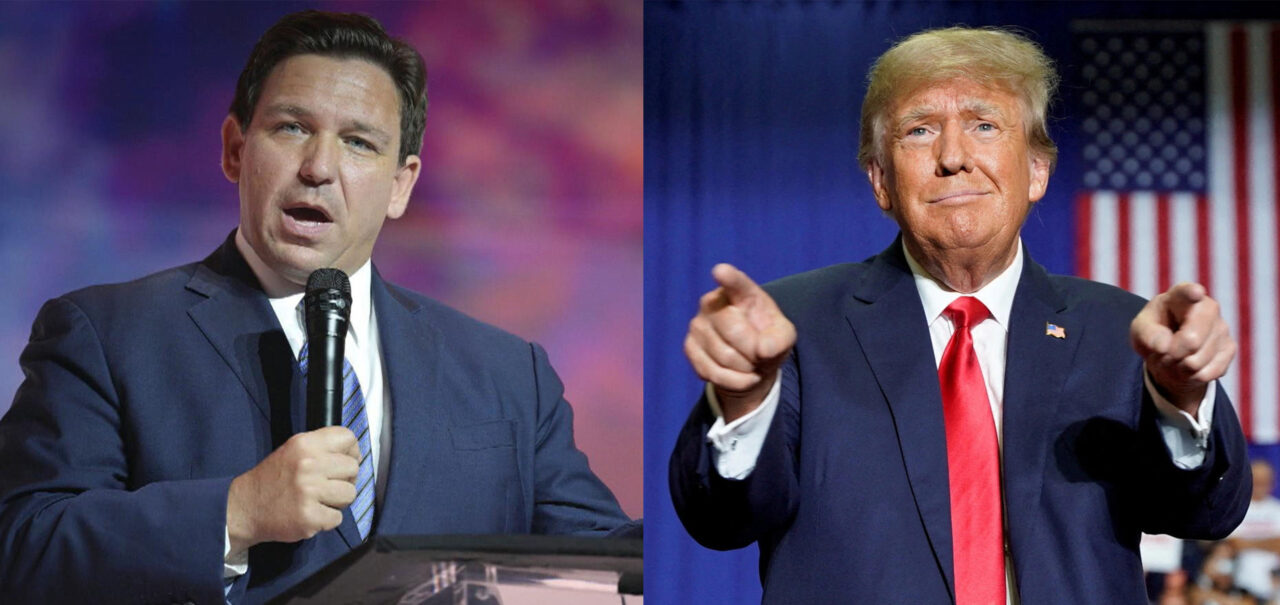 He compared the Governor to a former Primary foe, Jeb Bush.
Former President Donald Trump is attacking Gov. Ron DeSantis as a "globalist" in a pointed Truth Social post. The rhetorical attack steps up Trump's increasing criticism of a one-time political ally as a potential 2024 Presidential Primary matchup looms.
"Ron DeSanctimonious, who I made Governor in BOTH the Primary and the General, is also a Globalist, and so are his donors," Trump posted. "Jeb 'Low Energy' Bush was next to him last week. Check PAST!"
Trump defeated Bush, a former Florida Governor, for the 2016 Republican nomination for President, and tensions remained high between the two long after Trump won a term in the White House.
The hostility between Trump and DeSantis is definitely a more recent development, though not a surprising one. Friction between the two political leaders has ramped up over the years. After losing the White House to Democratic President Joe Biden in 2020, Trump has already announced he will run again in 2024. Most expect DeSantis to run for President this cycle as well.
Within Trump circles, that has been viewed as an act of disloyalty. Most credit Trump's endorsement of DeSantis as allowing DeSantis to defeat Adam Putnam in 2018 for the Republican nomination for Governor. The President also campaigned for DeSantis in the General Election that year, where he topped Democrat Andrew Gillum by a scant 32,463 votes.
In the same post where Trump slammed the Governor of his home state, he also brought up an old grudge against the political organization Club For Growth.
"The Club For No Growth is a GLOBALIST group that I have been taking to the cleaners for years. We worked together for a period, but they couldn't get away from China, Europe, Asia and parts unknown," Trump said. "They know I won't play that game, I am America First all the way. That's the ONLY way we will MAKE AMERICA GREAT AGAIN."
The group has had a hot-and-cold relationship with Trump at various points, opposing his candidacy for president in 2016 but then supporting pro-Trump candidates and even coordinating endorsements in later election cycles. But the forces reportedly parted ways again in 2022 amid differences on who to support in several key Midterm Elections.