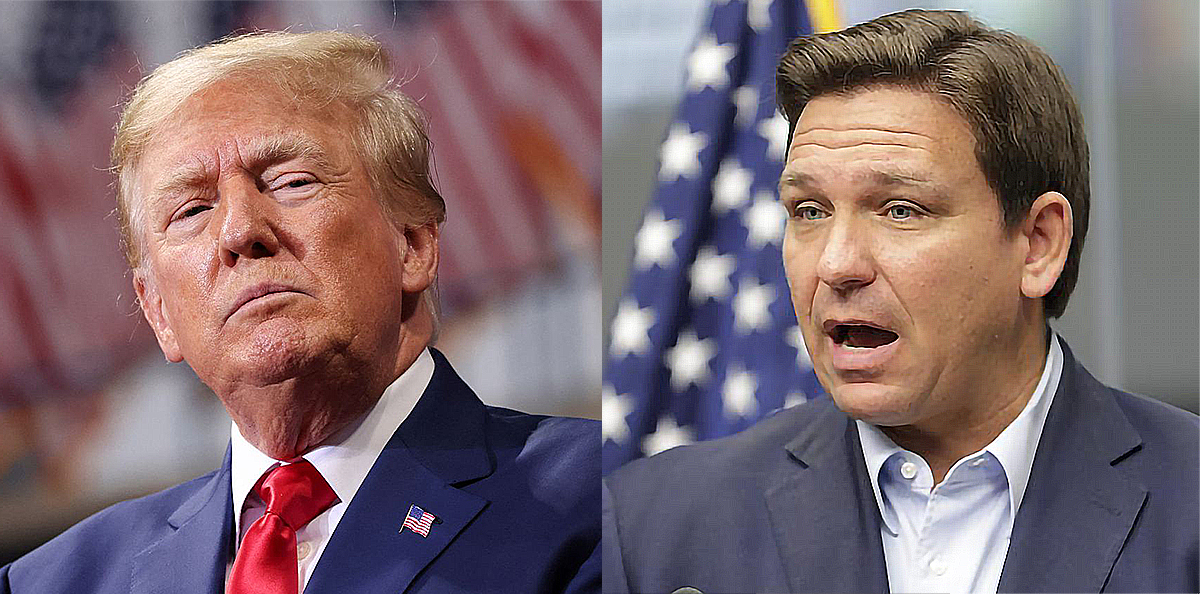 'America's Governor' points to the scoreboard in response to the former President's fulminations.
Gov. Ron DeSantis is finally on offense against former President Donald Trump, spotlighting the two men's most recent elections.
Trump, who has attacked DeSantis repeatedly since before the November 2022 election, had gotten away with relative impunity slamming the man he's dubbed "Ron DeSanctimonious." The most recent attack was on DeSantis' handling of COVID-19.
But at a press conference in Bradenton, the Governor said the people of Florida had "rendered" their "verdict" with his re-election last year, offering yet another preview of a potential 2024 GOP Primary slugfest between the former allies.
"What I would just say is this. I roll out of bed, I have people attacking me from all angles. It's been happening for many, many years," DeSantis said.
"If you take a crisis situation like COVID, the good thing is that if you're an elected executive, you have to make all kinds of decisions. You've got to steer that ship. And the good thing is, the people are able to render a judgment on that, whether they re-elect you or not."
DeSantis then turned to his historic win this past November.
"I'm happy to say that, you know, in my case, not only did we win re-election, we won with the highest percentage of the vote that any Republican Governor candidate has in the history of the state of Florida," DeSantis said, noting his raw vote margin "nearly doubled" the previous record.
"That verdict has been rendered by the people of the state of Florida," DeSantis added to applause.
The Governor's comments come after Trump told reporters on his campaign plane this weekend that "disloyal" DeSantis was trying to "rewrite history" regarding COVID-19 mitigation strategies.
DeSantis had pointed to the "scoreboard" before, responding to Trumpian attacks in November.
"At the end of the day, I would tell people to check out the scoreboard from last Tuesday night. The fact of the matter is it was the greatest Republican victory in the state of Florida," DeSantis said, noting legislative supermajorities, School Board wins, and congressional flips as part of the "sweep."
Trump has offered a lot more DeSantis derision than the other way around, calling him an "average Republican Governor" months back, and more recently suggesting that DeSantis is a "globalist."