Your Sunday buffet of Florida politics, food, culture & more.
Good morning and welcome back to "Brunch," a pop-up email about the 2023 Legislative Session of the Florida Legislature, as well as other essential information about Florida politics.
Our apologies to all the Hurricanes and Owls fans out there. But, hey, it was a nice march to the Final Four.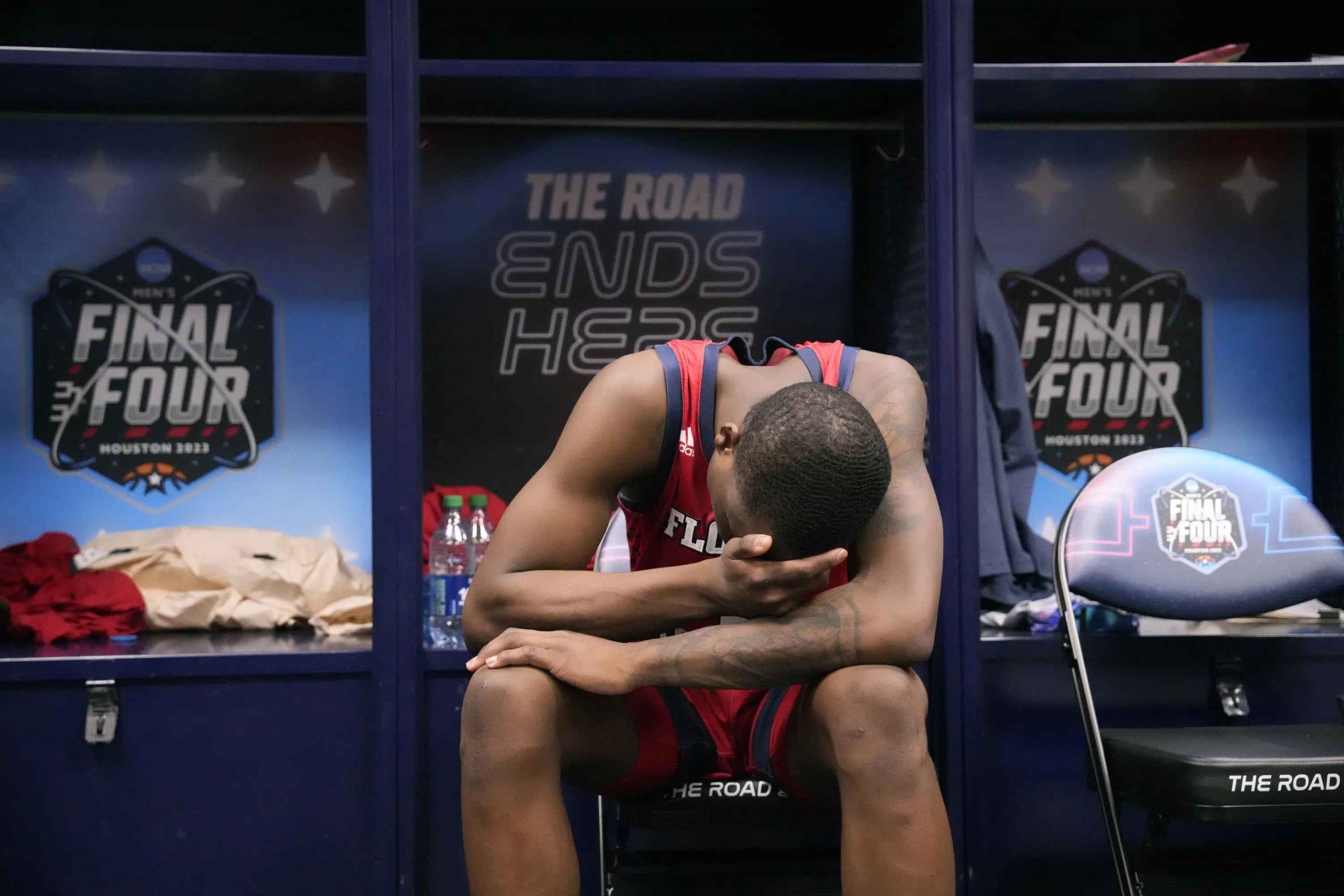 Happy birthday to our dear friends Danny Kanner and (one of my favorite writers), the great Gary Yordon.
Be sure to check out this week's picks for the Winner and Loser of the Week in Florida politics (please click here.)
Brunch will be off next Sunday to give our staff time to celebrate Easter, so please enjoy today's edition.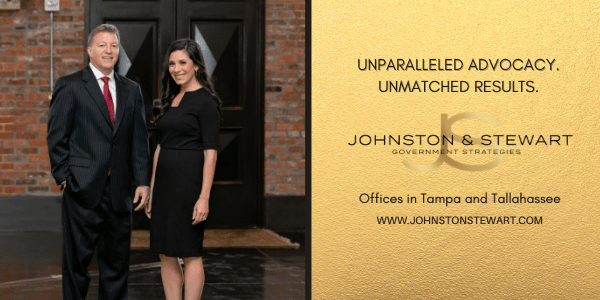 — Maybe next year —
After setting up a possible all-Florida final, both Florida Atlantic University (FAU) and the University of Miami lost their respective Final Four games Saturday, ending a pair of unlikely runs.
— Heartbreaker: FAU's magic run as a No. 9 seed went down to the last second. Holding a 1-point lead, FAU failed to convert on a layup with 10 seconds left to expand the lead as the shot clock ran out. San Diego State grabbed the rebound and Lamont Butler hit a dagger on a last-second shot to give San Diego State a 72-71 win as time expired. FAU's Alijah Martin put up 26 points to carry the Owls to the title game, but they fell just short in a loss that's sure to sting.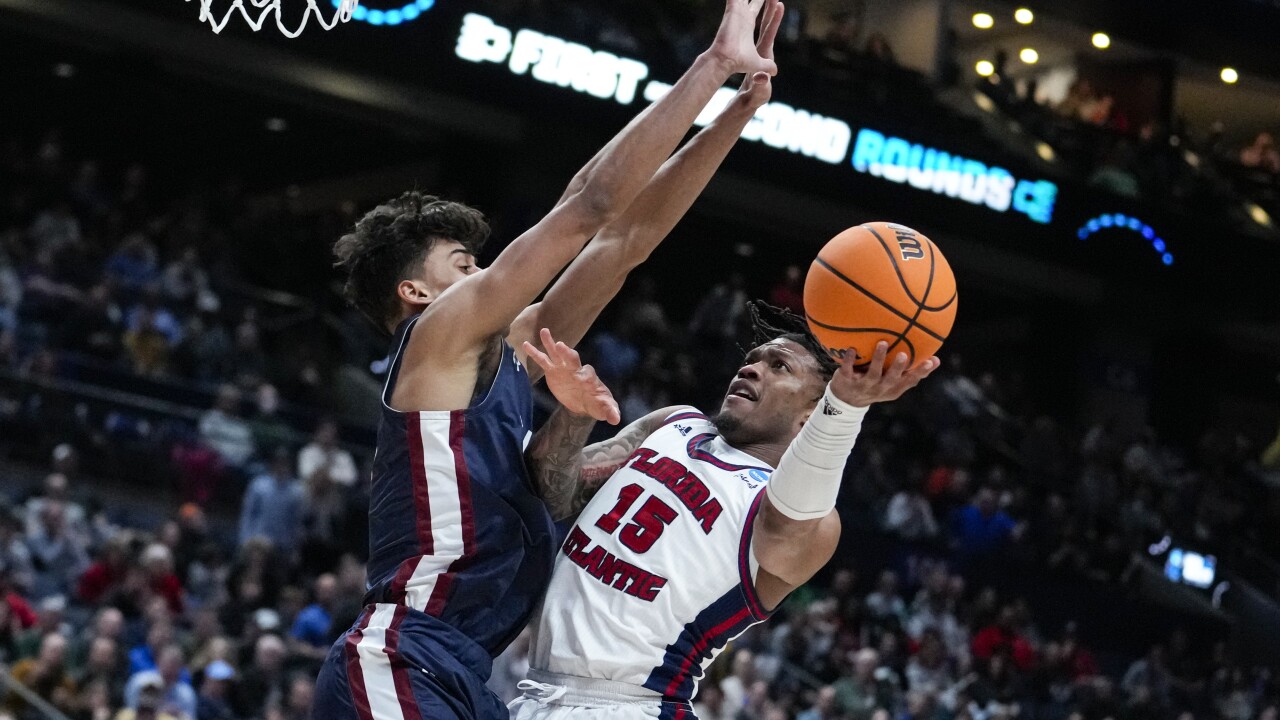 — Dominated: The Miami game was less competitive, with the University of Connecticut notching another dominant tourney win to take them to the championship. Miami fell behind by double digits late in the first half and never really recovered. Connecticut played the best of any team in this tournament, as it showed Saturday with a 72-59 win. Isaiah Wong topped Miami with 15 points, followed by Jordan Miller scoring 11.
— Heads held high: Though the losses are still fresh, neither team should feel too down about their respective runs. Both fan bases would have been more than happy if they knew before the tourney started that they would reach the Final Four. Miami was a favorite pick to get upset in the first round and had to get through two of the strongest teams in the tournament to get to the Final Four. FAU, meanwhile, had never won an NCAA tournament game in its history and made its mark as an underdog no team can count out. March Madness gave both schools a chance to shine.
— Final Four Florida ties —
As mentioned, half the teams that appeared in the Final Four this weekend are from Florida. And those two teams have a decent amount of love in the Florida legislation. Three lawmakers are Florida Atlantic University graduates; three others call the University of Miami their alma mater.
— Miami wins the upper chamber: Sens. Jason Pizzo, Lauren Book and Bryan Avila all graduated from the University of Miami. Pizzo and Book are both Democrats, while Avila is a Republican, but at least they have basketball to find some consensus. FAU's lawmaking alums all serve in the House.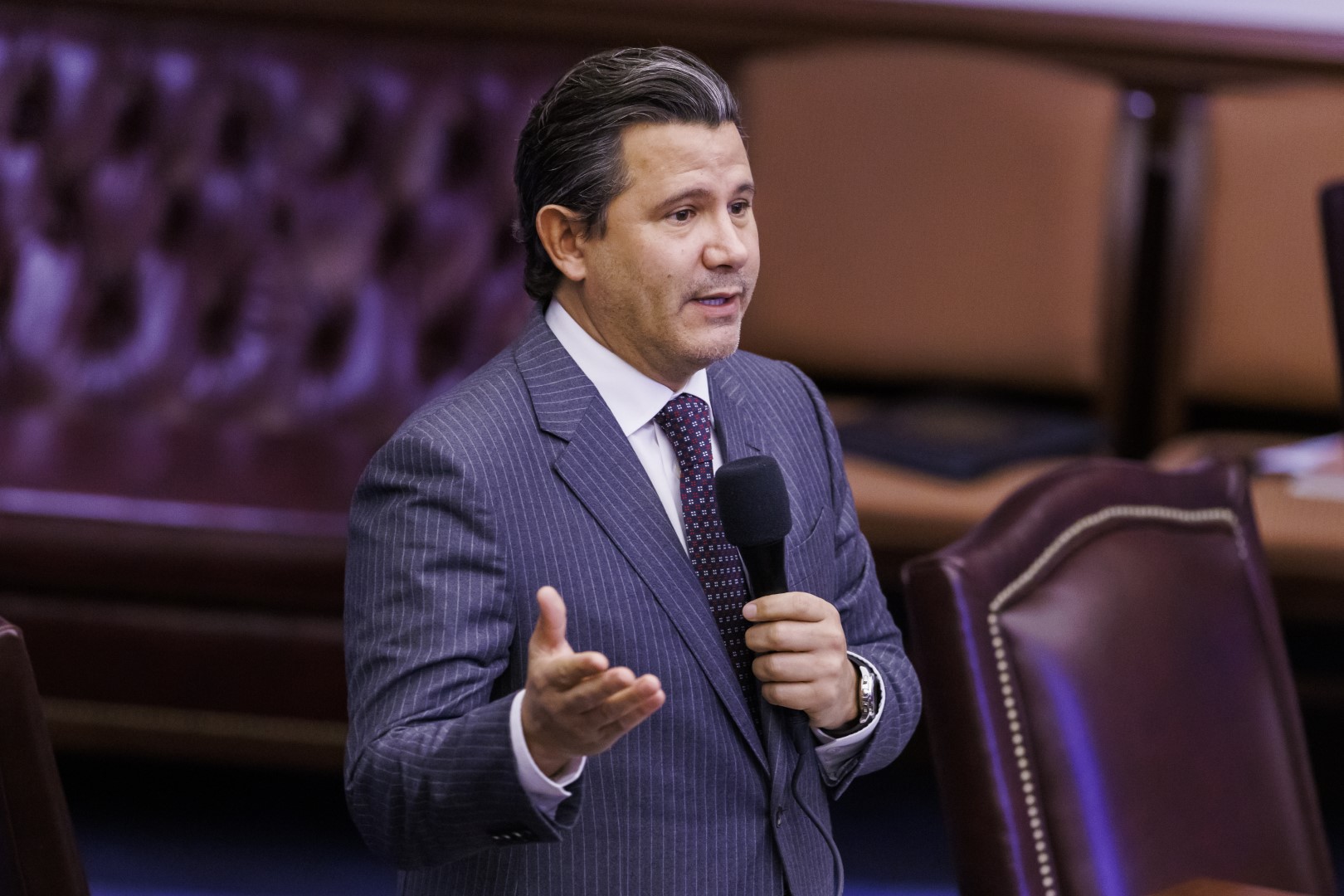 — The Democrats have it: Dems were definitely repping the hardest in the final four, with four of the six lawmakers whose alma maters were represented being Democrats. That includes Reps. Lisa Dunkley and Jervonte Edmonds, in addition to Pizzo and Book. Rep. Mike Giallombardo, along with Avila, is a Republican.
Giallombardo appears the most excited, with several tweets or retweets over the past several days celebrating FAU's appearance in the Final Four, the school's first appearance at this stage of the elite tournament.
— Trump turn-in —
He's not fighting it. Former President Donald Trump is planning to turn himself in willingly after being charged in New York surrounding purported hush-money payments to porn star Stormy Daniels, according to his campaign.
— Flying in: Trump is spending his weekend in Palm Beach County. He'll leave Mar-a-Lago Monday to take his private plane to New York in preparation for a Tuesday arraignment.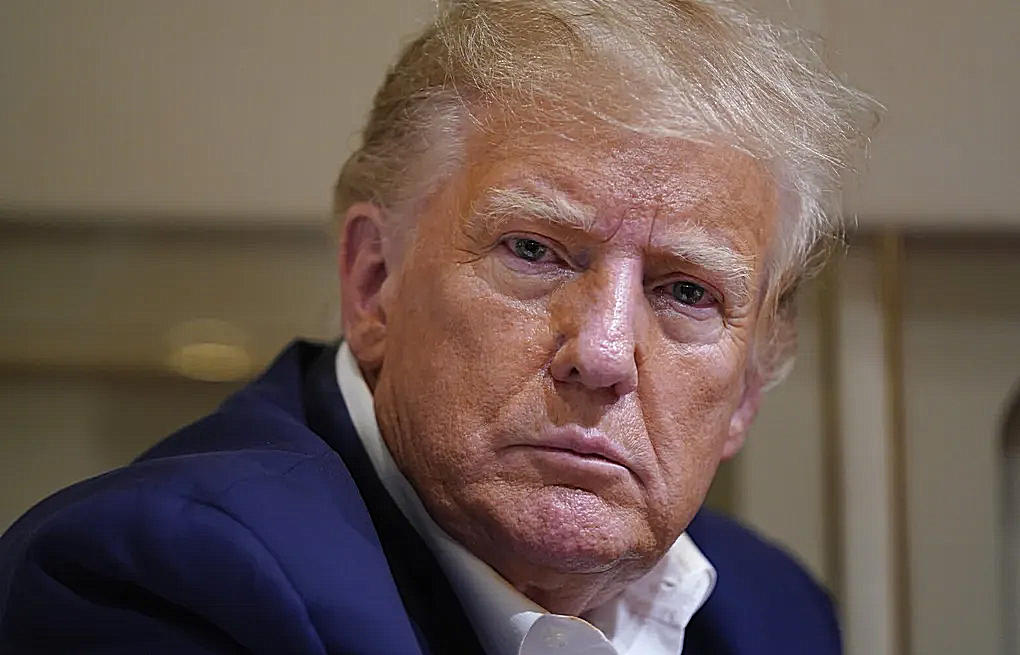 — Tuesday plan: The campaign said he'll spend Monday evening at Trump Tower before heading to court the next day. The arraignment is expected at around 2:15 p.m., and media reports say the Secret Service will likely accompany the former President. Law enforcement is already prepping for any unrest surrounding the event.
— Back at it: The campaign said Trump will return to action Wednesday, though no formal events are planned.
— Cornering Carmack —
Gov. Ron DeSantis will tap his former congressional chief of staff Dustin Carmack as an adviser on national security for his eventual presidential campaign, according to The New York Times, which cited three people briefed on plans.
— RPOF staging ground: Carmack will leave his current post at the Heritage Foundation to join the DeSantis campaign in assembly, with his payroll covered until its official by the Republican Party of Florida, which has become a staging ground for DeSantis campaign staff, the NYT reported.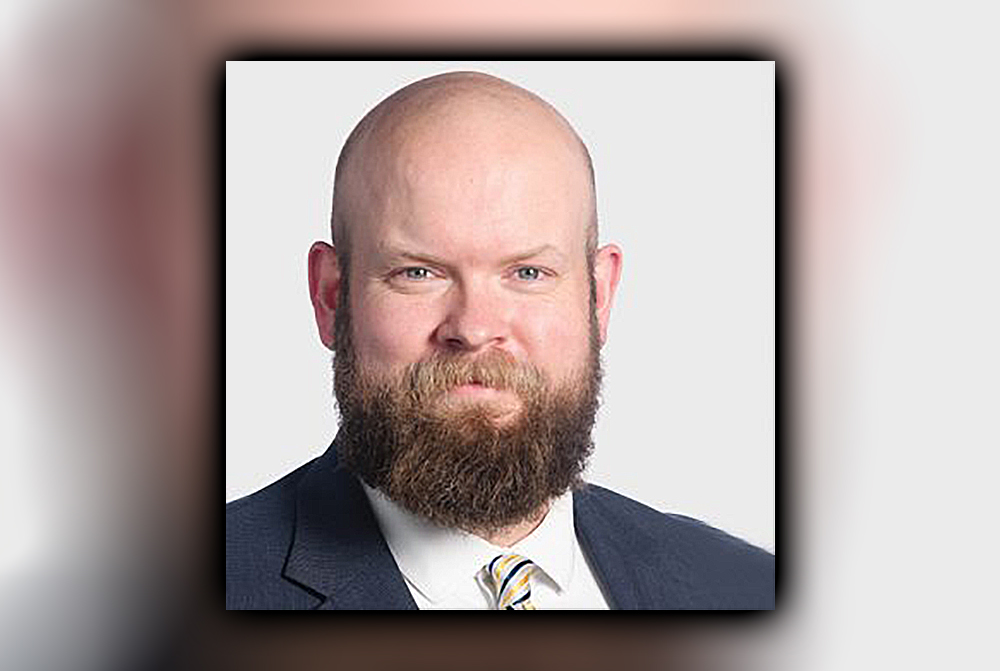 — A hawkish approach: Carmack is not what some would describe as a member of the New Right, which may seem out of place for a Governor whose actions are typically aligned with a Trumpian base, even if his behavior isn't aligned with Trump himself. But he's firm on issues related to cybersecurity, Russia and China, with a 2021 article in the Daily Signal arguing President Joe Biden should implement tougher sanctions on China over cyberattacks.
— A different Ukraine approach: Where DeSantis has said defending Ukraine is not a vital U.S. interest, Carmack disagrees. He has said the U.S. should do more.
But there's an elephant in the room. While DeSantis assembles an eventual campaign staff — he's not expected to announce a presidential campaign until after the ongoing Legislative Session — Trump is already hitting the campaign trail hard, including with a $1.3 million ad buy on CNN and Fox News for a spot attacking DeSantis, according to The New York Times. And with Trump expected to turn himself into prosecutors this week over an indictment related to hush money paid to Stormy Daniels, Trump's base is likely getting fired up, making DeSantis' next moves all the more vital.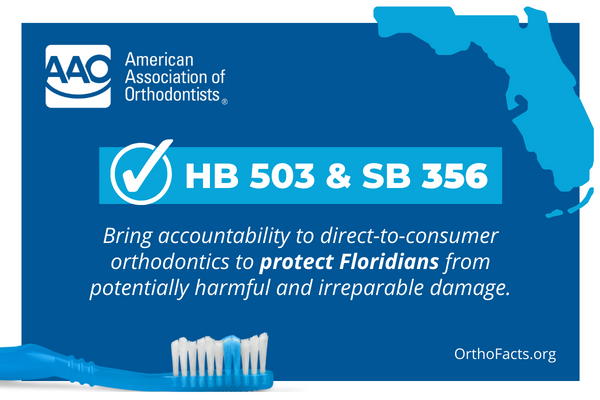 — Home sweet home —
Presiding over a chamber of the Legislature keeps Senate presidents in Tallahassee much of the year, especially Session. But Kathleen Passidomo took Friday to deal with important business at home.
— Literally, her home: Passidomo's Naples estate, like many in Southwest Florida, took a beating from Hurricane Ian last year. Flooding and 155 mph winds displaced Passidomo months ahead of her formal move to the fourth floor.
— Return to form — The Republican Senator was able for the first time in months to move her things back into her house. That warranted a trip to Southwest Florida even at the peak of Session.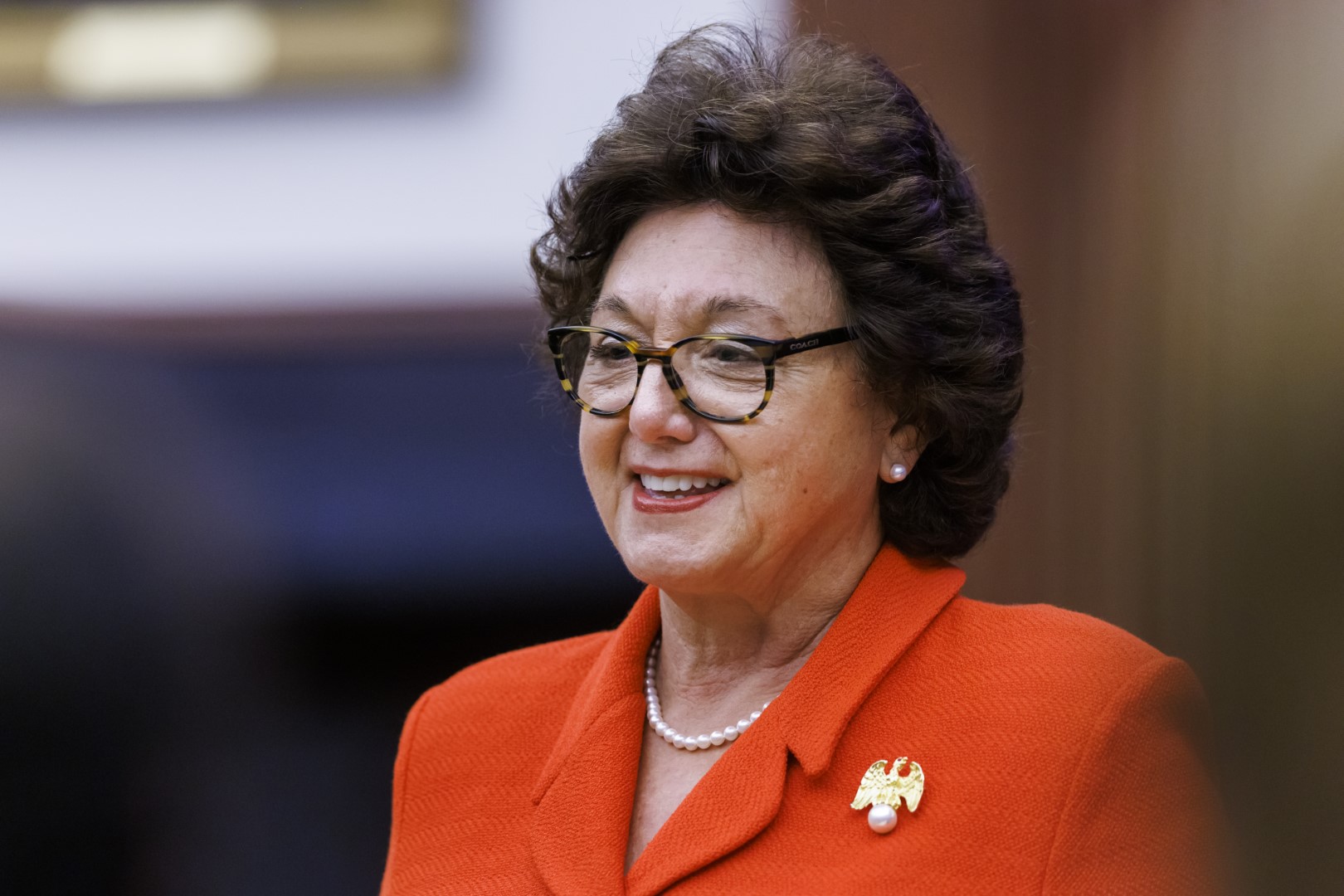 — Herding dogs? — She described a chaotic affair. "I'm up to my eyeballs in alligators," she said. "Movers, contractor, landscape guys, Comcast and my dog, Tucker, are racing all over the house … it's chaos!"
— Well wishes — But it's a relief to be back home. When a reporter told her that he was glad she could return, her reply was simple despite the tumult of moving. "Me too!"
For your radar — Look for Republican state Rep. Keith Truenow to file this week for the Central Florida Senate seat currently held by Dennis Baxley, who is term-limited from running again.
— School retooling —
Speaker Paul Renner is championing several educational bills his chamber has pushed through this Session.
— Bills are graduating: Among the measures being passed are bills to help increase math and reading proficiency, give parents of students with disabilities more control after their child turns 18, and delay start times to give students more sleep. "The Florida House is focused on providing educational opportunities and improving academic outcomes so that our students are prepared to thrive in the global economy," Renner said. "Thanks to the dedicated efforts of our bill sponsors, Florida is poised to unlock the full potential of every student in the state."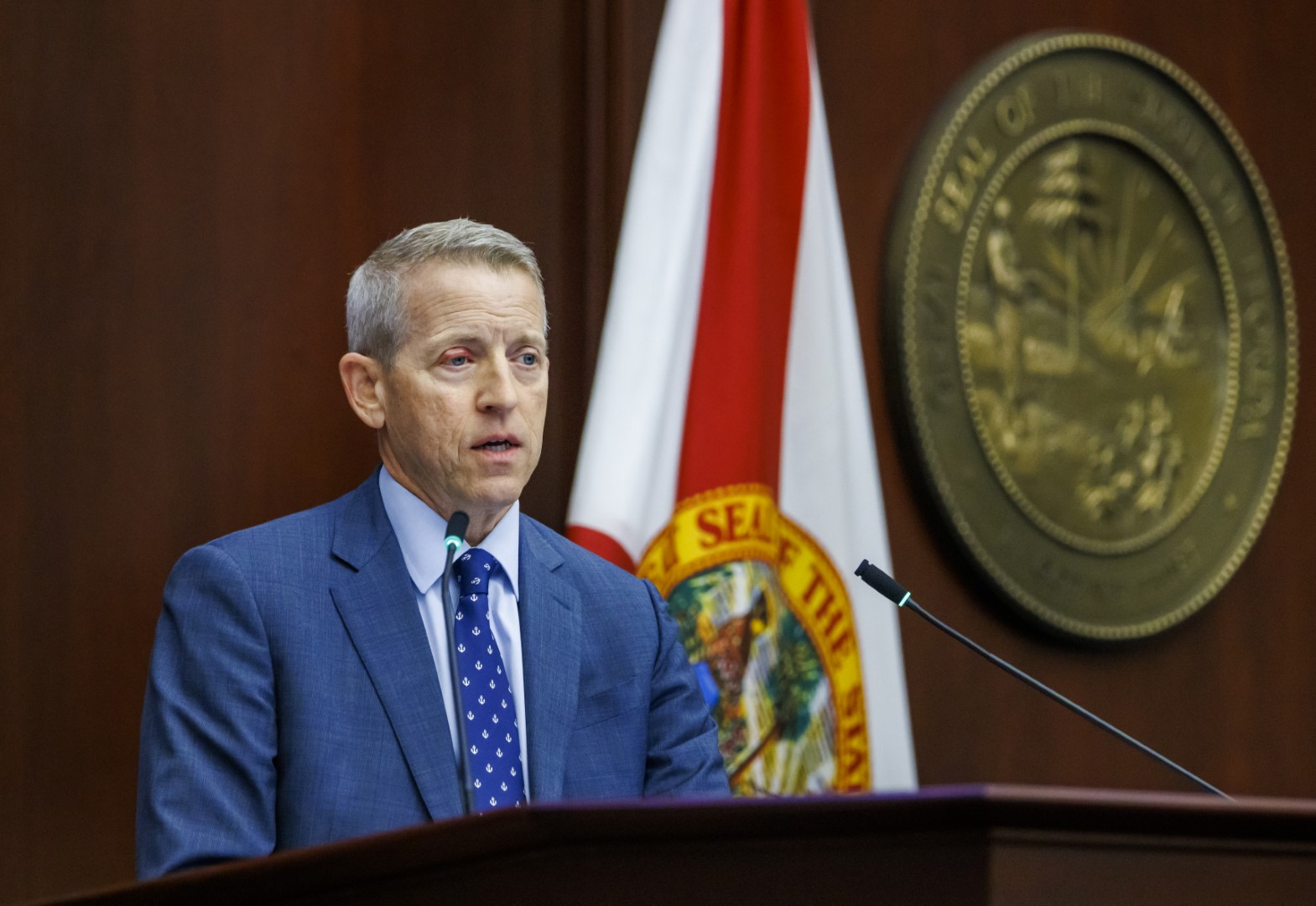 — Adding up: Rep. Dana Trabulsy, a Fort Pierce Republican, is behind the math and reading proficiency bill, which aims to identify those who need help and better tailor instruction. "The long-term success of our students depends on their mastery of foundational literacy, reading, and mathematics skills in the early grades," Trabulsy said. "This bill equips teachers, parents, and students with resources that are grounded in the science of reading."
— Assisting students: Democratic Rep. Allison Tant of Tallahassee, a mom to a special-needs child herself, is behind the bill making sure parents have a say in their child's education beyond 18. Students with disabilities can attend public schools through the age of 22. "This bill allows the parents of students with disabilities the option to maintain an active role in their child's education once the student has reached the age of majority," Tant said. "The Florida House helped families stay involved in their loved one's education without the burdensome and costly need to establish guardianship through the courts."
— Not snoozing: Lawmakers also worked hard to pass a bill ensuring middle schools will start no later than 8 a.m. and pushing high school start times to 8:30 a.m. Those changes must be in place by July 1, 2026. "Studies have proven that a good night's sleep improves a student's physical and mental health, safety, academic performance and overall quality of life," said Republican Rep. John Temple of Wildwood, the bill's sponsor. "This bill establishes appropriate school start times as a way to improve both academic scores and mental well-being."
— Pharmamok —
Emotions charge up regarding many Florida laws, but Rep. Chuck Clemons took to task an entire industry when a consumer choice bill advanced from the House Healthcare Regulation Subcommittee.
— De-integration: The bill that sparked a conversation was from Rep. Liz Cheney, a Pinellas Republican. She said HB 1509 will break up the vertical integration of corporate pharmacies, drug manufacturers and pharmacy benefit managers.
— Anger from the dais: Clemons, the committee Chair, called the current system "capitalism run amok," an unusual attack from one of the House's most senior Republicans.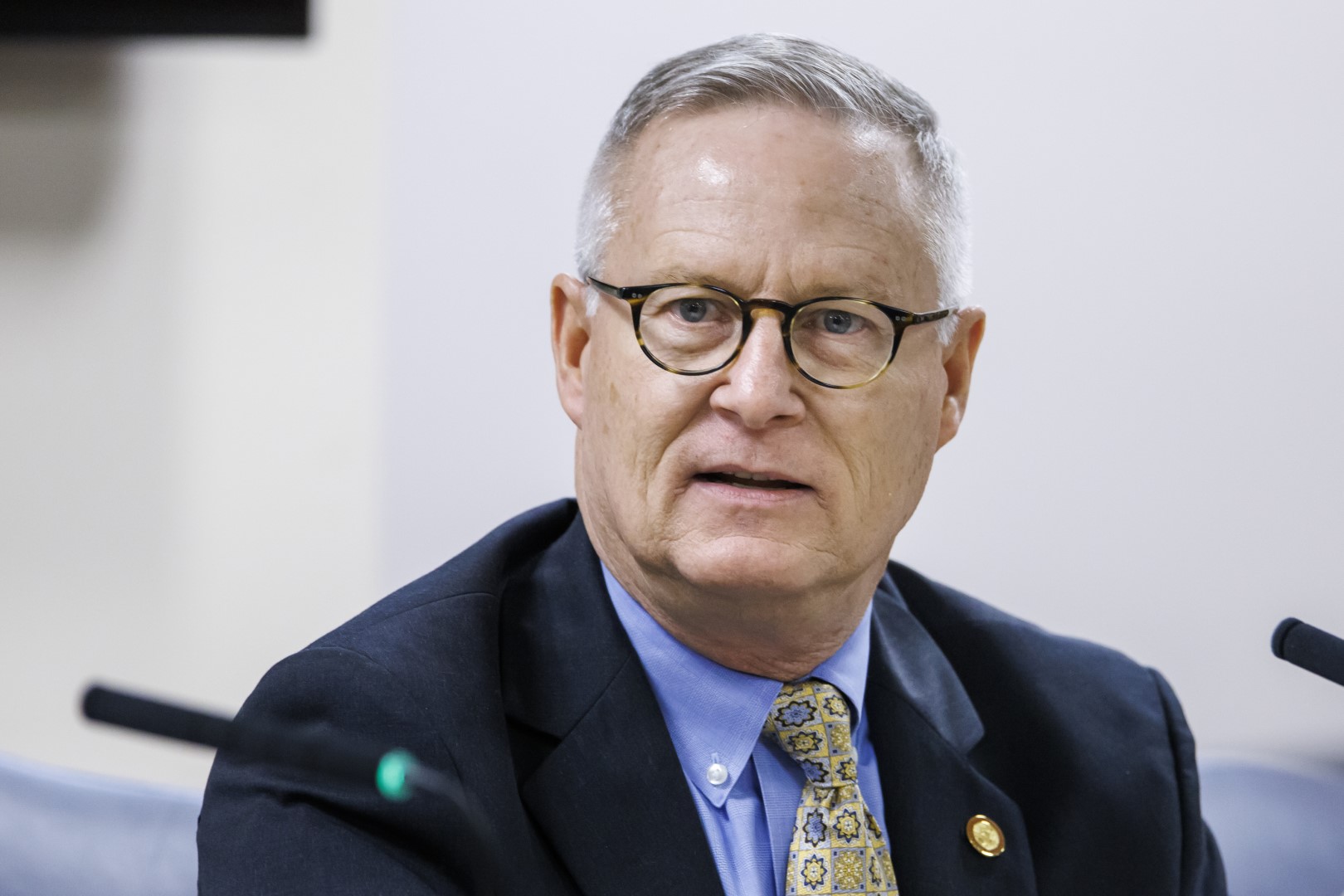 — Populist prescription: "It's a wonder that we have the organization of government that we do, because, in a level of government that's less than ours, some of these folks would be running from pitchforks," Clemons said, "because they steal."
— Pointed close: He directed a stinging remark at some of the industry officials benefiting today. "They're stealing from sick people," Clemons said. "And all I can say is, you better get good with your maker, because you may rot in hell for some of these things that have happened in the past."
— Bipartisanship: The fiery words hardly left room for Cheney to bring more invective. But the bill coasted through the committee with unanimous support.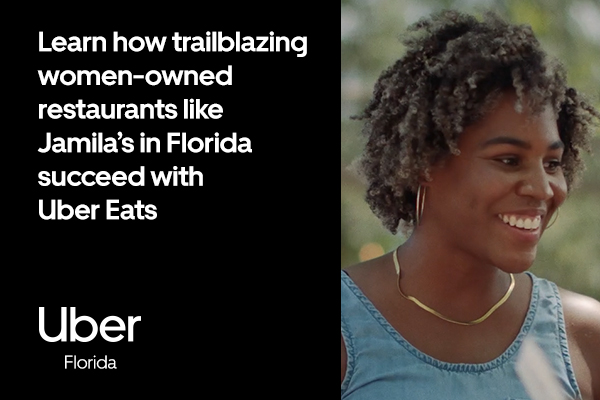 — Fifty years since 'Nam —
A nice moment occurred on the Florida Senate floor Wednesday when the chamber joined elected current and former members of the U.S. Armed Forces in honoring Sen. Vic Torres and Vietnam War veterans for their service.
— Half a century passed: Wednesday marked 50 years to the day since the last U.S. combat troop left Vietnam. As noted by Sen. Danny Burgess, a captain in the Florida Army National Guard, nearly a third of Florida's 1.5 million veterans served with honors during that time, but "our nation failed to properly acknowledge and thank these men and women" for their sacrifice.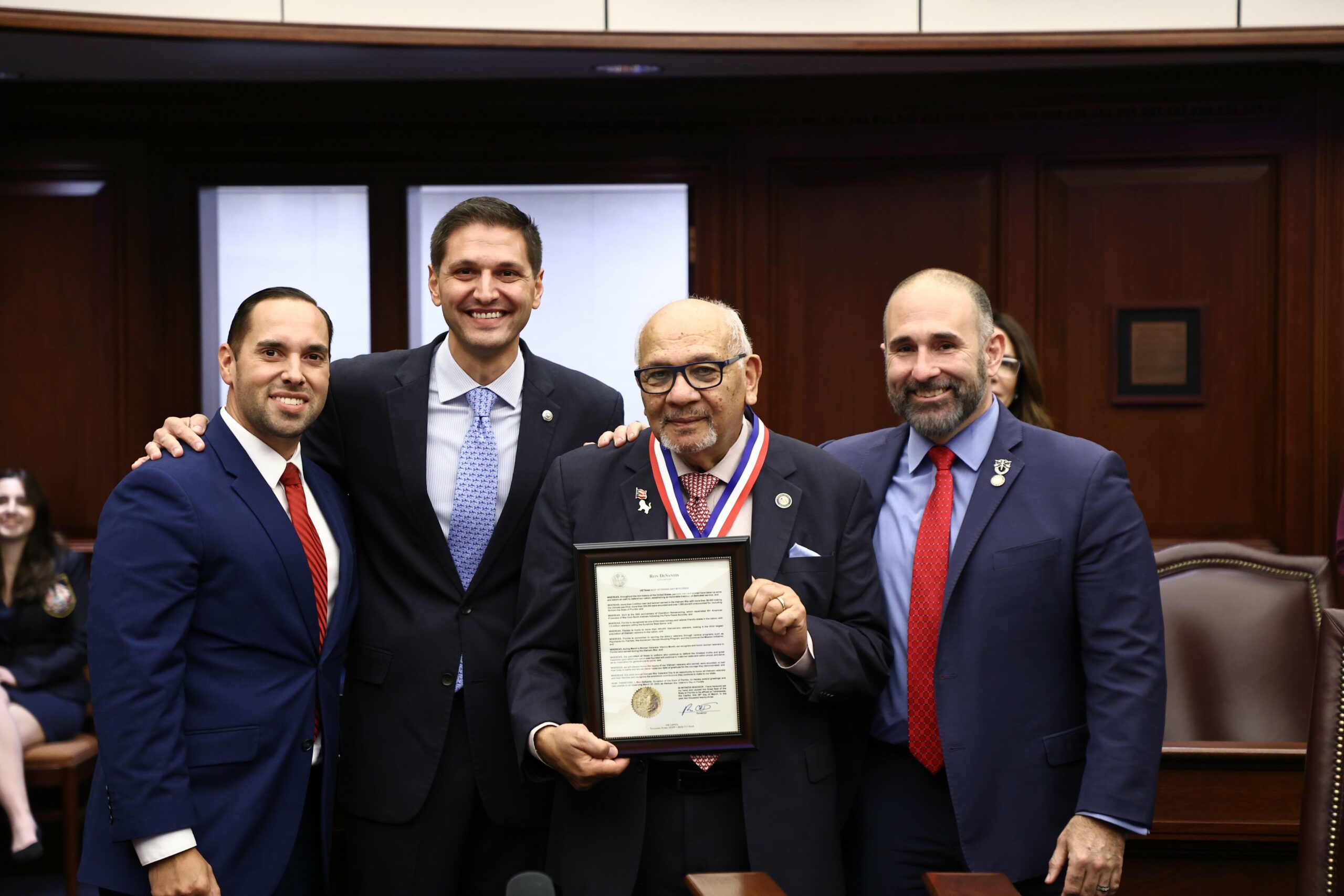 — A lifetime of service: Torres was stationed in Okinawa during the war and enlisted in the U.S. Marine Corps as a young New Yorker after seeing the draft take his brother and friends, many of whom "never came back," he said. Upon returning stateside, Sen. Bryan Ávila, a Florida National Guard lieutenant, told how Torres served as a New York Transit officer before moving to Florida, where he "followed his passion of community and volunteer service" before winning election to the Legislature in 2012.
— A heartfelt, belated homecoming: Sen. Jay Collins, a decorated Special Forces veteran, and Senate President Passidomo also offered plaudits to Torres, who was presented with a plaque and medal commemorating the anniversary of Operation Homecoming. Passidomo called Torres "a good man and a good member of the Senate" from whom she hoped to see "a couple more years of good service" in elected office.
A visibly moved Torres said he is proud of his service and of the military personnel who served after him, including his fellow service members in the Senate. "Being here as a veteran, I've always treasured the few of us that are here," he said, "(and this is) a great honor, so thank you all from the bottom of my heart."
— Week ahead —
There's a lot in store for the Legislature this week as the 2023 Legislative Session trudges on. Monday is sure to be packed with popcorn-worthy debate on two high-profile measures expected to pass the Republican-led Senate.
— Abortion and trans issues rule Monday: The Senate will take up and is expected to pass a six-week abortion ban, which would prohibit the procedure before most expectant parents even know they're pregnant. The chamber will also take up amendments to a bill banning treatment for gender dysphoria in kids. Democrats, who oppose both measures, will hold a media availability at 9:30 a.m. on the 4th floor of the Capitol.
— What a drag: The Senate will hold a floor Session at 4:30 p.m. Tuesday during which they are expected to take up a measure (SB 1438) from Sen. Clay Yarborough that would clear the way for the state to revoke licenses at establishments that allow children to attend drag shows.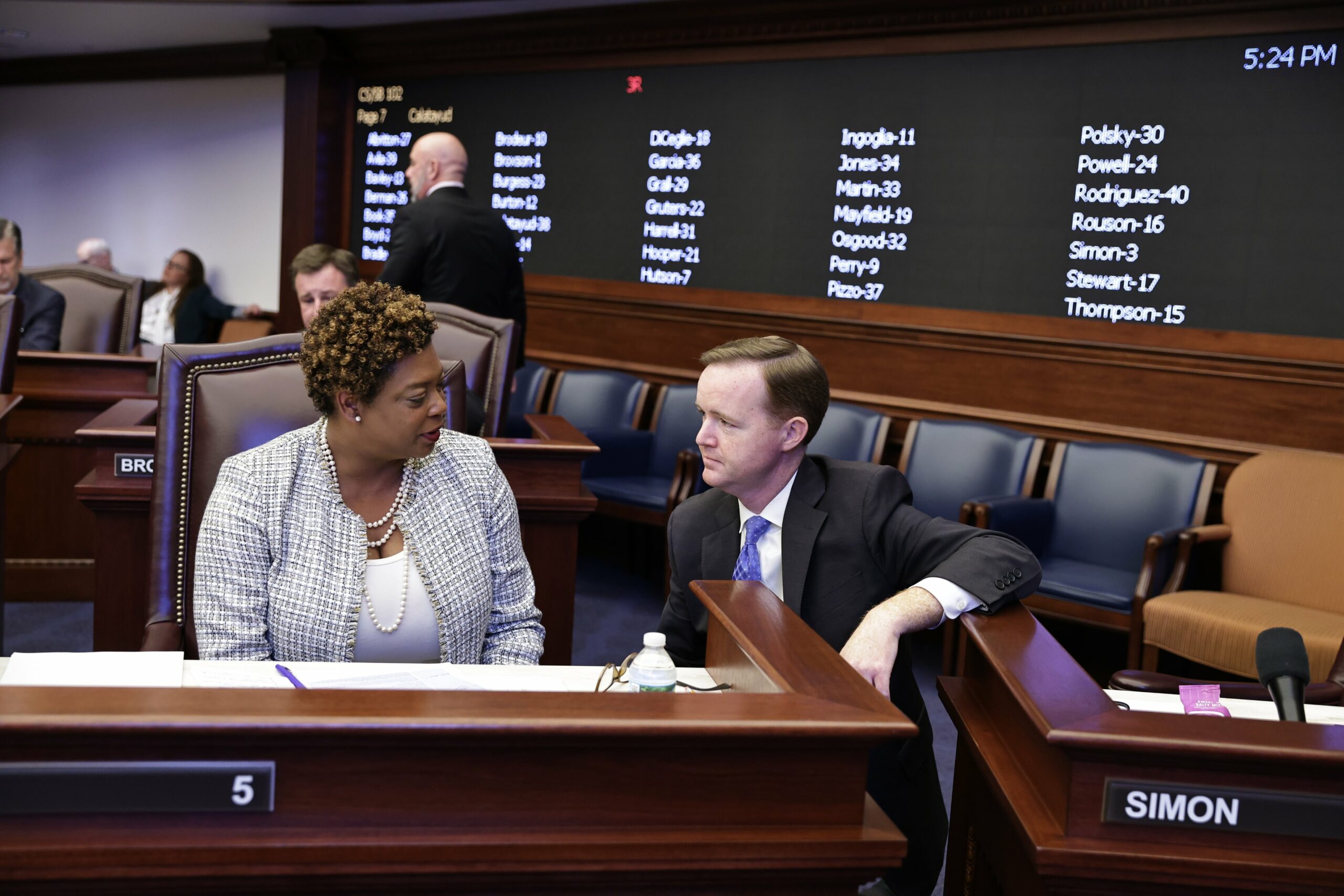 — School Board residency: The Senate Pre-K-12 Committee will take up Sen. Blaise Ingoglia's measure (SB 444) changing the residency requirement for school board candidates to live in the district from the time they qualify for the race to the time they assume office, meaning candidates would no longer have to live within the district while they are campaigning.
— New College, new board: The Senate Education Postsecondary Committee will hold a confirmation hearing for seven members of the New College of Florida Board of Trustees on Wednesday at 8:30 a.m. The board has been in the news recently after DeSantis appointed conservative members to revamp the liberal arts school in Sarasota.
— Suits for Session: Volunteer Florida and TECO are hosting the annual "Suits for Session" event at the Capitol, which seeks "gently used" professional clothing for those in need to help individuals obtain employment. The event is on Wednesday from 9 a.m. until 5 p.m. on the 2nd floor of the Capitol.
There's plenty more ahead this week in Tallahassee, including Supreme Court hearings addressing Duke Energy costs and golf course taxes. Legislative meetings can all be viewed on the Florida Channel.
— The kids are alright —
The Florida Juvenile Justice Association honored young people on track for success in the face of challenges.
— Well attended: Executive Director Christian Minor reports 150 came to this year's legislative reception at the Florida Historic Capitol Museum, including a mix of child welfare advocates, stakeholders, legislators and agency individuals. Juvenile Justice Secretary Eric Hall was among the attendees.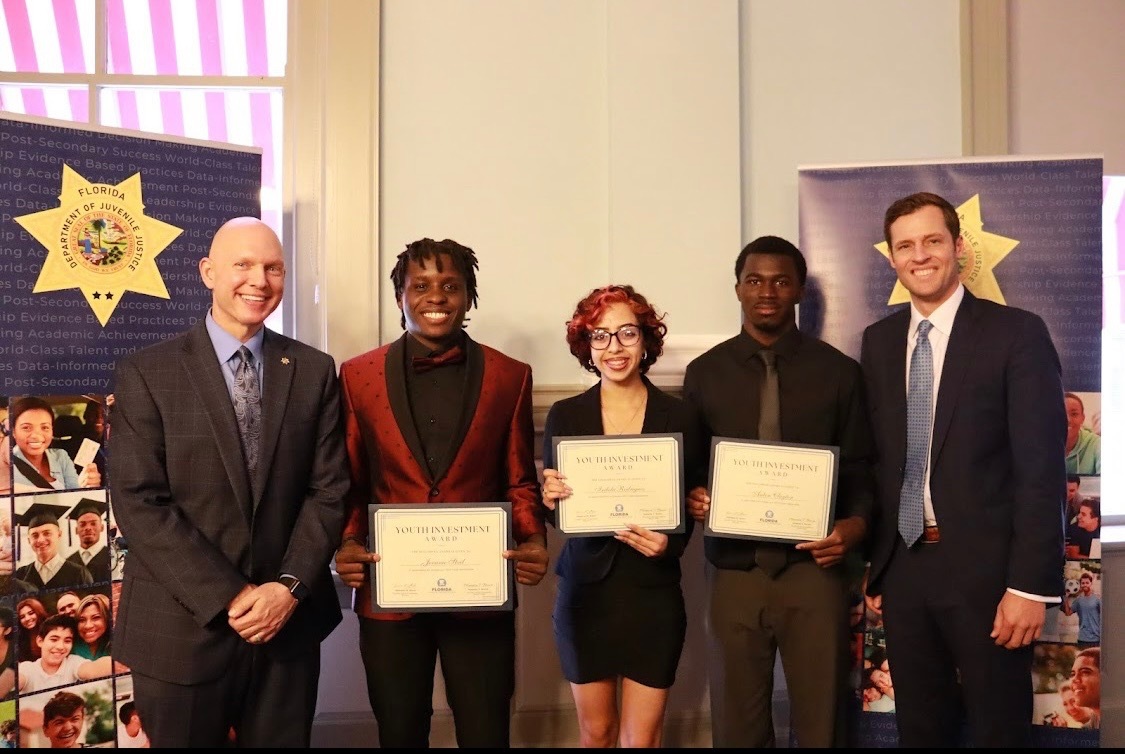 — Young inspiration: FJJA names three youth ambassadors for the year: Jovanie Stvil (Eckerd Connects); Isabella Rodriguez (Lutheran Services of Florida); and Anton Clayton (Kissimmee Youth Academy).
— Against the odds: "All the kids were touched by the system in some way, shape or form, but have gone on to live a life of success and serve as models," Minor said. One ambassador will move out from a residential facility this week, and then go to college on a football scholarship.
— First Lady fun: All three ambassadors also participated earlier in the day in a news conference with Casey DeSantis, where the First Lady announced an expansion of Hope Florida.
— Celebrating staffers: The Association also gave Service Excellence Awards to six people working with youth associations around the state: Eric Anderson (Youth Crisis Center); Jason Harris (Youth Opportunity Investments); Ashle Jennings (Lutheran Services Florida); Rosalie Llombart-Morales (Pace Center for Girls); Maria Przybylski (AMI Kids); and Jaime Schiebel (Twin Oaks Project Connect).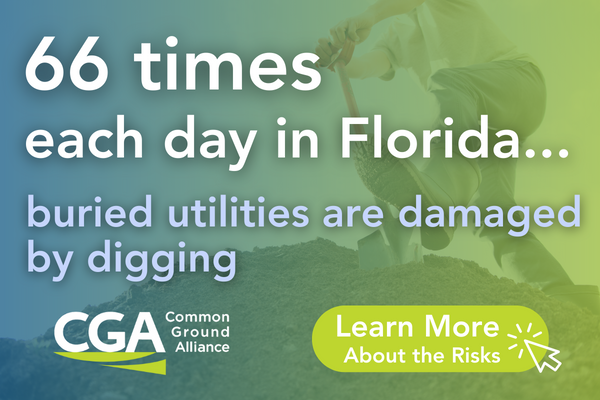 — MDW Communications' awards haul —
Plantation-based MDW Communications scored big in Las Vegas this past week at the Reed Awards, one of two major events that annually recognize excellence in campaign consulting.
— Major recognition: MDW was a finalist in 20 categories and won in seven, including "Best Landing Page — Democratic" (Equality Florida), "Best Website for a Statewide Campaign" (Nikki Fried), "Best Microsite — Democratic" (Teachers.vote), "Best Website for U.S. House/Senate — Democratic" (Tom Malinowski), "Best Website for County, Local or Judicial" (Coral Springs Commissioner Joshua Simmons) and two "Best Mail Piece" categories.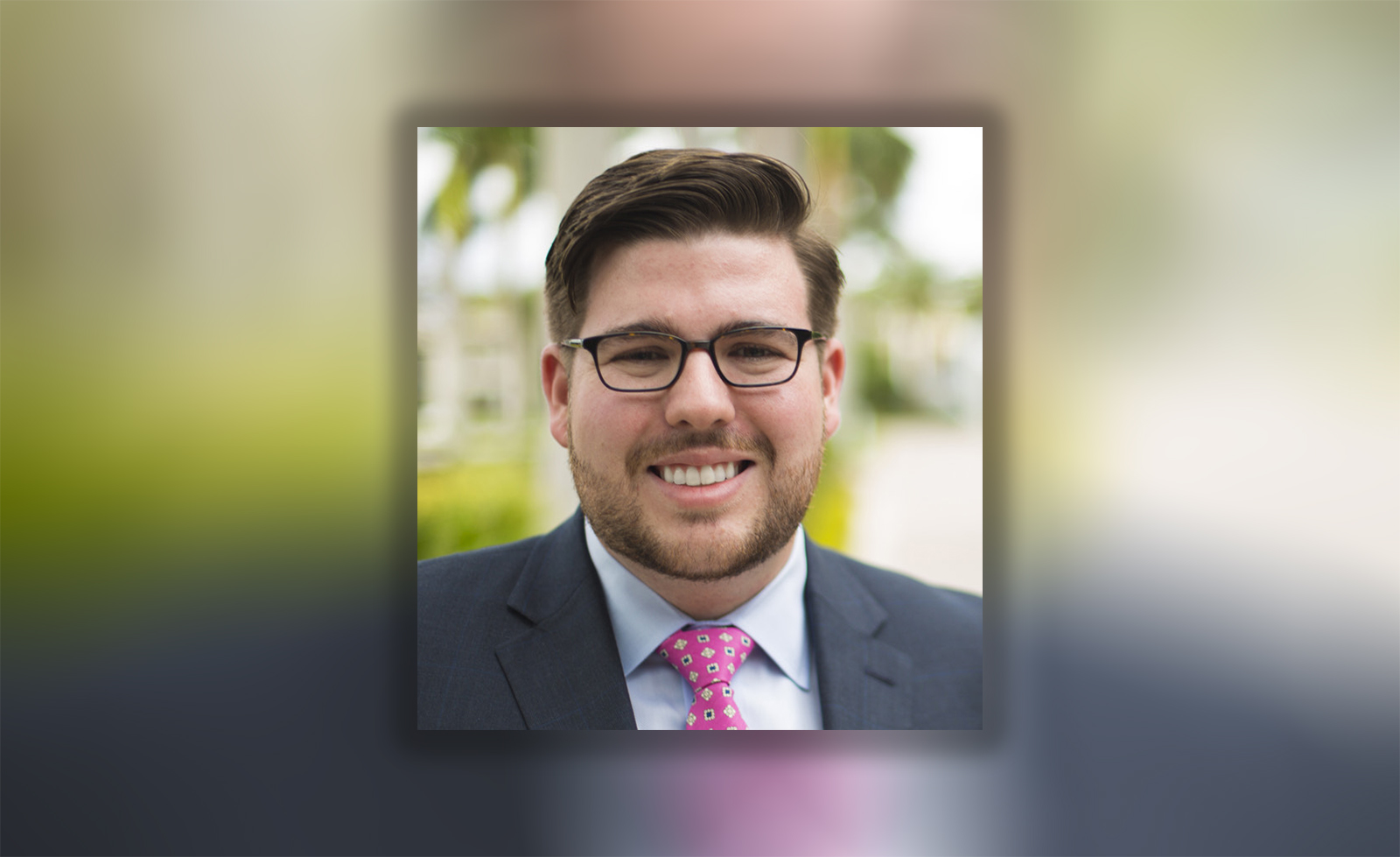 — In good company: Hundreds of top consulting firms from across America and as far as Australia sent in submissions to be judged by a panel of well-established industry experts. "You're competing with some of the largest, most well-staffed, well-stocked firms in D.C. and smaller, one-man shops, freelancers and that kind of thing, so it's very exciting to see that wide range of creative talent and celebrate their success," MDW founder Michael Worley told Florida Politics.
— Viva Las Consultoras: The 2023 Reed Awards Ceremony went down March 28 at the Aria Resort & Casino on the Las Vegas Strip, where firms and consulting talent competed for around 500 awards across nearly every imaginable medium. Named MDW honorees included Aaron Monse, director of web development, and Vice President of Creative Landon St. Gordon.
A winning formula: The secret to running a good political campaign, according to Worley, is the principles. "It's figuring out who can vote, what voters your message will resonate with the most and how to get that message across to voters," he said, "and if you look at every single race you do through that lens, that's your secret sauce."
— Dates with a spiny lobster —
A spiny lobster by any other name would be a rock lobster, and if you're into harvesting these transfixing, clawed creatures of the deep, the time to do so is unfortunately over, except for the annual midsummer derby. The recreational and commercial seasons for spiny lobster ended in state and federal waters Saturday. They reopen on Aug. 6.
— Sport of fishing: The good news is the Florida Fish and Wildlife Conservation Commission (FWC) reminded the public recently of July 26 and 27 as the dates of the annual two-day sport season. The daily bag limit is six per person in waters off Monroe County and in Biscayne National Park, and 12 per person for the rest of the state. Possession limits are equal to the daily bag limit on the water; off the water, it's equal to the daily bag limit on the first day and doubles that limit on the second day.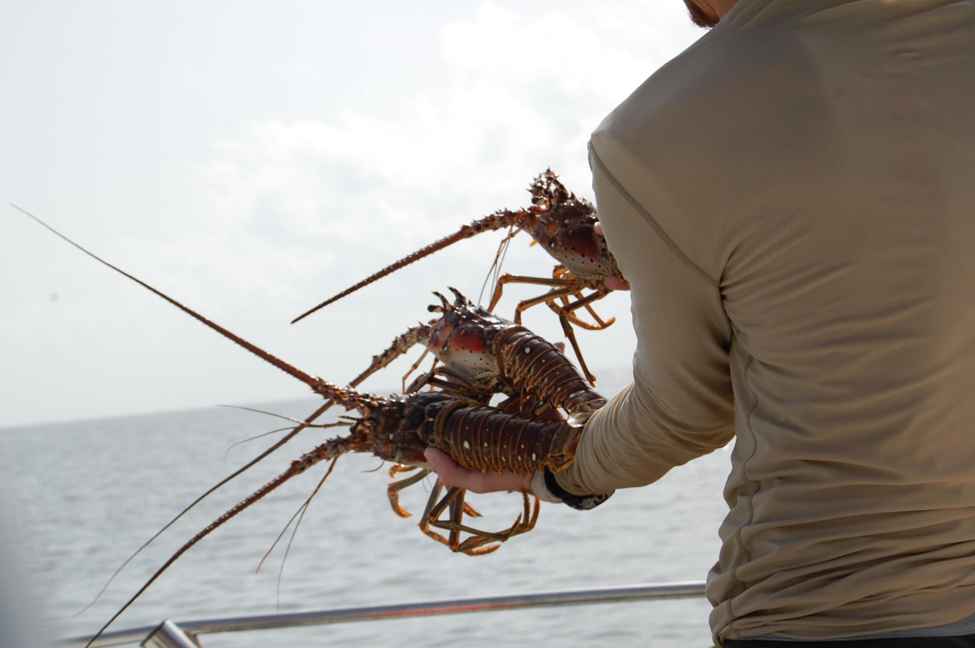 — Economic pressures: Experts at the beginning of the 2022-2023 season noted the impact Florida's exploding housing costs are having on the spiny lobster industry in the Keys because it's hard to staff vessels because crew members can't afford to live nearby. Christina Wiegand, a fishery social scientist with the South Atlantic Fishery Management Council, said at the time, "(Keys housing is) too expensive for crew members to typically live, so they're having to commute from places like Homestead, Florida, all the way out to the Keys. The fishermen really talked a lot about how important it is to have a knowledgeable crew on these boats to make sure you're avoiding citations."
— Night diving: Folks aiming to do their lobster harvesting at night should take note the practice is prohibited in waters off Monroe County during the sports season. Diving, in this case, is defined as swimming at or below the surface of the water. Also of note, the minimum size limit is 3 inches for the carapace. People are required to possess and use a measuring device while harvesting.
— Take care: "When lobstering in open water," the FWC advises, "divers should stay within 300 feet of a properly displayed divers-down flag or device and within 100 feet of a properly displayed divers-down flag or device if near an inlet or navigation channel. Boat operators traveling within 300 feet of a divers-down flag or device in open water or within 100 feet of one on an inlet or navigational channel must slow to idle speed."
— Brunching out —
Vino Beano is a year-old Midtown venture that's a coffee shop and cafe by day and a lounge by night.
— Setting: The bright, breezy space has a modern look, with crystal light fixtures suspended from the ceiling; bold, abstract art; and accents of black, gray and white. There's a large, outdoor patio at the front. In the back of the restaurant are colorful couches sporting Art Deco curves.
— The menu: The extensive menu is available from day to night except for the breakfast bowls, so you can order a bagel melt while playing Wine Bingo. Among the highlights: our ham and provolone melt on an Everything Bagel and the Tuscan ciabatta, a perky mix of chicken, bacon, tomato, Cheddar and chipotle mayo. Next time, we want to try the Toasted Brie ciabatta with figs, prosciutto and arugula. The menu also features flatbreads, salads, charcuterie and cheese boards, dips and bites, several sides, sandwiches, desserts, a kids' menu and grab-n-go items.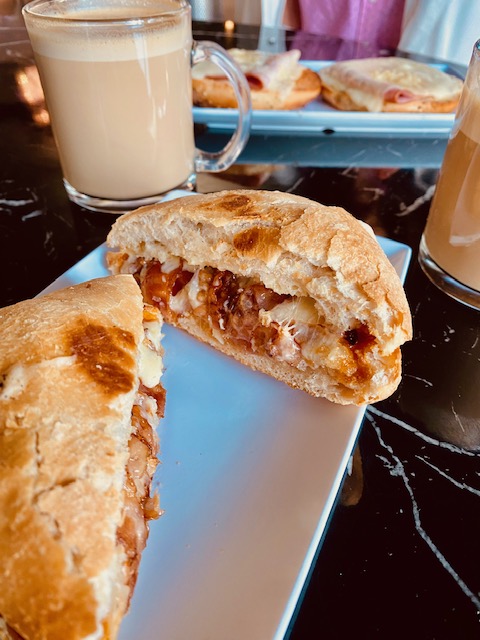 — Beverages: A variety of coffee drinks, including specialty lattes (honey lavender, peanut butter brew …) and tea, Italian wines on tap, beer (with a few local IPAs), a full bar, and mocktails. Happy Hour from 4:45 to 6:45 p.m.
— Details: Vino Beano is at 1309 Thomasville Road; 850-329-2562. Hours are 8 a.m. to 11 p.m. Monday to Thursday; 8 a.m. to 1 a.m. Friday-Saturday and 8 a.m. to 9 p.m. Sunday. Call first to confirm late-night closing. FYI: Vino Beano is offering its first Easter brunch, including chicken and waffles, sausage and eggs and sides, from 11 a.m. to 3 p.m. April 9, followed by an Easter Egg Hunt at 3 p.m. Tickets are $25 for adults, $12 for kids.