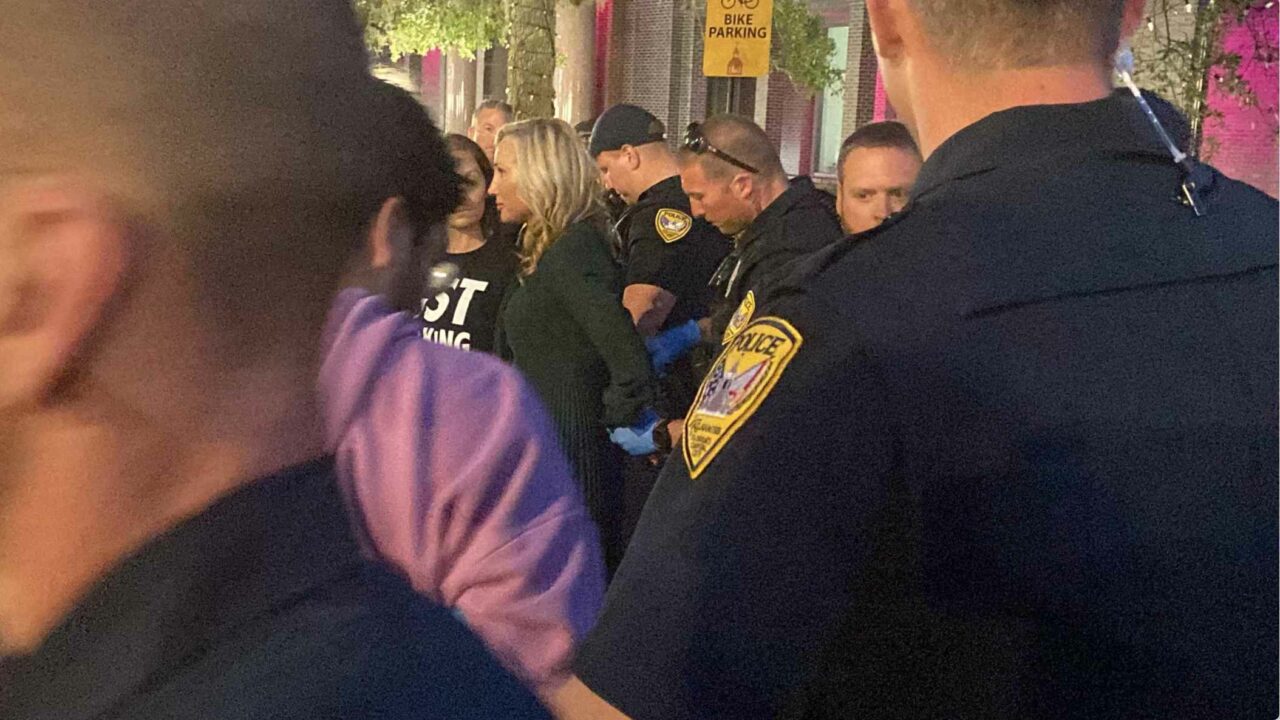 A crowd of about 50 to 100 protesters gathered Monday evening to protest the Senate passage that rolled back abortion rights.
Senate Democratic Leader Lauren Book and Florida Democratic Party Chair Nikki Fried were among 11 reproductive rights protesters arrested and cuffed outside Tallahassee City Hall Monday night.
A spokeswoman for the group involved in the protest, Progress Florida, says the arrested protesters were seated in a circle when "15 to 20" Tallahassee police officers came out of City Hall and pulled protesters to their feet just after 8 p.m. They had been warned to leave an area that was barricaded earlier, said Amy Weintraub, a reproductive rights program coordinator for Progress Florida.
"It was a very peaceful protest," said Weintraub, who said she was there as the arrests happened, but didn't get arrested herself.
Before the arrest, Book, Fried and others addressed the group, according to Reagan McCarthy of WFSU. Fried said protests are just one way to fight against restrictive policies. She said voting is another.
"We are going to hold accountable every single elected official who votes for an all-out — because that's what this is — abortion ban," Fried said. "That reckoning is going to come in '24."
Earlier on the Senate floor, Book said she believes the battle for access to abortion care is just beginning.
"No one is going to save us but ourselves. So we must stand up and we must unite. We must donate to abortion funds and support clinic escorts and healthcare professionals and we must work to make things different because abortion is healthcare," Book said.
The protest followed a vote on the proposed six-week abortion ban in the Senate earlier in the day. After outbursts from the public during the often emotional debate, Senate President Kathleen Passidomo cleared the chamber's public viewing area.
Passidomo directed the Sergeant to clear the gallery as Sen. Alexis Calatayud seemed to speak in favor of the measure even as she announced she would vote against it. She said her decision is based on the promises she made to her constituents.
"I told them they had my word I would advocate for exceptions for rape, incest and human trafficking. Because of the leadership of Senator Grall and President Passidomo, we have that exception. I gave them my word that I would support Florida's current law of 15 weeks. Because I am a woman of my commitment to my community I will be voting no on this policy," Calatayud said.
A news release from the Tallahassee police said protesters were allowed to use the property during "normal operating hours" and told to leave. When the 11 people who had been sitting in a circle refused to leave, they were charged with trespassing.
"TPD encourages individuals exercising their First Amendment right of peaceful assembly to do so in accordance with the law," a statement from Tallahassee police read. "TPD supports non-disruptive demonstrations and works diligently to protect and uphold the rights of citizens every day."
#BREAKING: Florida Senate Democratic @LeaderBookFL and Florida Dems Chair @NikkiFried arrested at peaceful pro-choice protest outside the Capitol Building of the Free State of Florida #BecauseFlorida pic.twitter.com/mBA1vsPWUd

— Billy Corben (@BillyCorben) April 4, 2023
Book was seen handing her jewelry over to an aide as she was being cuffed.
Palm Beach County Sen. Lori Berman was part of a group of about 50 to 100 people who were gathered in reaction to the Senate's passage of legislation (SB 300) that bans abortion after six weeks gestation, except if the pregnancy is the result of rape, incest or sex-trafficking. A similar measure awaits its second reading in the House.
The legislation is seen as a measure similar to an outright abortion ban because it comes before many women realize they are pregnant. The bill also allows for abortion in the case of certain medical complications.
Berman said she moved along upon the police warning, but said the arrests were unnecessary.
"There weren't rioters," Berman said. "They were not blocking any traffic. They were just sitting, holding signs and singing songs."
The arrests spurred condemnation from Ruth's List Florida, an organization dedicated to getting female abortion rights politicians elected.
"The arrest of our Democratic leaders and other peaceful protestors is the latest disgraceful assault on our civil liberties," said Christina Diamond, interim CEO of the organization. "It's not enough for Florida Republicans to take away our bodily autonomy, now they're trampling on our rights of free speech and assembly."
___
Florida Politics reporter Christine Jordan Sexton contributed to this report.