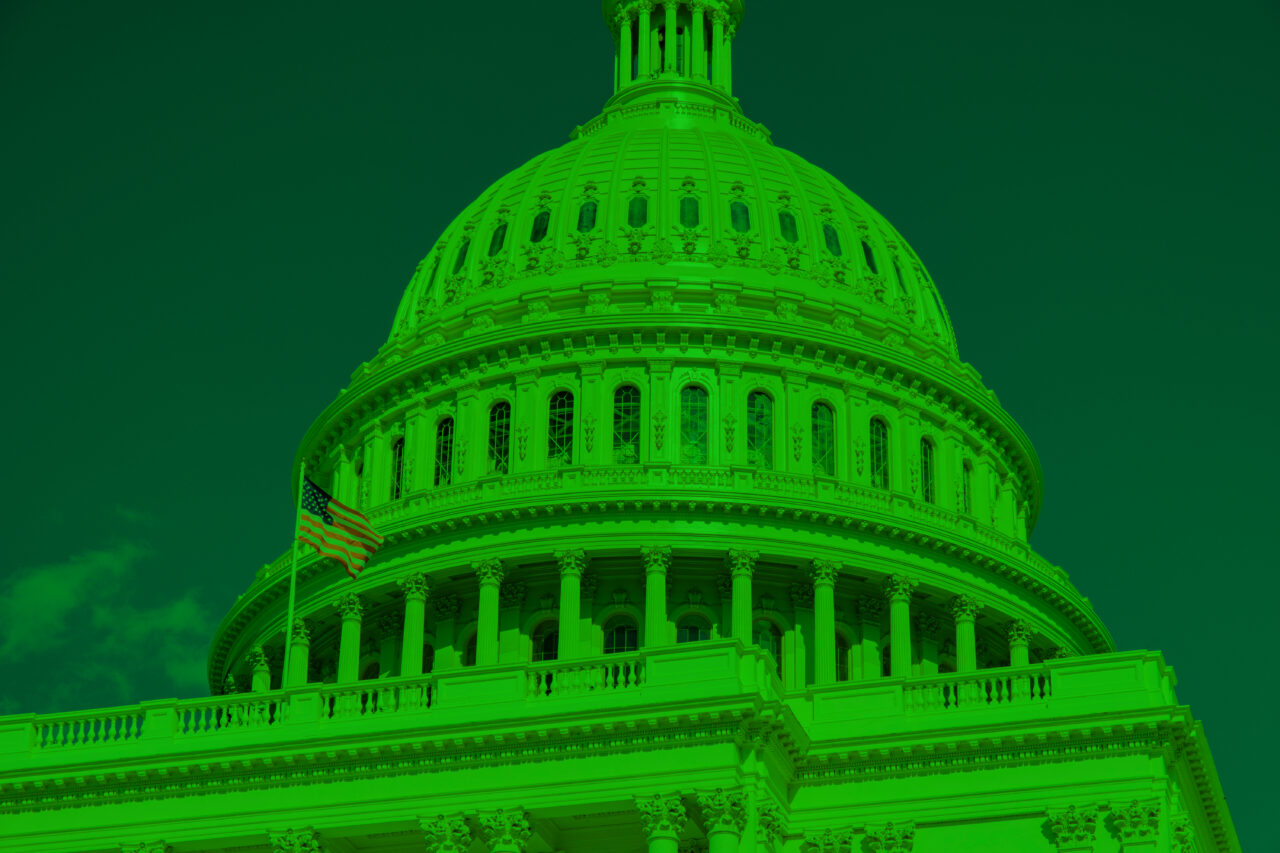 The delegation puts team loyalties aside.
Big Play for AEDS
The football-watching nation collectively put team loyalties aside when Buffalo Bills safety Damar Hamlin suffered cardiac arrest during a nationally televised game in January. The NFL player continues recovery and is on his feet — and even met this weekend with President Joe Biden.
The New York baller also shared a stage with two members of Florida's congressional delegation. At the Top of the Hill Banquet and Conference Center, Reps. Sheila Cherfilus-McCormick, a Miramar Democrat, and Bill Posey, a Rockledge Republican, introduced the Access to AEDs Act, which would require access for student-athletes to automated external defibrillators, a device used to save Hamlin's life.
"I'm very appreciative of the work that has been done to support the Access to AEDs Act and make people aware of how important it is to have AEDs in schools and have people trained in CPR," Hamlin said.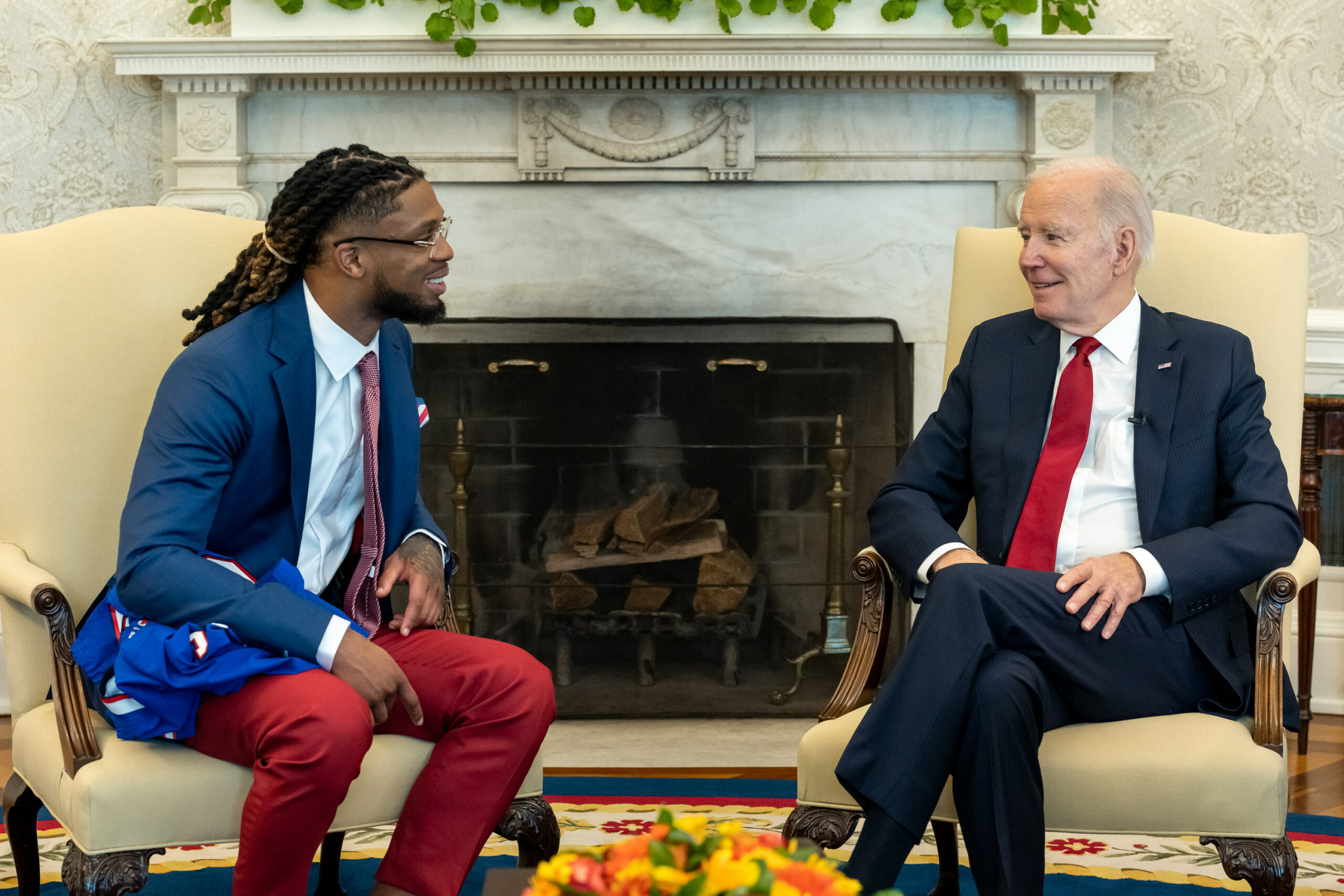 He has focused on the development, health and safety of youth through his charity, The Chasing M's Foundation Charitable Fund, and welcomed congressional support for that mission.
"The care I received saved my life. This legislation can help ensure that schools are just as prepared and trained to respond in a time of crisis as those on the sidelines of an NFL game. As my experience has shown us, CPR and access to AEDs will — without question — save lives."
Posey noted Hamlin isn't the first athlete to suffer a medical emergency during a sporting event. He noted soccer player Rafe Maccarone, a Cocoa Beach soccer player, died in 2007 a day after suffering cardiac arrest during a warmup before practice. Maccarone was 15.
"Like we've seen with Rafe Maccarone, my constituent, who tragically collapsed at soccer practice in 2007, heart conditions all too often go undetected, and we find out too late that our loved ones are in danger," Posey said. "Knowing what to do in these emergencies matters and we can save lives by giving schools access to AEDs and the training to use them."
Posey's office noted just 23 states have requirements for AEDs at school now. The Republican Congressman also noted former Rep. Al Lawson, a Tallahassee Democrat, worked for years on the legislation.
Cherfilus-McCormick, who works in the health care field, said every parent understands the fear of medical emergencies on the field. She wants to ensure the right tools are within reach to save lives.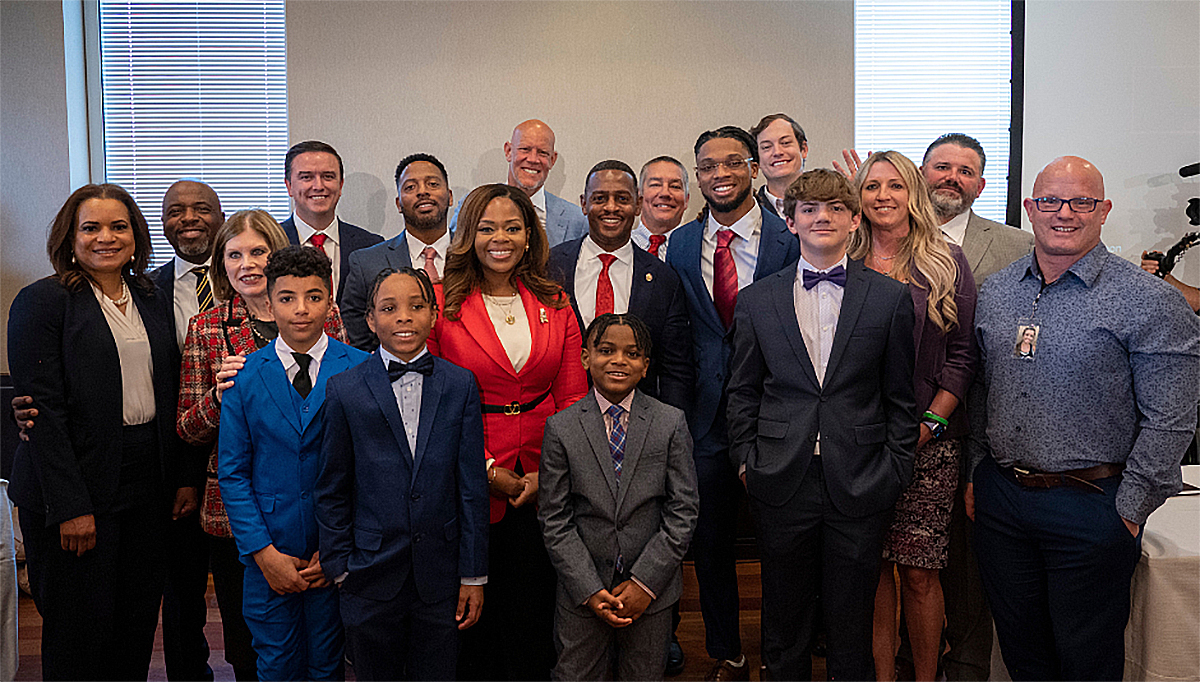 "As a mom and member of Congress, I'm on a mission to expand lifesaving health care tools to school-aged children across the country by equipping elementary and secondary schools with AEDs and routine Cardiac Emergency Response training," Cherfilus-McCormick said. "AEDs were created to save lives, and that's precisely what this bill aims to do — save our children's lives when an emergency strikes."
Senate Majority Leader Chuck Schumer, a New York Democrat, sponsored the Senate version of the legislation. That puts the bill on good footing in the upper chamber.
The legislation would also provide federal assistance for heart screening of high school athletes and would also establish a data clearinghouse for information on sudden cardiac arrests for pediatric patients. Health and sports leaders cheered the prospects of improving emergency care at all levels of play.
"An estimated 350,000 people in the United States experience sudden cardiac arrest outside of the hospital each year, and 1 in 300 youth has an undetected heart condition that puts them at risk. Having community members trained in CPR, making AEDs available in schools and encouraging schools to develop emergency response plans will make schools better prepared to respond to sudden cardiac arrest and save lives," said Nancy Brown, CEO of the American Heart Association.
"We greatly appreciate Reps. Cherfilus-McCormick and Posey for their work to prioritize heart health with the introduction of the Access to AEDs Act, which will promote access to defibrillation in elementary and secondary schools by supporting lifesaving training programs for students, staff and school volunteers."
Embracing El Salvador
Amid a rise in socialist governments in Latin America, Sen. Marco Rubio traveled to El Salvador to meet with the nation's President Nayib Bukele. The former San Salvador Mayor won election in 2019 on a promise to stop gangs from running cities but since has been criticized as an authoritarian who secured re-election despite a constitutional ban on consecutive terms.
"I had a productive meeting with President Bukele and U.S. Ambassador (William) Duncan during my first official visit to El Salvador," Rubio said.
The Miami Republican painted the meeting as an important step in building a partnership and criticized President Joe Biden for pushing away too many potential allies in the region.
"At a time when the Biden administration actively alienates our allies and opts to appease murderous dictators in our region, it's important we stand in support of those democratic leaders in our hemisphere who are actually leading the fight against brutal gangs and criminals in Central America," Rubio said.
"For the future of our bilateral relations, it's essential that El Salvador's democratic institutions remain strong."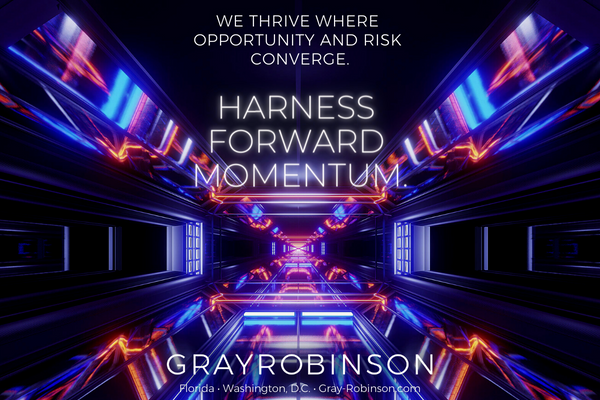 Confucius says
As relations grow increasingly tense between the U.S. and China, numerous relationships still exist between American learning institutions and the Eastern superpower.
Sen. Rick Scott wants those to end.
The Naples Republican and other Republican Senators re-introduced the DHS Restrictions on Confucius Institutes and Chinese Entities of Concern Act, which would block any federal funding through the Department of Homeland Security to entities of concern with ties to Communist China.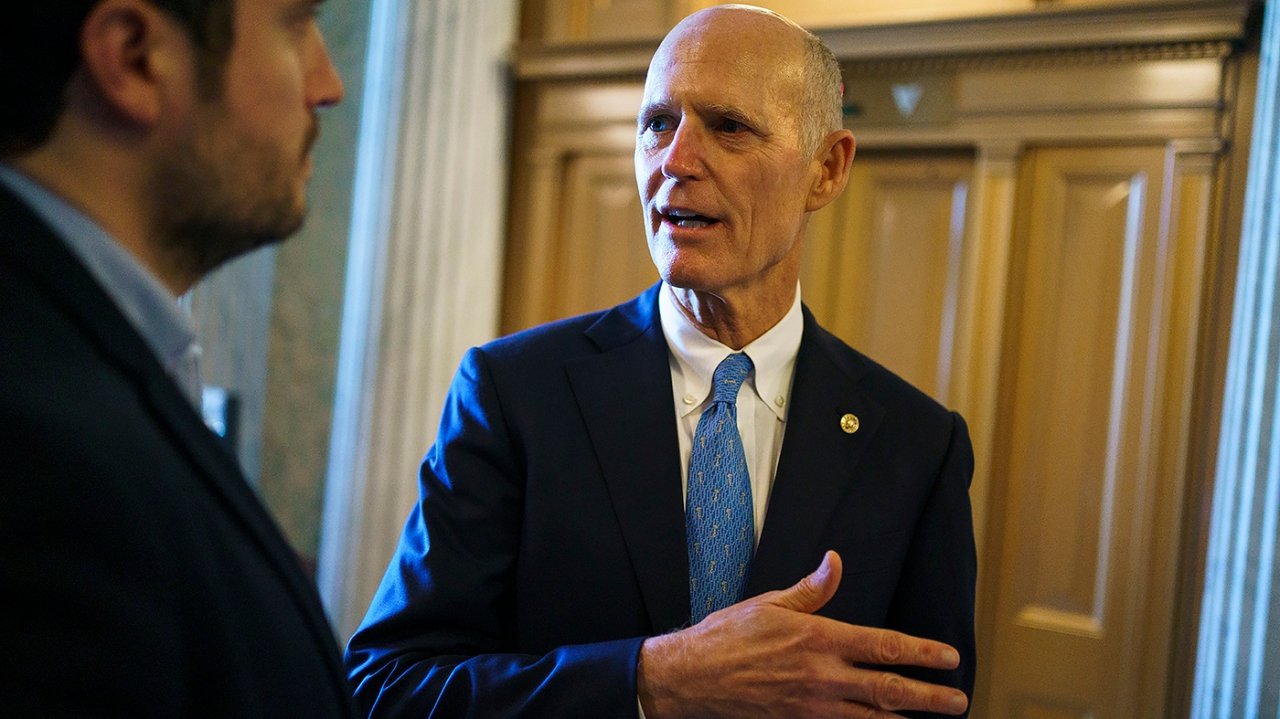 "For years, I have been warning of the threat from Communist China, which continues to steal U.S. technology and intellectual property in its quest for world domination," Scott said. "Confucius Institutes are hotbeds for spreading Communist China's propaganda and allow for communist spies, acting under the guise of researchers, to steal intellectual property. These spies have no place on America's college campuses. Taxpayer dollars should never be spent on programs which allow the CCP to steal information regarding matters of national security, like military and technology advancements, to use against us."
The institutes have held numerous relationships with Florida schools, some of those inked while Scott served as Florida Governor. The University of North Florida, University of South Florida, University of West Florida and Miami Dade College all had formal relationships at points. About 20 Florida schools have some kind of relationship with research institutions in China that remain ongoing. The Florida Legislature this year is considering a ban on such partnerships at the state level.
Border battle
A series of 78 late-night flights bringing migrants from the Southern Border to Jacksonville alarmed officials there. Rep. John Rutherford, a Duval Republican, has voiced concerns the Biden administration aims to disperse an immigration problem instead of solving it.
He pressed Homeland Security Secretary Alejandro Mayorkas on that subject at a House Appropriations Homeland Security Subcommittee hearing last week.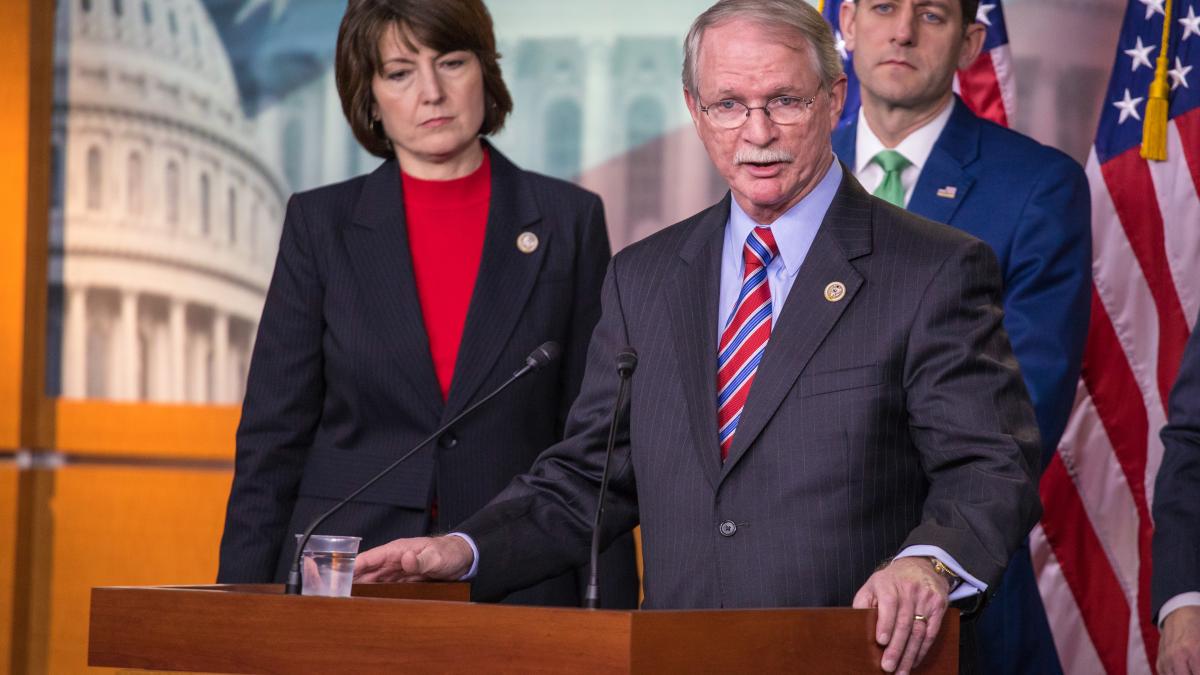 "We had a case where an illegal immigrant came across the border lied about his name, lied about his age, was vetted by (the Department of Homeland Security), turned over to (Health and Human Services), they still couldn't verify who he was because he was using a fake name and a fake date of birth," Rutherford recounted.
That individual ended up in Jacksonville supposedly to be with an uncle, except Rutherford said Homeland Security didn't vet that claim either. Ultimately, law enforcement say the migrant, 17-year-old Reynel Alexander Hernandez, arrived at the home of Francisco Javier Cuellar and murdered him.
"We're not vetting people properly," Rutherford said. "Then on top of that, this administration's not even confirming the identities of people that we're turning children over to."
For his part, Mayorkas said his agency is aware of the disruption caused by higher numbers of migrants. But that's why he wants more funding from the House for managing the situation at the border.
"The displacement of people across the region is greater than at any time since World War II. I have visited the Southwest Border approximately 16 times as Secretary to meet with our personnel and to see firsthand the challenges they face and the tools they need to do their jobs," Mayorkas said in remarks to the committee.
He wants funding to hire over 1,400 additional personnel to secure the Southwest Border, including 350 additional Border Patrol agents and 310 additional Border Patrol Processing. He also wants $535 million for border technology, $305 million of which would be used in a "fight against the trafficking of fentanyl through our ports of entry."
Israeli research
Partnerships between researchers in Israel and the U.S. could discover new ways to treat post-traumatic stress disorder. At least that's the hope of Rep. Michael Waltz, a St. Augustine Beach Republican.
He sponsored the bipartisan United States-Israel PTSD Collaborative Research Act with Rep. Pat Ryan, a New York Democrat, which would leverage assets in both countries to develop better practices for diagnosis and treatment.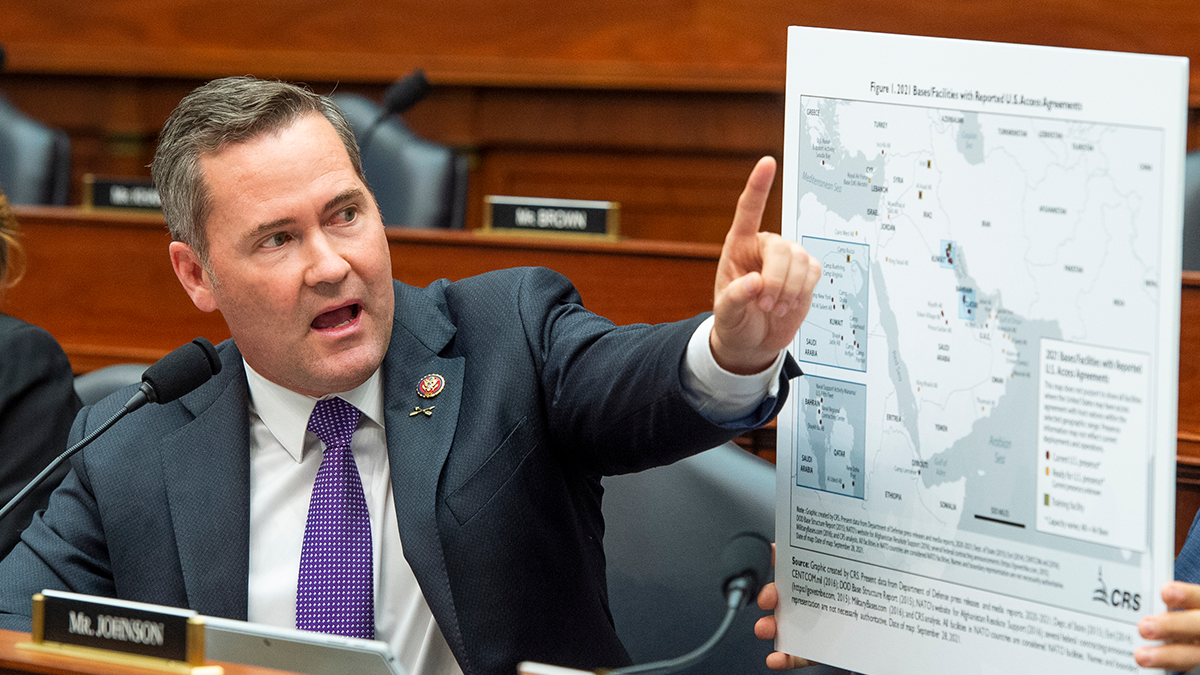 "Serving in combat changes you — and many times, our service members return home much different than they were when they deployed to no fault of their own," said Waltz, a Green Beret. "PTSD is a natural response for our service members who have seen war firsthand, affecting veterans from all backgrounds and walks of life. As a veteran myself, I understand how important it is we leverage every tool possible to better help our veterans heal and adjust to their lives back home."
Waltz's office said up to 20% of veterans from Operation Enduring Freedom and Operation Iraqi Freedom have experienced PTSD, with servicewomen seeing particularly high diagnosis rates. This can lead to problems transitioning back to civilian life and cause family problems for those still in active service.
"If we want to thank our veterans for putting their lives on the line for our freedoms, we should ensure they lead happy, healthy lives when they return home," Waltz said.
Grinning vets
A pretty small bite of the veteran population enjoys dental coverage, but Rep. Gus Bilirakis wants to change that. He introduced a bill with Rep. Mike Levin, a California Democrat, that could provide veterans with certain chronic conditions with better care for their teeth.
The Palm Harbor Republican said America's veterans deserve dentistry.
"Our Veterans have sacrificed so much on behalf of our country; they deserve access to high-quality health care — and that includes dental care," said Bilirakis.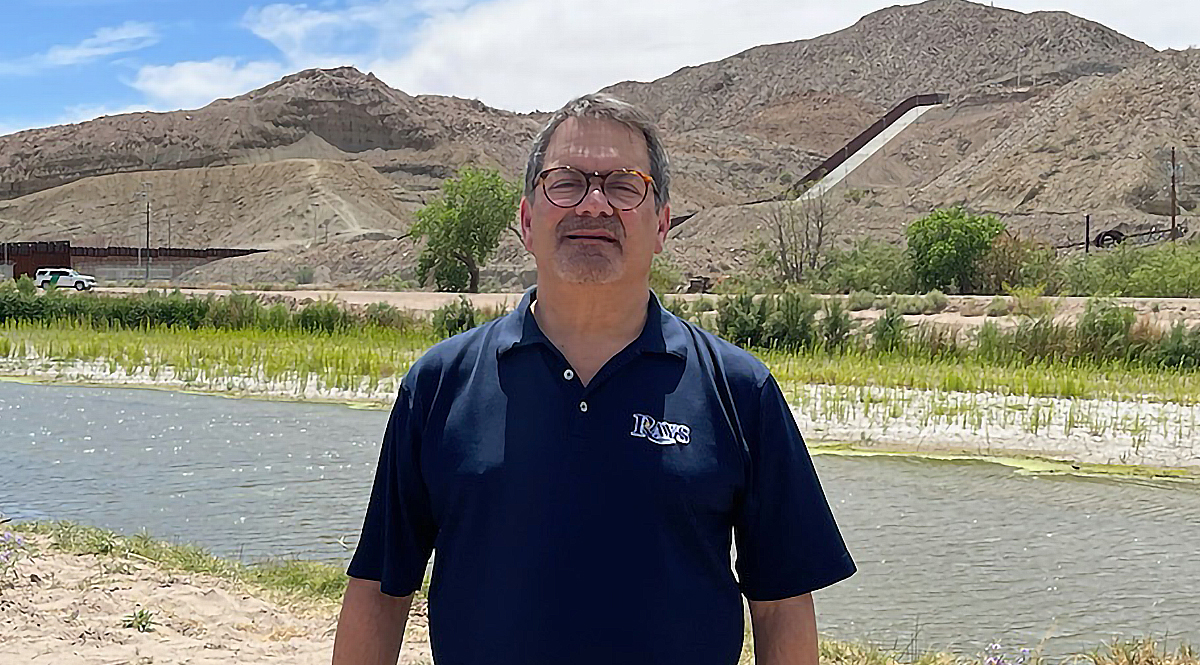 The Veterans Early Treatment for Chronic Ailment Resurgence through Examinations (VET CARE) Act would establish a four-year pilot program increasing the number of veterans with coverage. Today, only veterans who are 100% disabled or have a service-connected injury enjoy dental care.
"The VET CARE Act will get the ball rolling to expand access to dental care for our nation's heroes and could result in lower overall health care costs for the VA," Bilirakis said. "Not only is this legislation good for Veterans; it is good for the VA as a whole."
Bilirakis also said providing more preventive care for those with heart conditions and diabetes would alleviate costs for the VA overall.
Levin signaled staunch support across the aisle.
"I'm proud to reintroduce the VET CARE Act with Rep. Bilirakis and look forward to it moving forward in the legislative process," he said. "We must continue to strengthen health care delivery for veterans, and this bill adds an element that is usually forgotten about in that process."
MASH to the ER
Tampa General Hospital allows military trauma surgeons stationed at MacDill Air Force Base to provide care there. Now Rep. Kathy Castor wants that partnership to serve as a nationwide model.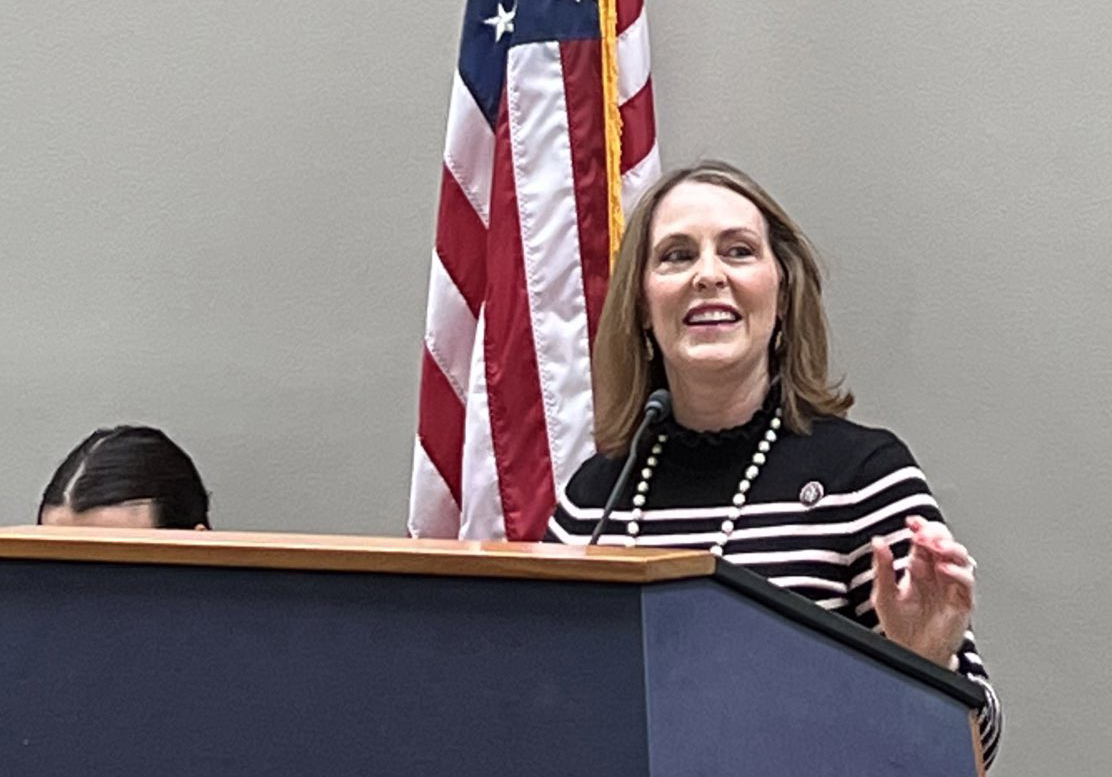 The Tampa Democrat introduced a bill with Rep. Michael Burgess, a Texas Republican, which would allow the Defense Department to assign surgeons to civilian trauma centers to fill gaps in emergency room care. The MISSION Zero Act would establish grant programs to incorporate military trauma specialists into medical center teams.
"The MacDill Air Medical Group and Tampa General Hospital have pioneered a 'full team' training initiative with military and civilian nurses, surgeons and specialists to keep their skills sharp," Castor said.
"Their work inspired me to introduce the bipartisan MISSION Zero Act with Rep. Burgess to expand military health partnerships in trauma centers across the country. The MISSION Zero Act provides ongoing support for military and civilian medical teams to hone their skills in intense trauma environments and keep health professionals ready to care for service members. I'm pleased that Tampa General Hospital received one of the nation's first MISSION Zero grants last year, and am proud to introduce this bipartisan legislation to grow these unique medical partnerships."
Medical leaders said there would be benefits for both sides of partnerships.
"I applaud Representatives Burgess and Castor for introducing legislation to reauthorize the Mission Zero Act," said Dr. Patricia L. Turner, executive director and CEO of the American College of Surgeons.
"The military-civilian trauma care partnerships allow military trauma care teams to gain exposure to treating critically injured patients and increase readiness for when these units are deployed, providing greater patient access and further advancing high-quality trauma care."
Safeguarding abortion rights
Just as Florida advanced legislation to outlaw abortions as soon as six weeks into pregnancy, Rep. Lois Frankel, a West Palm Beach Democrat, will pressure Congress to establish a right to abortion nationwide.
As chair of the Democratic Women's Caucus, she introduced the Women's Health Protection Act with other House Democrats.
"With Republicans attacking reproductive rights from every angle, it has never been more important to pass the Women's Health Protection Act," Frankel said.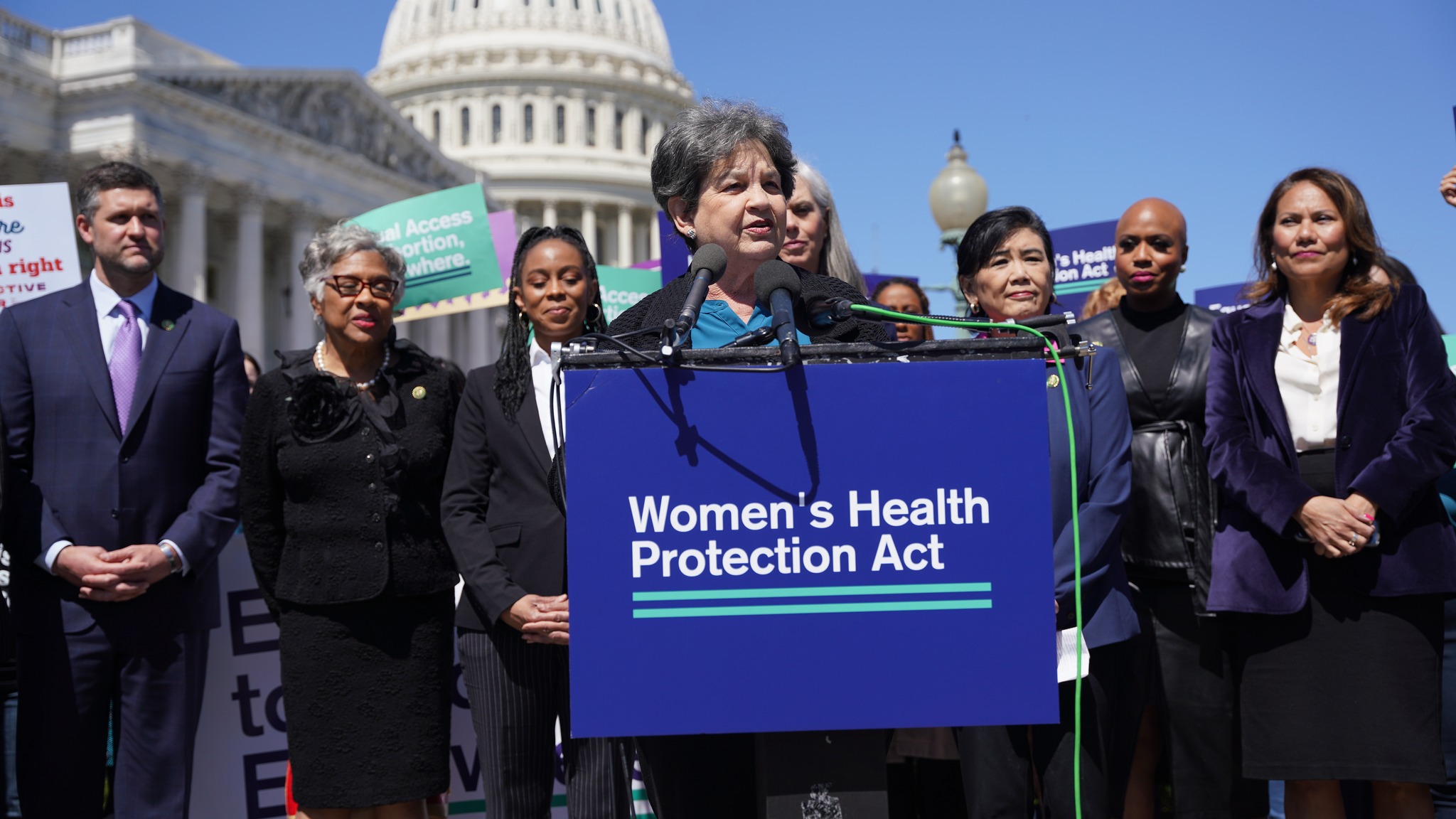 "This legislation creates a new legal protection for the right to provide and access abortion care, free from medically unnecessary restrictions and bans. We're pushing to pass this legislation because we trust women to control their own bodies. It should be up to women — not politicians, not judges, not companies like Walgreens — to make the very personal decisions of when or whether to start or grow a family."
The legislation would implement national safeguards on a woman's right to an abortion, largely codifying the Roe v. Wade decision overturned by the Supreme Court last year.
More than 200 House Democrats signed on as immediate co-sponsors, and anti-abortion leaders rallied around the bill. Additionally, 49 Senate Democrats have co-sponsored a bill carried by Wisconsin Sen. Tammy Baldwin.
"Congress can restore what the Supreme Court has broken. Since Roe v. Wade was overturned, women and pregnant people are being denied the care they need across the country. We are in the midst of a public health crisis that will only get worse," said Nancy Northup, president and CEO of the Center for Reproductive Rights.
"The Women's Health Protection Act would establish a nationwide right to abortion — something the strong majority of Americans have shown they support, time and again. This bill has never been more necessary than it is today, and the addition of new provisions will protect the right to travel across state lines to seek care and protect people who assist others in securing abortion care. The time to pass WHPA is now."
But the bill likely faces a roadblock in the Republican-controlled House, which is unlikely to hear or pass the bill.
Agent Orange
Veterans who were stationed near the Panama Canal found themselves exposed to Agent Orange and other deadly herbicides. Rep. María Elvira Salazar said it's time for the federal government to provide proper health coverage. She introduced the bipartisan Panama Canal Zone Veterans Act to provide that access.
"Florida is home to numerous veterans who served our country by patrolling the Panama Canal while our military was stationed there," the Miami Republican said. "We need to provide our veterans with the health care they deserve, and which they need. They risked their lives every day for our country, it's only right to be there for them in their time of need."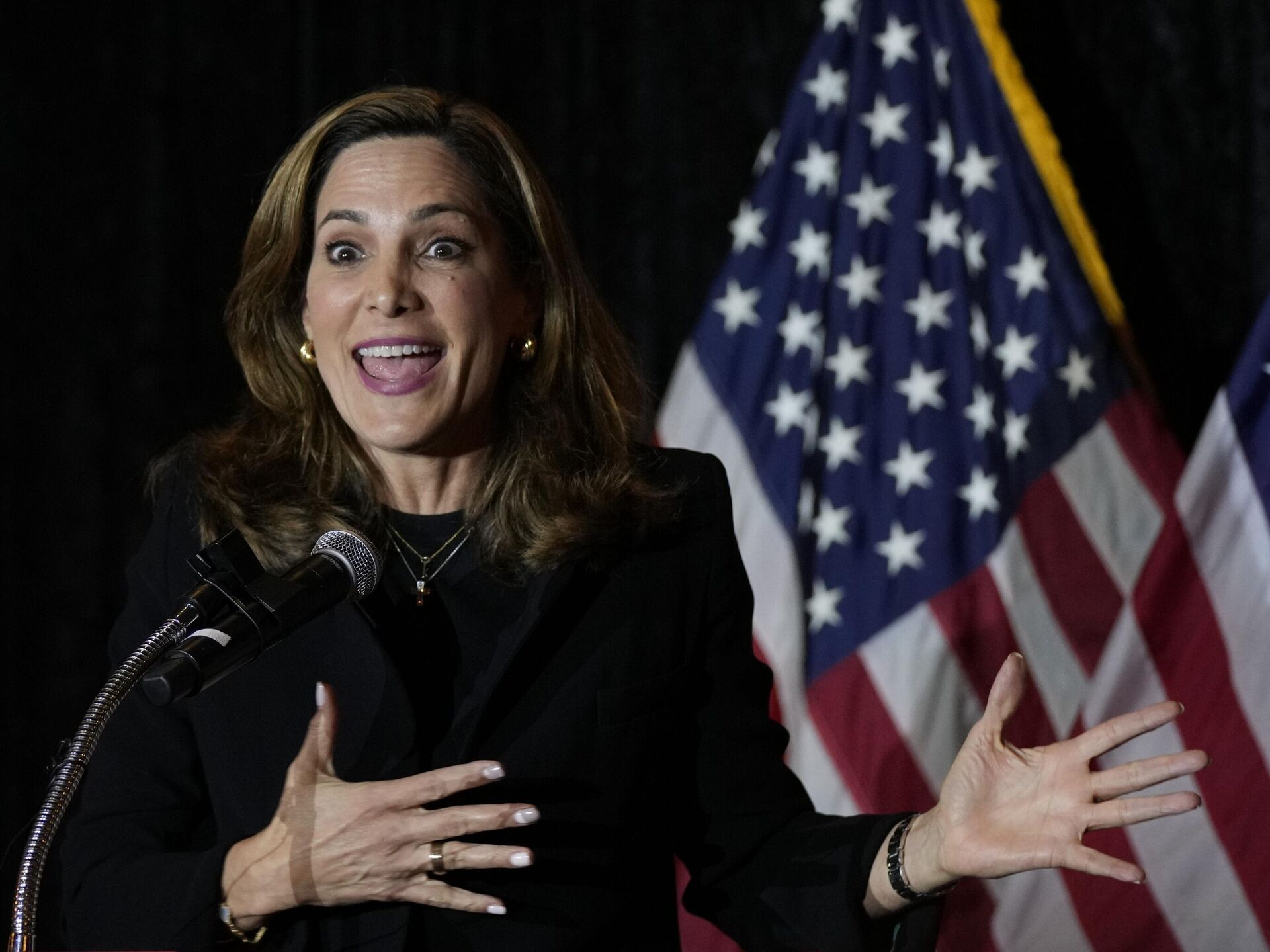 The legislation would extend coverage and survivors' benefits to any veterans who were stationed in the Panama Canal Zone from 1958 to 1999. Those individuals would not have to prove to the VA they had been exposed to Agent Orange; it would be assumed based on the time and venue for their service.
Salazar introduced the bill with a half dozen co-sponsors from both sides of the aisle, including Kissimmee Democratic Rep. Darren Soto.
On this day
April 4, 1789 — "The opening of the first Congress in New York City" via U.S. House History, Art and Archives — The First Congress was scheduled to meet in New York City, though it failed to achieve the quorum necessary to conduct business. The Constitution mandated only that "Congress shall assemble at least once in every year" on the first Monday in December unless, by law, it set another date. Before adjourning in 1788, the Continental Congress appointed March 4, 1789, as the opening day of the First Federal Congress. But primitive modes of transportation — horseback, stage, and sailing ship — made the journey arduous for many of the House's 65 Members as they trekked toward the capital.
April 4, 1968 — "Dr. Martin Luther King Jr. assassinated" via History.com — Just after 6 p.m., King was fatally shot while standing on the balcony outside his second-story room at the Lorraine Motel in Memphis, Tennessee. The civil rights leader was in Memphis to support a sanitation workers' strike and was on his way to dinner when a bullet struck him in the jaw and severed his spinal cord. King was pronounced dead after his arrival at a Memphis hospital. He was 39 years old. In the months before his assassination, King became increasingly concerned with the problem of economic inequality in America.
___
Delegation is published by Peter Schorsch and compiled by Jacob Ogles and edited and assembled by Phil Ammann and Ryan Nicol.