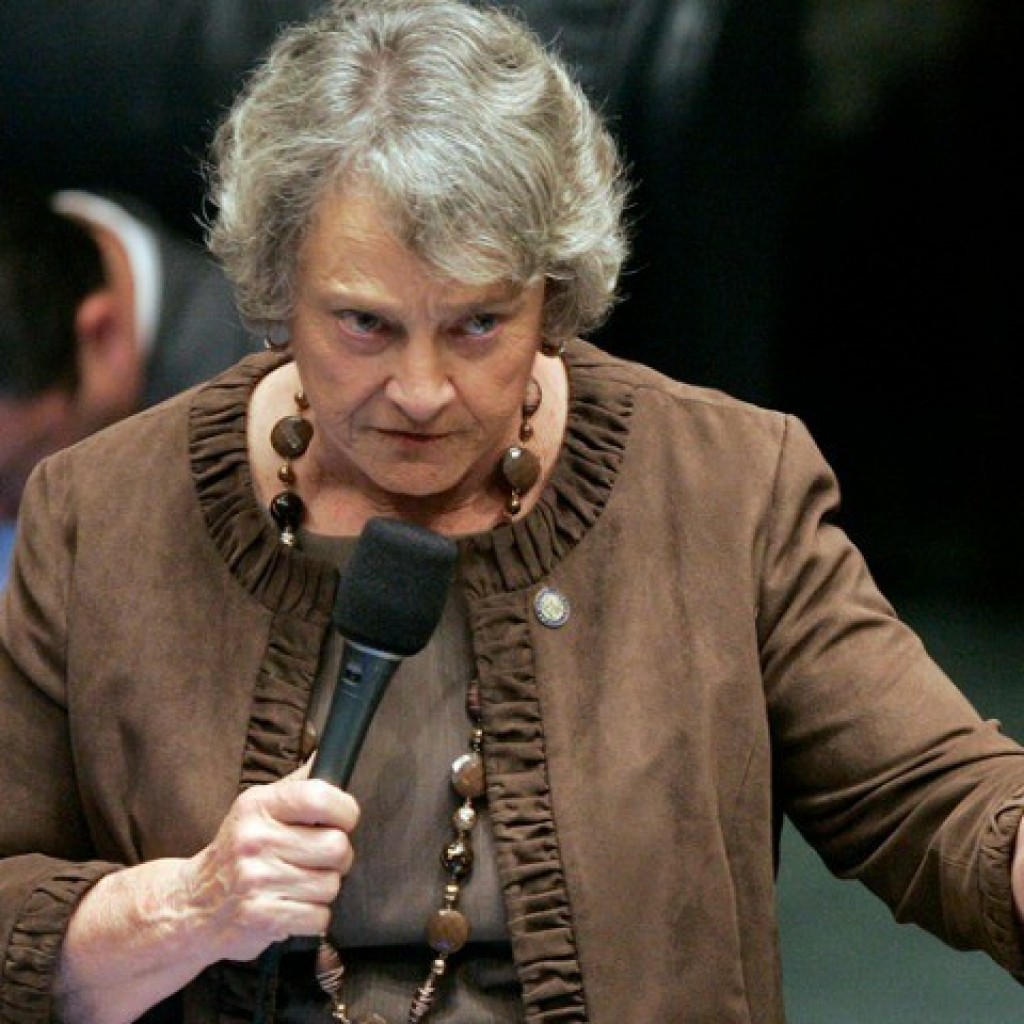 The Sarasota Republican was remembered as an independent voice during her Florida Senate tenure.
Sarasota County Commissioner Nancy Detert has died. The Sarasota Republican, at one point considered a fierce lion of the Florida Senate, was 78.
A statement released through social media by Sarasota County Government confirmed the long-time elected official's death.
"It is with deepest regret and sadness that Sarasota County and the Board of County Commissioners must acknowledge the death of our dear friend and colleague Sarasota County Commission Vice Chair Nancy C. Detert," the statement reads.
"Commissioner Detert passed away peacefully in her home on April 5, and no foul play is suspected, according to the Sarasota County Sheriff's Office. Our focus right now is on supporting Nancy's family and ensuring the continuity of government. Details regarding forthcoming memorial services will be made public as information becomes available. We ask that the community respects the privacy of Nancy's family and friends at this time."
Detert served in the Florida House from 1998 through 2006. She had served on the School Board before that.
But she will likely best be known in Tallahassee circles for a stint in the Florida Senate that started with her election in 2008 and ended in 2016, when she ran for an open County Commission seat.
State Sen. Joe Gruters, a Sarasota Republican, said he regarded Detert with the "highest respect."
"She was willing to do what most people won't," he said, "and that's stand her ground and fight for what she believed in."
Detert's position will be filled through an appointment by Gov. Ron DeSantis.
But for now, Sarasota is mourning the sudden death of the long-time political figure.
Jack Brill, chairman of the Republican Party of Sarasota, called Detert a good friend. He released a lengthy statement praising her service.
"The Republican Party of Sarasota County deeply mourns the loss of friend and longtime community leader Nancy Detert, who has been a stalwart working on behalf of the people of Sarasota County for 30 years, as a member of the Sarasota County School Board, the Florida Legislature and the Sarasota County Commission," Brill said.
"She is well-known and respected by people in both parties who agreed and disagreed with her. Nancy did her homework, knew the issues and knew the people in her community. She was always an honest broker, doing what she believed was right, even if it hurt her politically. She was a beloved mother, grandmother and friend to so many. Nancy leaves a legacy of caring, fighting for the people in her community, and being a quiet friend to countless people. Her passing on Tuesday leaves a huge hole, not just in the Republican Party or in politics, but in our community."
Republican Party of Florida Chair Christian Ziegler actually served four years alongside Detert on the Sarasota County Commission. The two often found themselves on opposing ends of votes. Still, Ziegler said he felt an overwhelming sadness at her passing.
"It's no secret we had different views on stuff ideologically," he said. "But I'll tell you, we could be up there and debate, discuss issues and take dissenting votes, and then walk out of that chamber and be friends again. That's how politics used to be. I just have total respect for her. She brought incredible value to the community."
Detert notably came close to defeating Vern Buchanan in a GOP Primary in 2006, when Buchanan went on to narrowly win a seat in Congress the Longboat Key Republican still holds today. Buchanan worked for years with Detert as she held different public roles.
"Saddened by the death of Sarasota County Commissioner Nancy Detert," he tweeted at news of her death. "She was a beloved public servant, a worthy primary opponent with a quick wit, and a friend. She will be missed by her constituents, colleagues, family and friends."
Gruters said she left a legacy in the Senate that he and his predecessor, now-U.S. Rep. Greg Steube, have worked to fulfill. But he said many of her successes will continue to live beyond her passing.
Steube, who immediately succeeded Detert in her state Senate seat, agreed.
"I am saddened to hear about the passing of Nancy Detert," the Sarasota Republican tweeted. "As one of Sarasota's most dedicated public servants, she fought tirelessly for what she believed in and will be greatly missed. Jen and I are praying for her family, friends, and all who knew her."
Agriculture Commissioner Wilton Simpson mourned the loss. "I served with Senator Detert," the former state Senator said. "She was a force to be reckoned with. Her no nonsense style accompanied a compassionate, caring and loving heart. She made a difference and we mourn her loss."
Former state Sen. Rob Bradley, a Fleming Island Republican, served alongside Detert and marked her passing. "Nancy Detert was the real deal. A true public servant as well as a great Senator and friend. Our condolences to her family," he tweeted.
Gruters noted Detert fought for years for funding for local institutions like the Loveland Center.
"She was still fighting for the Loveland Center these past few weeks. She will be known as a champion for a long time for our community," Gruters said. "I'm very sad to lose her."
Pinellas County Commissioner Kathleen Peters, a former House member, recalled Detert's advocacy for children.
"She was a champion for foster children and others who did not have a voice. I will miss my friend, her wit, her humor and her kind heart," Peters said.
State Rep. Chip LaMarca, a Lighthouse Point Republican and former Broward County Commissioner, also recalled the former Senator.
"Rest in peace Nancy Detert, a true public servant," he tweeted. "I had the opportunity to work with Nancy as County Commissioners, only after visiting her as a Senator and House member on many issues over the years. She was tough, but fair."