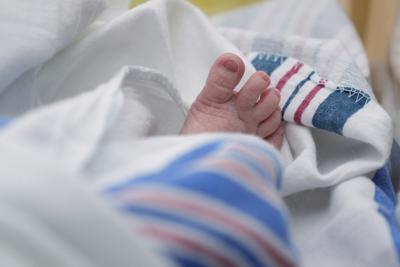 Both infants were born with small head sizes, developmental delays and experience seizures. One died after 13 months.
A new case study from the University of Miami (UM) Health System and the school's Miller School of Medicine is showing that COVID-19 infection can breach the placenta during pregnancy and cause brain damage in a newborn.
UHealth found two such cases at the Neonatal Intensive Care Unit (NICU) at Holtz Children's Hospital, a teaching hospital affiliated with the university and Miller School.
In both cases, the mothers contracted the infection in their second trimester and cleared the virus; however, one had a repeat infection in her third trimester, suggesting an unusual maternal and/or fetal immune response may have been a factor.
While both infants tested negative for the virus at birth, both had "significantly elevated" COVID-19 antibodies in their blood, a UM press note said. That indicates the antibodies either crossed the placenta or the virus itself crossed over, triggering an immune response in the fetus.
Both infants were born with small head sizes, developmental delays and experienced seizures. One died after 13 months.
The study, "Maternal SARS-CoV-2, Placental Changes and Brain Injury in Two Neonates," was published Thursday in the journal Pediatrics. It marks the first study to confirm cross-placental COVID-19 transmission leading to brain injury in the newborn, UM said.
"Many women are affected by COVID-19 during pregnancy, but to see these kinds of problems in their infants at birth was clearly unusual," said Dr. Shahnaz Duara, the medical director of the NICU at Holtz Children's Hospital and senior author of the study.
"We're trying to understand what made these two pregnancies different, so we can direct research toward protecting vulnerable babies."
Early in the pandemic, a group of neonatologists — including Duara and Drs. Michael Paidas, Ali G. Saad, Jayakumar Aramugam, Gaurav Saigal, Roberto Lopez and Merline Benny, the first author on the paper — observed transient lung disease and occasional blood pressure issues among newborns who similarly tested negative for the virus but were born to COVID-19-positive mothers.
This hinted at infection, they said, but it was unclear whether the problems stemmed from inflammatory placental cytokines, which can stimulate the immune system to fight foreign pathogens or diseases, or that the virus was transmitted through the placenta and injured the fetus.
Paidas, a professor and chair at the UM Miller School and chief of service for obstetrics and gynecology at Jackson Health System, Miami-Dade County's public hospital network, said that infants presenting with those symptoms are normally thought to have suffered brain damage due to decreased blood flow.
"But it wasn't lack of blood flow to the placenta that caused this," he said in a statement. "As best we can tell, it was the viral infection."
Saad, a Miller School professor, neuropathologist and director of the pediatric and perinatal pathology service at Holtz Children's Hospital, examined both placentas and found "signature pathological changes" caused by COVID-19 in both. He also examined "major changes" in the brain during an autopsy of the child who died.
"I was struck by the unexplained severity of the loss of the white matter and the presence of features of hypoxia/ischemia in the cerebral cortex," he said. "We became suspicious that the virus, somehow, managed to breach the placental barrier to damage the central nervous system, but this had not been documented before."
Also striking, UM personnel wrote, was the absence of the critical placental hormone, human chorionic gonadotropin, which is essential for fetal development and critical for brain development.
The authors stressed the two cases are rare occurrences, noting hundreds of pregnant women UM clinicians have seen with COVID-19 positivity that went on to have healthy births.
"We need to continue our research to figure out why these two babies experienced such devastating results," said Benny, an assistant professor of pediatrics and neonatologist. "Once we fully understand the causes, we can develop the most appropriate interventions."