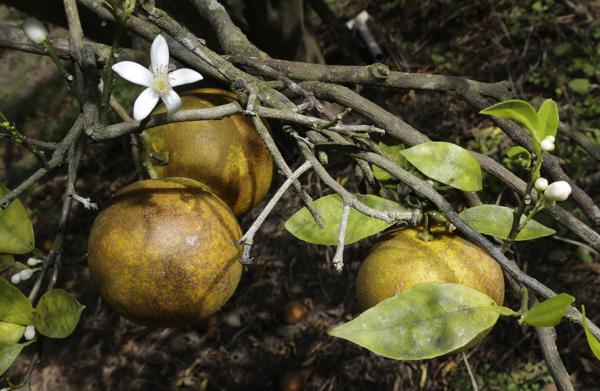 Citrus farmers have yet to rebound from the impact of Hurricane Ian.
The newest citrus forecast update from the U.S. Department of Agriculture (USDA) shows its estimates for the 2022-23 season remain mostly the same, aside from a small uptick in projected grapefruit production.
The agency forecasts Florida will put out 16.1 million boxes of oranges this season. That includes 10 million boxes of Valencia oranges and 6.1 million boxes of non-Valencia oranges.
Mark Hudson, principal statistician for the USDA, also said the agency predicts 500,000 boxes of tangerines and tangelos will come from Florida. All of those numbers remain unchanged from the last report released in March.
Estimated grapefruit production is up just over 6%, however. The USDA is now projecting 1.7 million boxes of grapefruit will be produced, including 1.52 million boxes of red grapefruit and 180,000 boxes of white grapefruit.
That's up slightly from the estimate of 1.6 million boxes in March. Projections for both red grapefruit (1.44 million boxes in March) and white grapefruit (160,000 boxes), were up in Tuesday's report.
The season began with the USDA forecasting the lowest output since the 1941-42 season. That projection came before the agency was able to measure Hurricane Ian's impact.
A December report showed forecast numbers cratering further, with a projected 29% drop in orange production, a 10% cut for grapefruits and a 14% dip for tangerines and tangelos.
The next report, in January, saw an additional 10% cut in orange production and another 17% drop in grapefruits and tangerines and tangelos. Forecasted orange production fell further in February, while estimates for grapefruits and tangerines and tangelos remained steady.
March saw a very slight uptick in the orange forecast, as well as a boost in the grapefruit number. The tangerines and tangelos numbers remained the same. All numbers still represented decades-long lows, a fact Tuesday's report did not change.
But Matt Joyner, CEO of Florida Citrus Mutual, expressed optimism that farmers can rebound next season if they can secure adequate funding.
"Month after month, we expect the USDA crop estimate to tell the same story: Florida's citrus production is at record lows. But the plot is about to change. Growers will tell you that they see hope on the horizon. Greening treatments and other advances in research are making a difference. I believe that next season we will see the tides turn and the crop grow," Joyner said.
"But first, Florida growers need hurricane relief. Florida Citrus Mutual continues to work with USDA and members of Congress to release the funds available to enable our growers to recover and rebuild from last year's hurricanes."