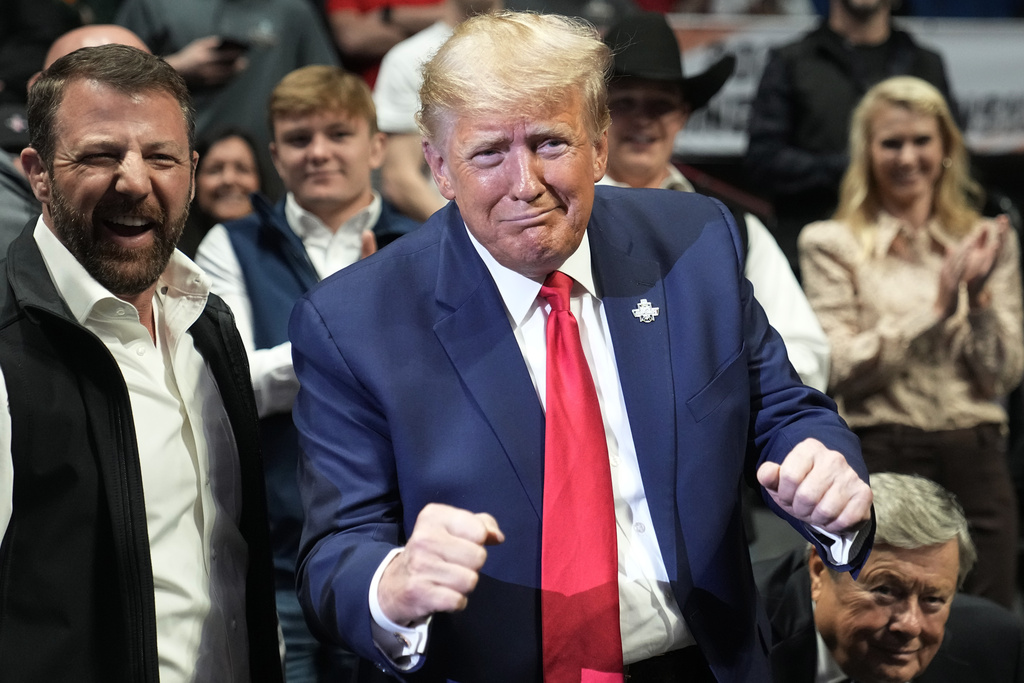 The survey provides a glimpse into the complexity of the issue.
Gov. Ron DeSantis spoke for most of us when he famously quipped: "I don't know what goes into paying hush money to a porn star to secure silence over some type of alleged affair … I can't speak to that."
Few of us have actually found ourselves in such a position.
Still, that doesn't keep us from having opinions on the thorny subject. A new survey of Florida voters by Sachs Media shows that Floridians' views are both divided and complicated when it comes to the New York indictment of former President Donald Trump by a New York grand jury.
Perhaps that's because there are multiple questions at the heart of this issue, none of which are mutually exclusive.
For one: Did Trump in fact pay hush money to porn star Stormy Daniels to secure her silence about an affair? If so, did this constitute some type of felony — meaning that the indictment has legal merit — or simply suggest questionable character?
And finally, regardless of the strength of the legal case against Trump, are the charges brought by District Attorney Alvin Bragg politically motivated or brought in good faith?
The survey of 650 Florida voters, conducted April 7-10, reveals that almost three-quarters of Florida voters (74%) believe Trump probably paid hush money to Daniels just before the 2016 Presidential Election.
It's hard to get 3 in 4 Floridians to agree on much of anything, but this group includes 91% of Democrats, 84% of nonpartisan voters, and 50% — fully half — of Republicans. But that doesn't mean the other half of Republicans believe the former President did not do this — fewer than 1 in 4 Republicans (24%) say Trump never attempted to cover up an affair with hush money, while about the same share (26%) say they simply aren't sure.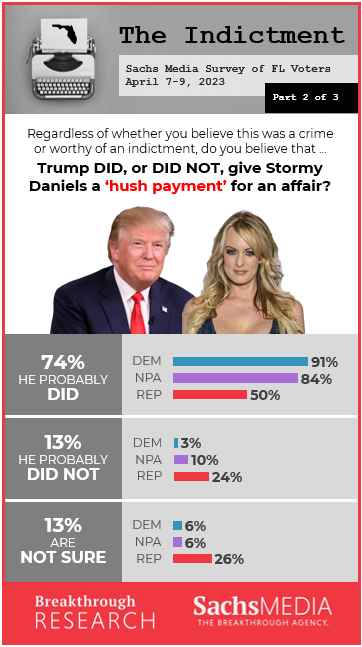 "Overall, only 13% of Florida voters believe Trump probably did NOT commit that act (or the act that followed it)," wrote Sachs Media partner Karen Cyphers, who conducted the study.
"It's the one thing most people are in agreement about. But does that cash payoff merit this indictment? That's where voters are at odds."
When it comes to the indictment itself, 57% of Floridians believe it has some legal merit, while 60% believe it is politically motivated. Interestingly, 1 in 5 Floridians (19%) hold both views simultaneously — that the indictment has legal merit but was still politically motivated.
The survey also shows that 41% of Floridians think the indictment is politically motivated and lacks legal merit, while at the other end of the spectrum, a nearly identical portion (38%) think the indictment does have legal merit and is not politically motivated.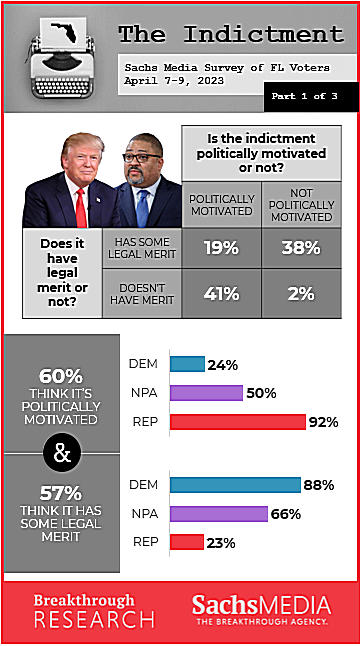 Unsurprisingly, most Republicans (77%) believe the indictment is politically motivated, while most Democrats (70%) believe it has legal merit. Just 3% of Florida voters believe the indictment was brought in good faith (not politically motivated) but lacks legal merit.
As with many things, the survey confirms that partisan viewpoints are often mirror images of one another.
Here, 1 in 4 Democrats acknowledges that the indictment may be politically motivated, while the same share of Republicans acknowledge that it may have some legal merit. At the same time, 9 in 10 Democrats think the indictment has merit, while 9 in 10 Republicans think it is politically motivated.
For their part, 2 in 3 non-partisans believe that the indictment has merit but are split 50-50 on whether it was politically motivated.
"We see that most Florida Republicans believe New York law is being improperly used to target Trump. But half or more of Republicans also assume that Trump cheated on his wife with a porn star and then paid her off to keep it quiet. Primary voters may have to ask themselves whether they're willing to reward this behavior, even if they don't believe the former president should be criminally penalized for it," Cyphers said.
"Both beliefs can feel true — the question is, which will be stronger?"
The complexity of how a New York court will handle legal questions aside, what remains absolutely certain is that the media storm surrounding The People of the State of New York versus Donald J. Trump will have some impact on the presidential campaign, good or bad.
Six in 10 (62%) Floridians believe that round-the-clock news coverage will benefit Trump, while 4 in 10 say it will hurt his prospects. Almost three-quarters of Republicans (72%) are confident the coverage will benefit Trump — and about half of Democrats (52%) agree, too.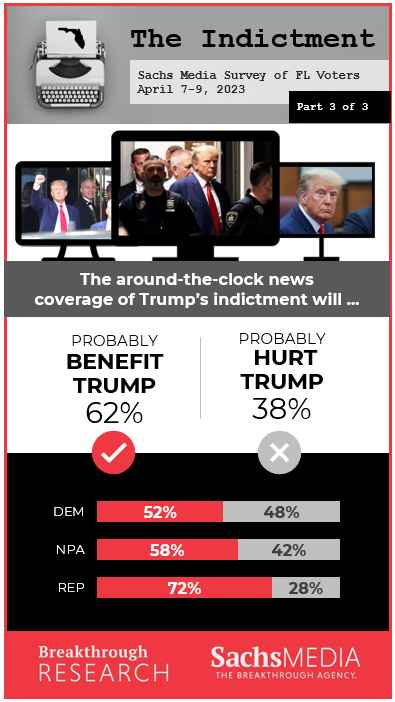 The survey provides a glimpse into the complexity of the issue and how divided opinions are among Floridians. The indictment has already helped the Trump political machine raise significant money — but only time will tell if it meaningfully raises his campaign's prospects in his third run for the presidency.
Full results are available here: sachsmedia.com.