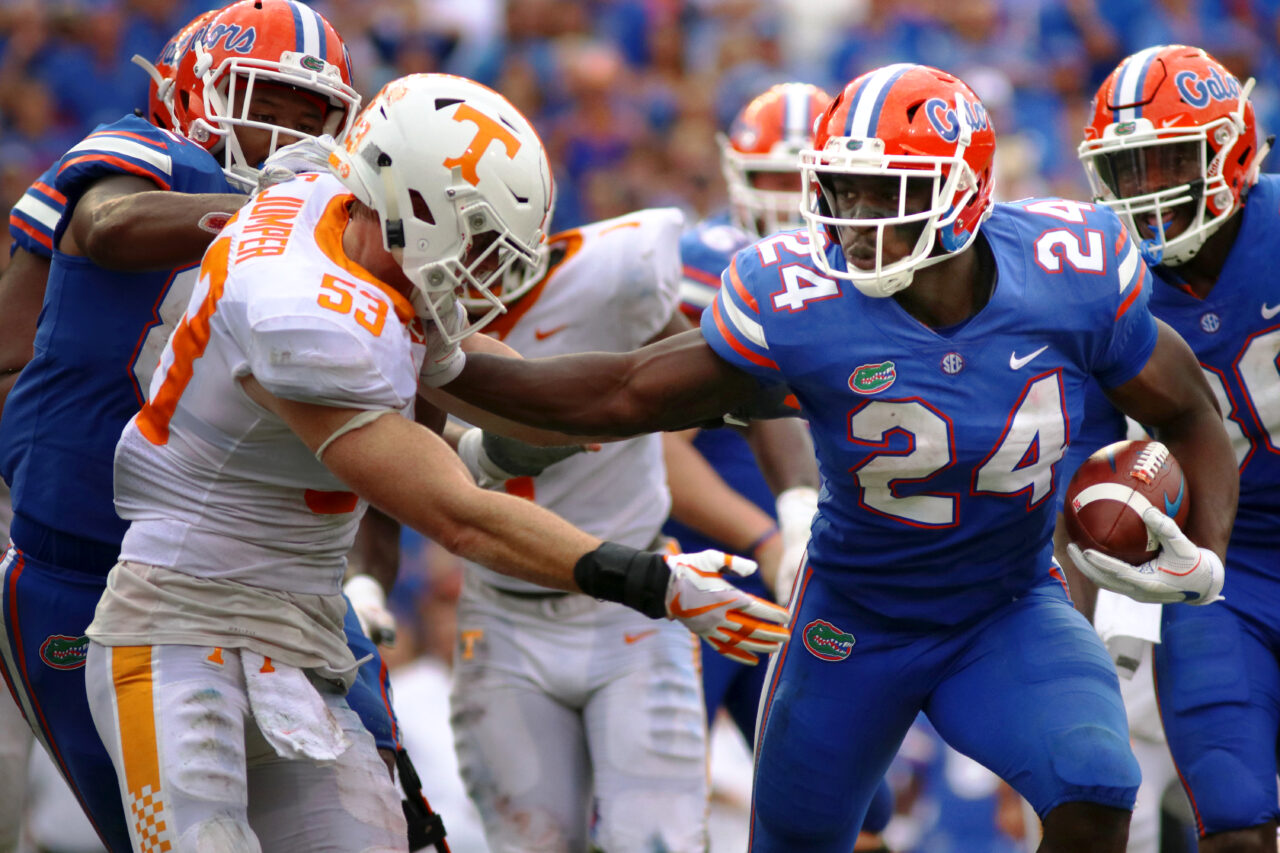 'It's a rapidly changing environment.'
A new player in the big money race to pay University of Florida (UF) athletes emerged Tuesday to replace the Gator Collective, months after a mishandled deal led a top quarterback prospect to walk away from UF's football program.
The Florida Achievement Support Trust, a little-known nonprofit that until recently largely operated behind the scenes, said it was expanding and rebranding under the name Florida Victorious.
It quickly drew an enthusiastic welcome from Florida's head coach, Billy Napier, who tweeted: "Gators support Gators!"
Meanwhile, the head of the Gator Collective, Eddie Rojas, announced that his organization was "passing the baton" to Florida Victorious, which he said will become the primary group organizing payments to UF athletes.
When Florida Achievement Support Trust first emerged, it wasn't clear how or whether it would coordinate its efforts with the Gator Collective to pay UF athletes under the NCAA's rules allowing them to be compensated for their name, image and likeness.
Internal planning documents obtained by Fresh Take Florida, a news service operated by UF's College of Journalism and Communications, indicated that the two organizations would operate separately, suggesting an inevitable collision of interests.
"When we act independently, we are working inefficiently," one document said.
Another document, titled "Tough Q&A," included draft responses prepared for Jose Costa of Coral Gables, a trustee for the new organization, during a private appearance two months ago at the National Gator Club. The question involved whether the new group would replace the Gator Collective, run by Eddie Rojas, after the group bungled a deal in January with quarterback Jalen Rashada.
"Listen, I can't speak to the Gator Collective's future," Costa's draft response said. "Obviously, I don't ever want to see UF portrayed in a negative light. That's why I think it's important that we all take this next step right away to best support our student athletes and the athletic department."
Costa's response called Rojas "a great guy," and added: "He was there when no one else was there to pick up the baton, and Gator Nation should be grateful. He worked very hard and his heart has always been in the right place."
Florida Achievement Support Trust, which called itself FAST, had almost no public presence before Tuesday — using only an empty Twitter account that said it was working to provide "life-changing NIL opportunities for University of Florida Student-Athletes through supporting local charities."
In registration papers it filed in Florida on Dec. 8, the group had amassed about $5 million in revenue, according to its financial records.
In a statement, UF said fans could join Florida Victorious for prices between $15 to $250 each month and said 90% of money would go to athletes.
Costa, the trustee, planned to establish the nonprofit as a rallying force and destigmatize deals, according to his briefing documents.
"It's a rapidly changing environment, with different rules in different states," Costa said in his briefing papers. "Like any new industry, there are some who are doing it right and others who are the bad apple of the bunch.
Under NCAA rules, universities are not allowed to directly pay players, which has led to third-party organizations that connect players with boosters, advertisers and marketing deals. Until it was dissolved, the Gator Collective had signed more than 150 athletes over two years.
Tuesday's announcement was one consequence of a mishandled deal with Rashada, a highly regarded quarterback prospect whose representatives believed had been promised roughly $13 million by the Gator Collective in a deal that fell apart. Rashada asked UF to release him from his commitment and now is on Arizona State's roster.
Earlier this year, in an online discussion about the two NIL organizations at UF, the Gator Collective's athlete manager, Jen Grosso, said the two groups were collaborative and had different purposes.
That was never likely, said Darren Heitner, a sports lawyer who teaches a course about NCAA deals at the University of Miami. He said organizations in the same space are competing for limited funding and to survive, they must consolidate or compete.
___
This story was produced by Fresh Take Florida, a news service of the University of Florida College of Journalism and Communications. The reporter can be reached at [email protected]. You can donate to support our students here.