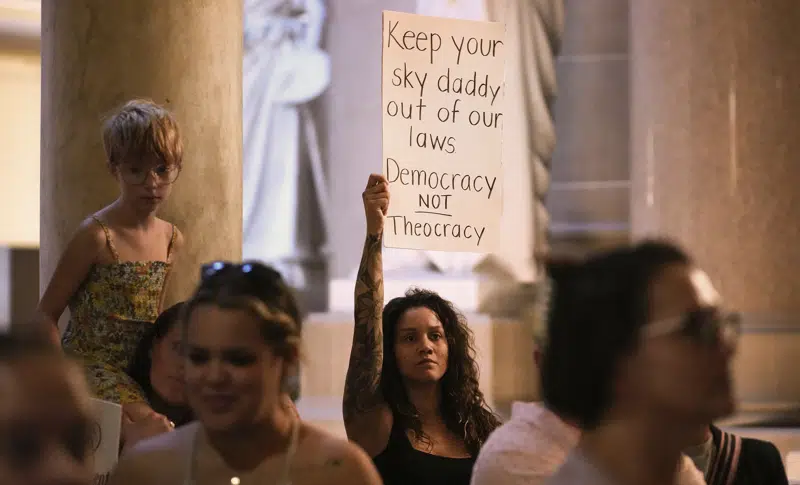 If the law goes into effect, Florida becomes part of a vast corner of the country restricting access to the procedure.
Fury spread from inboxes across the country with the news that the Governor signed legislation that puts Florida among those states with stringent restrictions on abortion rights.
EMILY's List, a national political committee dedicated to electing women, called the ban on the procedure in the country's third-most populous state after the sixth week of pregnancy "cruel and dangerous." American Bridge to the 21st Century, a liberal super PAC, declared the newly minted law out of touch with the wishes of most Americans.
The National Organization for Women blasted the legislation's focus on funding crisis pregnancy centers, instead of comprehensive sex education.
And New York City-based Latina Institute for Reproductive Justice condemned the action as putting politics ahead of lives.
"We are outraged," said Aurelie Colón-Larrauri, the Florida State Policy Advocate for the National Latina Institute for Reproductive Justice on last night's passage of Florida's near-total abortion ban: Floridians. "Bans on abortion care harm our communities and families and do nothing to protect anyone's health or safety.
The Democratic National Committee War Room Friday afternoon, highlighting the circumstances of DeSantis' "closed door, dark of night" signing. He's hoping those outside his MAGA base don't notice, the email said.
"Just now, in a speech at conservative Liberty University, Ron DeSantis conveniently blew past any mention of his new extreme abortion ban — further highlighting just how desperate MAGA Republicans are to hide their extreme anti-choice records," the email declares.
Still, the Florida Conference of Catholic Bishops heralded the passage of the "Heartbeat Protection Act" as a "tremendous improvement" over current law. The organization also expressed the hope that future legislation goes further. The law signed late Thursday allows for abortion in cases of rape, incest, human trafficking and in certain medical situations.
"As we look forward to a time when all abortions are unthinkable as well as illegal, we know that when this law's abortion limits take effect tens of thousands of lives will be saved," Thursday's news release from the Florida Conference of Catholic Bishops says. "We are also pleased that Gov. Ron DeSantis has indicated his support for further limitations on abortion."
The law must wait on a Florida Supreme Court ruling on last year's legislation that bans abortion at 15 weeks into a pregnancy, the Guttmacher Institute pointed out on its Twitter account Friday morning.
Plaintiffs in that case are arguing that a 15-week limit on the procedure violates a woman's right to privacy inherent in the Florida Constitution. If the case succeeds, the legislation passed this week becomes moot.
But, if the Supreme Court sides with the state's case, Florida will be at the center of a large swath of the country where abortion rights have been restricted. The block of states restricting abortion are bounded by Illinois to the north and New Mexico to the west.
"Many people in the South already need to cross one or more state lines and vast distances to get care," the Guttmacher Institute tweeted, pointing out that Florida has been a destination for abortion care, even with the 15-week limit. 
"With this ban in place, Floridians & people across the South will need to travel even further," the reproductive health policy organization tweeted.
Illinois is the closest state where lawmakers have adopted a protective stance for abortion rights, according to the institute's map. The abortion clinic that's the farthest to the south, in Carbondale, Illinois, is more than a 1,000-mile drive from Miami.
In a westerly direction, New Mexico is the nearest state to Florida that has not restricted abortion rights.
Tampa Bay's Democratic U.S. Rep. Kathy Castor called Friday a "dark day" for Florida, highlighting DeSantis' decision to announce he signed the law after the nightly news had switched to sports and many had gone to bed.
"The DeSantis abortion ban will cost lives and force women into childbirth who are not ready or able to care for a child and delay necessary medical care for distressed pregnancies," Castor's statement read, calling it one of the harshest abortion bans in the country. "Women, families and doctors should make critical decisions about their lives and their futures — not extremist politicians."
Castor said, "the fight is not over," and promised to press Congress to approve the Women's Health Protection Act that will enshrine the right to an abortion up to the 24th week of pregnancy in federal law.
"Abortion bans are deeply unpopular and wrong," Castor said.
Rep. Sheila Cherfilus-McCormick said she would also press on for the federal law:
"This cannot stand," the Miramar Democrat said." We will not sit in silence while far-right politicians seek to take our country back to a time when women had less freedom and autonomy over their bodies."
She thanks those in state Legislature who had done their best to stop the ban, and said she would do the same.
"I will continue to advocate in Congress for federal codification of reproductive rights so that future generations of women can live without fear that their dignity and bodily autonomy will be stripped away," she said.