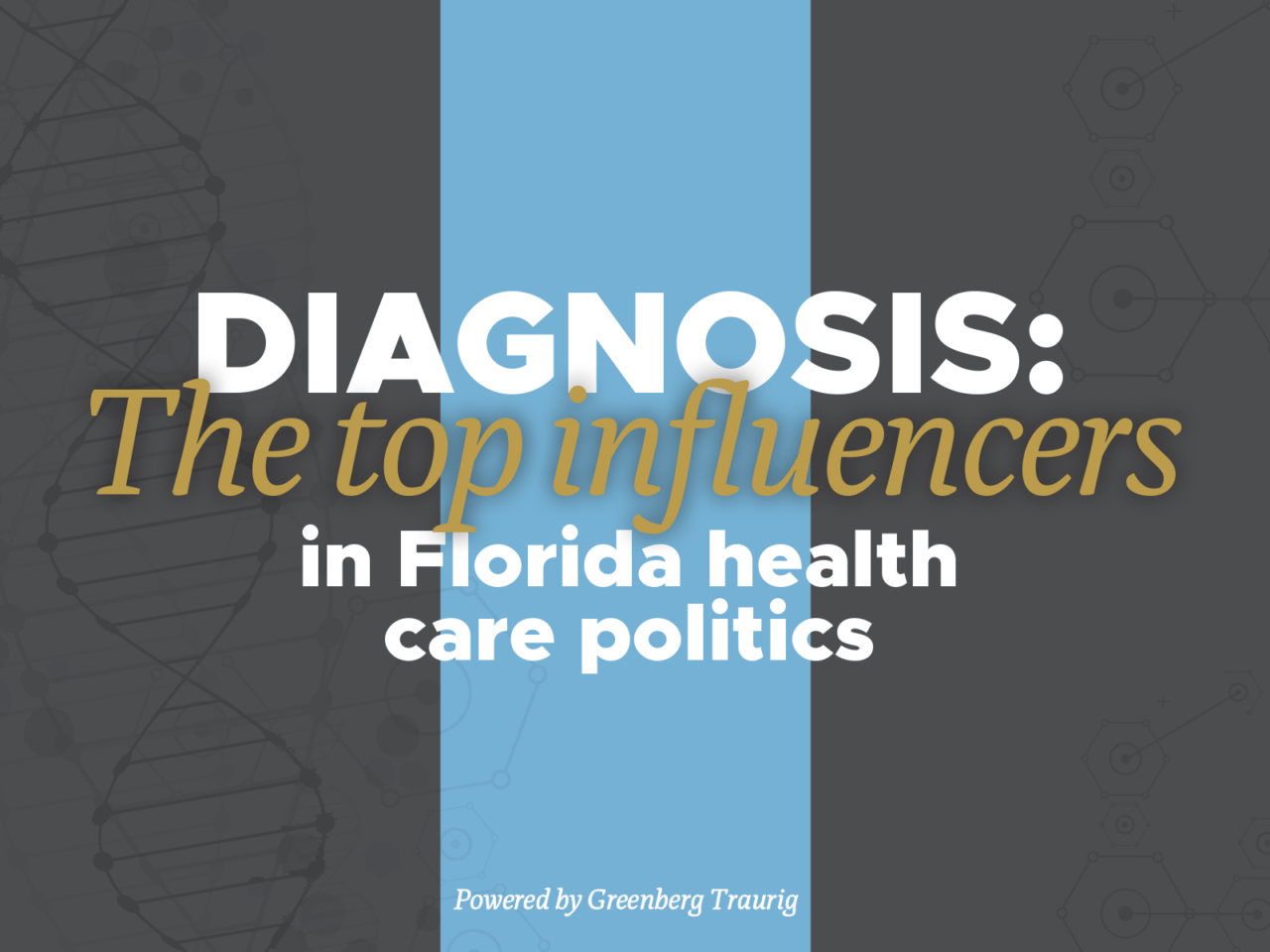 The list is filled with lawmakers, lobbyists, CEOs, nonprofit leaders and medical school deans.
Often disregarded as overly wonky and completely un-sexy, health care can be a glossed-over part of Florida politics. But it is one of the most complicated, important and controversial areas of policy in the Sunshine State.
Whether it's on who should qualify for Medicaid, whether kids should get access to gender-affirming care or how doctors get reimbursed, the debates can sometimes spill from boardrooms to dining rooms, even if some of the nuance doesn't always translate.
That's where the state's health care influencers come in. They're lawmakers and lobbyists, regulators and doctors. And together, they help determine where and how Floridians access care; how much they pay for it; and, in the case of this year, if they should even be allowed to have it.
This is a group of influencers that, in recent years, has seen it all. They've navigated a pandemic filled with questions about masks and vaccines. They've waded into the murky moral grounds of transgender care. And they've tackled a legal framework that pits insurance providers against lawyers.
Here are the lawmakers, lobbyists, CEOs, nonprofit leaders, medical school deans and others who make it all happen.
Mike Anway, PhrMA
Anway is the regional senior director of state advocacy promoting patient access to medicines. Prior to that, Anway served as the director of federal affairs for the Pharmaceutical Research & Manufacturers of America (PhRMA). He was previously the head of former Gov. Rick Scott's Health and Human Services Unit in the Office of Policy and Budget.
Steve Bahmer, Leading Age Florida
Bahmer is the President and CEO of LeadingAge Florida, a statewide nursing home association that represents a continuum of care providers. Bahmer is a member of the board of directors for LeadingAge at the national level. He also serves on the committee for the Florida Palliative Care Coalition and is a member of the University of Central Florida Senior Living Management advisory board.
Doug Bell, Metz Husband & Daughton
A lawyer, Bell is among the legal Florida elite earning AV® Preeminent distinction, the highest available mark for professional excellence from Martindale-Hubbell's Peer Review Ratings. His lengthy list of clients includes the American Lung Association, BioFlorida, Inc., the Bristol Myers Squibb Company, Centene Corporation, Curaleaf Florida, LLC, the Florida Academy of Family Physicians and the Florida Chapter of the American Academy of Pediatrics, Inc.
Travis Blanton, Johnson & Blanton
After working for the Republican Party of Florida, the Department of Elder Affairs and the Agency for Health Care Administration (AHCA), Blanton joined Johnson and Associates in 2002, which evolved into Johnson & Blanton in 2005. Among Blanton's many clients are Advent Health, Baycare, Florida Community Care, the Florida Health Care Association (FHCA), the Florida Hospice and Palliative Care Association, the Florida Hospital Association (FHA), the Florida Society of Anesthesiologists and Moffitt Cancer Center.
Ron Book, Ronald L. Book P.A.
Book is one of the most successful lobbyists in Tallahassee, representing a broad array of interests before the Legislature and executive agencies. His clients include the North and South Broward Hospital District, the Public Health Trust/Jackson Memorial Hospital, the Miami Project/Buoniconti Fund to Cure Paralysis, Miami Jewish Health Systems and VITAS Healthcare Corp.
Bo Boulenger, Baptist Health South Florida
Boulenger is the president and CEO of Baptist Health South Florida. As such, he is responsible for Baptist Health's 12 hospitals and more than 200 outpatient facilities and physician practices, as well as the Miami Cancer Institute, the Miami Cardiac & Vascular Institute, the Miami Neuroscience Institute, the Lynn Cancer Institute and the Marcus Neuroscience Institute. Boulenger also is Baptist Health South Florida incident commander for all of its emergency operations.
Jason Brodeur, Florida Senate
Sen. Brodeur is the go-to person in the Senate for the Gov. Ron DeSantis administration on health care issues. He is the primary sponsor of pharmacy benefit manager (PBM) legislation this Session. Brodeur is also Vice Chair of the Senate Health Policy Committee and is a member of the Senate Appropriations Committee on Health and Human Services. Brodeur served in the House for eight years prior to being elected to the Senate.
Audrey Brown, Florida Association of Health Plans
Brown has advocated on behalf of Medicaid, Medicare and private health plans for nearly a decade as president and CEO of the Florida Association of Health Plans (FAHP). Brown has over the years helped beat back legislation managed care plan providers said would increase health care costs. In 2020, Brown and FAHP lobbied to pass a law that prohibited air ambulance services from "balance billing" patients.
Melanie Brown-Woofter, Florida Behavioral Health Association
Brown-Woofter is the president and CEO of the Florida Behavioral Health Association. She works to increase Medicaid funds for behavioral health. In 2022, Brown-Woofter lobbied to increase state Medicaid funding for community mental health by more than $100 million. She previously worked at AHCA as the Medicaid Managed Care Bureau Chief.
Colleen Burton, Florida Senate
Burton chairs the Senate Health Policy Committee, the first committee of reference for most health care-related bills. That makes Burton the gatekeeper of most substantive health care policy issues the upper chamber will consider over the next two years. Burton also serves on the Senate Appropriations Committee on Health and Human Services, as well as the Banking and Insurance and Fiscal Policy committees.
Christa Calamas, Florida House
Calamas has guided Florida health care policy as a legislative staff member for a little more than 16 years. In that time, she has written new health law on issues ranging from abortion to end-of-life care, and from telehealth to a ban on transgender health care for minors. In addition to working for the legislative branch, Calamas served a seven-month stint as AHCA Secretary and was the assistant general counsel to former Gov. Jeb Bush during his second term as Governor.
Chris Chaney, The Advocacy Group at Cardenas Partners
Chaney catapulted into the Legislative Process after working on Scott's first campaign for Governor and then on Scott's transition team. From there, Chaney was named the Legislative Affairs Director at AHCA, which made him the point man on all policy and appropriations. Now his clients include the American Academy of Anesthesiologist Assistants, Centene Corporation, Cleveland Clinic Florida, the FHA and Health Network One (HN1).
Mike Cherniga, Greenberg Traurig
Cherniga is a shareholder at Greenberg Traurig and a member of the firm's Health Care & FDA Practice. His work spans the health care spectrum on regulatory compliance issues, ranging from the federal Stark Law and similar state physician self-referral prohibitions to HIPAA. He also advises clients on government payor requirements as well as insurance and managed care reimbursement requirements. He's also an expert in health care transactional law as well as corporate health care regulatory issues.
Chris Clark, Florida Medical Association
Clark became CEO of the important group that represents Florida's physicians a year ago after first joining the organization in 2014. But before joining the FMA, he had spent years working for some of the state's most well-known Republicans, including Gov. Bush. He also served as the Chief of Staff for then-Senate President Don Gaetz. In 2018, he was part of the DeSantis transition team following the Governor's first statewide election win.
Gus Corbella, Greenberg Traurig
Corbella has staked out a ubiquitous presence in the halls of the Capitol for more than two decades. Corbella has been with Greenberg Traurig since 2004 and is now senior director of government law and practice policy for the firm's Tallahassee office. Before he joined the firm, he worked as Chief of Staff for then-Senate President Jim King and worked as staff director in House and Senate majority offices.
John Couris, Tampa General Hospital
Couris is the president and CEO of Florida Health Sciences Center, which comprises a number of health care organizations including Tampa General Hospital. Under Couris' leadership, Tampa General opened the Global Emerging Diseases Institute (GEDI), a new facility and the first of its kind in Florida devoted to clinical care, cutting-edge research, and education for emerging infectious diseases. Couris, who joined the hospital in 2017, is spearheading the largest master plan in its history: a $550 million capital commitment to bring more advanced technology and innovative care to its patients.
Jim DeBeaugrine, RFJ Governmental Consultants
DeBeaugrine has more than 30 years of Florida legislative and government experience, 19 of them spent on the House Appropriations Committee staff and another approximately four as the director of the Agency for Persons with Disabilities (APD). DeBeaugrine has earned a reputation as the go-to lobbyist when it comes to developmental disability policy in the state.
Mark Delegal, Delegal | Aubuchon Consulting
Delegal is the co-founder (along with Josh Aubuchon) of the public policy and government relations firm Delegal | Aubuchon Consulting. Delegal, a lawyer and lobbyist, focuses his lobbying efforts on all lines of insurance and recently backed efforts to expand wrongful death lawsuits against physicians and hospitals. Delegal also helped secure $30 million in health care research funding for Florida's three academic cancer centers.
Hayden Dempsey, Greenberg Traurig
Dempsey is Chair of the Florida Government Law and Policy Practice at the firm, and he regularly represents clients on Medicaid and health care regulatory issues. He previously worked for four Governors, including as special counsel for Gov. Scott. Dempsey also worked for Gov. Bush and started his professional career working for former Gov. Lawton Chiles and former Gov. Bob Martinez.
Aimee Diaz Lyon, Metz Husband & Daughton
Lyon, a lawyer and lobbyist, represents an array of health care clients from the dental hygienists and physical therapy associations to Centene Health Plan. Lyon previously served as director of governmental affairs for the Florida Osteopathic Medical Association and honed her legislative chops by working as staff for the Florida House.
Liz Dudek, Greenberg Traurig
With more than 40 years of state government experience it's no wonder Dudek was hired as the director of health care affairs for Greenberg Traurig's Tallahassee office. Dudek knows more about the certificate of need (CON) program than anybody, having been in charge of it for years. As AHCA Secretary, she oversaw the first procurement of the state's Medicaid program and helped shift Medicaid hospital reimbursement from a cost-based, per diem system to one that relies on diagnostic related groups, or DRGs.
Leslie Dughi, Metz Husband & Daughton
Dughi has been lobbying the Legislature for more than 25 years and has made a name for herself in the health care, health insurance and workers' compensation fields. Dughi's clients include Gilead Sciences, the Florida Dental Hygienists Association, the Florida Physical Therapy Association, the Florida Psychiatry Society and the Florida Society of Ambulatory Surgical Centers.
Cody Farrill, Gov. DeSantis' Office
Farrill serves as the Director of Cabinet Affairs. But the former Chief of Staff and Deputy Chief of Staff at AHCA and the Department of Management Services, respectively, has emerged as the health care point man for the DeSantis administration. This Session, Farrill is taking the lead on shepherding Desantis' PBM legislation across the finish line.
Samantha Ferrin, Simply Healthcare, an affiliate of Elevance Health
Ferrin was named lead lobbyist for one of the largest Medicaid managed care plans, Simply Healthcare, in September 2022. Prior to joining the health plan, she was with the Greenberg Traurig law firm, where she focused on, among other things, health care policy and government procurement. Ferrin also served as Interim Secretary of the Florida Lottery.
Dr. Henri Ford, University of Miami Miller School of Medicine
Ford is the Dean of the Miller School of Medicine, the oldest medical school in the state. He currently serves as chair of the AAMC Council of Deans. In October, Ford will be named president of the American College of Surgeons (he currently is serving as president-elect). Ford is an internationally renowned pediatric surgeon who, in 2015, completed the first successful conjoined twins' separation in Haiti, where he was born and lived before immigrating to the United States.
Sam Garrison, Florida House
Garrison is the man with the health care spending plan in the House. Garrison, a partner with the Bradley, Garrison & Komando, P.A. law firm, was first elected in November 2020. After just one term in the House, he was named Chair of the House Health and Human Services Appropriations Subcommittee. Garrison, a former prosecutor in the State Attorney's office, helped establish Clay County's first rape crisis center.
Pat Geraghty, Guidewell Mutual Holding Corporation, Florida Blue and GuideWell Group, Inc.
Geraghty is the president and CEO of the Guidewell Holding Corporation, which includes in its portfolio, among other things, Florida Blue and Guidewell Group Inc., companies for which Geraghty also serves as president and CEO. Florida Blue is the largest insurer in the state.
Carol Gormley, Independent Living Systems
Prior to being named the Vice President of Government Affairs for Independent Living Systems, Gormley was the health care whisperer shaping Florida health policy for decades, first in Bush's office of planning and budgeting and then in the Legislature. She most recently was Chief of Staff for former House Speaker José Oliva, helping him pass a sweeping health care agenda that included eliminating Certificate of Need regulations.
Jan Gorrie, Ballard Partners
The amount of work Gorrie accomplishes by 9 a.m. rivals that of the U.S. Army. Lucky for Florida, she has focused her efforts on educating the future workforce by lobbying on behalf of the state's medical schools, as well as ways to bring additional Medicaid funding to improve reimbursement for the faculty medical plans at various colleges of medicine and for safety net hospitals. Gorrie, a lawyer, is the managing partner of Ballard Partners' Tampa Office.
Susan Harbin Alford, American Cancer Society Cancer Action Network
Gov. DeSantis has made increasing cancer funding a top priority since Florida First Lady Casey DeSantis' battle against the disease. That focus is good news for Harbin Alford, senior director of government relations for ACS-CAN. Prior to working for ACS-CAN, she worked for the Florida Association of Counties for eight years.
Dr. Stephanie Haridopolos, Florida Healthy Kids Corp.
Haridopolos was a practicing physician seeing 2,000 patients annually in Melbourne until recently taking a sabbatical to care for her father as he battles cancer. She also is the Chair of the Florida Healthy Kids Corporation board of directors, the panel in charge of administering the Florida KidCare program.
Gayle Harrell, Florida Senate
Sen. Harrell has been a Florida lawmaker for more than 20 years. She served 16 years as a member of the House and is in her second Senate term. A former health care administrator, she managed her late husband Dr. James E. Harrell's OB-GYN practice. Harrell was the founder of the Breast Imaging Center. She is chair of the Senate Appropriations Committee on Health and Human Services, which makes her the chief health care budget writer for the Senate.
Shevaun Harris, Department of Children and Families
Secretary Harris' agency is at the epicenter of the state's efforts to return its Medicaid program back to pre-pandemic operations and remove 1.7 million people from the rolls. Harris helped First Lady DeSantis launch Hope Florida, a program that encourages community involvement on the path toward economic self-sufficiency. Harris worked at AHCA for nearly 20 years before being tapped to head DCF.
Joe Anne Hart, Florida Dental Association
Hart has been the face of the Florida Dental Association in Tallahassee for more than 20 years, championing access to dental care for Floridians in order to reduce visits to hospital emergency rooms for dental emergencies. She also has worked to increase the number of dentists in the state, securing passage of a dental loan repayment program in 2019 that would provide 10 dentists willing to work in medically underserved areas up to $50,000 a year for five years to repay student loans.
Allegra Jaros, Wolfson Children's Hospital
Jaros joined Wolfson Children's Hospital as president in January and will continue to advance its mission of improving the health of the region's children through patient- and family-centered care, education, research and child advocacy. Prior to joining Wolfson, Jaros was the president of John R. Oishei Children's Hospital in Buffalo, New York, and was responsible for the design and development of the $272 million Oishei Children's Hospital.
Brian Jogerst, WayPoint Strategies
His health care and lobbying roots run deep. Jogerst, co-founder of WayPoint Strategies, wasn't far removed from high school when he worked for former Gov. Martinez's Legislative Affairs Team. Jogerst launched his private lobbying career in 1992, joining the FHA. Today, his clients include Baptist Health, Brooks Rehabilitation, FHCA and Johns Hopkins All Children's Hospital, among others.
Jeff Johnson, AARP Florida
For the past 13 years, Johnson has been the state director for AARP Florida, an association that has 2.8 million members and more than 3,000 volunteers. AARP Florida has long been a leading voice on nursing home care in the state and focuses on aging in place by promoting "livable communities."
Jon Johnson, Johnson & Blanton
Managing Partner at Johnson & Blanton, Johnson's entrance into politics was through the Republican Party of Florida, where he worked as deputy finance director when he was only 20 years old. It's been nonstop for the Florida GOP and Johnson since. Johnson worked for Gov. Martinez, overseeing professional boards at the then-Department of Professional Regulation. He worked with the FMA after leaving government. Today, Johnson focuses much of his attention on health care, managed care, workers compensation, professional regulation and insurance.
Mike Jones, Molina Healthcare of Florida
Jones has been at the helm of Molina Healthcare of Florida, serving as its president, since 2018. The managed care plan offers access to Medicaid managed medical assistance, specialty and long-term care offerings to more than 181,000 members.
Allison Kinney, HCA Healthcare of Florida
As Vice President of State Government Affairs, Kinney lobbies on behalf of the system's 49 hospitals, 40-plus freestanding emergency departments and 30 ambulatory surgery centers. HCA Healthcare of Florida also has 134 graduate medical education programs that help train the state's future physician workforce.
Natalie Kelly, Florida Association of Managing Entities
Kelly has more than 35 years of lobbying experience on behavioral health issues, including the last nine as the CEO of the Florida Association of Managing Entities, a statewide organization that oversees the safety net providers of Florida's behavioral health system. Prior to joining the Association of Managing Entities as its CEO in 2014, Kelly worked for the Alzheimer's Association for 17 years.
Dr. Colleen G. Koch, University of Florida College of Medicine
It may not be the oldest medical school in the state, but it's arguably the most prestigious, and Dr. Koch is its first female dean. She is leading the college while it implements a strategic plan with seven pillars: education; research; patient care; people; diversity, inclusion and health care equity; system integration; and value. To boost its education and research opportunities, the college launched a new AI curriculum.
Dr. Joseph Ladapo, Florida Surgeon General
Gov. DeSantis tapped Dr. Ladapo to become the state Surgeon General in 2021. Ladapo, who previously worked at the University of California, Los Angeles (UCLA) medical school, has been highly critical of federal COVID-19 policy and a vocal skeptic of COVID-19 vaccines. He also pushed for a ban on gender-affirming care for minors. Ladapo earned his medical degree from Harvard along with a doctorate in health policy. Before he was at UCLA, he was a faculty member in the Department of Population Health at New York University School of Medicine and worked in the U.S. Food and Drug Administration.
Nathan Landsbaum, Sunshine Health, a subsidiary of Centene
Landsbaum was appointed Sunshine Health Plan president and CEO in September 2021 after serving for four years as the CEO for Home State Health in Missouri. Landsbaum began his work in Florida days before Sunshine Health merged with Staywell Health Plan, making it the largest Medicaid managed care organization in the state in terms of enrollment. In addition to operating in the Medicaid market, the health plan provides benefits to people in Florida's welfare system, as well as medically complex children.
Dr. Alma Littles, FSU College of Medicine
Dr. Littles was named interim dean of the Florida State University College of Medicine in February 2023. Prior to being named interim dean, she was the senior associate dean for medical and academic affairs, leading the college's accreditation efforts and its community-based education model. Little's sterling reputation extends beyond the medical school. She is also secretary of the FMA and is a delegate to the AMA.
Dr. Charles Lockwood, Morsani College of Medicine at the University of South Florida
Applications to the USF College of Medicine have increased by more than 40% in the eight years since Lockwood has been dean. The median MCAT score has increased from the 78th to the 95th percentile; the mean GPA among students entering the program is up; and the percentage of students recruited from traditionally underrepresented groups increased to 18% in 2022. The medical school dean and executive vice president of USF Health, an OB-GYN, is credited with leading a research team that discovered fetal fibronectin (fFN), the first biochemical predictor of prematurity.
Matthew A. Love, Nicklaus Children's Hospital
Love joined Nicklaus as CFO in 2018. He was appointed interim president in 2019 and accepted the position as president and CEO in July 2020. A 309-bed hospital, Nicklaus is the only specialty hospital exclusively for children in South Florida and is home to the largest pediatric teaching program in the southeastern United States.
Frank & Tracy Mayernick, The Mayernick Group
The Mayernicks represent the Florida Health Care Association, the state's largest statewide nursing home association, and Florida HCA Healthcare, the hospital system with the largest network of doctors, nurses and care sites in the state. The duo also represents Alkermes, a Dublin, Ireland-based pharmaceutical company that manufactures VIVITROL. Unlike other treatments for opioid addictions, such as methadone, VIVITROL isn't a narcotic. The drug, which must be ordered and administered by a physician, is an extended release formulation of naltrexone proven to be effective, but it's expensive.
Mary Mayhew, Florida Hospital Association
Mayhew left a position in Washington with the Donald Trump administration to accept a post in the DeSantis administration instead. As AHCA Secretary, Mayhew helped the Governor in the early stages of the COVID-19 response. She stepped down in September 2020 and accepted a position as president and CEO of the FHA. There, she directed a study of the state's nursing workforce, which resulted in the infusion of hundreds of millions of dollars into nursing programs.
Michael Mayo, Baptist Health
Mayo is president and CEO of Baptist Health, which has a network of more than 2,000 medical staff. Baptist Health is the only locally governed, faith-based, not-for-profit, mission-driven health care system in North Florida. Mayo has 32 years experience running health systems including as CEO of Orange Park Medical Center (HCA) and as chief operating officer of Memorial Hospital Jacksonville. Mayo serves on the University of North Florida (UNF) Foundation Board; the Dean's Council of UNF; and is an adjunct professor at UNF Brooks College of Health.
James McFadden III, The Southern Group
McFadden worked for the Legislature, the Governor's Office and AHCA before taking a position at The Southern Group in 2012. While he's versed in agriculture and technology issues, he's on this list because of his health care expertise, which is underscored by his impressive list of clients. Among others, he represents Florida Blue, Florida Senior Living Association, Tenet Healthcare Corporation, Surgeons for Safety, Inc., MCNA Dental Plans and GuideWell Group, Inc.
Martha McGill, Nemours Children's Hospital Florida
As President of the Central Florida Region, McGill is responsible for building and integrating Nemours' network of practice sites and partnerships across Florida. Florida's Network Operations Chief Medical Officer and departments on Service Delivery and Innovation, Strategy and Business Development, Physician and Patient Network Operations, and Practice Administration all report to her.
Carlos Migoya, Jackson Health System
When he agreed to serve as President and CEO of Jackson Health System in 2011, Migoya inherited a system that had posted an $82 million loss the prior year. Since his arrival, the system has produced an annual surplus. In 2013, he led a successful campaign to have Miami-Dade County voters approve an $830 million bond program, the cornerstone of a $1.7 billion capital plan to renovate, modernize and expand Jackson's facilities, which includes Jackson Memorial Hospital. In 2020, he led Jackson's public vaccination program, which resulted in more than 175,000 people receiving the COVID-19 vaccine at Jackson sites.
Andrew Molosky, Chapters Health System
Molosky is the president and CEO of Chapters Health System, one of the nation's premier community-based health care delivery systems. Molosky has repositioned Chapters Health into a provider of risk-bearing programming for hospice, palliative care, home health, durable medical equipment and pharmacy services.
Luis Mosquera, Health Network One
Mosquera is the CEO of Health Network One, a health care organization that employs more than 260 people and generates revenue in excess of $250 million annually. Over the past two decades, Mosquera has led the company's expansion into several new geographic and product markets while effectively retooling operations to adapt to the ever-changing regulatory environment.
Keith Myers, MorseLife Health System
Myers is the CEO and president of MorseLife Health System, which offers a full continuum of long-term care services including a Gold Seal nursing home, assisted living, home health, hospice, PACE, and independent living in Palm Beach County. He serves on the Florida Health Care Association's board of directors.
Christopher Nuland, Law Office of Christopher Nuland
Nuland, a Jacksonville health care lawyer, is a rare breed. He lobbies the legislative and executive branches and represents physician clients, advising them on rules and laws and how to remain in compliance. He represents the Florida Society of Plastic Surgeons, the Florida Society of Dermatology & Dermatologic Surgery and the Florida chapter of the American College of Surgeons.
Toby Philpot, Floridian Partners
The FHCA had one of its best Sessions while Philpot was on board, helping to finally pass legislation that reduces the number of nursing hours residents are required to receive. He also helped secure a $293 million recurring increase in reimbursements, the biggest rate bump in FHCA's history. Before he joined FHCA, Philpot worked at AHCA, where he was instrumental in passing requirements for nursing homes to have emergency backup power.
David Pizzi, Florida Blue
Florida Blue is the largest health insurer in the state. Pizzi, who has been with the company for 20 years, is now its vice president of government relations, meaning he has an eye on all things related to health insurance and health care. Pizzi has an unusual background for a health insurance lobbyist, having previously worked as an EMT and registered nurse.
Holly J. Prince, Anthem, Inc., Simply Healthcare Plans, Inc.
Prince is the regional vice president for Anthem and the chief operating officer for Simply Healthcare. She joined Anthem as part of the acquisition of Simply Healthcare Plans, where she was the first CFO and an integral member of the executive management team. She previously was the corporate controller and interim CFO for DentaQuest, a managed Medicaid dental plan. Her health care career was launched in public accounting.
Emmett Reed, Florida Health Care Association
As the Executive Director of FHCA, Reed is responsible for overall operations, hiring association staff and outside lobbyists to pass the agenda set by the association's board of directors. Since Reed took the helm more than 10 years ago, the association has played a key role in developing a new Medicaid reimbursement system. He also helped get Medicaid increases and pass a new law lowering minimum nursing requirements, which the FHCA branded as modernizing staffing mandates.
William "Bill" Rubin, Rubin Turnbull & Associates
Rubin, the founder and chair of Rubin, Turnbull & Associates, has been a constant presence in Florida lobbying and political circles for decades. He has long lobbied for prominent health care clients including companies linked to Scott before he became Governor. Rubin initially worked in state government, rising to the post of assistant insurance commissioner and treasurer. He started lobbying in 1985 and launched his own firm in 1992.
Joy Ryan, Meenan P.A.
Ryan, a shareholder at Meenan, P.A., has represented many different interests before the Legislature and executive branches. But her expertise is life, health, long term care, disability and, to a lesser extent, property insurance. She represents the managed care industry before the Legislature and also helps identify procurement opportunities, helping her clients prepare winning bids and defend winning bids against challenges. Ryan's clients include America's Health Insurance Plans, the Florida Life & Health Insurance Guaranty Association, Prime Therapeutics and Teladoc Health, Inc.
Helen Sairany, Florida Pharmacy Association
Executive Vice President and CEO for Florida Pharmacy Association, Sairany also is a pharmacist who has worked as a field provider for Doctors Without Borders in Iraq and Western Syria. She has been at the forefront of the Pharmacy Benefit Managers regulatory debate this Session in Tallahassee.
Martin Schappell, Shell Point Retirement Community
Schappell is the president of Shell Point Retirement Community in Fort Myers, largest single-site continuing care retirement community in the state and home to about 2,400 residents. Shell Point has more than 1,000 employees and offers its residents access to independent living, assisted living, memory care assisted living, and a nursing home and rehabilitation center. The campus features a championship golf course and also boasts a guest hotel.
Alicia Schulhof, Johns Hopkins All Children's Hospital
Schulhof was named president of Johns Hopkins in June 2021. A research and teaching hospital in St. Petersburg, Johns Hopkins All Children's in December 2022 was for the second time named as a top children's hospital for patient safety and quality by The Leapfrog Group. Nearly 600 physicians who specialize in more than 50 pediatric medical and surgical subspecialties work at Johns Hopkins.
Jeff Scott, Florida Medical Association
For more than 20 years, Scott has been General Counsel for the FMA, Florida's largest statewide physician association. In that time, Scott has championed changes to how medical malpractice cases are litigated and helped pass a law requiring health insurers to pay out-of-network physicians directly for services rendered rather than send reimbursements to patients.
Justin Senior, Safety Net Hospital Alliance of Florida
Before being named the CEO of the Safety Net Hospital Alliance of Florida (SNHAF), Senior was in many instances the face of Gov. Scott's health care policy. He served as the state Medicaid Director from 2011 to 2016, overseeing the procurement, implementation and operation of Florida's Statewide Medicaid Managed Care program. Scott appointed him AHCA Secretary in October 2016, a position Senior held until January 2019, when he resigned to take the helm of the SNHAF. Senior is helping to lead efforts this Session to increase state funding for graduate medical educational programs and payments to hospitals for providing pediatric care.
Tim Stapleton, Gunster
Stapleton, a consultant with the Gunster firm, has more than 25 years of experience dealing with health care policy, politics and business. He was CEO of the FMA from 2008 to 2021. Stapleton first joined the FMA in 1998 and prior to becoming CEO he served as vice president of public affairs and executive director of the FMA's political action committee. Before landing at the FMA, he served as a regional representative of the American Medical Association in Chicago and as a lobbyist for the Medical Society of the State of New York.
Katie Strickland, Gov. DeSantis' Office
Strickland has been the Deputy Chief of Staff for the DeSantis administration since November 2021 and she works with key agencies such as DOH, AHCA and APD. Strickland previously was Deputy Communications Director for DeSantis. She also previously worked as Communications Director for Chief Financial Officer Jimmy Patronis and Deputy Communications Director for APD.
David Strong, Orlando Health
For the last eight years, Strong has served as the president and CEO of Orlando Health, a hospital system with 16 hospitals and more than 22,000 employees. The hospital system also owns Orlando Health Strategic Innovations, an innovation platform with a corporate venture fund that invests in promising early-stage health care companies from around the world. Strong serves on the boards of the Florida Chamber of Commerce and the FHA, as well as the Executive Committee of SNHAF.
Shane Strum, Broward Health
Strum has been the president and CEO of one the nation's largest safety net health care systems since March 2021. He was DeSantis' Chief of Staff prior to taking the helm at the North Broward Hospital District, which operates as Broward Health. Strum was senior vice president at the North Broward hospital District, which operates as Memorial Healthcare System, before he went to work for DeSantis. Strum also worked as Chief of Staff for former Gov. Charlie Crist.
Jennifer Sweet, Aetna Better Health of Florida, a CVS health Company
Sweet, who was named CEO of Aetna Better Health of Florida in 2020, spearheaded the launch of a cost-saving program that combines in-home care with telemedicine and technology. Aetna Better Health partnered with Emcara Health for the Medicaid initiative, which will focus on medically complex adults living in Tampa Bay, Orlando and Miami-Dade.
Jason Weida, Agency for Health Care Administration
As AHCA Secretary, Weida is in charge of the agency that, thanks to the Medicaid program, has the largest budget of all state agencies at $38.6 billion in Fiscal Year 2022-23. In addition to administering the Medicaid program, AHCA also regulates health care facilities, from nursing homes to hospitals to abortion clinics. Weida presides over the agency as it prepares its third procurement of the Medicaid managed care program
Jamie Wilson, Moffitt Cancer Center
As Vice President of Government Relations for Moffitt Cancer Center, Wilson is responsible for government relations at the state, federal and local levels, advocating for increased funding for cancer research and education. Prior to joining Moffit in 2007, he was a founding member of the lobbying firm Liberty Partners. Wilson previously worked for the Republican Party of Florida and also spent 11 years in U.S. Sen. Connie Mack's Office.
Amy Young, Ballard Partners
A managing partner at Ballard Partners' West Palm Beach office, Young has had an influential role in Florida health care policy for the last three decades. Young's clients list includes Cambridge, Massachusetts-based Sage Therapeutics, District XII of the American Congress of Obstetricians and Gynecologists, the Florida Society of Ophthalmology and the Florida Society of Pathologists.