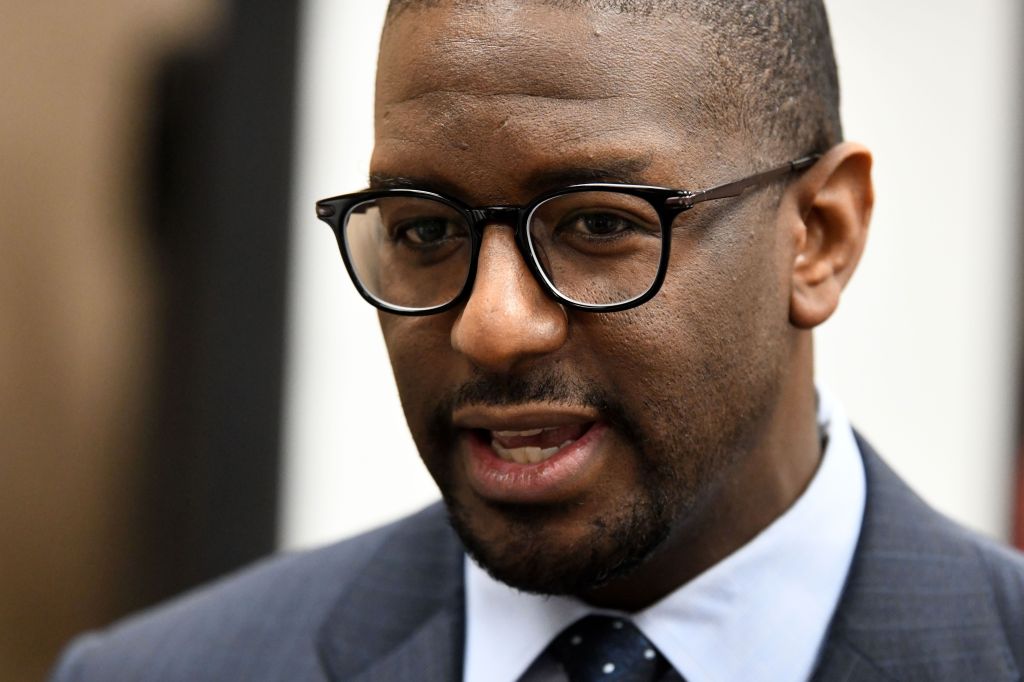 Gillum and long-time campaign associate Sharon Lettman-Hicks face a multitude of charges.
If the Legislative Session and the ongoing feud between Gov. Ron DeSantis and former President Donald Trump don't generate enough high-profile Florida political talk, this week marks the start of the trial for former Tallahassee Mayor and 2018 Democratic gubernatorial nominee Andrew Gillum on wire fraud charges.
Gillum and long-time campaign associate Sharon Lettman-Hicks face a multitude of charges — 19 for Gillum, 20 for Lettman-Hicks. Accusations include the tale of FBI agents posing as would-be Southern Pines project developers offering Gillum up to $100,000, for which he suggests methods to anonymize, like making a "dinner contribution."
Grand jury evidence showed Gillum was offered, and Southern Pines was to cover, a boat tour of New York Harbor, tickets to the musical "Hamilton" on Broadway, and a hotel room in the city.
Gillum and Lettman-Hicks are also accused in the indictment of working an office space scam. The indictment states while Gillum served as Mayor, he collected a $122,000 a year salary from a company, and that the same company paid $3,000 a month in rent for a building owned by P&P Communications, which Gillum and Lettman-Hicks ran.
When Gillum left the company to run for Governor, it quit using the offices.
Prosecutors further accuse the pair of defrauding other companies out of thousands of dollars that were meant to go to an anti-preemption, pro-local government group called  Campaign to Defend Local Solutions. The National Black Justice Coalition, which Lettman-Hicks led, served as a sponsor of the campaign and took funds from other groups.
Then there are the get-out-the-vote funds the pair are accused of diverting during the 2018 gubernatorial campaign.
There was some good news for Gillum on that front, as prosecutors decided not to pursue two charges against him, both related to donations received by his Forward Florida political committee.
The indictment states Gillum instructed $130,000 in GOTV dollars to be managed by Lettman-Hicks, but nearly half that went to P&P. Another $30,000 was sent to Gillum as an end-of-year bonus in the form of six $5,000 deposits. The superseding indictment only includes four deposits totaling $20,000. 
"Every campaign I've run has been done with integrity," Gillium said not long before the indictment came out. "Make no mistake that this case is not legal, it is political. Throughout my career I have always stood up for the people of Florida and have spoken truth to power. 
"There's been a target on my back ever since I was the Mayor of Tallahassee. They found nothing then, and I have full confidence that my legal team will prove my innocence now."
Lettman-Hicks also maintained her innocence when the charges became public.
She said she "was handcuffed at the Tallahassee FBI office, driven to the federal courthouse with three agents, fingerprinted by U.S. Marshals, and paraded into a federal courthouse to have all my dignity challenged while being indicted on 20 counts from a nearly 4-year-old politically motivated investigation.
"I find it stunning that these charges have come to light just days after I became a viable candidate, yet this is the America that so many, whom I had hoped to represent, deal with day in and day out in their communities."
The conspiracy charge and 17 counts of wire fraud each carry a possible maximum sentence of 20 years, though it is unlikely a maximum sentence would be handed down. Additionally, the sentences would likely run concurrently. The one count of making false statements to federal investigators carries a maximum prison term of five years.
The jury trial, held at the federal courthouse in Tallahassee, is expected to last three weeks.