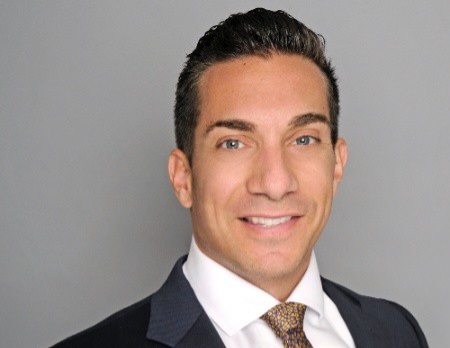 'I am committed to solving problems and making our home an even better, safer, and more resilient place to live.'
Miami Beach resident and Planning Board member Joe Magazine is running for the City Commission.
A third-generation resident with a nearly 20-year career in finance, Magazine is running for the Group 6 seat on the Miami Beach Commission. The current Commissioner in Group 6, David Richardson, filed Monday to run for Miami-Dade County Tax Collector.
Magazine said he wants to boost transparency and resident participation in government.
"I am running with integrity, service, and love for my community because I want my daughter and all residents to enjoy the safety, prosperity, and freedoms we all deserve," he said in a statement Thursday.
"Family, community, and equality are my core values. I am committed to solving problems and making our home an even better, safer, and more resilient place to live."
A press note from Magazine's campaign, which veteran Democratic consultant Christian Ulvert is working on, describes Magazine as "a proven fighter" who has worked publicly to improve policing, public safety, infrastructure and climate resiliency while combating short-term rentals and hotel usage in residential neighborhoods.
In private life, his campaign said, Magazine's career involves dealing with local municipalities and working on clean energy and infrastructure projects around Miami-Dade — a background that makes him "well-qualified to hit the ground running and achieve the results Miami Beach residents deserve."
One other candidate is running in Group 6: Tanya Katzoff Bhatt, a fellow Democrat, marketer and community activist who until recently was running for the Group 5 seat now occupied by term-limited Commissioner Ricky Arriola.
She switched to the Group 6 contest April 25.
Since filing to run in February, Bhatt has raised more than $52,000 and collected endorsements from Miami Beach Commissioner Alex Fernandez, Alton Road Homeowners Association President Adam Kravitz, Biscayne Beach Neighborhood Association President Paula King, Park View Island Sustainable Development Association President Omar Jimenez, former City Commissioners Saul Gross, Nancy Liebman and Deede Weithorn, and former West Avenue Neighborhood Association President Gayle Durham.
Miami Beach will hold its General Election Nov. 7. Three other offices — Mayor and the City Commission's Group 4 and 5 seats — are also up for grabs.