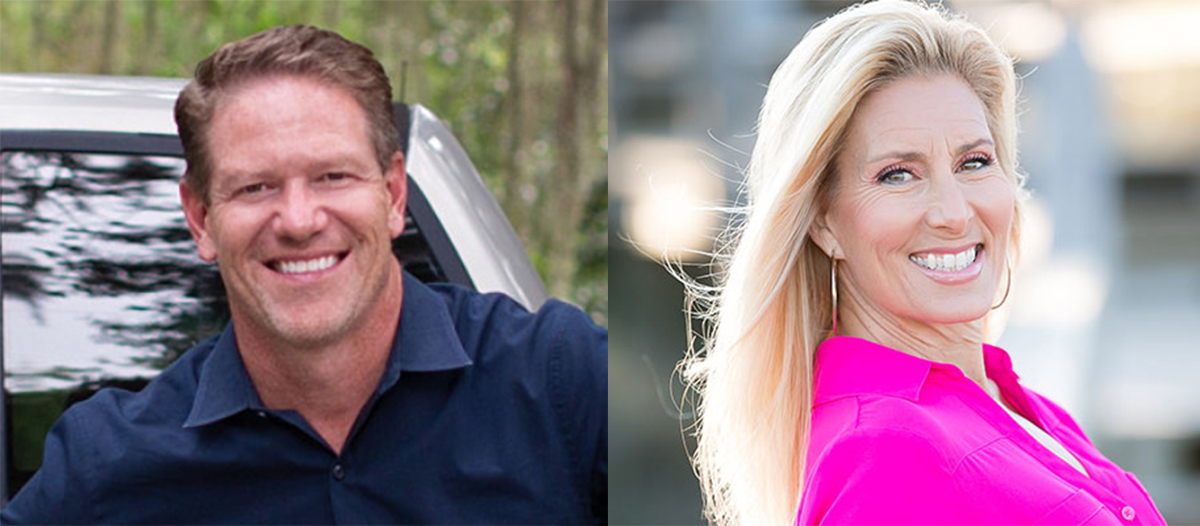 Democrats win the Jacksonville mayoral race for the first time since 2011.
After a competitive and often fractious 2023 mayoral campaign, a winner has emerged in the race between Donna Deegan and Daniel Davis.
It's a new day in Duval.
With all precincts in, Deegan prevailed 52% to 48%, giving Democrats a welcome win just months after Republicans dominated the state in the 2022 Midterm Election. The win also gives Jacksonville its first ever woman Mayor in Deegan, a major milestone for the state's largest city.
"We made history tonight. It's a brand new day," Deegan said. "You know what the best part is? Love won today."
"I wanted to win this race for the people of Jacksonville. I wanted love to win," Deegan added, stressing her "love over fear" approach to the campaign.
About one-third of Duval's registered voters cast ballots in the contest.
Deegan, who Jacksonville residents knew as a longtime TV anchor in the area, said Davis reached out to congratulate her and pledged to work with her, offering a healing coda after a bruising campaign.
In his concession speech, Davis repeated that pledge, signaling an interest in healing the city and finding a way forward after a season of partisan division.
"We have to all come together now and move our city forward," Davis said, in emotional remarks that were his most resonant of the campaign, albeit at the end.
Democrats mounted a mayoral campaign for the first time since Alvin Brown lost eight years ago, with Deegan emerging from the First Election with nearly 40% support, finishing roughly 15 percentage points ahead of Davis. Big fundraising and spending made Davis competitive down the stretch.
Despite its recent and historic support for GOP candidates, Jacksonville has a voter registration advantage for Democrats, with 40% of the electorate registered Democrat and just 35% Republican, according to the most recent L2 voter data.
In April, the candidate's Building a Better Economy political committee raised more than $1.71 million. This was the single best month of fundraising for the Davis committee of all time.
Davis' political committee closed April with roughly $940,000 on hand, having spent nearly $1.47 million in the same month. More than $1 million of that money went to the Duval County Republican Executive Committee for ad buys. Meanwhile, nearly $245,000 went to the Florida Courage political committee.
Davis tacked to the right ahead of the May 16 election, including holding a forum with Board of Education member Esther Byrd and School Board member April Carney in lieu of a final debate with Deegan. He also brooked controversy with a forum with partisan blogger Brendon Leslie, whose attendance at the January 6, 2021 insurrection in Washington, is controversial.
Davis also attempted to piggyback on Republican scare tactics used nationwide, arguing Deegan would turn the city into a crime-infested area. Davis at one point used the example of San Francisco as a warning, even though Jacksonville's murder rate is triple San Francisco's.
Polling suggested his strategy was not in vain, and may have been necessary to consolidate Republican support. But it appears that wasn't enough.
A pre-election survey from St. Pete Polls showed Deegan up 48% to 46%, with Davis taking 83% of Republicans to 13% for Deegan. Davis also pulled 10% of Democrats in that survey, against 80% for Deegan.
A survey released in April from the University of North Florida Public Opinion Research Lab showed Deegan with a marginal lead over Davis, 48% to 47%, with 5% undecided. In that survey, he had 89% support among Republicans.
Deegan also becomes the city's second-ever Arab American Mayor. Her cousin, Tommy Hazouri, was the first.
Kudos came in statewide for Deegan.
Florida Democratic Party Chair Nikki Fried hailed the win as "a new day for Jacksonville and a new day for Florida Democrats."
"Tonight's election victories are the result of amazing Democratic candidates and the hard work and dedication of the staffers and the volunteers who canvassed, phone-banked, and ensured that no voter was left behind," she said.
"With her election today, Donna Deegan has begun to write a new chapter for the city of Jacksonville, Florida — one in which the needs of its residents are prioritized, their rights respected, and their freedoms championed. EMILY's List is proud to congratulate Deegan on her victory today. We know she will be a pro-choice leader and changemaker for Jacksonville that will inspire Floridians for years to come," asserted EMILY's List President Laphonza Butler.
Multiple members of Ruth's List Florida also congratulated Deegan on the win.
"Ruth's List is thrilled to see Donna win this race and become the first woman mayor of Jacksonville," said Christina Diamond, Interim CEO of Ruth's List.
"Tonight, Jacksonville voters sent a clear message, rejecting the status quo and signaling that we will no longer stand for unrelenting Republican attacks on our personal freedoms. The time has come to reclaim our rights and our futures. Donna will be an engaged mayor who will listen to the concerns of Jacksonville's residents, and use her position to advocate for the best interests of her constituents, something that has been missing in state leadership."
"This is a major victory for the people of Jacksonville, and shows that when we come together to fight for the issues that matter to Floridians, we can win," added Susan Stackhouse-Bosquez, Ruth's List Florida Board Chair.
"Donna is a fighter who refuses to give up, even in the face of great challenges, proving time and again that tenacity and determination are critical to success. She is an authentic leader with broad appeal who was able to garner support from NPA and Republican voters for this decisive win. We are excited to see her take office at a time when our state so desperately needs thoughtful and compassionate leaders."
Deegan, now Jacksonville's Mayor-elect, thanked Ruth's List for their support, which she said helped push her over the edge.
"I am beyond grateful to Ruth's List for being my very first organizational endorsement last year, particularly when all eyes were on the 2022 elections," Deegan said."
"They understand that early support is key to victory, especially in local races. They helped build momentum for my campaign, and provided guidance, training, and resources that helped sustain me through election day. I look forward to working with them to continue inspiring women to run for office, and win."