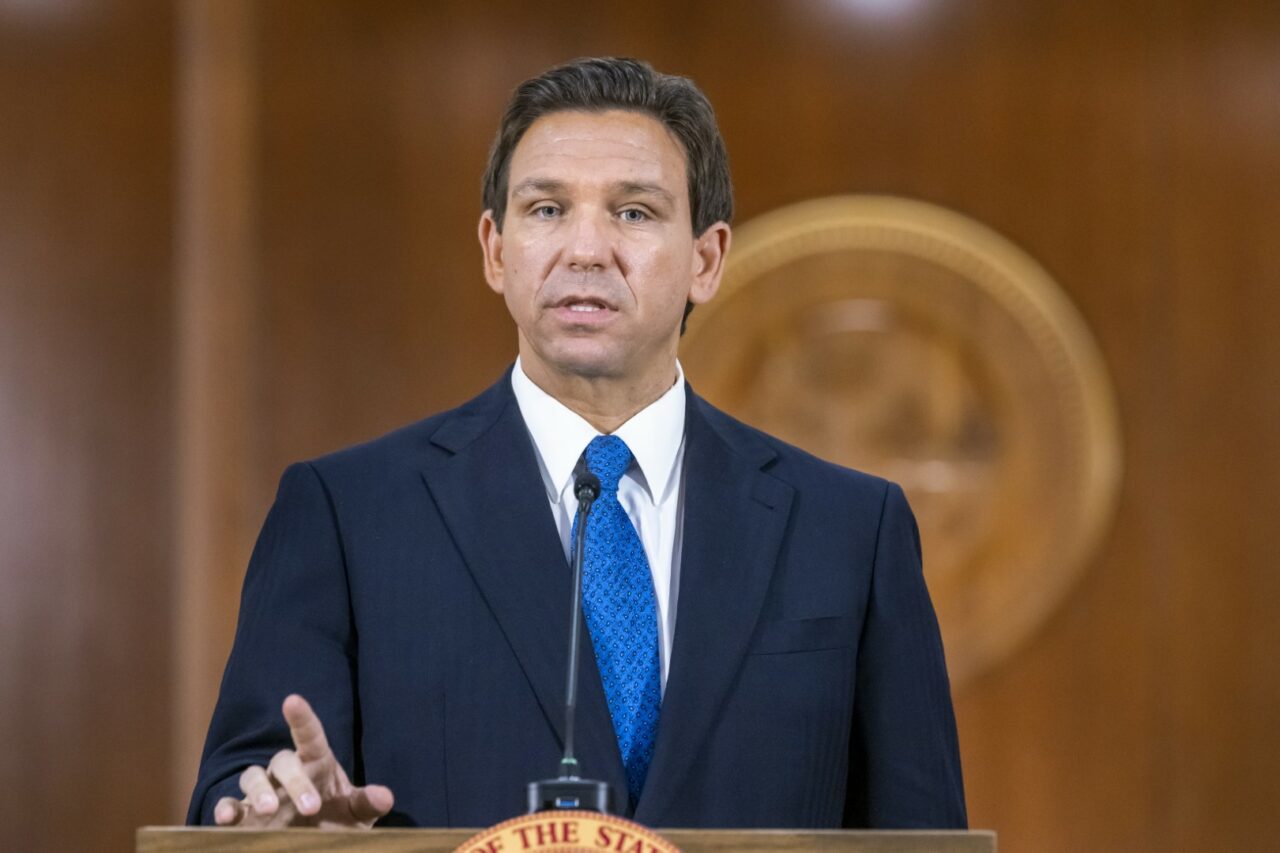 'They wanted you to behave they way they thought fit,' DeSantis said of mask and vaccine mandates.
Florida Gov. Ron DeSantis' COVID-19 policies will now be enshrined in state law as the Governor signed bills that will make permanent bans on vaccine and mask mandates as well as give a shield to doctors who deviate from other medical professionals.
"All in all we set out to "prescribe freedom" in Florida. We made an announcement a few months ago and I think we actually accomplished more than what was even promised then," DeSantis said, noting that the Legislature also agreed to ban hospitals from refusing to treat a patient who hasn't been vaccinated against COVID-19. It also agreed to blunt World Health Organization policy from taking effect by amending the law to make clear that no policies issued by international health organizations can be adopted without an executive order or rule authorizing it.
"So, all in all, I think you should be proud of the work your elective representatives did and I am going to be happy to sign this package of bills into law, momentarily," DeSantis said at the Destin press conference.
One of the bills (SB 252) DeSantis signed prohibits mask mandates and bars businesses and government entities from requiring vaccines as a condition for employment. It also bans "vaccine passports" by businesses. The legislation allows the use of masks for health care providers and those whose employees wear masks for safety reasons.
It places Attorney General Ashley Moody's office in charge of investigating and enforcing the bans on mandates imposed by businesses and local governments, while the DOH is charged with investigating and enforcing bans in schools. Each agency can assess fines of up to $5,000 for each individual and separate violation.
Legislators had previously adopted bans on vaccine mandates and vaccine passport requirements during a 2021 Special Session. But some of those provisions were set to expire later this year.
The second bill (SB 1580) allows health care providers and insurance companies to deny care or reimbursement for care if it opposes their ethical beliefs. Advocates for LGBTQ+ and women's health care worry that the law will give physicians and providers legal protections to discriminate against patients. Several Democratic lawmakers who spoke against the bill on final passage echoed those concerns.
But the bill's origins stem from the pandemic and it's a carryover issue from the 2022 Session. DeSantis acknowledged that the bills fell short in the 11th hour but said he was committed to not allowing that to happen again.
Anders Croy, a spokesperson for the group DeSantis Watch, issued a statement calling SB 1580 "The Quack Act."
"The Quack Act is classic Ron DeSantis: divisive nonsense that targets the rights of Floridians while serving as a shield for his real goal of enriching his billionaire and corporate elite donors. Time and again, Ron DeSantis has proven that he is an insurance industry shill who will do their bidding no matter the real-world cost to Floridians, whether it is allowing them to be price gouged through skyrocketing premiums or denied access to essential health care services," Croy said in a written statement. "When your insurance company or giant corporate employer refuses to cover the lifesaving care that you need, please be sure to thank Ron DeSantis for putting the needs of the donors who fund his political ambitions ahead of your freedom to be healthy, prosperous, and safe."
The Biden Administration announced in February the planned end of the public health emergency on May 11. The Department of Health and Human Services earlier this week issued a release explaining the end of the public health emergency and what it means.
During the lengthy press conference, the Governor highlighted the state's approach to COVID-19 which often put it at odds with the Biden Administration. His opposition to the federal government's COVID policies is the reason DeSantis has become a household name, especially among Republicans.
DeSantis said vaccine and mask mandates were not put into effect to safeguard people's health.
"The purpose of them was to control your behavior. They wanted you to behave the way they thought fit. And they were willing to use coercion to do it," DeSantis said to a round of applause. "So that was totally unacceptable."
DeSantis was joined at the press conference by State Surgeon General and Department of Health Secretary Joseph Ladapo, Sen. Jay Trumbull and Rep. Joel Rudman, a Northwest Florida physician who felt under attack because of his social media posts about Anthony Fauci, the former chief medical adviser to the President.
As Ladapo stood to address the crowd, he received as standing ovation and one person shouted, "We love you."
Ladapo had been working at UCLA in California before taking the Florida post, He told the crowd that when DeSantis initially called him about the position he wasn't sure that he wanted to leave  the west coast. His wife, though, didn't hesitate.
.Ladapo—who has come under fire for altering a state study about covid vaccines to indicate some doses pose a significantly higher health risk for young men—said DeSantis initially was the only governor in the nation who "authentically" saw what was wrong with the federal government's vaccine and mask mandates and that he, "would not let it stand."
"Gov. DeSantis just authentically dug his heels in and said, 'Here are human rights. Here is liberty. Here is your autonomy, your relationship to God. And I'm going to stand here and protect that. I don't care what they throw at me. I don't care what they say. I don't care what they spend. I am standing right here,' " Ladapo said of his boss. "And his willingness to do that certainly brought our family over here. And it changed the world."
Ladapo said other leaders started to abandon their policies to follow DeSantis's lead. " One person at a time (he) brought everyone to that side. So much so that the highlight reel is popcorn worthy."