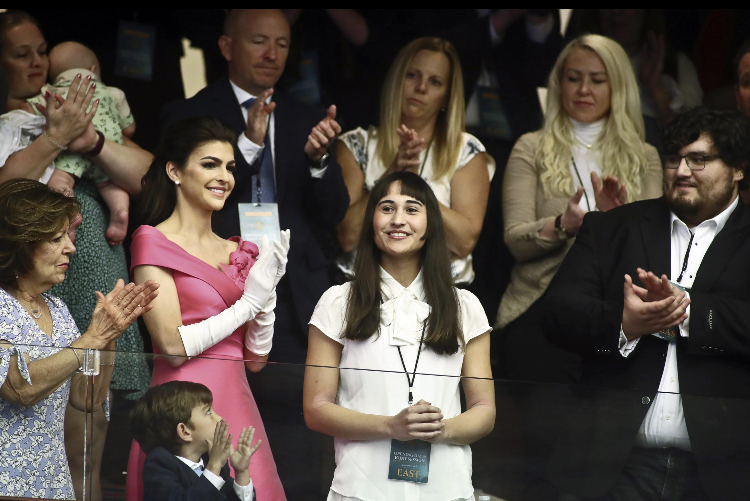 'Do No Harm' has covered a lot of ground.
Do No Harm, a nonprofit that launched last year to oppose diversity initiatives in medicine, has evolved into a significant leader in statehouses seeking to ban gender-affirming care for transgender youths, producing model legislation that an Associated Press analysis found has been used in at least three states, including Florida.
The nonprofit, not widely known outside conservative medical and political circles, describes itself on its website as a collection of doctors and others uniting to "protect healthcare from a radical, divisive, and discriminatory ideology."
Founder Dr. Stanley Goldfarb is a kidney specialist and a professor emeritus and former associate dean at the University of Pennsylvania's medical school. Goldfarb retired in 2021 and incorporated Do No Harm in January 2022.
Do No Harm initially focused on race in medical education and hiring. "The same radical movement behind 'Critical Race Theory' in the classroom and 'Defund the Police' is coming after healthcare, but hardly anyone knows it," it warns on its website.
Goldfarb declined to be interviewed by The Associated Press but said in an email that "Do No Harm works to protect children from extreme gender ideology through original research, coalition-building, testimonials from parents and patients who've lived through deeply troubling experiences, and advocacy for the rigorous, apolitical study of gender dysphoria."
The organization's executive director, Kristina Rasmussen, previously was chief of staff to former Illinois Gov. Bruce Rauner, a Republican, and served as president of the Illinois Policy Institute, a conservative think tank, according to her LinkedIn profile. Perhaps coincidentally, Rauner donated $250,000 to DeSantis' former political committee.
An AP analysis of statehouse bills to restrict gender-affirming care for youths found passages identical or nearly identical to Do No Harm's model legislation in Montana, Arkansas and Iowa.
The organization had lobbyists registered in 2022 in at least three states — Kansas, Missouri and Tennessee — and in Florida in 2023. People associated with the group have appeared as witnesses in statehouses, including Chloe Cole, 18, listed on its website as a "patient advocate" who has spoken to lawmakers about her gender-transition reversal.
In states including Florida, Idaho, New Hampshire, Tennessee and Ohio, Cole described her transition beginning at age 13, surgery to remove her breasts at 15, and stopping her transition a year later saying it was a mistake. Republican supporters of bills restricting or banning gender-affirming care often cite Cole's story.
Cole told the Kansas news outlet The Reflector this year that Do No Harm was reimbursing her travel expenses as she testified before state lawmakers. She and her lawyer did not respond to requests for comment from the AP.
Do No Harm originally organized as a charitable organization whose tax-exempt status would be endangered by substantial lobbying.
On March 9 this year, after the group had already made significant inroads in legislatures with its model bill, lobbyists and hearing witnesses, it incorporated Do No Harm Action as a separate nonprofit with a tax status that allows for more lobbying, according to records obtained from the Virginia Office of Charitable and Regulatory Programs.
Goldfarb did not respond directly to questions about Do No Harm's lobbying, nor did another representative for the organization.
In the application for nonprofit status obtained from the Virginia agency, Do No Harm projected revenues of $910,000 in 2022, more than $1.1 million in 2023 and over $1.5 million in 2024.
The organization is so new that federal tax forms that typically reveal nonprofits' spending details have been either not received or not processed.
It won a $250,000 award last year called the Gregor Peterson Prize. Its previous recipients include the Center for American Liberty, led by Harmeet Dhillon, a lawyer who advised former President Donald Trump's 2020 reelection campaign and who is representing Cole in her lawsuit against Kaiser Permanente over gender-transition treatments she now says she regrets. The prize was announced in December at a summit held by the American Legislative Exchange Council, a prominent provider of conservative model legislation.