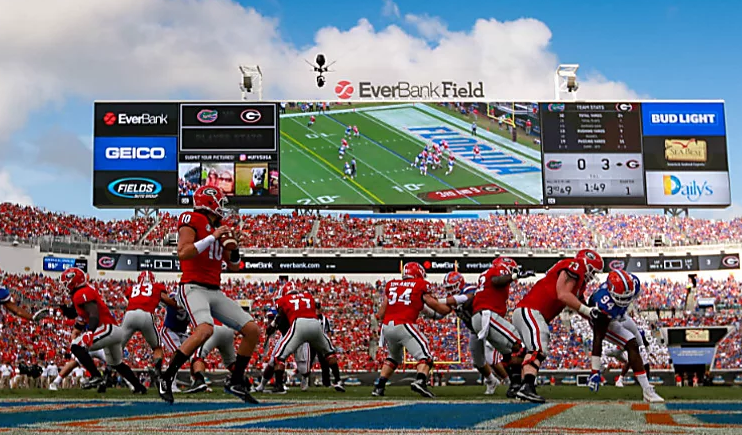 Donna Deegan won't have to strike a new deal immediately.
The clock may be running out on the Lenny Curry administration, but they scored a touchdown for Jacksonville fans of college football rivalries.
City Hall is announcing that the Florida-Georgia football game will stay in Jacksonville through 2025, meaning that the incoming Donna Deegan administration won't be tasked with negotiating a renewal past this year.
"Jacksonville has been the proud home of the Georgia-Florida game since 1933," said Curry, a Gator alum. "We are excited to welcome back the thousands of Dawgs and Gators to Jacksonville in 2024 and 2025. I want to thank the University of Georgia and University of Florida for their continued faith and investment in our city."
Athletic Directors at both universities praised the move.
"We are pleased with the decision to exercise the option that will keep the game in Jacksonville for 2024 and 2025," said University of Georgia Director of Athletics Josh Brooks. "We look forward to discussions that I'm sure will continue over the next couple years exploring all the options for 2026 and beyond. We continue to be appreciative of the working relationship we have with the University of Florida and the City of Jacksonville."
"The City of Jacksonville has been an historic host for one of the great rivalry games in all of college football," University of Florida Athletics Director Scott Stricklin added. "We are excited to have the game in Jacksonville for another two seasons."
Georgia Coach Kirby Smart has expressed interest in a home-and-home series, which apparently won't be fulfilled anytime soon.
"When it comes down to it, there's a very, very basic element of everything comes back to, No. 1, money, and No. 2, recruiting and getting good players," Smart said. "I firmly believe that we'll be able to sign better players by having it as a home-and-home because we'll have more opportunities to get them to campus."