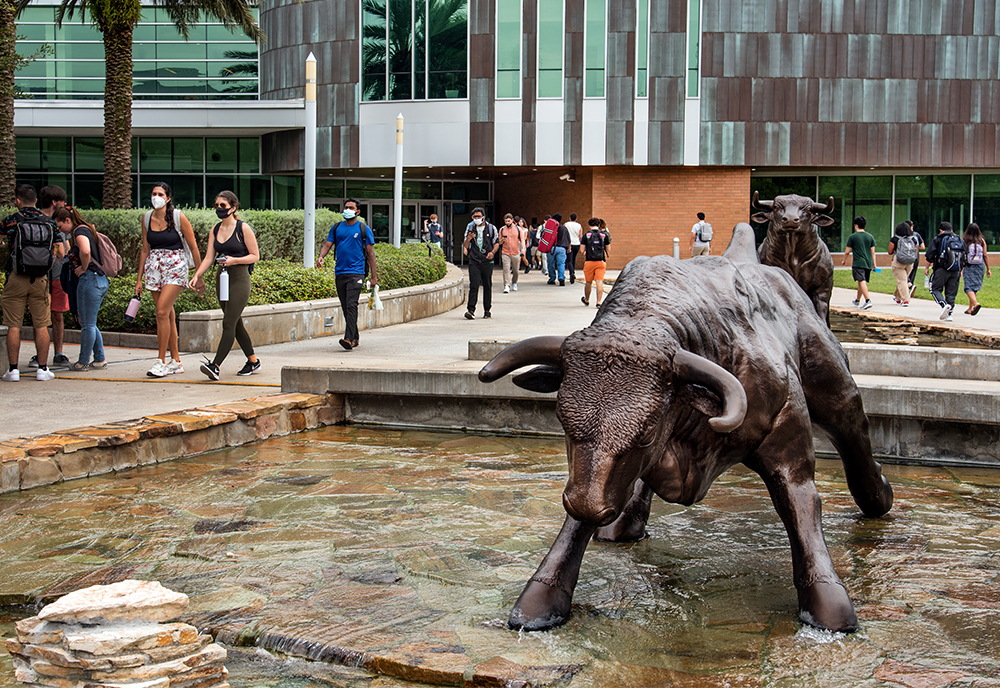 USF has been working toward this achievement for 15 years.
The University of South Florida has accepted an invitation to join the Association of American Universities (AAU), a prestigious group of 71 leading research institutions in the U.S. and Canada. 
USF is the first public university in Florida to be invited to join the AAU in nearly 40 years, and is now one of just two schools from the State University System to become an AAU member. The University of Florida is the other. The University of Miami, a private school, also was invited to join this year.
"The University of South Florida is honored to accept an invitation to become an AAU member and join the most prestigious association in higher education," USF President Rhea Law said. "This is a historic and momentous achievement for USF, especially when considering we were founded in 1956 to now officially be recognized by our peers as one of America's leading research universities. It's a shining example of our university community's determination, innovative spirit and relentless pursuit of excellence. Reaching this milestone only strengthens our ambition to improve lives and positively shape the future of our society."
USF was one of six universities announced Thursday as new AAU members. Prior to this announcement, only four universities had been invited to join in the past 10 years. 
The school has been working toward this achievement for 15 years, staff said, noting AAU membership criteria aligns with USF's mission to positively shape the future for society and transform lives through education, research and innovation.
"Receiving an invitation to join the Association of American Universities is one of the most significant accomplishments in University of South Florida history," USF Board of Trustees Chair Will Weatherford said. "To be asked by our peers to join such a highly regarded group of the top research universities is a credit to our students, faculty, staff, alumni and other supporters. Having an AAU institution located in Tampa Bay will have a major impact on our region and the state of Florida for generations to come."
AAU members typically are awarded the majority of competitively awarded federal research funding, which will help USF grow its research profile, the school said in a press release announcing the accomplishment. 
Membership will also enhance the school's ability to attract faculty and students, and draw new or expanding businesses to the area by being able to tout access to a deep talent pool.
The AAU considers several factors when deciding on member additions, including an institution's research activity, faculty excellence and educational programming quality. It also considers graduation rates and the number of students receiving financial aid through the federal Pell Grant program. 
"We are very proud to have these six distinguished universities from across the United States join AAU," AAU President Barbara R. Snyder said. "We look forward to working with all of these universities to continue advancing higher education and laying the scientific foundation that helps keep our economy strong and our nation healthy and safe."
Of the organization's 71 members, USF is the fifth-youngest university and one of only six founded after 1950.
Following news of USF's inclusion, state leaders heaped praise. 
Senate President Kathleen Passidomo said in a statement that she is proud of USF's achievements, noting the "impact in the state is felt in so many ways, including through (the) expanding pipeline of talent and research that is helping grow Florida's economy."
House Speaker Paul Renner also offered plaudits, calling it "a very proud moment for our state."
"Achieving membership in the AAU is a testament to USF's longstanding commitment to student success, world-class research and faculty excellence," he said. "Joining this prestigious association positions the university to compete for the best talent nationally and accelerates the economic development of the Tampa Bay region and the state of Florida."
Florida Board of Governors Chair Brian Lamb, a former Chair of the USF Board of Trustees, said in a statement that the move is a "historic accomplishment" and "tremendous milestone" for the school, area and state.
"For many years, the University of South Florida has changed lives through research, education and innovation," he said. "Membership in the AAU will provide students and faculty with new academic and research opportunities that seek to address global challenges, creating a transformational impact on generations to come. Congratulations to President Snyder, Law Chair Weatherford and the entire USF community. Go Bulls!"
Added State University System of Florida Chancellor Ray Rodrigues, "USF has been relentless in their pursuit of academic excellence and has been a national leader in student success and research along the way. The trajectory of higher education in Florida is unparalleled and this accomplishment is a shining example of that achievement."
In addition to USF and the University of Miami, other universities welcomed to the AAU include George Washington University, Arizona State University, the University of California Riverside and the University of Notre Dame.