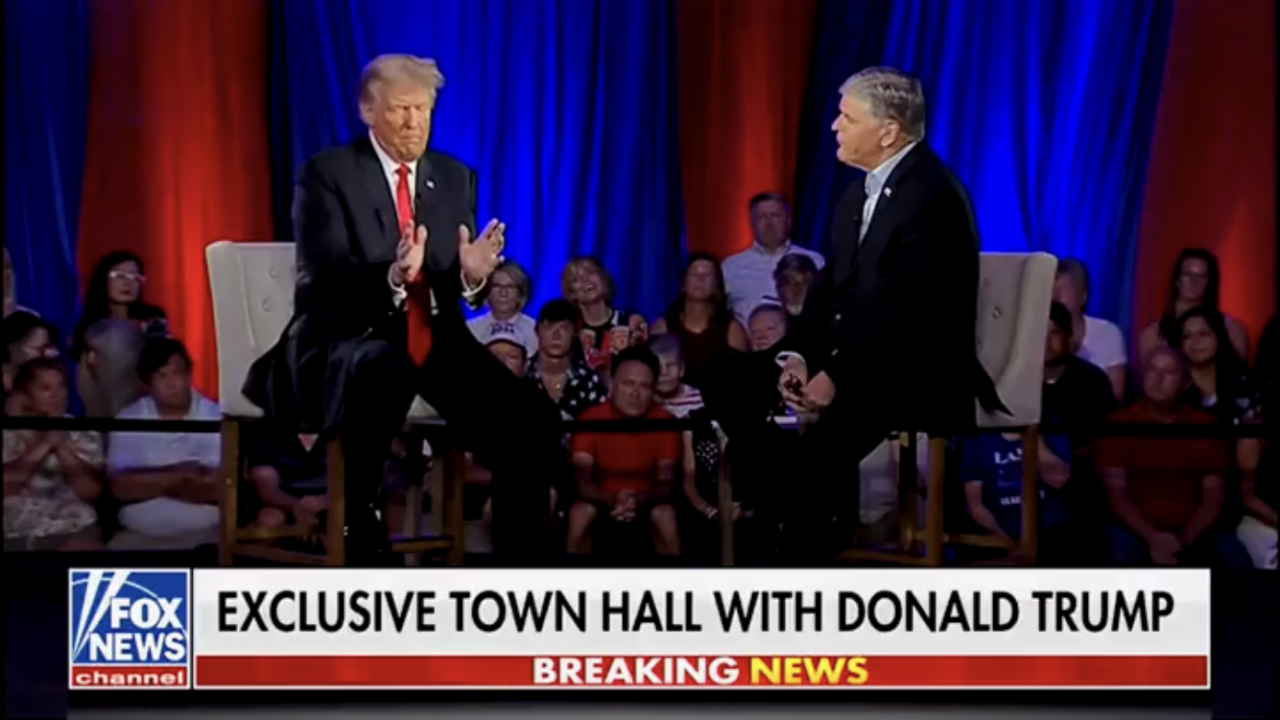 The hits kept coming on a Fox News town hall.
Donald Trump took his attacks on Ron DeSantis to a Fox News town hall with Sean Hannity Thursday.
The event was pre-taped in Iowa, and while the Florida Governor wasn't the sole focus of Trump's rhetoric, he definitely had his turn in Trump's crosshairs.
Among the revelations: he "wouldn't vote for" DeSantis for President, in part because the Governor is claiming he needs "eight years" to reform Washington D.C.
"I heard 'DeSanctis' saying, 'Oh, well, I get eight years. I get eight years. He gets four,'" Trump said, paraphrasing the Governor's argument that unlike Trump, he can serve two terms.
"You don't need four and you don't need eight. You need six months," Trump said.
While DeSantis has wondered why Trump didn't "slay the Deep State" in his first four-year term, Trump continued his argument.
"I said within six months, this can be done," Trump said. You don't need eight years. And frankly, I wouldn't vote for him because he said you need eight years. You need six months."
DeSantis has said that even George Washington couldn't reform D.C. in a single four-year term.
"Let's just be clear, it really does take two terms as President to be able to finish this job. The bureaucracy is so entrenched that I think we can bring George Washington back. And I don't think he could fix it in one single four-year term," DeSantis said in Des Moines this week.
"If he needs eight years, don't vote for him," Trump repeated near the end of the telecast.
Trump also addressed the ever-growing GOP field, saying about the low-polling candidates running that he doesn't "think it matters," before returning to the Governor.
"I really go after the one who's second," Trump said, referring to DeSantis. "And I think the one who's second is going down so much and so rapidly that I don't think he's going to be second that much longer. I think he's going to be third or fourth."
"He had a very bad day today," Trump quipped. "He got very angry at the press. You're not allowed to get angry at the press. At the fake news, he got angry."
Indeed, DeSantis deflected a question from a reporter about not taking questions from voters during a post-speech meet and greet in New Hampshire, with a withering riposte: "Are you blind?"
Trump then added that he was "44 points above Number 2" and claimed DeSantis isn't "doing well against Biden."