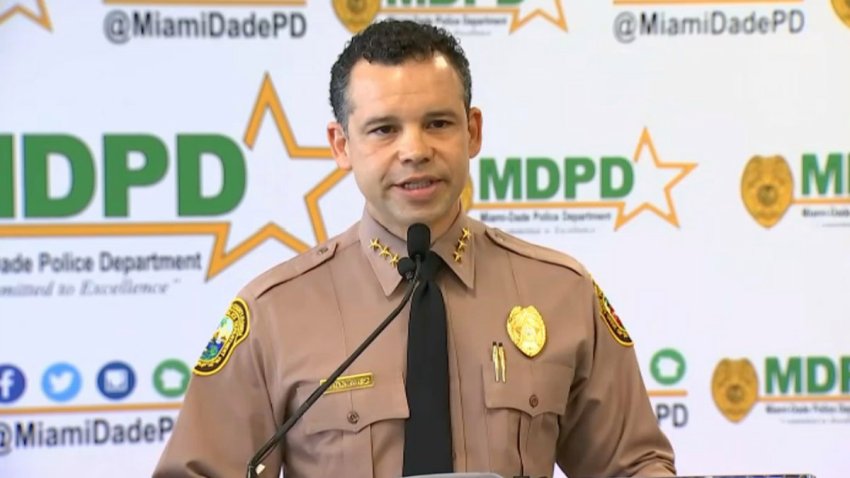 'Our success thus far reflects our shared belief that public safety should not be political.'
Miami-Dade County Police Director Freddy Ramirez's first month of fundraising was a fruitful one, according to his campaign, which says he amassed more than $100K in May.
That haul, he said, reflects strong community support and the county's commitment to electing a Sheriff next year who has the experience necessary to keep residents safe.
"I am humbled and grateful for the tremendous support our campaign has received in such a short period," he said in a statement.
"Our success thus far reflects our shared belief that public safety should not be political. With nearly three decades of law enforcement experience, my leadership is tested, proven, and marked by a commitment to creating safer communities — I won't leave anyone behind."
Official fundraising reports from Ramirez and four others running for the Sheriff job — Jasper Bishop, Ruamen de la Rua, Mario Knapp and Rickey Mitchell — are due June 12. Mitchell, the only Democrat other than Ramirez in the race, reported raising $77,000 since March. De la Rua, one of three Republicans running, has amassed $7,000 since November.
Ramirez filed to run May 1.
A Miami-Dade native and career member of its Police Department, Ramirez spent the better part of 28 years on the force working his way up the ranks to lead more than 3,000 sworn officers and a 1,000-plus civilian staff.
Under his watch, his campaign said Miam-Dade has achieved one of the lowest rates of gun violence in the nation and deftly navigated safety response during the pandemic. The campaign also noted his oversight in responding to the March 2018 bridge collapse near Florida International University; the June 2021 condo collapse in Surfside; and numerous public safety initiatives, including "Operation Community Shield," which has led to the removal of 2,500 illegal guns from the streets so far.
Ramirez also oversaw the establishment of a homicide task force in response to police shootings, innovations on police training and a local ban on choke-holds.
"Throughout my career in law enforcement, I've led with integrity, transparency and trust so that all residents can feel safe in our communities, and I will continue to prove that every single day," he said. "I take my duty to protect and serve very seriously; public safety is number one."
Miami-Dade is the only county in Florida that does not have an elected Sheriff. County voters eliminated their Sheriff more than half a century ago after a 1966 grand jury report revealed rampant racketeering and bribery within the department.
The county's unique home rule powers insulated it from legislative preemption on the matter for decades until 2018, when 58% of Miami-Dade voters joined a statewide supermajority in approving a constitutional amendment to require every Sheriff, Tax Collector, Property Appraiser, Clerk of Courts and Supervisor of Elections to be chosen by their electorates by 2025.
The 2024 Primary Election is on Aug. 20, followed by the General Election Nov. 5.