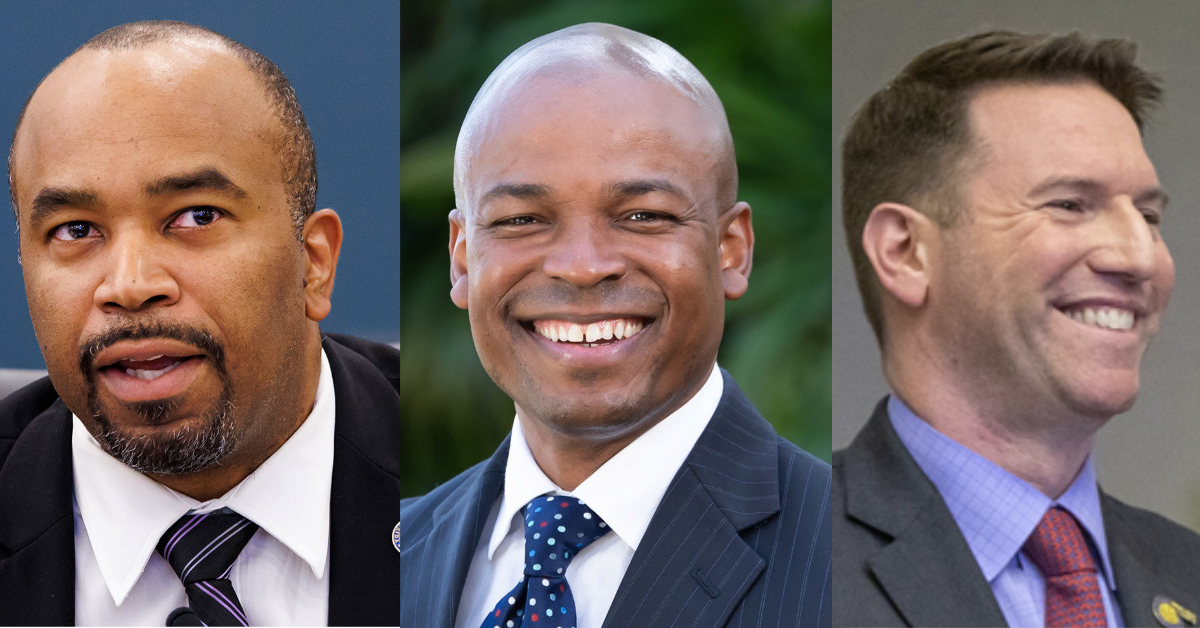 A Democratic line of succession is forming in Palm Beach County.
West Palm Beach Democratic Rep. David Silvers is postponing a campaign for Senate so Sen. Bobby Powell and Palm Beach Commissioner Mack Bernard can more easily attempt a seat swap next year.
Powell has filed his intent to run for the District 7 seat on the County Commission, where Bernard has served since 2016.
Bernard, who reaches term limits in 2024, has filed his intent to run for the seat representing Senate District 24, which Powell has held for the same stretch of time.
Silvers previously contemplated a run at SD 24, which overlaps with much of his House district, but said he will step aside for now in favor of a run at Senate District 26 in 2026, when Democratic Sen. Lori Berman terms out.
"I feel it is important to avoid costly Democratic primaries so we can focus on the issues our constituency cares about," he said. "I'm proud to support Commissioner Mack Bernard for (SD 24) and look forward to working with him in the future."
Bernard, a long-serving elected official, believes his broad experience in public service makes him a standout candidate for the Florida Legislature's upper chamber.
"I have served our community at the state, county and municipal level," Bernard said. "As a County Commissioner, I have worked to reduce our unemployment rate, create more affordable housing options, protect our water resources and environment, and cut property taxes.
"As a state Senator, I will be ready to hit the ground running on Day 1."
First elected in 2008 as a Delray Beach City Commissioner and Deputy Vice-Mayor, Bernard won a seat in the Florida House a year later, serving through 2012.
During his time in Tallahassee, his campaign said, he focused on creating jobs, expanding protections for women's health care and equality, and increasing funding for public education. He also served as President of the Palm Beach County Caucus of Black Elected Officials.

In 2016, he won election to the Palm Beach Commission, where he's served terms as both Mayor and Vice Mayor. While there, his work on affordable housing initiatives won him recognition as "Housing Hero of the Year" from the Housing Leadership Council of Palm Beach County.
He's also served on the Florida Association of Counties' Tax, Finance and Administration Committee and the Florida Elections Commission.
His community involvements include time as Secretary and Treasurer of the Board of Leadership Florida, Chair of the Palm Beach Homeless Advisory Board, and Chair and Vice Chair of the Solid Waste Authority of Palm Beach County, among others.
Both Powell and Bernard face opposition.
Powell will face at least one candidate, a lawyer and fellow Democrat named Richard Ryles. Bernard, meanwhile, will have to go through Republican Ryan Chamberlain if he clears the Democratic Primary for which no others have yet filed.
SD 24 spans a large portion of Palm Beach County's coast from Hypoluxo to North Palm Beach.
Palm Beach Commission District 7 includes all or part of Briny Breezes, Delray Beach, Gulf Stream, Hypoluxo, Lantana, Mangonia Park, Palm Beach, Palm Beach Shores, Riviera Beach, South Palm Beach and West Palm Beach.
The General Election is on Nov. 5, 2024.