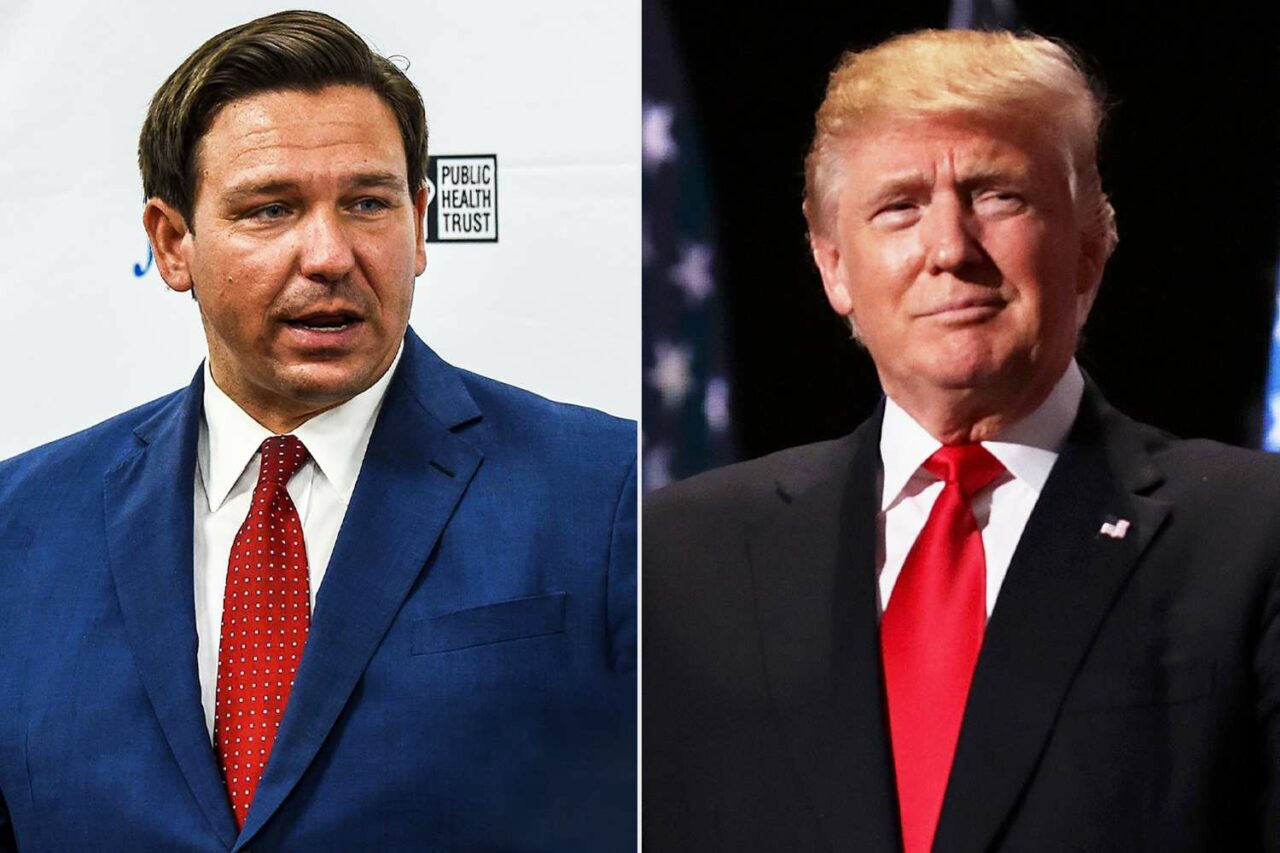 Amid a brutal primary fight, DeSantis throws Trump an apparently appreciated rhetorical lifeline.
Despite the brutal back-and-forth between the campaigns of Ron DeSantis and Donald Trump, they can agree on some things.
One of them, apparently, is the perceived injustice of the latest indictment of the former President for mishandling classified documents.
Trump's supportive Make America Great Again super PAC, which has trashed the Florida Governor for months, found itself in the paradoxical position of spotlighting a supportive statement from DeSantis as part of a raft of "Republicans rally around Trump" quotes.
"The weaponization of federal law enforcement represents a mortal threat to a free society," DeSantis tweeted. "We have for years witnessed an uneven application of the law depending upon political affiliation. Why so zealous in pursuing Trump yet so passive about Hillary Clinton or Hunter Biden?"
The Trump release didn't include DeSantis' last sentence: "The DeSantis administration will bring accountability to the DOJ, excise political bias and end weaponization once and for all."
DeSantis' defense of Trump and attacks on people who were never President was embedded in an email in which at least one other 2024 opponent (U.S. Sen. Tim Scott) offered statements of support, along with U.S. Sen. Marco Rubio and Trump-supportive members of the Florida U.S. House Delegation such as U.S. Reps. Byron Donalds, Matt Gaetz and Greg Steube.
The on-message DeSantis statement was a contrast to his off-the-cuff response to Trump's previous indictment this year before it actually happened, one that irked the former President and at least one member of his family.
After offering the requisite lamentation about "Soros-funded prosecutors" who "weaponize" prosecution back in March, DeSantis went off script and seemingly mocked Trump for "porn star hush money" allegedly paid to Stormy Daniels years ago.
"You're talking about this situation, and like, I don't know what goes into paying hush money to a porn star to secure silence over some type of alleged affair. I just can't speak to that," DeSantis said.
Trump World was not happy.
On Truth Social, the former President pilloried the Florida Governor, casting aspersions on his heterosexuality in the process.
"Ron DeSanctimonious will probably find out about FALSE ACCUSATIONS & FAKE STORIES sometime in the future, as he gets older, wiser, and better known, when he's unfairly and illegally attacked by a woman, even classmates that are 'underage' (or possibly a man!). I'm sure he will want to fight these misfits just like I do!"
The former President's son was upset that DeSantis took too long to demonstrate outrage.
"So DeSantis thinks that Dems weaponizing the law to indict President Trump is a 'manufactured circus' & isn't a 'real issue,'" Trump Jr. tweeted. "Pure weakness. Now we know why he was silent all weekend."
DeSantis will be giving political speeches this weekend in Greensboro, North Carolina and Tulsa, Oklahoma. Odds are good he sticks to the narrowly tailored party loyalist defense, if this statement is any indication.
Expect the Governor's in-state supporters to offer defenses of Trump also, including Attorney General Ashley Moody, who began her Friday on the Fox News Channel doing just that.
"My reaction is the same as every other American. It may be heightened in the sense that I was a former federal prosecutor," Moody said. "It shatters the appearance of integrity, the apolitical nature, equal application of the rule of law in this nation. That is what we are founded on, that is a pillar of a government by the people."
"And it is shocking that this is coming in in a nation as great as ours that has a history of fairness within our institutions," Moody added. "It's a sad day for Americans, but those of us that have served in the government as prosecutors, I think we're waking up in disbelief this morning."