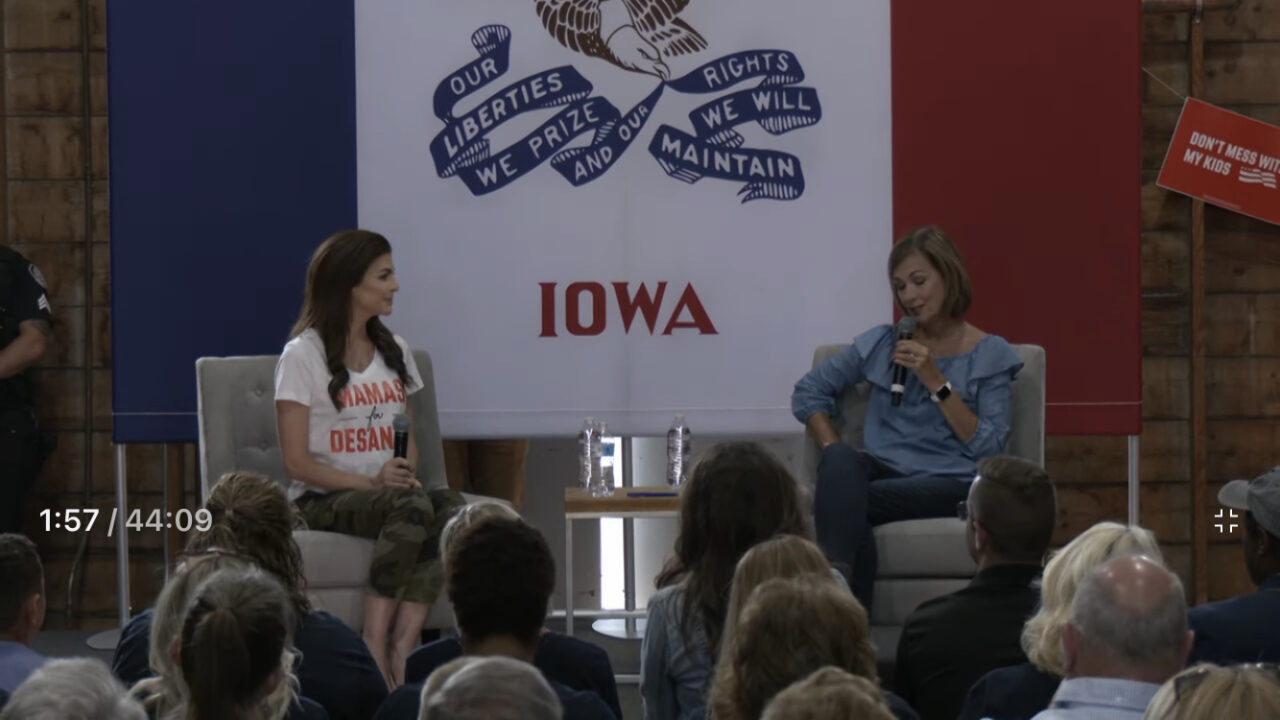 The First Lady talked child rearing in 'the Free State of Iowa.'
First Lady Casey DeSantis launched Iowa's version of "Mamas for DeSantis" to boost her husband's run for President.
"It's not just the Free State of Florida. It's the Free State of Iowa," Mrs. DeSantis said, extolling host Gov. Kim Reynolds and finding "similarities" abound between Florida and Iowa, which the Governor has called the "Florida of the North" previously.
Freedom and correlation were themes, of course, while her speech was full of anecdotes to forge a bond with the mothers of the Hawkeye State.
Among the revelations: three-year-old Mamie, her youngest daughter, is a fan of Iowa's staple agricultural export.
"She will eat corn like it's no one's business," Mrs. DeSantis said, noting she ate both her brother's and sister's corn, and saying she'd promised Mamie some "sweet corn" from this campaign visit.
It wasn't all corn talk from Casey DeSantis, however. She also revealed Mamie is a fan of the pop song "This Girl Is on Fire" and is going through a "princess" phase.
"Now we go to bed in full regalia," she said, noting that Mamie sleeps wearing earrings and with a "wand," rather than pajamas.
Madison, the oldest daughter, also took her turn as a narrative focus. Mrs. DeSantis noted that during an interview, Madison sat on her lap.
"Everything was going well," the First Lady noted, until Madison got up and walked off the stage, only to return during the last question.
"I start to get this tug, tug, tug on my shirt sleeve. And you know what she needed? She needed to go to the bathroom," Mrs. DeSantis said, explaining why none of her kids were at the Mamas event.
The crowd got a kick out of anecdotes about the Governor's Mansion and moves to "protect it" and its "irreplaceable history" from Mamie's "macaroni-and-cheese-colored crayons" and "getting slime out of Oriental rugs," as well as the "roof" and "ceiling."
"It's the People's House. And try explaining to a 5-year-old what the People's House is," Mrs. DeSantis said.
Mrs. DeSantis also offered more serious stories, including about overcoming cancer and how that forged her commitment to "fight for Ron DeSantis," who is uniquely equipped to "clean house" in Washington and fight for parents. To that end, she said she is willing to "crisscross the country."
The anecdotes soon enough gave way to an explanation of why "so many moms came out in support of the Governor in Florida," explaining that he "held the line" and created the groundwork for a "parental empowerment revolution."
The DeSantis campaign's hope is that this work helps to turn around polling that's going the way of former President Donald Trump.
The Race to the White House average for the state shows Trump leading DeSantis, 41% to 18%.