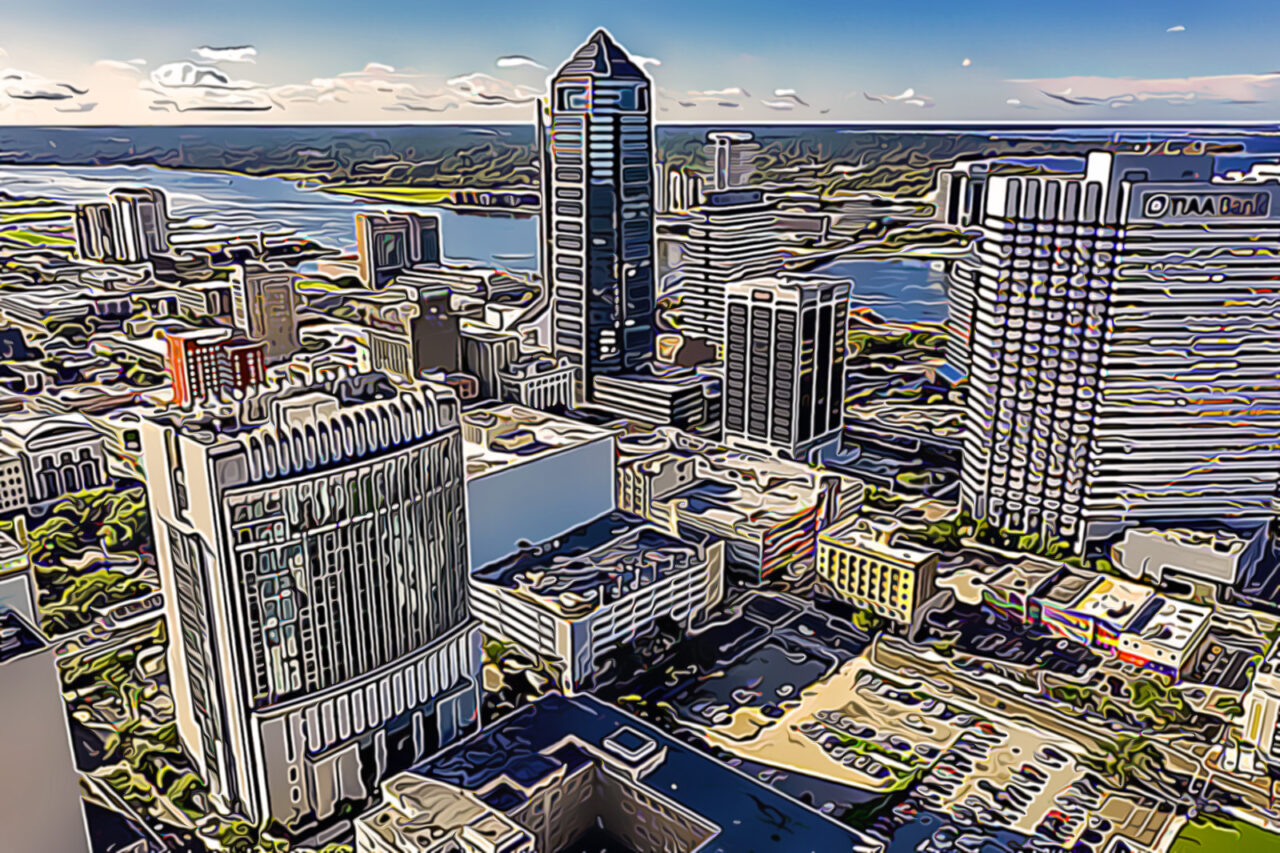 It's budget time in Jacksonville!
It's the most wonderful time of the year.
Andy Williams' sentiment about Christmas translates to the Jacksonville City Council's Christmas in August.
Namely, hearings for the proposed Donna Deegan budget begin their day with long meetings Thursday and Friday this week, meeting from 9 a.m. to 5 p.m. each day.
Thursday's hearings could be must-see TV, with the budget overview, the Sheriff's Office budget, and Fire and Rescue all on the same day, in addition to the General Counsel budget (notable given the new administration is still considering candidates).

Friday's highlight, meanwhile, could be the Police and Fire Pension Fund, which is still a source of significant debt for the city.
The fun doesn't stop there, though. Next week sees the same schedule on Thursday and Friday, with the latter-day including capital improvement budgets for the independent authorities and the Neighborhoods budget.
From there, three more daylong meetings are set for Wednesday, Thursday, and Friday of the following week, which should finalize the committee hearings on the budget and set up some form of the proposal for consideration and passage by the full City Council. Aug. 23 will deal with the larger capital budget and debt affordability, while the next day will deal with the Kids Hope Alliance — notable given the Deegan administration's yearning to restart the Jacksonville Journey.
Finance hearings are more interesting in some years than others. Arguably the most compelling slate of the Lenny Curry era was when then-Council President Anna Brosche (who will be CFO starting in October after the new budget takes effect) appointed four African American Democrats who supported her bid for leadership to the committee. They pushed back against some aspects of the Curry budget, including funding for the Jacksonville Sheriff's Office, but made a few changes to the document.
This time around? It's a new Democratic Mayor dealing with a supermajority Finance Committee chaired by Nick Howland, a more partisan Republican than some on the Council. One constant from the Curry era will be interim CFO Mike Weinstein, who oversaw the budget process for the former Mayor in his first term. But Weinstein may deal with sharper questions given the partisan divide between the executive and legislative branches.
Howland said he and Weinstein, whom he's known for years, are "getting along very well" in early discussions. The chair demurred from offering specific critiques of the budget, saying he'd prefer to advance them during the actual meetings, but guaranteed there would be things he will "have specific questions on."
He expects the same from the committee, noting "different political philosophies" with the Mayor's Office and saying the committee will be "fiscally responsible." He says a "good partnership" is being forged between him and the Mayor's Office.
Delaney on board
The son of one of the most successful GOP Mayors in Jacksonville history is headed to the Deegan administration to serve as a City Council liaison.
Bill Delaney will join the team on Aug. 28, helping former Republican Council President Scott Wilson manage the relationship between the Democratic Mayor's office and the supermajority legislative branch.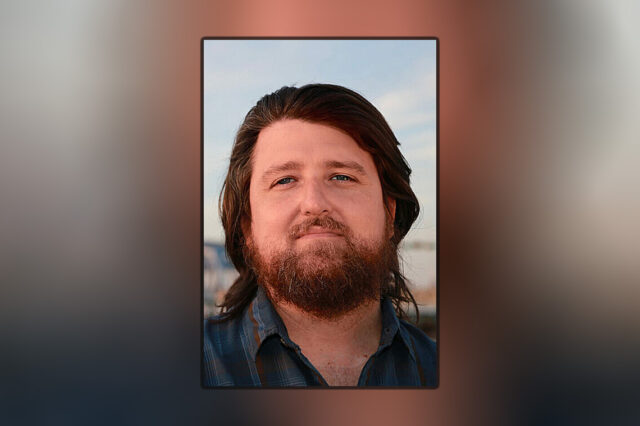 Delaney is, per an author bio for his Jacksonville Today column, "a writer, marketing director and higher education professional whose writing focuses on the culture and history of the First Coast. He is co-owner and editor of The Jaxson, Modern Cities and Edible Northeast Florida magazine and author of the book Secret Jacksonville: A Guide to the Weird, Wonderful and Obscure."
His father, John Delaney, led the city from 1993 to 2001. He has been a part of the Deegan transition with a critical role in helping to select the city's new General Counsel.
"He is a great young man and incredibly bright. We, of course, talked about the role. When asked for advice by those running for office, I always respond to understand both sides of a bill, who will oppose and why. An ordinance or statute touches a human being, so making sure that one understands the consequence of a decision. In a liaison role, on occasion, he may have to advocate for a position that he does not believe in. That is when it gets tough," John Delaney told Bold.
"But he is enthusiastic to help the Mayor. I've bumped into both (Chief Administrative Officer) Karen Bowling and the Mayor, who said they are excited to get his viewpoints and perspectives. He is a talent. We don't agree on all policy or political issues but have not once argued over anything. Well, setting aside his teenage years!!"
New leadership
The Jacksonville Civic Council has selected Dennis Whittle, MPA, as its new CEO and president, effective next month. He will replace Jeanne Miller in the role.
Whittle, who has a bachelor's degree from the University of North Carolina at Chapel Hill and a master's in public administration from Princeton University, has served as visiting lecturer at Princeton, professor of the practice at UNC-Chapel Hill and visiting scholar at NYU.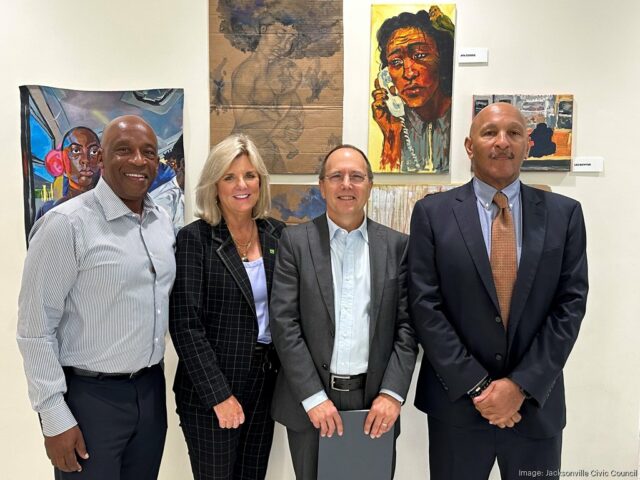 "Dennis is an excellent choice to lead the JCC now and into the future," said Eric Mann, Chair of the JCC Board. "He will be responsible for leading the JCC through implementing the organization's recently adopted strategic plan, which will continue to strengthen and expand JCC's impact in our community."
"The history of this organization, along with its value to our community, are what drew me to this role," said Whittle. "I'm honored to have the opportunity to put my skills to work in resolving the issues facing our city through problem-solving and advocacy."
The JCC's search committee included notable nonprofit and business leaders, such as Henry Brown, Emily Dawkins, Marty Fiorentino, Fred Franklin, Kevin Hyde, Cindy Stover and Dave Sweeney.
Who can judge?
With Jonathan Sacks getting promoted to the 4th Judicial Circuit Bench, it's up to the Jacksonville Bar Association to review potential Sacks replacements on the Duval County Court.
Friday, Aug. 18, brings a round of interviews. Here are the candidates in the order interviewed: James LeMieux; Phil Bavington; James Nealis; Isaac East; Marquita Green; Katelyn Johnston; Matthew LuFrano; Joshua Beard; Nancy Cleaveland; and David Wainer.
Interviews will be at the Duval County Courthouse, Room 7139, in the chambers of Judge Lance Day.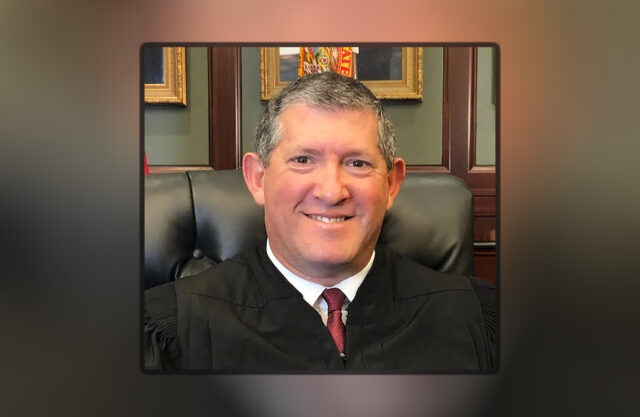 Are you looking to drop a dime on these contenders? Interested parties have until Thursday, Aug. 17, to make relevant information known to the JBA.
Interviews are open to the public. While deliberations are not, all application materials are a matter of public record and will be submitted to Gov. Ron DeSantis, who will ultimately make the call.
Insurance crisis
Rep. Angie Nixon may be the most recurrent regional critic of the DeSantis administration and an op-ed this week in the Florida Times-Union about the spiraling cost of property insurance adds to her list of grievances.
"All that has been accomplished by so-called 'reforms' pushed by Republican leadership the last few years is a $3 billion bailout provided to their donors in the insurance industry. They've made it almost impossible to sue a company that wrongfully denies a claim and are now forcing homeowners off their cheaper Citizens plans into new private plans that can cost up to 20% more in the first year alone," Nixon writes.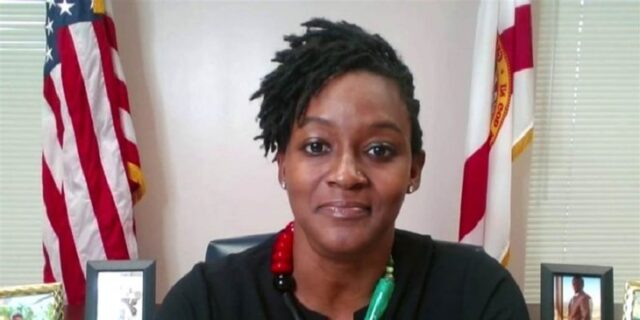 The Jacksonville Democrat argues, "Florida is now unaffordable for many Floridians, with one of the biggest drivers being our collapsing property insurance market. You either know someone affected or have felt the pain yourself of 40%, 50% or 60% jumps in premiums with no end in sight."
"You deserve better than hollow promises. Because while our faith is strong, our will to get things done for people in need must be stronger," Nixon adds. "Floridians can't afford to wait any longer."
Mayo and more
The new U.S. News and World Report ranking of local hospitals has finally dropped. And Mayo Clinic is the cream of the crop.
Mayo is #1 in Jacksonville, with national rankings in specialties including diabetes, where it's 16th nationally; gastroenterology and neurology, where it's 24th for both specialties; cancer, where it's the 27th best facility in the country; geriatrics, where it's 27th; and cardiovascular surgery and orthopedics, where it's 29th in both counts.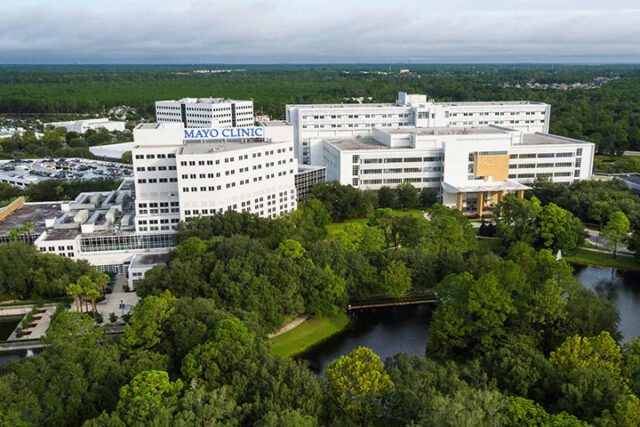 Baptist Medical Center is regarded as the second-best in the city. It is 30th in the nation for pediatric diabetes and endocrinology and 37th for pediatric neurology and neurosurgery.
Coming in third, meanwhile, is Northeast Florida's safety net hospital. UF Health is in third place, followed by Ascension St. Vincent Clay County and Riverside Hospitals in fourth and fifth.
Toyota motors on
It's full speed ahead for Southeast Toyota Distributors, with the city of Jacksonville giving the green light to a facility expansion on the Westside on Pritchard Road.
"The city issued a permit Aug. 4 for Evans General Contractors to make tenant improvements for Southeast Toyota Distributors LLC in Westlake Industrial Park at a job cost of $21 million," reports the Jacksonville Daily Record.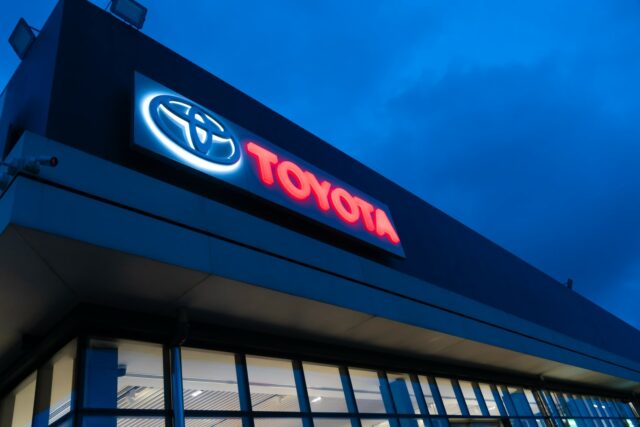 The renovation job will be handled by Evans General Contractors of Savannah, allowing Southeast Toyota Distributors to consolidate parts distribution at the facility.
"We are in the midst of the largest investment in our history," said Brent Sergot, president of Southeast Toyota Distributors, in a statement on April 14 reported by the Daily Record.
"With the continued population migration to the Southeast, it is imperative that we continue to look for new ways to evolve our approach to best serve the Toyota dealers in our region."
BBQ bounce
Jacksonville is a top 10 city in at least one crucial ranking.
Real Estate Witch rates the city as having the "rib eye of the tiger" (not our pun, don't blame us), contending the city is #9 nationally for barbecue — ahead of Miami, Tampa, and Orlando in that key metric.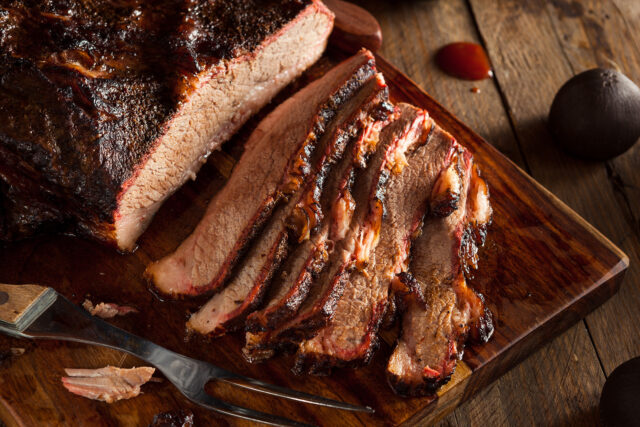 "One reason Jacksonville shines is its bounty of BBQ restaurants. Jacksonville has 3.4 BBQ restaurants per 100,000 people — 48% more than the average city on our list (2.3 per 100,000). Jacksonville also provides options for diners on the dash, with 1.1 BBQ food trucks per 100,000 people — 57% more than the average city (0.7 per 100,000)," the analysis gushes.
Meanwhile, the city has no peer when it comes to collard greens, top ranking nationally in "online search interest" for the term.
"Overall, the city earned a 77 out of 100 in our Google Trends metric, based on search volume for terms related to BBQ. That's 12% better than the average city's score of 69 out of 100."
Shrinkage
Jacksonville is growing. But the Duval County School District is losing market share — and therefore, money — in the wake of expanded vouchers that allow parents and students to use taxpayer funds to explore private or charter options.
"Just 68% of Duval County's school-age children attended district-run public schools last school year. District budget forecasts anticipate the number of traditional, 'full-time equivalent students' will dip below 100,000 this school year, a 9% drop from five years ago," reports Jacksonville Today.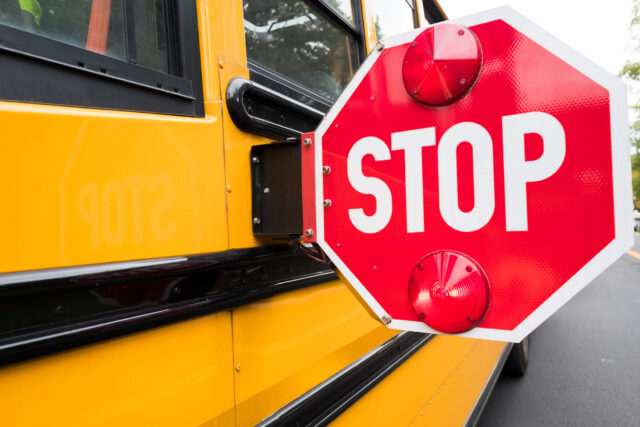 Universal vouchers, which allow students from all income levels to get a leg up from the state if they want to attend something that isn't a public school, are expected to drive the departure even more.
"About $100 million of Duval County state education dollars are set to be reallocated for vouchers this school year. That's 16% of Duval County's state-allocated budget, even though just 10% of Duval's total FTE are voucher students, increasing public schools' reliance on local funds," Jacksonville Today notes.
The school district faces challenges going forward. And they will be left to the new Superintendent to resolve. Recall that Diana Greene was pushed out of her role earlier this year, and the district is still searching for a permanent replacement.
Extreme makeover
The St. Johns Builders Council is partnering with the Emergency Services and Homeless Coalition of St. Johns County to bring new life to a century-old home on their West St. Augustine campus.
SJBC, a regional council of The Northeast Florida Builders Association, took up the project under the leadership of Seth Kelley of MasterCraft Builder Group, who was also the SJBC Board Chair for 2022.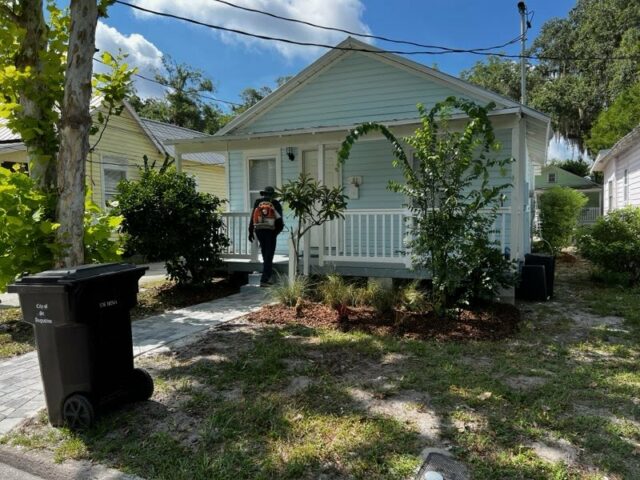 The board voted to adopt 61 Chapin Street at the Homeless Coalition's campus. It started to work with a group of volunteers and professionals to make the home safe and hospitable again for the Homeless Coalition.
The mission for the property was to provide homeless families with minor children with housing and services required for them to remain intact, stabilize their lives, save toward affordable permanent housing, and break the cycle of homelessness.
Work began in earnest in early October 2022. The crew expected to make framing and cosmetic repairs. Still, it was soon discovered that the 100-year-old home, originally built for railroad workers establishing the East Coast railway, needed extensive work across almost all homebuilding disciplines, including rough carpentry, electrical, plumbing, HVAC, drywall and more.
SJBC and several of its members reached out for help from suppliers, tradespeople and NEFBA members to help supply material and expertise to bring the home back to life.
"We couldn't have completed this project without the support of over 36 building partners and members," Kelley said. "If we asked, they said yes — nobody ever said no. Especially Jackie and Parker Rowland with Russell Rowland, Mitch Szymczyk with Tri-State Builders, Justin Shonk with Gleckler and Sons Construction and Building Materials, Jamie Warrington with Builders FirstSource, and Steve Brogdon with Brogdon Builders — they were all so generous. I'm extremely proud and humbled by this experience."
After many weeks of professional and volunteer hard work, the SJBC completed the monumental task, turning the keys back over to the Executive Director of the ESHC, Debi Redding, on June 26. The next chapter in the home's life began June 28, when a single mom and her young son moved in.
Helping hand
The weight of higher education just got a little lighter for 20 nearby high school students, courtesy of the International Longshoreman's Association Local 1408.
The maritime worker union awarded the students with scholarships totaling more than $40,000 at a recent ceremony at Edward Waters University.
Mayor Deegan, who delivered the keynote address, told the recipients she was "inspired" by the city's "future leaders."
"You're here today because of your unwavering hard work and dedication to your community," she said.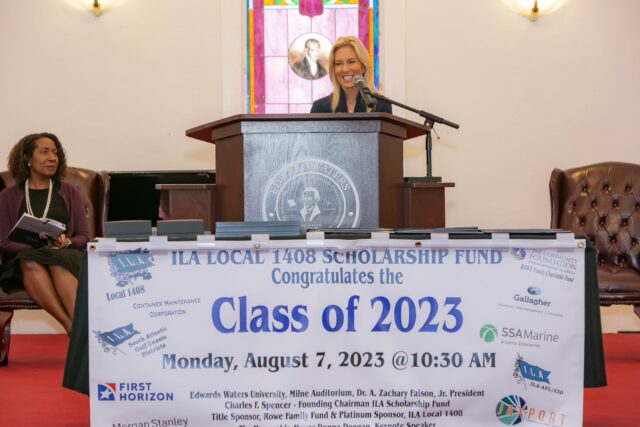 Jax native and union executive Charles Spencer established the scholarship in 1995. Since then, he's awarded more than a million dollars to students, many of whom have been first-generation collegegoers.
"It is a blessing to be able to provide scholarships to deserving students every year," he said.
The extra help makes college "less of a burden for us," added Synihia Campbell, a scholarship recipient and Paxon School for Advanced Studies graduate.
Cuppa Jax
Samuel Vilchez Santiago, state director of the American Business Immigration Coalition, will be guest speaker at the next Cuppa Jax on Wednesday, Aug. 6.
ABIC advocates common-sense immigration reform that advances economic competitiveness, provides companies with the high-skilled and low-skilled talent they need, and allows the integration of immigrants into our economy as consumers, workers, entrepreneurs, and citizens.
Santiago is originally from Venezuela and came to the U.S. as a political asylee at an early age.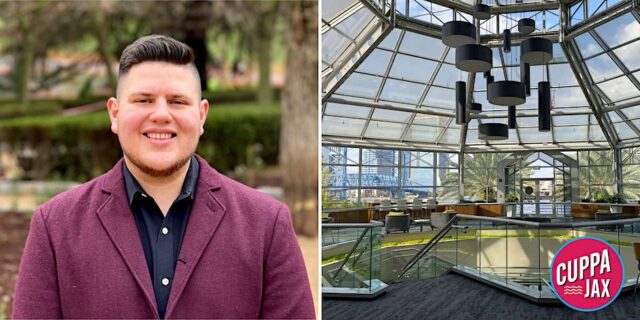 Before joining ABIC, Santiago was the Human and Civil Rights Manager at ActBlue and the Florida Campaign Manager at The Leadership Conference on Civil and Human Rights, an umbrella coalition of national civil rights organizations. He obtained a bachelor's degree from Princeton University and a Master of Public Policy at the University of Oxford.
Santiago is also a recipient of President Obama's Volunteer Service Award and the Congressional Youth Award.
Cuppa Jax begins at 8 a.m. at the Skyline Room, Riverplace Tower, 1301 Riverplace Blvd. in Jacksonville. Tickets are $15, with breakfast provided by Village Bread Cafe.
Jaguars' preseason
The Jacksonville Jaguars open the preseason schedule on Saturday in Dallas against the Cowboys.
There are fewer questions in this preseason for the Jaguars compared to past years. Most of this year's questions revolve around the high expectations placed on the team after last season's playoff run.
There are a few position battles to watch as the preseason schedule opens, but most are about determining depth rather than starting jobs.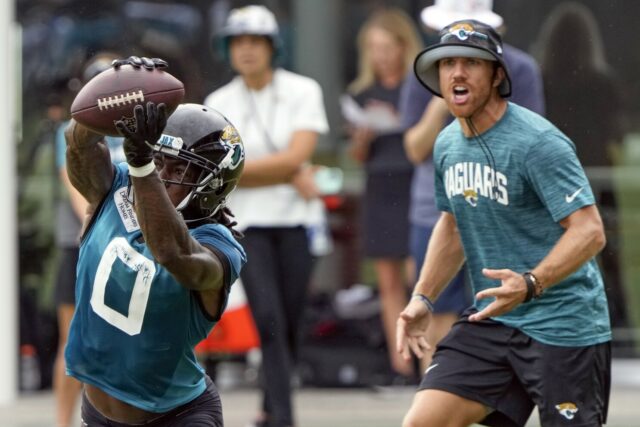 The exception on offense is the left guard position, where Tyler Shatley was expected to start. But Shatley experienced an abnormal heartbeat last week and is listed as the fourth-string left tackle on the team's official depth chart.
That leaves Blake Hance, Chandler Brewer and rookie Samuel Jackson to compete at the position. It is very difficult to get a feel for how linemen perform in training camp since most practices aren't full-speed, full-contact situations.
A couple of other interesting notes about the depth chart:
— The Jaguars list 12 starters on offense, including three wide receivers (Calvin Ridley, Christian Kirk and Zay Jones) and two tight ends (Evan Engram and Luke Farrell). This is a nod to the multiple formations the Jaguars can employ on offense.
— Only one rookie is listed as a starter, first-round pick Anton Harrison at right tackle.
— The Jaguars also list 12 starters on defense, including three cornerbacks. Tre Herndon is listed as a starter, along with Tyson Campbell and Darious Williams. Keep an eye on rookie Antonio Johnson on Saturday. He's listed as the third-team free safety but could also be used as a nickel cornerback.
— Don't expect to see Jamal Agnew used on returns very much. He's a well-known quantity. I expect rookie Parker Washington to get a lot of looks returning kicks and punts.
It's also worth noting that one of the Jaguars' most significant wins of last season came against the Cowboys. Rayshawn Jenkins' pick-six gave the Jaguars an overtime win, without which they would not have won the division and earned a playoff spot.