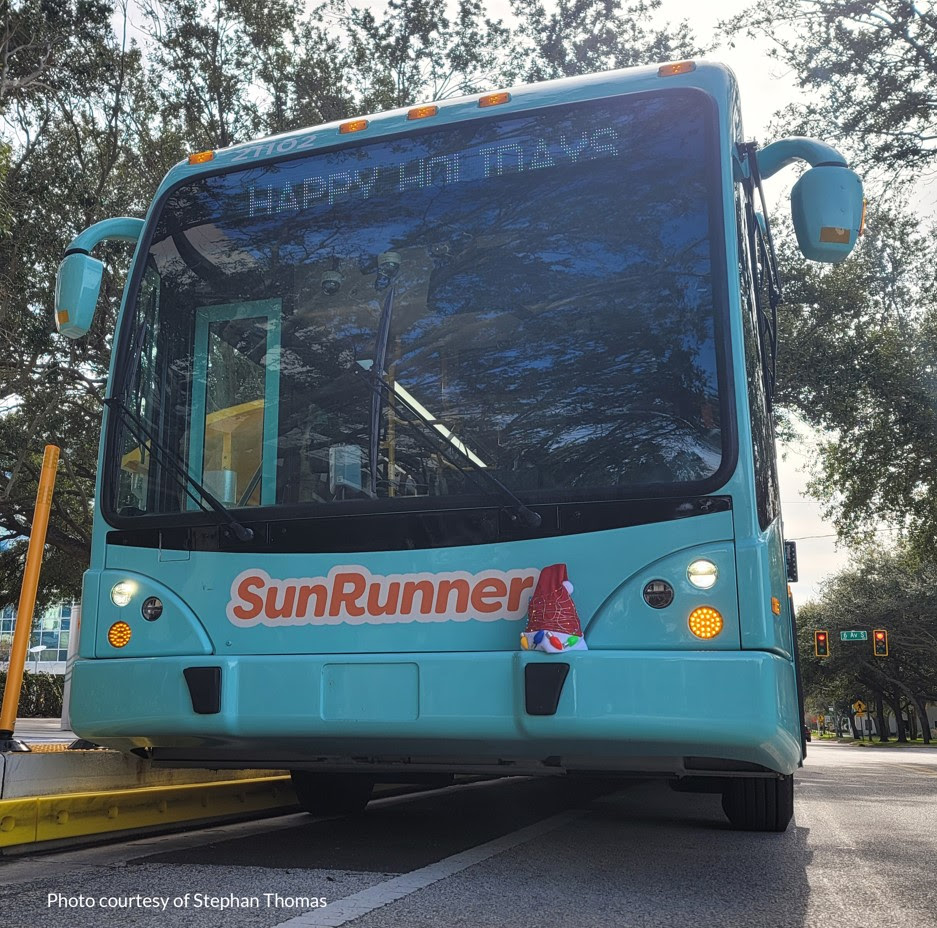 It's the 1st time in the agency's history it has earned the honor.
The Pinellas Suncoast Transit Authority (PSTA) has earned this year's Outstanding Public Transportation System award from the American Public Transportation Association (APTA).
It's the first time in PSTA's 39-year history it has been awarded the group's top honor.
The award recognizes the transit agency with the highest achievement across 12 metrics, from safety and operations to customer service and environmental sustainability.
"We are extremely humbled to receive such high praise," PSTA CEO Brad Miller said. "I may be a bit biased and have known we were No. 1 for a long time, but receiving this national recognition is so gratifying because it reflects our employees' hard work and dedication to making PSTA the leader in public transit, not just here in the Tampa Bay area, but across the country."
The award comes less than a year after PSTA launched its new SunRunner service, the first-ever bus rapid transit route in the region, which connects downtown St. Pete to St. Pete Beach with dedicated lanes along First Avenues North and South. The service, which is still operating fare-free, has been widely popular and has consistently exceeded PSTA's expectations.
"It is truly a team effort between our staff, board of directors, state and federal lawmakers, and so many other leaders in Pinellas County and throughout Tampa Bay who have supported us, our vision and our goal to improve the community," Miller added of the recognition.
The award recognizes achievements over three years (2020-2022) in the medium-sized agency division. Previous winners were Kansas City in 2022 and Sacramento in 2021.
The agency attributes its success to bouncing back after the COVID-19 pandemic, with ridership numbers recovering to pre-pandemic levels and, in many cases, exceeding them.
The agency also developed partnerships with Uber and Lyft for its Mobility-on-Demand and Access services, a paratransit service that serves riders with disabilities.
PSTA has also taken efforts to improve safety. The agency is the only one in Florida two have three Gold Standard Awards, and one of only four nationwide. Some safety enhancements include plexiglass barriers to protect drivers and, during the pandemic, fare-free service to avoid crowds at fareboxes, and the implementation of rear-door boarding.
The agency also touts its commitment to sustainability, with 14 new electric buses to be added this year. That will bring its fleet to 50% clean hybrid-electric and electric vehicles. The achievement is expected to save more than 172,000 gallons of diesel fuel in 2024.
Additionally, PSTA officials attribute the award to outstanding customer service, which is not outsourced; fully staffed bus operations,]; and quality workforce development that includes a one-year leadership development program for high-potential employees.
PSTA will officially receive its award at APTA's 2023 TRANSform Conference & Expo in Orlando this October.