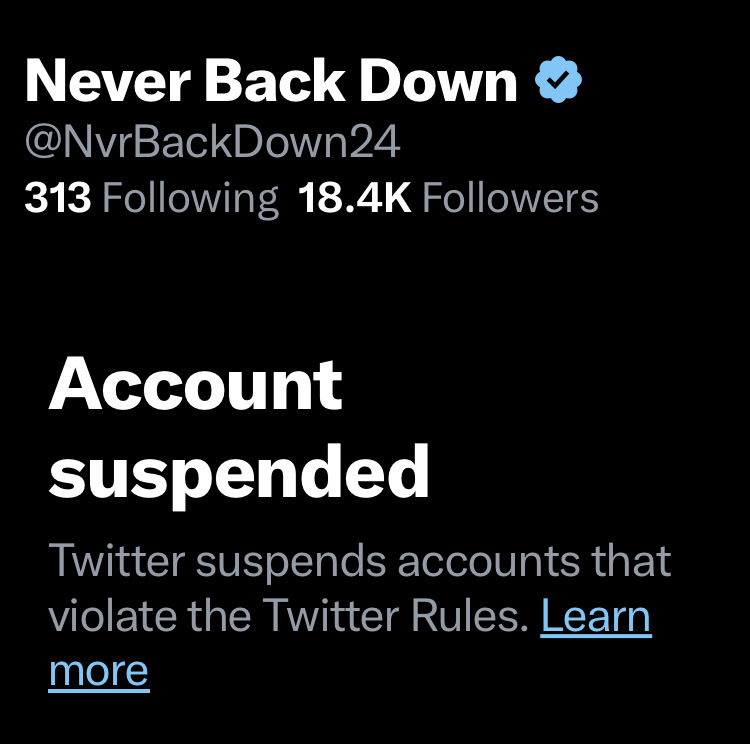 The DeSantis super PAC has questions for Elon Musk about the temporary shutdown.
As Republican presidential candidates prepare to debate in Milwaukee, a prominent super PAC supporting Ron DeSantis was briefly deplatformed on X.
Visitors to the Never Back Down Twitter account on Wednesday morning were greeted with an untimely message. "Account suspended. Twitter suspends accounts that violate the Twitter Rules," the main account screen read for some minutes Wednesday.
"It's #GOPDebate day and the Never Back Down account was just suspended for no apparent reason," posted Matt Wolking, who directs strategic communications for the super PAC. "What is going on, Elon Musk?"
That sentiment was reposted by the super PAC's spox, Erin Perrine. When we reached out to Never Back Down for more information, they provided a link to Wolking's post in lieu of a statement.
Accounts can be suspended for a number of reasons, including "safety" concerns such as "abuse/harassment" and "hateful conduct," as well as so-called "platform manipulation." The suspension notice posted publicly offers no insight into the specific reason for the temporary ban, though Wolking ultimately posted that the account was reported as "spam."
The account was quickly reinstated, though with an incorrect follower count at first. Whereas the account had more than 18,000 followers before the suspension, it was in single digits after the reinstatement, before full restoration by Wednesday afternoon.
Wolking continued to question the suspension, meanwhile, saying the PAC "asked X and Musk to disclose whether … Trump-backed accounts and their affiliated bot network have recently engaged in mass reporting against the Never Back Down account in order to manipulate X's rules."
The official account of the DeSantis campaign, the DeSantis War Room, remains unsuspended. Its last post was a blast of Anthony Fauci on Tuesday at this writing.
___
This is a developing story and may be updated.