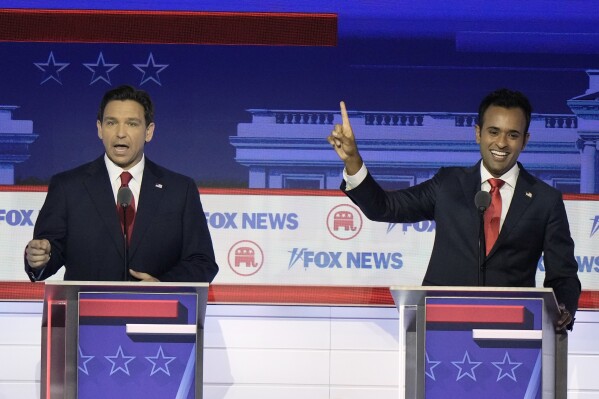 Florida's Governor blocked a simple show of hands on climate change belief because, as he explained it, 'we're not schoolchildren.'
It would've made for a good snapshot of the GOP debate Wednesday night, but Ron DeSantis shut the photo op down.
Returning from the debate's first commercial break, co-host Martha MacCallum of Fox News called for a show of hands from candidates who think Earth's rising tides and record heat waves are human-made.
DeSantis rejected MacCallum's request before any candidate hoisted their arm, explaining that he and his candidates are "not schoolchildren" and should "have the debate" on the subject.
"I don't think that's the way to do it," he said of Martha's phrasing, before pivoting to an attack on President Joe Biden's response to the deadly fires in Maui and touting his own action following Hurricane Ian's devastation of Southwest Florida last year.
"Biden was on the beach while those people were suffering. He was asked about it and he said no comment. Are you kidding me? As somebody that's handled disasters in Florida, you've got to be activated. You've got to be there. You've got to be present. You've got to be helping people who are doing this."
Asked by debate co-host Bret Baier whether that answer represented a raised hand, DeSantis said emphatically, "I did not raise a hand."
Entrepreneur Vivek Ramaswamy, who is polling in third place nationally behind DeSantis and the front-runner, Donald Trump, left no room for ambiguity about where he stands on the issue.
"Let's be honest as Republicans, I'm the only person on this stage who isn't bought and paid for so I can say this, the climate change agenda is a hoax," he said, grinning while boos rose from the audience following his attack on his fellow Republicans.
"We have to declare independence from it. And the reality is the anti-carbon agenda is the wet blanket on our economy. … More people are dying of bad climate change policies than they are of the actual climate change."
Former South Carolina Gov. Nikki Haley accepted the pass on hand-raising as well but indicated she believed human pollution is a major factor in the world's weather woes.
"We do care about clean air, clean water. We do want to see that taken care of, but there's a right way to do it," she said. "Is climate change real? Yes, it is. But if you want to really change the environment, then we have to tell China and India that they have to lower their emissions. That's where our problem is."
U.S. Sen. Tim Scott of South Carolina echoed Haley's sentiments.
"America has cut our carbon footprint in half in the last 25 years," he said. That is inaccurate, according to the U.S. Environmental Protection Agency, which places the decrease at 20% since 2005.
Scott continued, "The places where they are continuing to increase — Africa, 950 million people; India, over a billion; China, over a billion. Why would we put ourselves (at) a disadvantage, devastating our own economy? Let's bring our jobs home."
The debate broadcast then broke for commercials, after which none of the four other candidates on stage — North Dakota Gov. Doug Burgum, former Vice President Mike Pence, ex-New Jersey Gov. Chris Christie, and former Arkansas Gov. Asa Hutchinson — brought up the hand-raising request or climate change issue.
Former President Donald Trump, the front-runner for the GOP nomination who skipped the debate in favor of an interview with former Fox News host Tucker Carlson, has long called climate change a "hoax."
"If you look into the 1920s, they were talking about global freezing, OK? In other words, the globe was going to freeze," he told Fox Business host Stuart Varney in March 2022. "And then there's global warming. Then they couldn't use that because the temperatures were actually quite cool, and many different things. So now they just talk about climate change. The climate's always been changing."
In the last month, Florida has repeatedly recorded record levels of heat, resulting in a "100% coral mortality" off the coast of the Florida Keys. According to the National Conference of Citizenship's Pandemic to Prosperity report, heat-related deaths in the Sunshine State increased by 88% between 2019 and 2022.