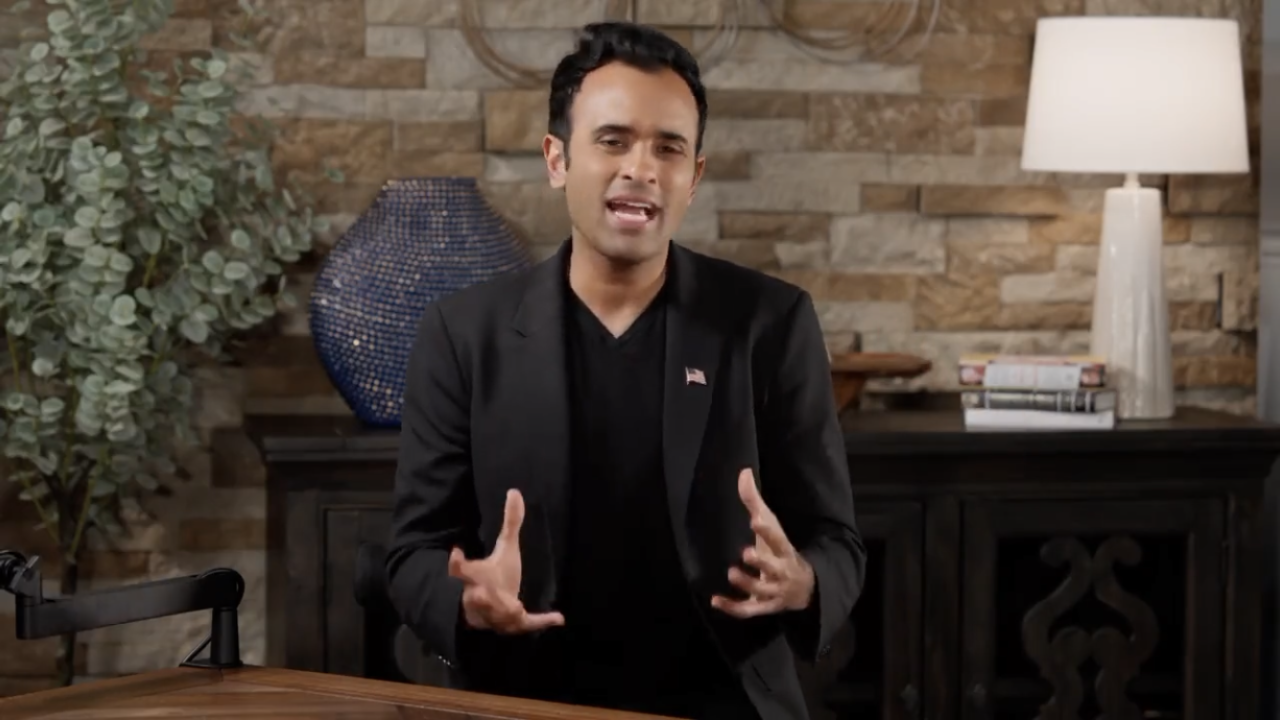 'We have a culture largely created by media and establishment and universities and politicians that throw kerosene on that racism.'
A Republican presidential candidate is offering his take on a White man killing three Black people at a Jacksonville Dollar General on Saturday, and he doesn't think a mistaken belief in White supremacy is to blame, since he doesn't think it exists.
Vivek Ramaswamy told CNN viewers Sunday that a "racialized culture" and "mental health deficiencies" were to blame for the slaying in the New Town neighborhood, by a killer who was initially thwarted from entering HBCU Edward Waters University.
The killer had written a manifesto and had a swastika on his AR-15, seemingly clarifying his intent for most observers, but not Ramaswamy, who blames environmental factors rather than the gunman.
"The reality is we've created such a racialized culture in this country in the last several years. That right, as the last few burning embers of racism were burning out, we have a culture in this country largely created by media and establishment and universities and politicians that throw kerosene on that racism," Ramaswamy said on the "State of the Union" Sunday. "And I can think of no better way to fuel racism in this country than to take something away from other people on the basis of their skin color."
"I've been saying that for years and I think that is driving sadly a new wave of anti-Black and anti-Hispanic racism in this country," Ramaswamy added, seemingly explaining away the gunman's decision to drive from Clay County to commit murder by blaming the "media and establishment and universities and politicians."
Republican Sheriff T.K. Waters, who is Black, explained it differently Saturday.
"All of the deceased victims are Black. Plainly put, this shooter was racially motivated, and he hated Black people," Waters said. "He wanted to kill n——. That's the one and only time I will use that word."
Ramaswamy was also confronted with statements he made in Iowa claiming White supremacy didn't exist. While he is "sure the boogeyman white supremacist exists somewhere in America," he said he's "never met him" and added that maybe he'll meet a unicorn sooner and maybe those exist too. His response was to say that he didn't want to "politicize those victims" and "bring them into partisan politics."
In the segment, the candidate also made the argument for mental health institutions.
"The reality is we have a mental health epidemic in this country. There are reports that this particular individual, the perpetrator was indeed evaluated for mental health deficiencies as well," Ramaswamy said.
"And I think we need to have to have the courage in this country to bring back a practice of putting back psychiatrically ill people who pose a risk to their communities into psychiatric institutions, not just drugging them up, but faith-based approaches and other approaches that fill out longing for purpose and meaning in this country," Ramaswamy added. "I think it is just a shame that we even have mass shootings like this."
Law enforcement identified the shooter as Ryan Palmeter, a 21-year-old who lived in neighboring Clay County with his parents. Waters said Palmeter had been involved in a 2016 domestic violence incident that did not lead to an arrest and was involuntarily committed for a 72-hour mental health examination the following year. Palmeter used two guns — a Glock handgun and an AR-15 semi-automatic rifle. Waters said they were purchased legally earlier this year.
The victims were Angela Michelle Carr, 52, who was shot in her car outside; store employee A.J. Laguerre, 19, who was shot as he tried to flee; and customer Jerrald Gallion, 29, who was shot as he entered the store. No one else was injured.
_____
The Associated Press contributed to this post. Republished with permission.