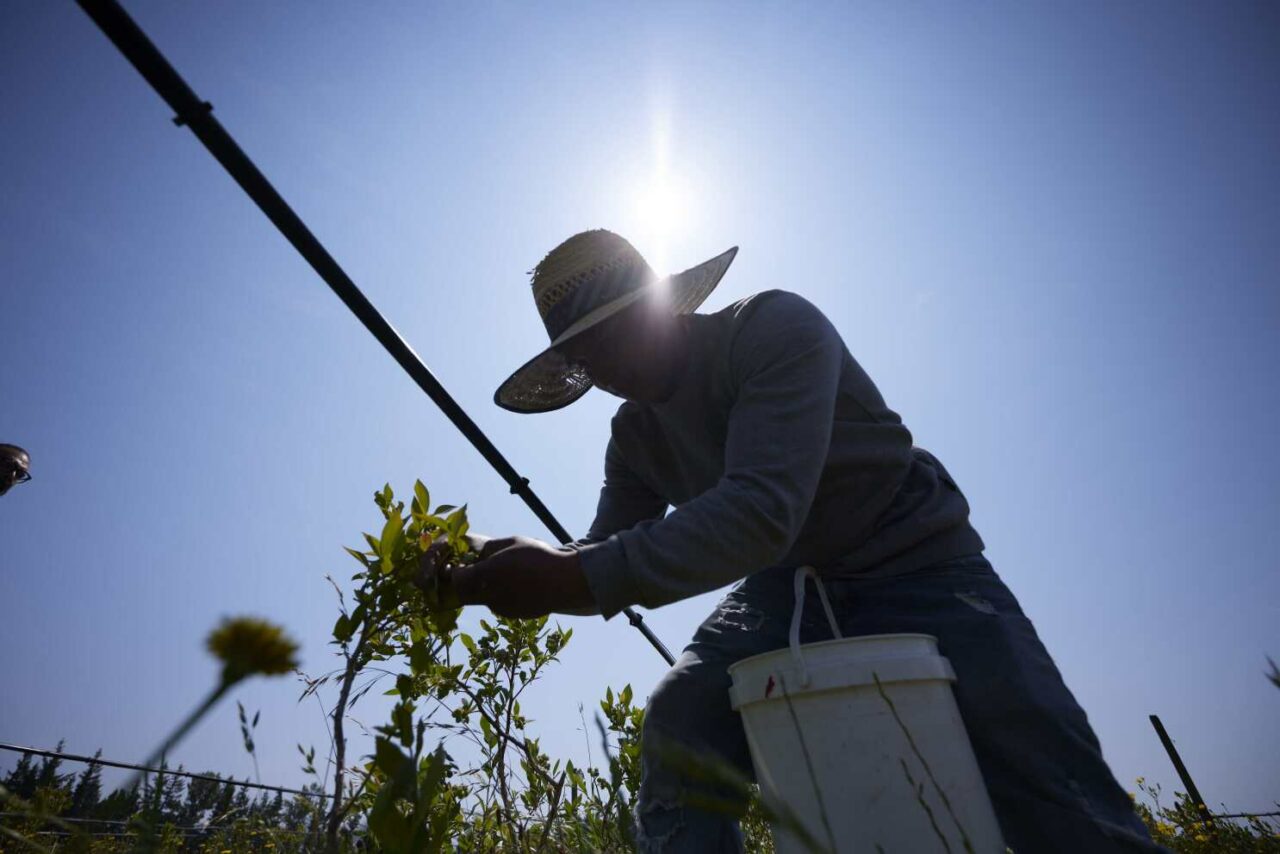 Florida has risen 7 spots in the annual ranking since Gov. Ron DeSantis took office.
When it comes to wages, worker protections and union rights, Florida has a lot of room for improvement, according to a state-by-state analysis of labor conditions nationwide.
The Sunshine State ranks closer to the bottom than the top of the Oxfam America's newest "Best and Worst States to Work" index (BWSI).
It placed 30th among all U.S. states, Puerto Rico and Washington, D.C.
Florida has risen seven spots on the BWSI since Gov. Ron DeSantis took office — due, in part, to a voter-approved ballot initiative in 2020 to raise the minimum wage to $15 statewide by 2026. In 2018 and 2019, it ranked 37th overall.
Florida leads all other states in the Southeast across nearly every metric. But that's not saying much, since five of the other six states in the region — North Carolina, Mississippi, Georgia, South Carolina and Alabama — sat at the bottom of the list.

The top five on the list — California, Oregon, New York, Washington and Washington, D.C. — have some of the strongest minimum wages in the country, provide paid leave and ensure child labor protections. Three of them — California, Oregon and Washington — have heat standards for outdoor workers.
Meanwhile, all five of the lowest-ranking states have minimum wages stuck at the federal level of $7.25. None mandate paid leave. All, like Florida, have so-called "right-to-work" laws prohibiting union security agreements through which employees would otherwise be able to negotiate employment contracts that require all benefiting members to contribute to the cost of representation in negotiations.
"Millions of working families across the U.S. are stuck in cyclical patterns of poverty because of the federal government's failure to provide essential policies like access to paid leave and livable wages," said Kaitlyn Henderson, a senior research adviser with Oxfam's Domestic Policy Program and the lead author of the index.
"(The) impacts of this inaction are not affecting all communities equally. At the end of the day, it comes down to where these workers live and what jobs they have, and it's clear that these realities are exacerbating inequality in the U.S., especially on lines of gender, race and class."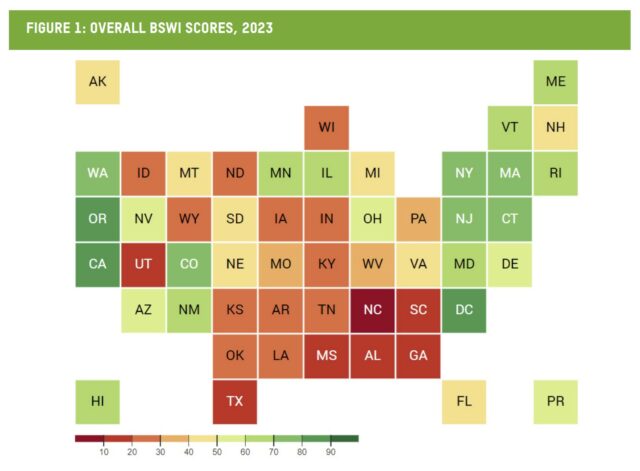 Oxfam recommended three "urgent policies" that states on the lower half of the index should adopt:
— Raise wages. The federal minimum wage, last changed in 2009, is $7.25. Oxfam called on state and federal policymakers to raise the wage and abolish minimum wage exclusions, including subminimum tipped wages for people in the service industry.
— Strengthen worker protections, including paid family and medical leave, stronger equal pay laws, a heat standard for workers and protections for domestic workers.
— Protect rights to organize by enshrining at the federal and state levels collective bargaining powers and repealing right-to-work laws.
An improving grade for women workers
The BWSI included Oxfam's third annual "Best and Worst States for Working Women" index, which ranks states based on equal pay, flexible scheduling, paid leave and other policies that affect women.
Florida's placement improved there for the second straight year, this time ranking 24th overall — up from 27th last year and 28th in 2021, when the women-focused report debuted.
The state scored points for legally requiring equal pay across gender and race, providing sexual harassment protection in state law and facilitating collective bargaining and wage negotiations for teachers.
But it lost points for not mandating paid breaks to pump for breastfeeding workers, not extending worker protections to domestic workers and allowing pay secrecy practices in the workplace. Oxfam's subtracted points for Florida's lack of provisions for paid family leave, paid sick leave, flexible scheduling, advance notice for shift scheduling and access to salary history for the purpose of reducing gender and racial bias.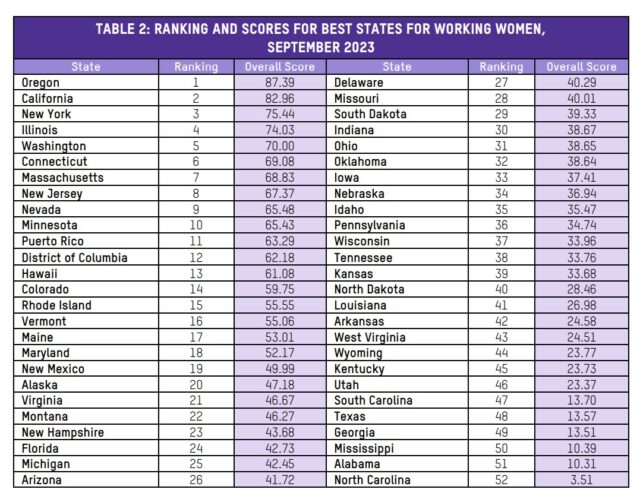 Because all data was based on policies and laws in effect by July 1, 2023, Florida's new law mandating lactation spaces in most courtrooms did not factor into the score, since the measure doesn't go into effect until next year.
Henderson called this year's federal passage of the Pregnant Workers Fairness Act and the PUMP Act, which requires covered employers to provide reasonable accommodations for new mothers and mandates the provision of lactation spaces in airports "important steps in the right direction."
But they are "only the beginning," she said. "We need coordinated, deliberate political action at the federal and state levels to ensure working women across the country are protected and supported."
How states were ranked
For this year's BWSI, Oxfam personnel tracked 26 policies in three areas — wages, worker protections and rights to organize — to determine which states perform best in filling gaps left by federal inaction.
Wages accounted for 40% of the overall score. Oxfam based scoring on the ratio of the state's minimum wage and unemployment insurance to the cost of living for a family of four, the ratio of tipped wages to minimum wage, local control over minimum wages without state preemption, and extensions of the minimum wage to farm workers.
Florida ranked 29th overall for wages, scoring 38.6 out of 100. Oxfam personnel noted Florida's current minimum wage of $11, assuming a 40-hour work week, covers just 28% of the cost of living for a family of four. Unemployment benefits cover just 11% of wages needed to cover the cost of living in the state.
Further, Florida does not fully provide a heat safety standard for outdoor workers — something for which local governments like Miami-Dade County have stepped in to compensate — and localities can't set minimum wage above the state standard due to preemption from the state government.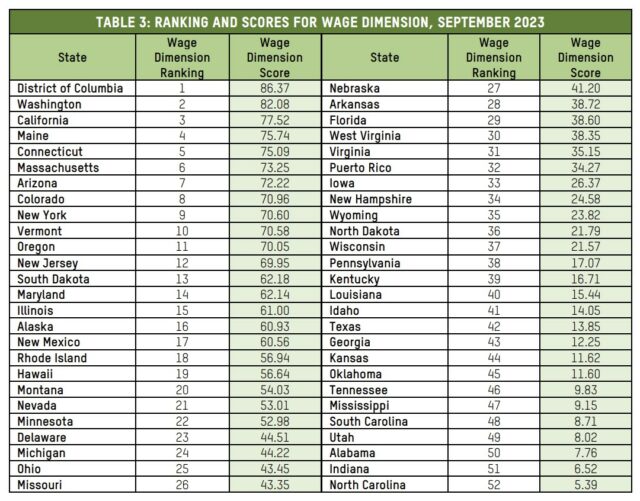 Worker protections made up 35% of the score. It included paid family and medical leave, fair scheduling, protections against sexual harassment, extension of workers' compensation to farmworkers, protections for domestic workers, heat standards for outdoor workers, child labor protections, paid breast-pumping breaks for nursing mothers, and equal pay mandates.
Florida tied with nine other states — Alaska, Indiana, Montana, Pennsylvania, South Dakota, Utah, West Virginia and Wisconsin — for 30th place overall for worker protections, scoring 29.76 out of 100.
Mississippi earned the only single-digit score, 7 out of 100.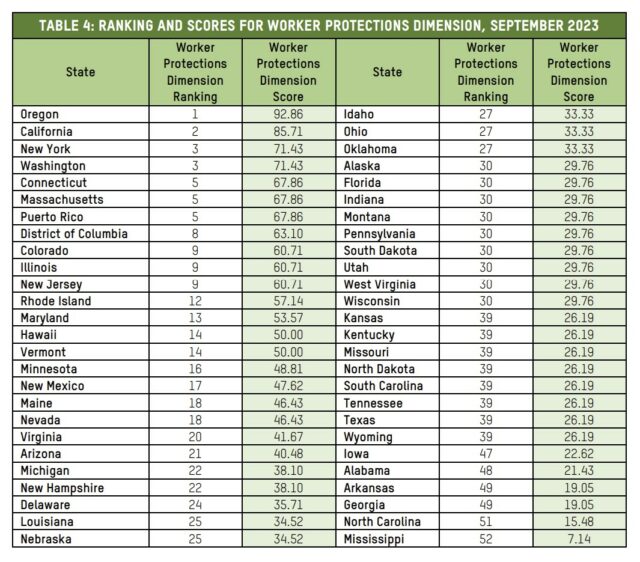 The last category, right to organize, made up the remaining 25% of the total score and centered mostly on unionization and collective bargaining liberties, including protection against employer retaliation.
Florida tied with Arizona, Indiana, Michigan and Montana for 26th place with a score of 60 out of 100.
Union issues have made headlines for months, thanks in part to the Writers Guild of America and the Screen Actors Guild striking together for the first time in 63 years. Hotel workers in Southern California, the Teamsters, UPS and United Auto Workers also made news for their efforts to improve working conditions in their respective fields.
Some organizers are referring to the combined activity as "hot labor summer,"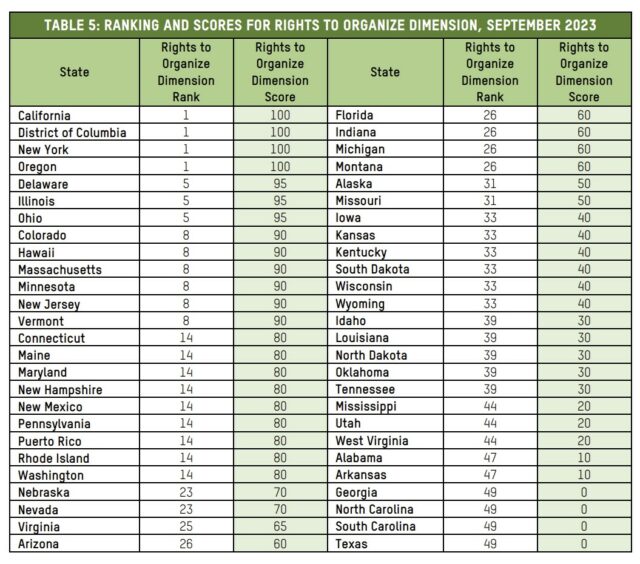 Four list entries scored perfect 100s in the BWSI's right-to-organize category: California, New York, Oregon and Washington, D.C. Four scored zero — Georgia, North Carolina, South Carolina and Texas — for having no support for working organizations.
Henderson said Oxfam's research shows a "strong correlation" between robust labor practices and better measures of household income, food security and lower rates of infant mortality.
"Too many crucial federal labor standards have not changed in well over a decade, so the best states for workers have consistently passed new legislation that fills those gaps," she said. "It's critical that both federal and state governments invest in workers' pay, protections and collective action, because these policies can have a substantial impact on improving wellbeing for workers and their families."