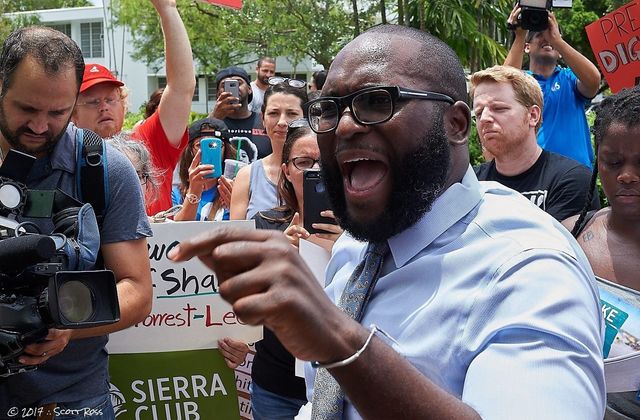 'We also want to make a statement here and send a message that we're going to hold people accountable. Votes have consequences.'
South Florida unions are gathering in Miami on Labor Day to honor elected Miami-Dade County officials they say fought valiantly against state legislation designed to weaken the rights of workers and marginalized groups across the Sunshine State.
Legislators who opposed Florida's new union-suppressing law and other measures targeting women, people of color, teachers, migrants and the LGBTQ community deserve recognition, said Deborah Dion, political director for the South Florida AFL-CIO, which represents some 239,000 workers.
Those who backed the bills, she said, must be taken to task.
"This last Legislative Session was devastating," Dion told Florida Politics.
"We've fought this union bill for decades and were always able to rise above it, and we really want to thank all those legislators that really stood up for us. We also want to make a statement here and send a message that we're going to hold people accountable. Votes have consequences. Workers, Floridians and their families really got screwed this past Session. There's no doubt about it."
The South Florida AFL-CIO, along with United Teachers of Dade and local chapters of the Teamsters, Transport Workers Unions, and AFSCME Florida also plan a "major announcement" regarding the 2024 race for Miami-Dade Mayor.
Of note, Miami-Dade Mayor Daniella Levine Cava will be among the event's speakers.
During the 2023 Session, the Republican-dominated Florida Legislature approved a wave of changes to state law. One of the measures, SB 256, prohibits most public employers from deducting union dues from employee paychecks, limits how unions can recruit and retain members, and sets a membership threshold for automatic certification renewal by the state, among other things.
The law, which Gov. Ron DeSantis championed and signed in May, does not apply to police, firefighters, prison guards and probation officers but does apply to unions for teachers, nurses and other public sector professions.
Other laws the Legislature and Governor approved this year, which speakers at Monday's event will discuss, brought further restrictions on LGBTQ-inclusive classroom instruction in public schools, enhanced requirements and penalties for employers who hire undocumented migrants and a currently stalled ban on abortion after six weeks of pregnancy.
DeSantis' signature "Stop W.O.K.E. Act" from last year led to changes to Florida's African American history curriculum, including new guidance for middle school students to be taught "how slaves developed skills which, in some instances, could be applied for their personal benefit."
Those and other strictures have had a "chilling effect" on workers, migrants and minorities who have historically benefitted from the collective bargaining strength unions provide, advocacy groups say.
"Unions represent the best united front we have to protect and strengthen the progress we've made on critical issues — like high wages, good health care, workplace protections and more," said South Florida AFL-CIO President and Transport Workers Union Local 291 President Jeffrey Mitchell, who will be speaking at the event.
"Labor Day 2023 marks just 14 months from one of the most consequential elections of our lifetime. After decades of anti-union propaganda, misinformation, and corporate attacks, workers are on the rise. People all over the country are realizing unions are the single best tool we have to stand up to the historic inequality and corporate greed we are up against."
Other speakers include Miami Gardens state Sen. Shevrin Jones, North Miami state Rep. Dotie Joseph, Miami state Rep. Ashley Gantt, United Teachers of Dade President Karla Hernández-Mats, AFSCME Local 871 President Joe Simmons, SEIU Florida State Council President Martha Baker and Teamsters Local 769 President Josh Zivalich.
Former U.S. Rep. Debbie Mucarsel-Powell, who last month launched a challenge to current U.S. Sen. Rick Scott, will also participate.
Recent polling shows support for unions cuts across party lines, particularly among young workers. The survey, conducted Aug. 1-8 by GBAO Strategies, found 71% of registered voters backed organized labor rights. That included 90% of Democrats, 52% of Republicans and 69% of independents.
For voters under 30, support for unions was 88%.
A recent report from the U.S. Treasury Department found unions "play an important role in addressing long-standing challenges faced by the middle class — including stagnant wages, high housing costs, and reduced intergenerational mobility" and, in "doing so, unions contribute to a more robust economy."
Among the report's findings:
— Unions raise the wages of their members by 10-15% and improve fringe benefits and workplace procedures such as retirement plans, workplace grievance policies and predictable scheduling.
— Unionization has spillover effects that extend beyond union workers, including increased wages at non-unionized firms due to competition; heightened workplace safety norms; and broader civic engagement that leads to higher rates of voting, charity and community participation.
— Unions create a fairer economy benefitting all demographic groups by encouraging egalitarian wage practices that reduce race and gender wage gaps.
The "Unions Honor Elected Champions" event takes place at 10:30 a.m. Monday, Sept. 4, at International Brotherhood of Electrical Workers Local 349 headquarters in Miami at 1657 NW 17th Ave.